Make restaurant-quality Indian butter chicken at home in under 30 minutes! Join the thousands who have made this very popular Instant Pot Butter Chicken Recipe--which also happens to be a great keto chicken recipe.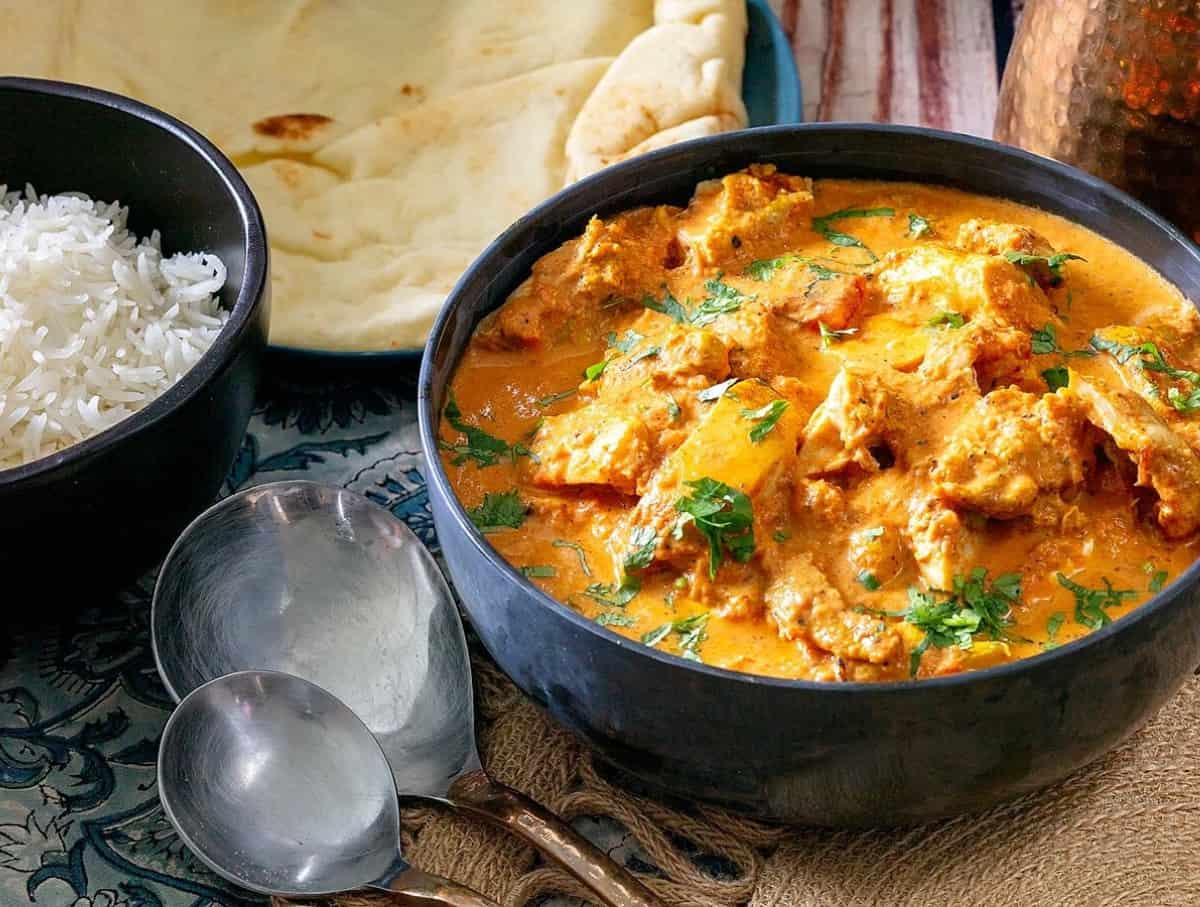 Jump to:
Why Is Butter Chicken So Good?
I hate when people praise their own cooking and recipes--but I'm going to break my own rule because this Instant Pot Butter Chicken recipe is the bomb. This is my most popular recipe ever. Try it for yourself and you'll see why!
This recipe is super easy. You probably have all the ingredients at home already with one exception, which is the garam masala. But that's okay because I will show you how easy it is to make it! Just click on this link for garam masala, and you will have the best, easiest, and tastiest garam masala recipe EVER. I mean, EVER.
If you just can't be bothered to make your own, you could try this one.
Why is this the Best Butter Chicken Recipe?
Yes, there are a lot of butter chicken recipes out there. Yes, there are many other types of Indian Chicken curry recipes out there. But honestly? This Indian Butter Chicken recipe is easy, authentic, creamy, spicy, and delicious. Plus Instant Pot Curry saves you a ton of time.
So here's the story with this Indian recipe that I made in my pressure cooker. It took me three tries. Everyone around me has had to taste all the alterations. This is the one.
It's authentic tasting. It's loved by literally hundreds of thousands of people who have made it. This recipe has been featured in a ton of press articles.
It's the reason I am known as "The Butter Chicken Lady".
Authentic Tasting Butter Chicken
I've seen so many Indian Instant Pot Butter Chicken recipes that have no butter, no cream but that call for cornstarch, onions (heresy, y'all, no onions for the love of all that's good), and coconut milk instead of cream, so I've decided it's time to fix that.
I also can't be bothered with recipes with multiple steps and marinated chicken two different ways in yogurt (like my chicken tikka masala) etc. Additionally, the thing that takes the longest in Indian cooking is making the sauce anyway.
So what if there was a recipe where you cooked once and were able to save half the sauce for later? Maybe to make Butter Chicken Pizza on naan?
I didn't start out planning this but no matter how I made it, I had lots of very tasty sauce--too much sauce. So I decided to go with it.
And for those of you who are vegetarian, no need to miss out. Vegetarian Butter Chicken with Soy Curls recipe gives you all the flavor of the original in one delicious vegetarian dish!
What Is In This Butter Chicken Recipe?
Which Instant Pot Do I Make Butter Chicken In?
There are so many Instant Pots on the market it can be easy to confuse which Instant Pot is right for you and which one makes the best food.
Read this article on how to choose an Instant Pot to see if you're using the right Instant Pot for your pressure cooking needs.
How To Make Keto Butter Chicken | Pressure Cooker Chicken Makhani
Here's what's going to happen. You'll cook the tomatoes along with spices and aromatics with the chicken breast or thighs on top, infusing its flavors into the sauce.
Place tomatoes and all spices in the bottom of the Instant Pot.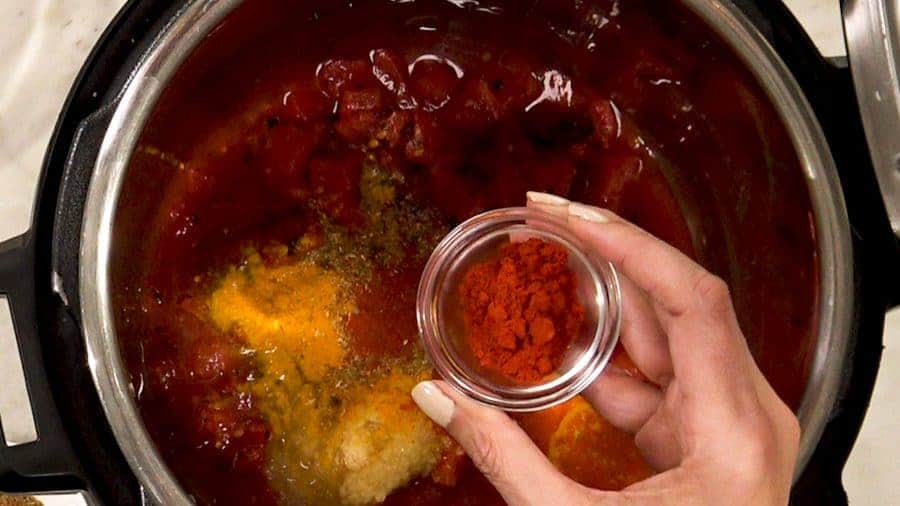 2. Add in chicken thighs or chicken breast. You do not need to add any water. The chicken and tomatoes alone will release a lot of water. If you have an 8-quart pressure cooker, you may want to double the ingredients or add in 1/4 cup of water just to be cautious.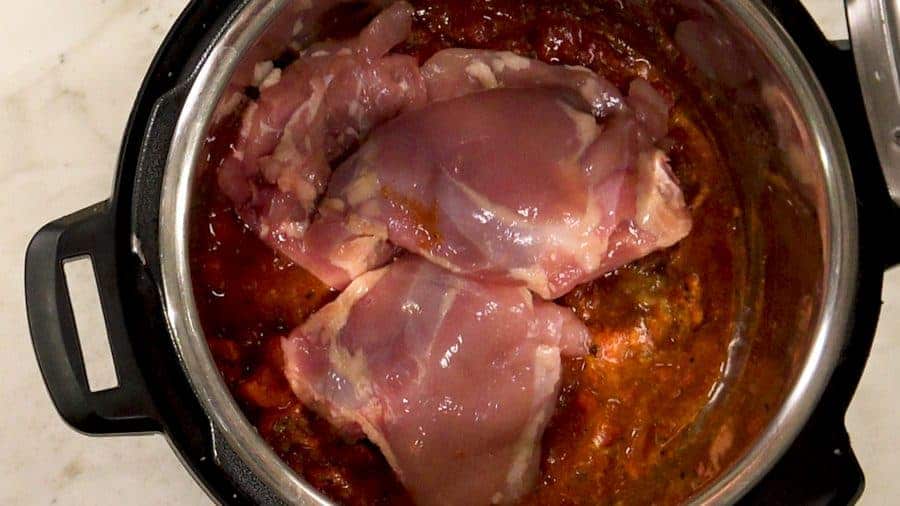 3. This step is entirely optional--but very nifty. If you'd like to make basmati rice, or mashed cauliflower, you can cook them at the same time as the chicken for an easy Instant Pot recipe.
Place a metal trivet on top of the sauce. Then, you can use a small container with rice or with frozen riced cauliflower to go on top of it.
This is called Pot-in-Pot Cooking and I have a video here that will tell you all you need to know about how to do Pot in pot cooking.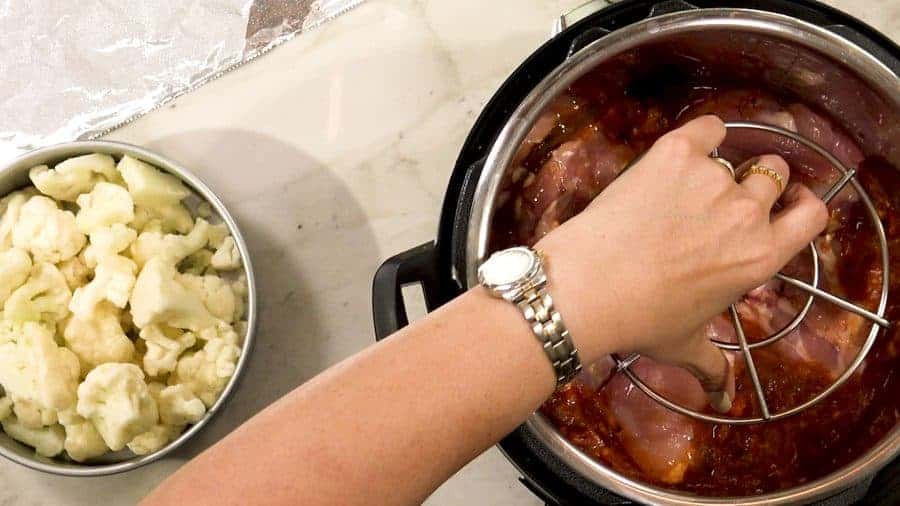 4. If you're cooking rice, add rice to a small container. Measure out the water and put that into the rice container. When you're using frozen riced cauliflower, you do not need to add water. The steam and heat alone will be enough to cook the cauliflower.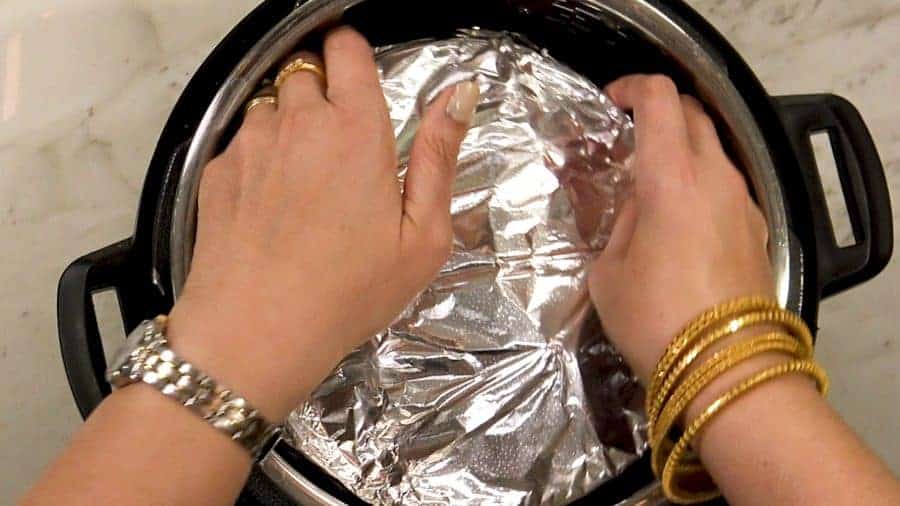 5. Cook the butter chicken for 10 mins on high pressure. Allow it to release pressure naturally for an additional 10 minutes.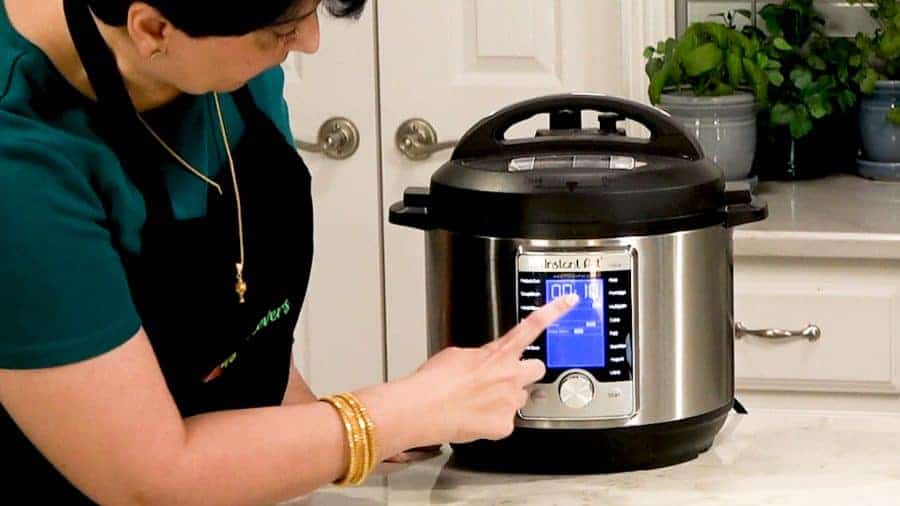 6. Once you open the Instant Pot, the rice will be cooked to perfection. For mashed cauliflower, you can add butter, salt, and pepper and mash it in.
If you prefer a cauliflower and cheese dish with this, which, while not traditionally Indian AT ALL, is actually very good, check out this Instant Pot Cauliflower and Cheese Recipe.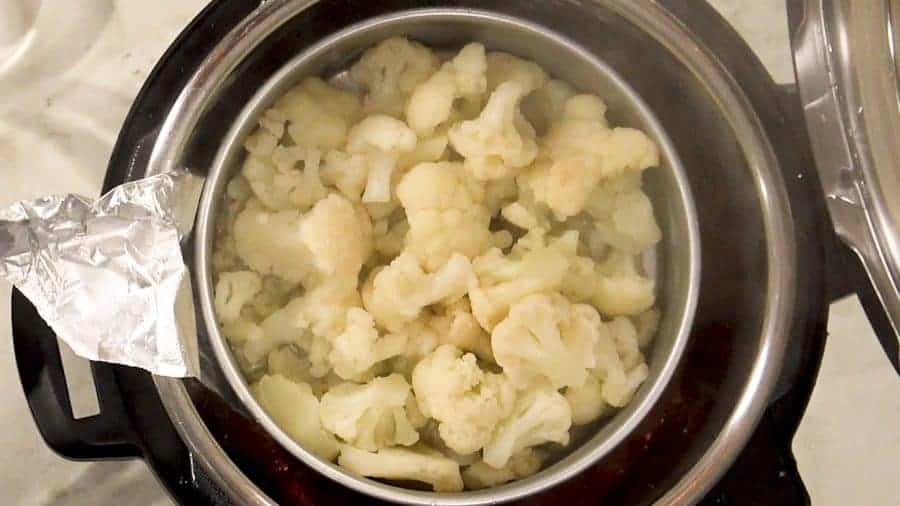 7. At this point, remove the chicken and set it aside. You will be adding things and blending the sauce into a tomato puree--and you don't want blended chicken in your Butter Chicken.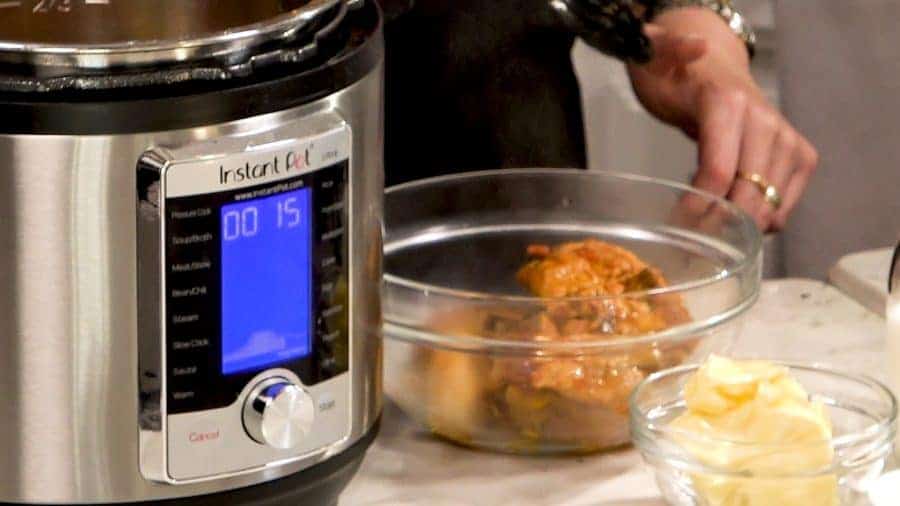 8. Add butter, cream, and 1 additional teaspoon of garam masala.
You are doing this after the tomato sauce has cooked because pressure cooking causes butter and heavy cream to separate into a greasy mess. Adding it afterward allows the fat to emulsify properly into the sauce, resulting in utter deliciousness.
The additional teaspoon of garam masala is to add fragrance to the dish before serving.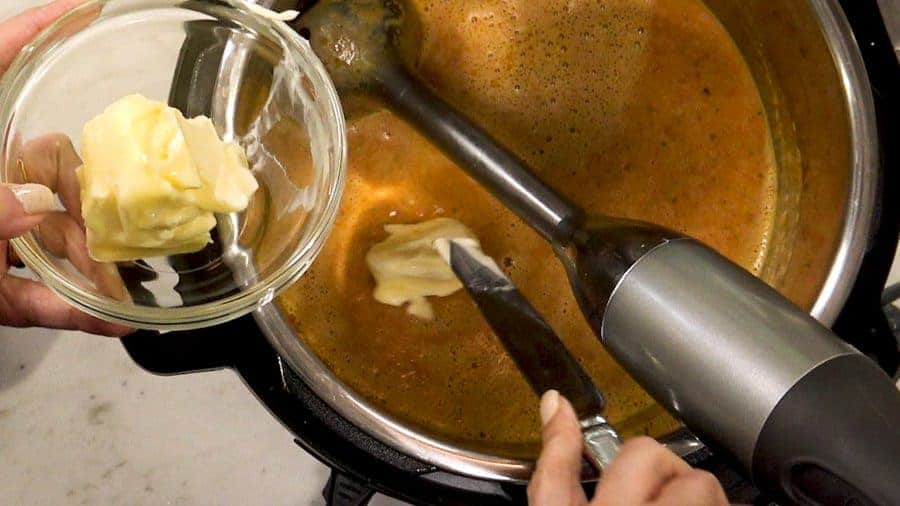 9. If you are serving this with mashed cauliflower instead of rice, roughly mash the cauliflower with butter, salt and pepper.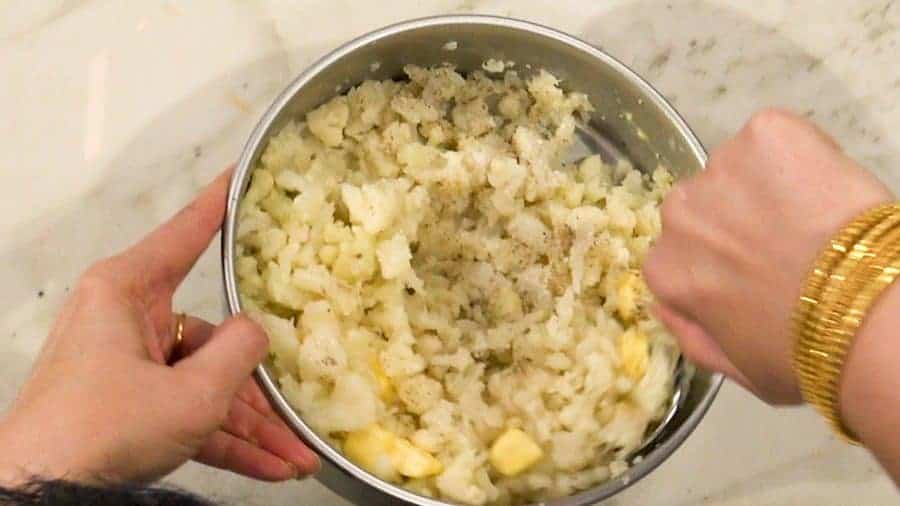 10. Once it's cooked and you've puréed and finished the sauce, you'll TAKE OUT half the sauce and save it.
Only then will you put the tender chicken back. This means you now have the lovely buttery tomato-ey sauce ready for the next time you have chicken leftover.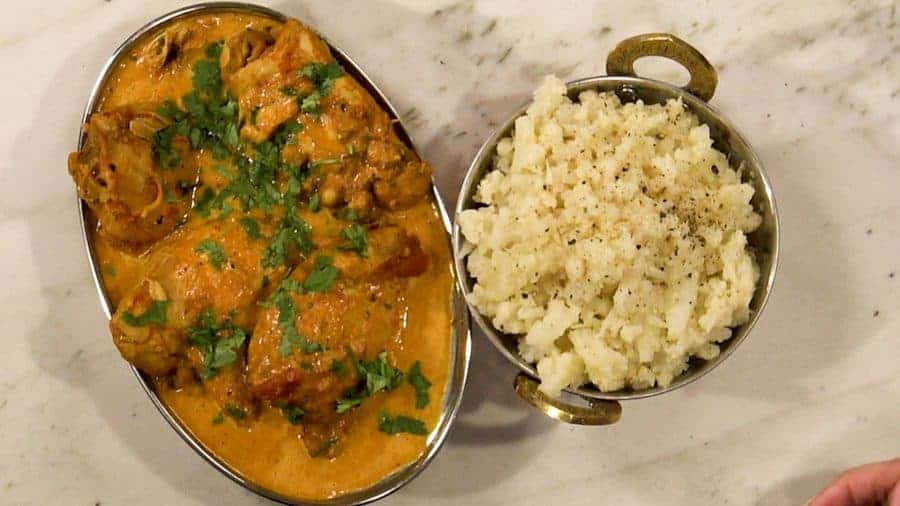 And there you are. Authentic Indian Butter Chicken in your Instant pot or Pressure cooker. Eat up!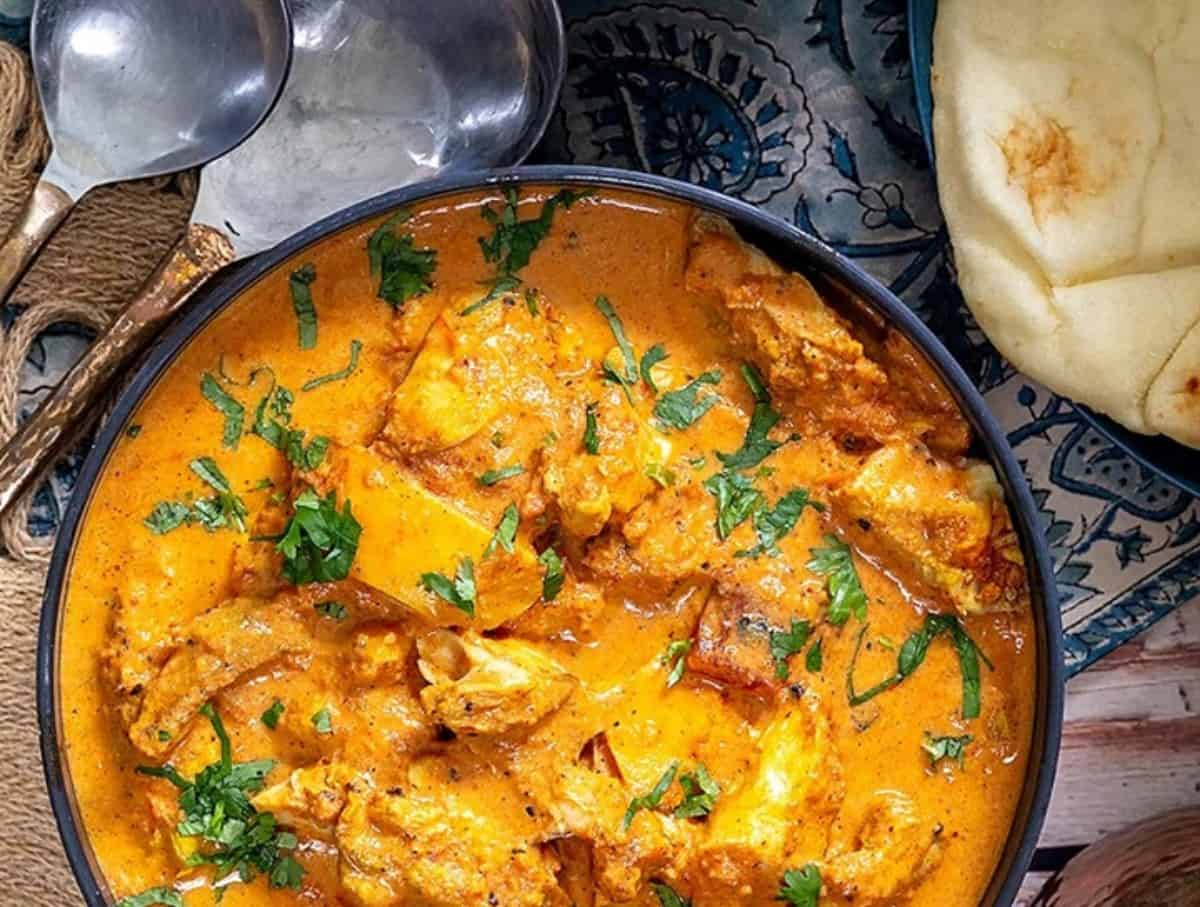 Why Do They Call It Butter Chicken?
The story goes that the owner of Moti Mahal restaurant in Delhi started it as a way to use up leftover tandoori chicken from the restaurant. (I digress, but here's a Tandoori Chicken recipe).
When you go to an Indian restaurant and see Murgh Makhani on the menu, they're talking about butter chicken. Murgh = chicken, Makhani = buttery.
Is Butter Chicken Truly Authentically Indian?
Actually, it is. It is more popular outside of India than it is in India. It's also more of a North Indian dish than something that is widely eaten in South India.
My mother was Punjabi, and since butter chicken is a Punjabi dish, I grew up eating it.
But the way I make this Indian Butter Chicken recipe in my pressure cooker is ENTIRELY different from how others have made it.
This may be why you will see so many references in the press to my recipe.
What Is The Difference Between Butter Chicken And Chicken Tikka Masala?
Both of these Instant Pot Indian recipes have similar ingredients but they do have distinctly different flavors. Butter chicken is a creamier, less spicy dish. Chicken Tikka Masala is more of a tomato flavored Indian chicken dish and can have more of a kick since it doesn't have as much dairy in the recipe to subdue the spice.
Is There Extra Sauce Or Not?
Hundreds of thousands of people have made this Instant pot Butter Chicken Recipe. Many of them insist that there is never any sauce left.
You know why? Because they drink it like soup. Trust me. This Instant Pot Butter Chicken with garam masala, tomatoes, and the perfectly creamy sauce will be your new favorite. This is the recipe you will reach for again and again.
If you're looking for more deliciously authentic Indian recipes, check out my Punjabi Dry Chicken Curry recipe or my Chicken Korma!
Tips And Tricks For Making This Instant Pot Butter Chicken Recipe
Have More Questions About My Butter Chicken Recipe?
I've created a handy-dandy FAQs of Butter Chicken post here, to answer all the questions that get posted about this dish. Please read this before contacting me, because although I love hearing from you, I've answered most of the questions you will have here.
What Do You Serve with Butter Chicken?
To make this a complete meal, you can serve with another vegetable such as saag paneer, eggplant bharta, or aloo gobi for example, and combine with either naan or basmati pilau. In a pinch, my Keto Bread works to sop up some of the left over sauce. My favorite accompaniment is often Cucumber Peanut Slaw.
Other Butter Chicken Variations and Recipes
EQUIPMENT NEEDED
For this recipe, you will need an Instant pot or another electric pressure cooker, and an immersion blender. Other than that, you probably have everything you need to make this super easy dish.
This Instant Pot Butter Chicken recipe is where I get my namesake, The Butter Chicken Lady. I'm sure you'll love it just as much as the hundreds of thousands of people who have already made it!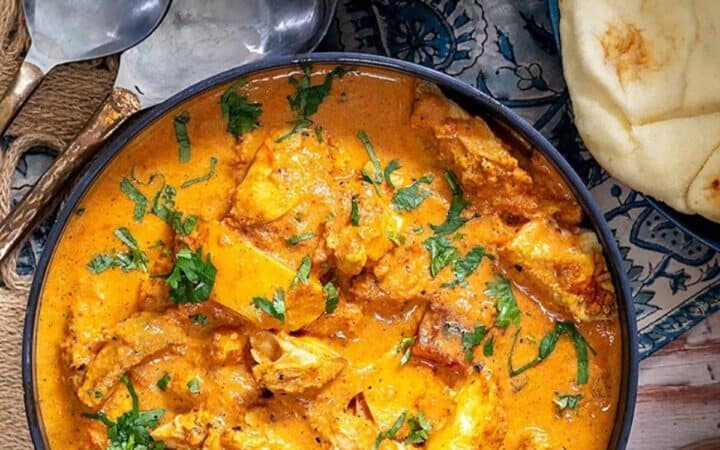 Servings:
4
servings + sauce
Click on highlighted ingredients or Equipment to see exactly what I use to make this recipe
Instructions
Instant Pot instructions
Place all ingredients into an Instant Pot in the order listed, EXCEPT for the butter, cream and 1 teaspoon of the garam masala, mixing the sauce well before you place the chicken on top of the sauce. If it's frozen, push it into the sauce a bit so it defrosts better

Close the cooker and set for 10 mins on high, and let it release pressure naturally for 10 minutes. After that, release all remaining pressure.

Open up the pot and remove the chicken carefully and set aside

Blend together all the ingredients, preferably using an immersion blender

Add the cut up butter, cream, cilantro, and garam masala and stir until well incorporated.

It's best to let the sauce cool just a little before adding the butter and the cream. Adding it into the boiling sauce will make your sauce very thin. If that happens, just put it in the fridge for a little and let it thicken up. It should be thick enough to coat the back of a spoon

Take out half the sauce and freeze for later or store in the fridge for 2-3 days

Add the chicken back in and heat through. Break it up into smaller pieces if you need but don't shred it.

Serve over rice, or zucchini noodles
Using leftover sauce
Use leftover cooked chicken and mix in with the gently heated sauce, let it simmer for a few for the flavors to meld together and there you go. Add some fresh cilantro on top.

You could also use this for Paneer Makhani. Defrost a cup of peas and 1 cup of paneer and mix gently into the heated sauce and let it simmer for a few for the flavors to meld together and there you go.
If you use a stand blender, be very careful with the hot sauce and be sure to leave the inside lid open to vent.
Yes, I know the recipe doesn't call for additional liquid. The chicken and tomatoes release a LOT of liquid. Unless you do something wrong, it will not burn.
Do not re-pressure cook the butter and cream filled sauce for a second time as it gets thin and unappetizing. Cook the chicken when you first make the sauce, save half the tomato sauce frozen, and when you're ready, add cooked chicken, or paneer, and heat it through in a skillet. Instant dinner!
For this recipe, the garam masala is very, very, important. Unlike other recipes, I didn't use whole spices because I've learned that not everyone has whole cinnamon sticks, whole cloves, and green cardamom lying around. So we'll use garam masala instead and I must urge you to make this homemade garam masala recipe! It makes a HUGE difference.
You'll note there's no added water in this recipe. Between the tomatoes and the chicken, there's more than enough to create pressure in this recipe. Any more water and it's going to taste insipid.
Let the sauce cool just a little before adding the butter and the cream. Adding it to the boiling sauce will make your sauce very thin. If that happens, just put it in the fridge for a little and let it thicken up. It should be thick enough to coat the back of a spoon.
Other questions? Check out this FAQ with the most commonly asked questions about this recipe. Please read this before contacting me, because although I love hearing from you, I've answered most of the questions you will likely have in that FAQ, and you can get a faster answer than by emailing me.
Get support & connect with our community on Facebook!
Nutrition
Calories:
336
kcal
|
Carbohydrates:
11
g
|
Protein:
25
g
|
Fat:
22
g
|
Fiber:
3
g
|
Sugar:
5
g
Tried this recipe?
Follow @twosleevers and Pin it!
Indian Instant Pot, Keto Instant Pot, Instant Pot Fast and Easy, Healthy Instant Pot & Vegetarian Instant Pot.