Finally! All your burning Twosleevers butter chicken questions answered here! Everything from trouble shooting, substitutions, meal prep, questions about my audacity in creating such a simple Indian dish--everything you always wanted to know and more, answered in one handy-dandy FAQ.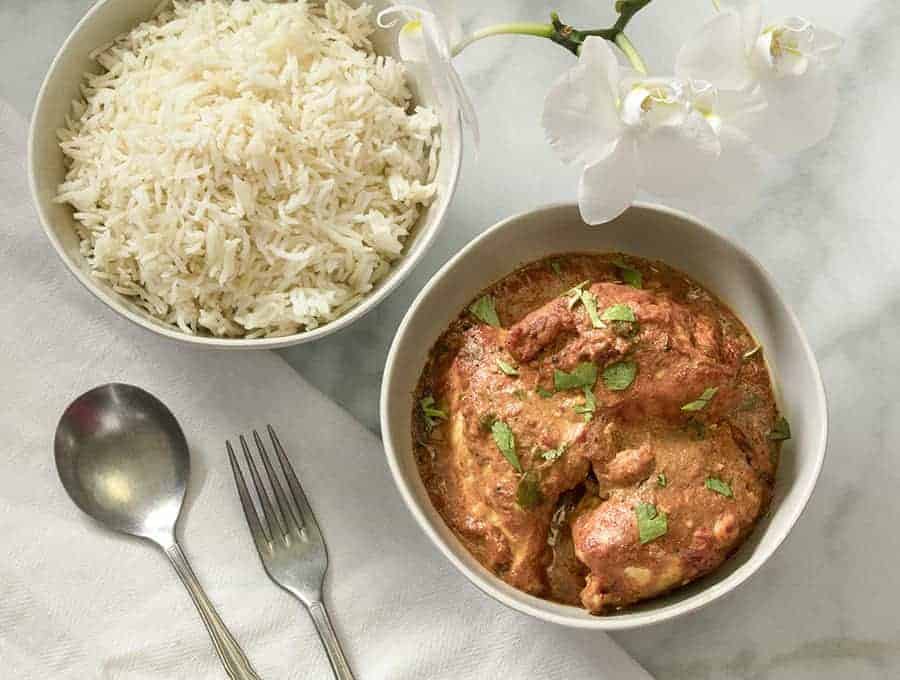 No other dish I have made in my Instant Pot has led to as many questions as my Instant Pot Now and Later Keto Indian Butter Chicken. And that makes me very happy. I thought I'd put in all the questions I get into a handy dandy FAQ to make this easy. Please let me know if you have other questions/answers you'd like to see added.
1. What's the difference between Butter Chicken and Chicken Tikka Masala?
Well, let's start with what they have in common.

Neither of them is probably truly Indian dishes. But they're both delicious so who cares? Here's my view of the differences between Butter Chicken and Chicken Tikka Masala:

*Butter chicken doesn't have onion in it. Tikka masala does have it

*Butter chicken is largely tomatoes, butter, and cream. Tikka Masala is onions, tomatoes, and in my recipe, a carrot for body. But it has a thick sauce that is vegetable-based.

*Tikka means a piece of meat. So the best way to make Chicken Tikka Masala is to make the Tikka Bites either separately or as part of the recipe.

There are probably as many differences in opinion on this topic as there are people, but this is a good start.
2. Authenticity: Butter chicken is complicated! How dare you call this simple dish Butter chicken??
Well so is Chicken Biryani. So is Lamb Rogan Josh. So is Carne Adovada.  So are a lot of other dishes--if made following traditional methods. But not when I make them.

I'm a trained scientist (Ph.d. in Experimental Psychology). I understand the basics of food chemistry. I spent a lot of time and a lot of trials to reproduce authentic tastes with minimal efforts.
You're welcome. So try it before you knock it.
3. Troubleshooting: Your butter chicken is way too bland for me. How can I change that?
There are a few ways to spice up this dish if it's too bland for you.
a) Increase cayenne pepper
b) Increase garam masala
c) Check your garam masala to see if the ingredients in it correspond to what's in my garam masala recipe. This is the number one culprit for bland Butter chicken after following this recipe.
d) Make Chicken Tikka Bites instead of plain chicken and add those to the sauce.
4. Troubleshooting: My sauce was thin and watery and I had to use cornstarch to thicken it. What went wrong?
This happens if you add the butter and cream before the sauce has had a chance to cool down, causing the sauce to be to thin. Next time, wait a little before adding them.

For the love of Butter chicken, do not add corn starch. Just put the sauce in the freezer for a few minutes or the fridge for a while, and it will thicken up just fine.
5. Spices: Do I really need to make my own garam masala for a good Indian Butter Chicken? If not, what brands can I use?
I would highly recommend you make your own. If you buy the whole spices I recommend in my garam masala recipe you can use those for other spice mixes on this site.

Whole spices keep well for a year or more. Ground spices lose their intensity after about 6 months, so if you buy whole ones, you can make different mixes and have them taste fresh.

If you prefer not to make it, I would recommend either The Spice House garam masala, Penzey's garam masala, or small batches from places like Trader Joe, Sprouts, Central Market, etc.

You can also try this Rani Garam Masala.

Do NOT use Private Collection, which is nothing but Paprika, and very red

Indian Grocery stores carry brands such as Shaan, Badshah, and MTR that work well.
6. Substitutions: Can I double this recipe? Do I need to double the time?
People have successfully quadrupled the recipe with no problems.

If you double it, please double all the ingredients, not just the chicken.

You do not need to increase the time under pressure. The pot will take longer to come to pressure, but once it is under pressure, the cooking time is the same.
7. Substitutions: Can I substitute bone-in legs/thighs? How about chicken breast?
Yes, you can substitute bone-in chicken thighs. Add 1 minute to cook times

If you're using chicken breast, be sure to cube it into smaller pieces so it will cook at the same time as the recipe calls for.
8. Can I use frozen chicken in my Instant Pot for this recipe? Do I need additional time for that?
Yes, you can use frozen chicken. The pot will take longer to come to pressure. Increase cook time under pressure by 1 minute just to be sure.

This won't work if your chicken is frozen into one big lump. You will likely have to cook it once, open the pot, and re-cook it.

The best thing to do if you want to cook frozen chicken in your Instant Pot, is to freeze it flat in individual pieces.
9. Substitutions: Can I just increase the chicken if I don't want sauce for later?
I wouldn't do that although I know people do it. I think it makes a blander sauce.

I also have heard of people drinking the sauce on its own, so there's never any leftover anyway (you know who you are!)
10.  Substitutions: Can I make this with tomato sauce/tomato puré instead of canned tomatoes? How about fresh tomatoes?
a)Yes to tomato puré.
b) Yes to crushed tomatoes
c) Proceed with caution on tomato sauce, as it might burn. Add 1/4 cup of water if in doubt.
d) Proceed with caution on fresh tomatoes, as they might burn. Add 1/4 cup of water if in doubt.
11. Substitutions: Cilantro =yucky soap! Do I have to have it? What can I substitute instead?
Either omit or use parsley. This dish doesn't rely on cilantro for all it's flavor so it will be fine.

12. Can I make this tofu/paneer/chickpeas/other vegetables?
a) Tofu: Add 1/4 c water to the sauce while pressure cooking. Add tofu after the sauce is cooked.

b) Soy curls: See the vegetarian version of Butter Chicken here.

c) Paneer: Add 1/4 c water to the sauce while pressure cooking. Add paneer after the sauce is cooked.

d) Shrimp: Add 1/4 c water to the sauce while pressure cooking. Add shrimp after the sauce is cooked and let it heat through and cook.

e) Vegetables: Add 1/4 c water to the sauce while pressure cooking. Add steamed veggies after the sauce is cooked. Do not add veggies like potatoes that soak up water as you cook this. If you cook vegetables for 10 minutes until pressure you will likely have baby food, so heed my advice and add them later.

f) Chickpeas: Use canned chickpeas
13. Substitutions: Can I substitute something else for the cream and the butter?
People have successfully substituted the following:
Butter:
•Earth balance or other vegan butter
•Coconut oil
Cream:
•Half and half
•Milk (thin sauce, I do not recommend)
•Coconut milk
•Evaporated Milk
14. Substitutions: Do I really need ALL that butter/cream?
Well, both of those help a lot with the flavor. I suggest you try it once with the proportions suggested.

Next time, try cutting those by whatever amounts make you comfortable, and see how you like it.
15. Substitutions: Do I really need an immersion blender? Which one should I get?
a) Immersion blenders are wonderful, safe things to use when dealing with hot liquids so I highly recommend them. This is the one I have but this one is also good.

b) Technically you could blend the sauce in a blender, but hot liquids + blender = high disaster potential so be careful.

c) You can make this with crushed tomatoes instead of diced tomatoes, but you may have a little scorching.

d) You can use a wire whisk to blend in the tomatoes after they're cooked.

e) You can leave the whole, but your sauce won't be as thick.
17. Meal Prep: What I can do with the leftover sauce?
a) Freeze it
b) Add shrimp and heat through
c) Add steamed vegetables
d) Add paneer
e) Add boiled eggs
f) Add rotisserie chicken
g) Make Butter Chicken Pizza!
18. Meal Prep: Does this reheat well? Does it freeze well?
Very well to both questions, but I would not recommend re-pressure cooking it as the sauce may separate.

Just use stove-top or easier still, your microwave to defrost it.
19. Family Friendly: Is this too spicy for children/spice intolerants? How can I reduce the spice?
This is SUPER FAMILY FRIENDLY and kids seem to love it.
a) Reduce Ginger
b) Reduce Cayenne pepper to 1/4 teaspoon. Most people only reduce cayenne and it seems to work.
c) Reduce Garam Masala
20. Family Friendly: We've never had Indian food before / My family hates curry. Should we still try this?
If you've never had Indian food before, this is the perfect place to start. Indian Butter chicken is flavorful and spiced, but not spicy.

If you hate curry, you're probably responding to ready-made curry powder. This doesn't use curry powder.

If you are unusually sensitive to cinnamon taste, this may taste very cinnamony to you if your garam masala has too much. If you're allergic to cinnamon, omit that from the garam masala and use 1 teaspoon of allspice berries instead.

Invite a friend that you know loves Indian food, and try it so the food won't be wasted and your friend will be happy 🙂

If all else fails, lie to your family and say this is an Italian (substitute cuisine of preference here) dish and see if they notice.
21. Is Butter Chicken authentically Indian cuisine?
Yes, while Butter Chicken is popular all over the globe, it is authentically Indian. Click the following link to read more about the history of butter chicken.