Make an authentic Chicken Vindaloo in your Instant Pot or Pressure cooker, in minutes rather than hours. Check out this Chicken Vindaloo Recipe for an authentic vindaloo, made from scratch less than an hour, with no spice pastes. Once you try this, you will be able to make pork vindaloo or beef vindaloo as well, using this basic recipe.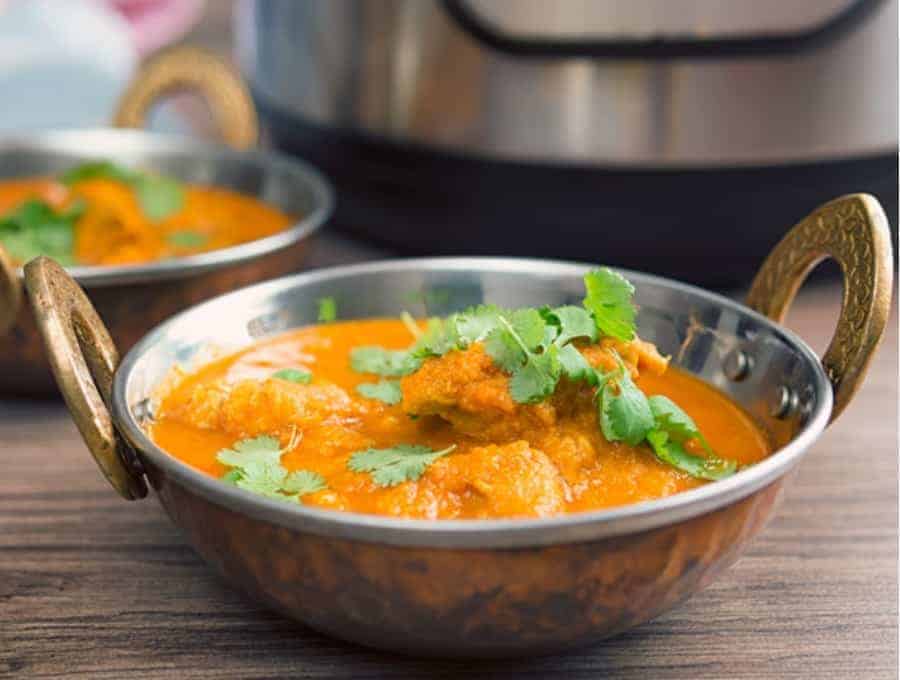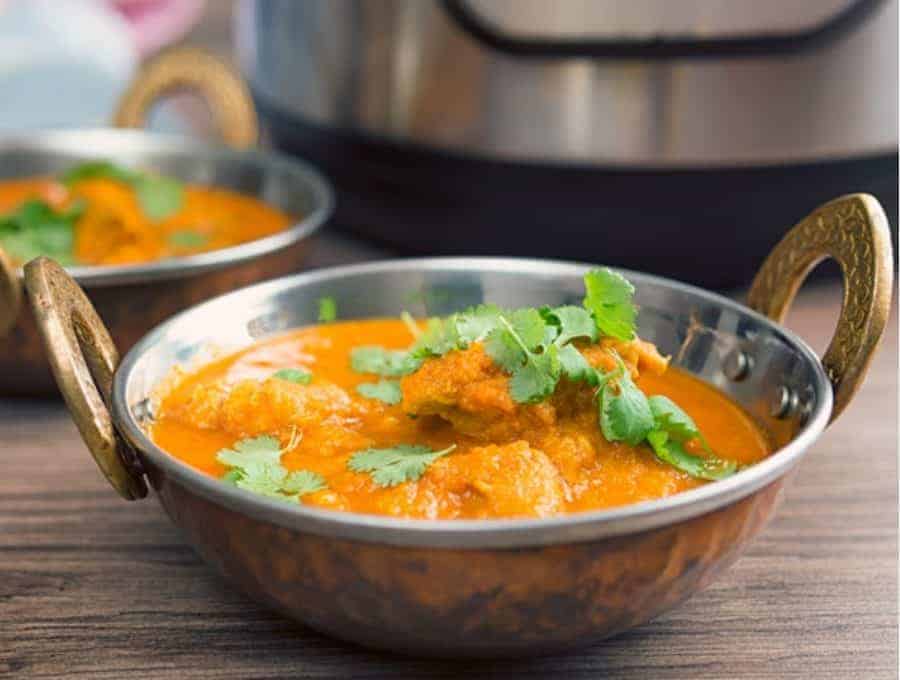 WHAT IS VINDALOO?
Vindaloo comes from India–via Portugal. The story goes that this is how the Portuguese soldiers who came into Goa preserved meat. Typically, they used wine or wine vinegar, garlic and chilis, all of which help preserve meat in hot climates.
So "carne de vinha d'alhos" got distorted to Vindaloo and now the world has a great, spicy, piquant dish that you can make to burn off the roof of your mouth.
Or not.
Which is the beauty of a homemade Vindaloo. You can adjust the heat to your liking. Personally, I like heat to be in balance with other flavors. In this Chicken Vindaloo recipe, you should taste spice, heat, and a hint of tartness in the back. All the flavors should be in balance, without one taking over another.
HOW TO MAKE AUTHENTIC CHICKEN VINDALOO | INSTANT POT CHICKEN VINDALOO
The main issue with making chicken vindaloo is you have to brown aromatics first and then grind them together, and I wanted a way to not have to do that. Not only does it take a while, but your house also smells of the browning and I don't always love that.
So I used a hack.
What worked for me was to use a paper bowl in the microwave for some of this prep work. Not only did this reduce the dishes I had to wash, but my pressure cooker was also free for other things while the aromatics cooked.
So a couple of warnings. Vindaloo is meant to be spicy. You may want to adjust the cayenne pepper to suit your taste.
WHAT DOES VINDALOO TASTE LIKE?
I know people think every vindaloo has to be" blow the roof of your head off" spicy, but that's not actually true. In the old days, people used a lot of cayenne, not just as a taste preference, but also because it helped preserve the meat.
Do you live in the old days?
You do not. Therefore, you do not need to make Vindaloo super spicy–unless you WANT to.
It's the same story with the vinegar. An erstwhile preservative, now you can adjust it according to your taste preferences.
What you want in a good vindaloo, in my opinion, is a good balance of heat, sour, and umami. So you should have a HINT of vinegar come through–but not an overpowering vinegary taste. You're not trying to make salad dressing here after all 🙂
WILL THIS TASTE EXACTLY LIKE THE RESTAURANT VINDALOO? THE ONE FROM MY NEIGHBOURHOOD RESTAURANT?
I mean, unless you live next door to me and I make it for you, it's unlikely it will taste EXACTLY like that.
How many different ways are there to make chicken soup? That's probably how many different ways there are to make Chicken Vindaloo.
Also, this may not be like the super-thick restaurant sauces which are created with filler vegetables. It makes a thinner, more flavorful sauce than what you may have been served at restaurants, but this is actually a more authentic version.
If you want a thicker version, I'd actually add a few potatoes chopped small, which can then disintegrate into the sauce once lightly mashed.
Do not use cornstarch! Not only is that not traditional, but it is also less flavorful than a chicken vindaloo thickened with potatoes or other cooked vegetables.
HOW DO I MAKE A LAMB VINDALOO? OR A PORK VINDALOO?
So for a lamb vindaloo, I would suggest cubing leg of lamb. Those cubes will cook under pressure in about 10 minutes, with 10 minutes of natural pressure release. Then, release all remaining pressure.
For a pork vindaloo, use cubed pork shoulder. Once again, if you make bite-size cubes, you should cook under pressure in about 10 minutes, with 10 minutes of natural pressure release. Then, release all remaining pressure.
Looking for more authentic Indian recipes? Check out my Basic Indian Curry recipe! This recipe is a savory Indian comfort food that you're sure to love!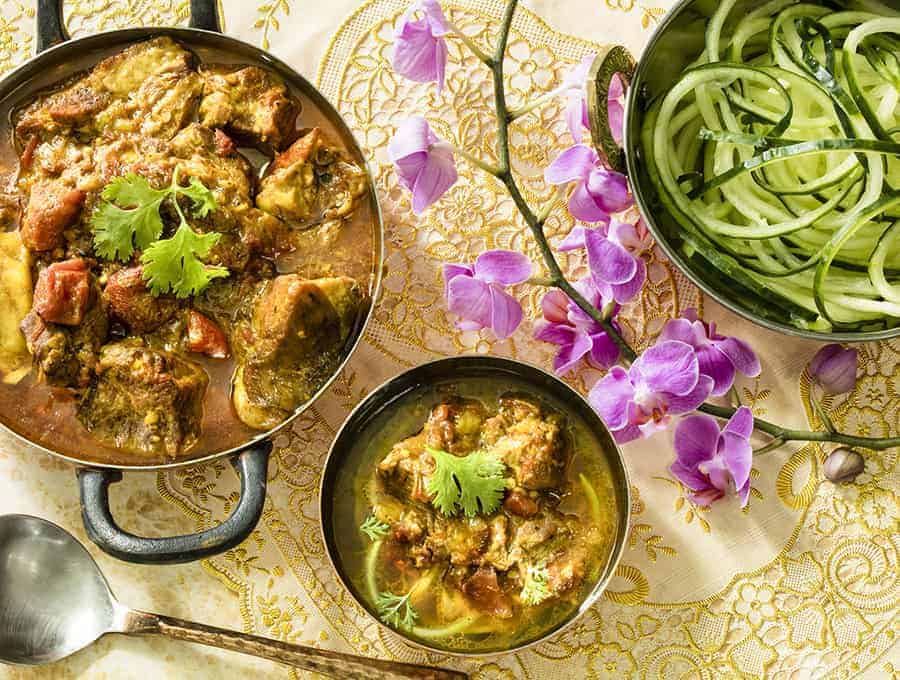 Another great Indian dish is my Pressure Cooker Indian Coconut Tomato Soup. It's warming, comforting, spicy and absolutely delicious!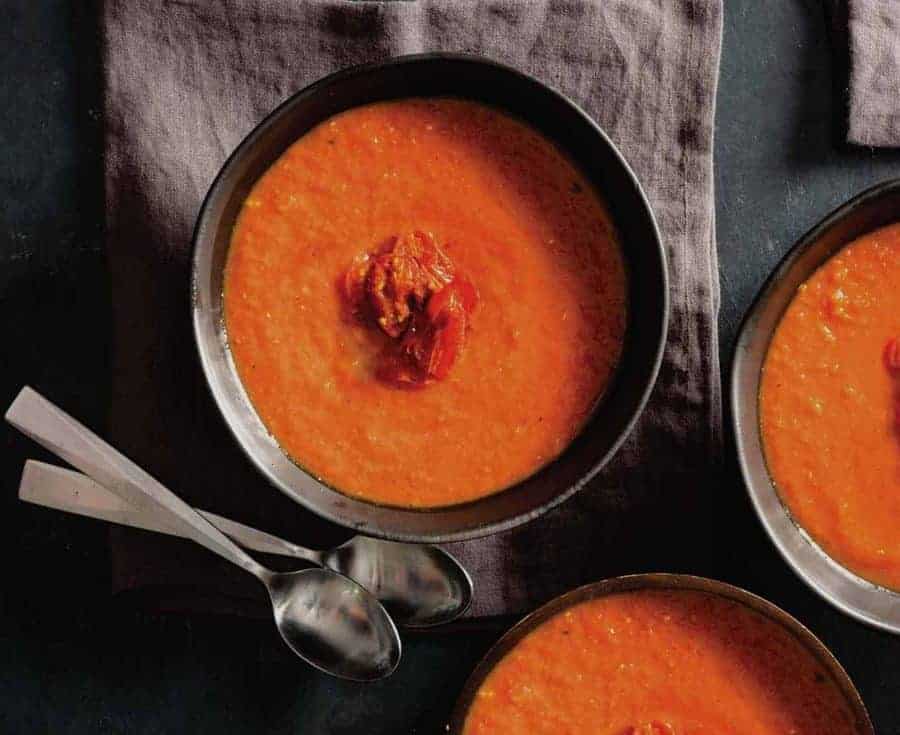 The Steps for this Instant Pot Low Carb Chicken Vindaloo are: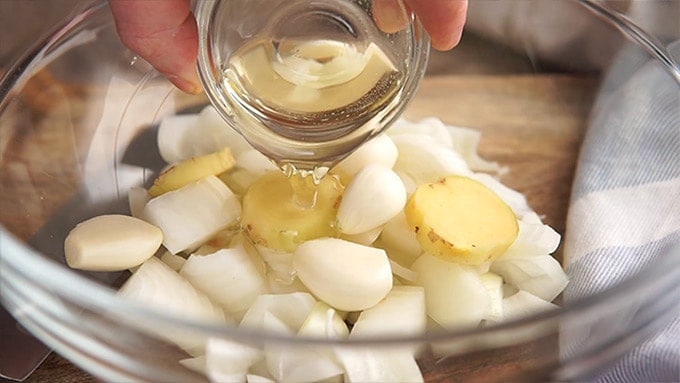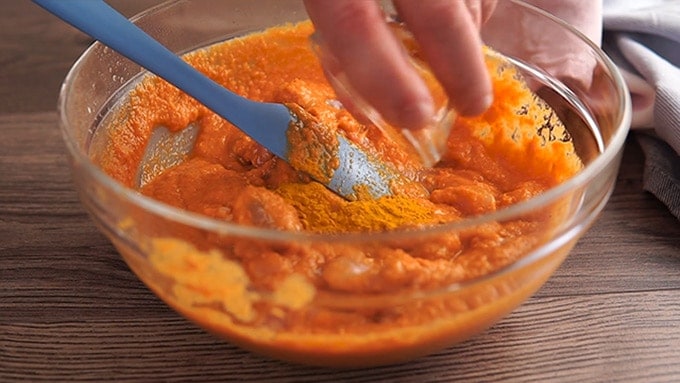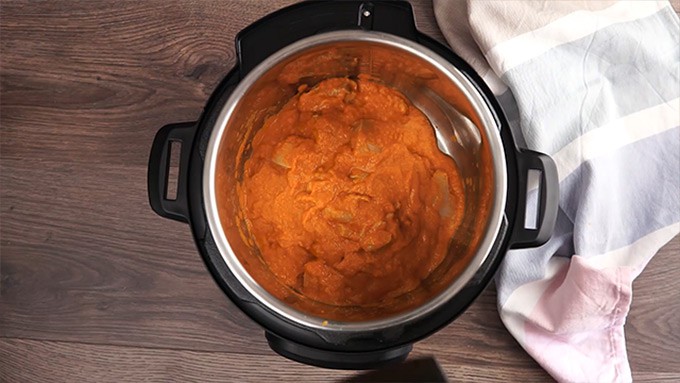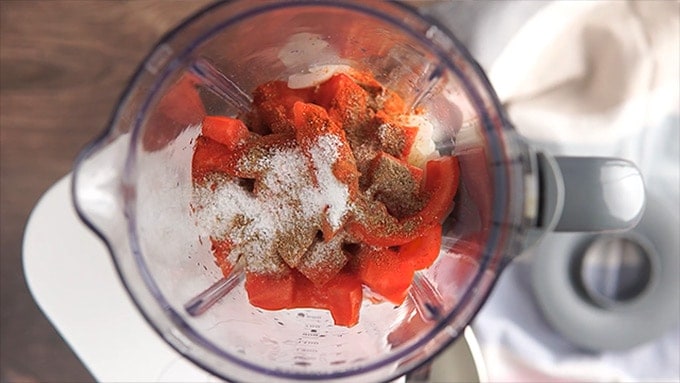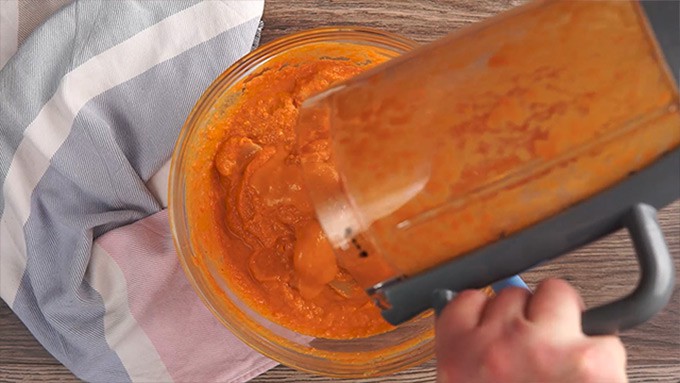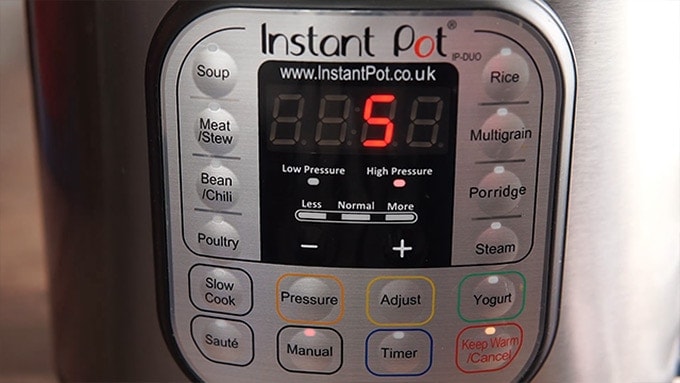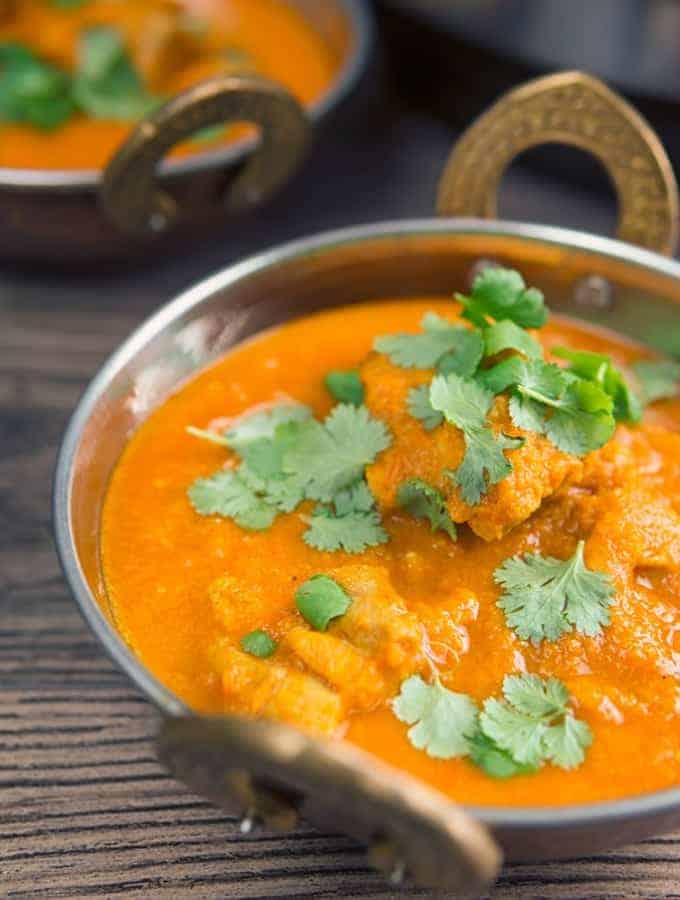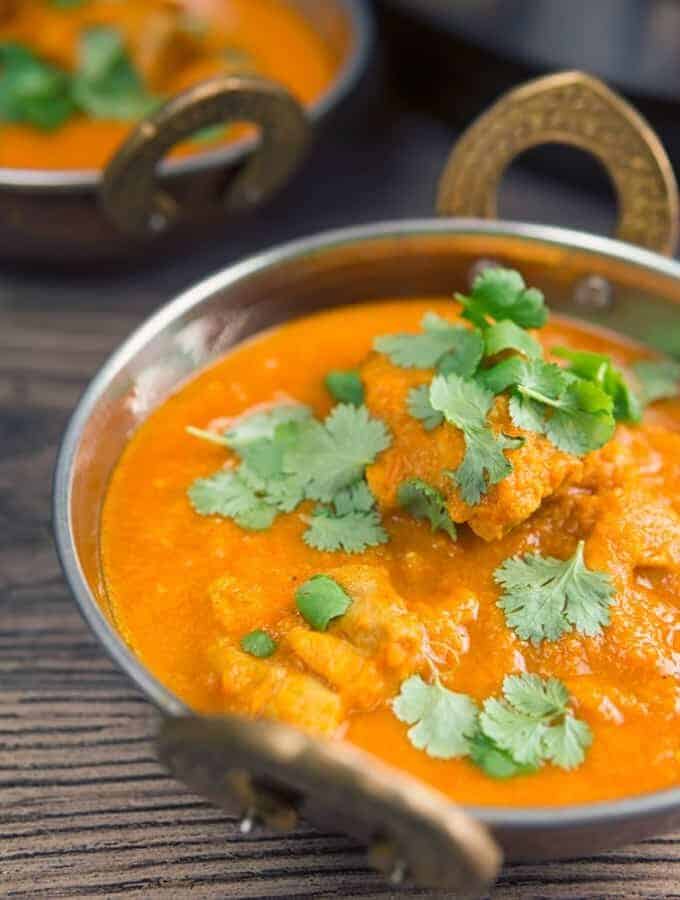 ★ Did you make this recipe? Don't forget to give it a star rating below! Just click on the stars in the recipe card to rate.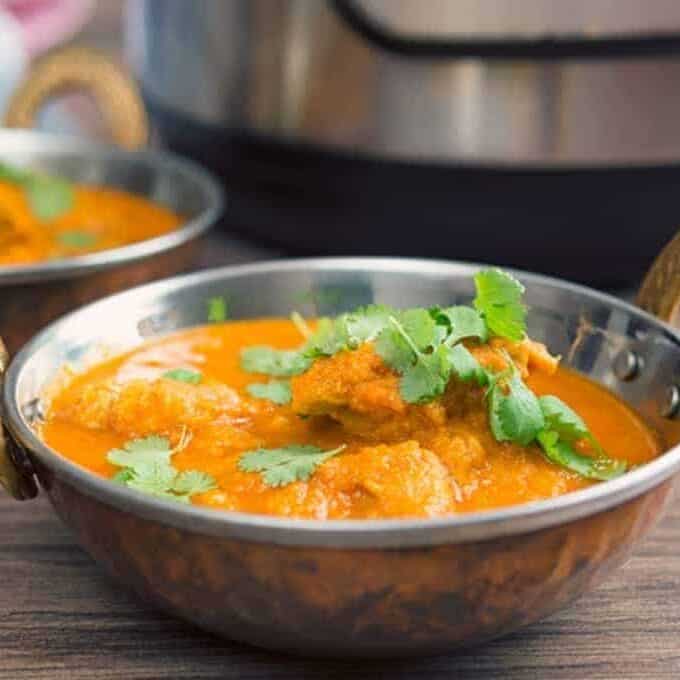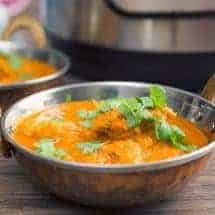 Pressure Cooker Keto Indian Chicken Vindaloo
Make an authentic Chicken Vindaloo in your Instant Pot or pressure cooker in minutes rather than hours! It's easy to make, keto and gluten free!
Keyword:
authentic vindaloo, chicken vindaloo recipe, pressure cooker vindaloo, Vindaloo
Dietary Consideration:
Dairy-Free, Gluten-Free, High Protein, Keto, Low Carb, Paleo
Cooking Style:
Instant Pot/Pressure Cooker
Ease of Cooking:
Under 30 Mins
Recipe Type:
Chicken, Pressure Cooker
Instructions
In a large microwave safe bowl, heat the onions, garlic, ginger and oil for 5 -7 minutes until the vegetables are browned on the edges.

Pour this into a blender and combine with all other ingredients except turmeric, water and chicken. Blend this to a smooth paste.

Place chicken in the bowl you used earlier, and pour the spice and vegetable mix it, mixing well to coat the chicken. Wash out the blender bowl with the 1/4 cup water and pour that over the chicken as well.

Add turmeric now (adding it earlier could stain your blender bowl) and marinate for 30 mins to 8 hours.

Pour the chicken and marinade into your Instant Pot.

Cook on High Pressure for 5 minutes, and allow the pressure to release naturally for 10 minutes. Release remaining pressure.

Depending on your chicken and how much water it releases, you may need to remove the chicken pieces and evaporate some of the water by using the Sauté function to cook the sauce down.
Nutrition facts per serving
199kcal | Fat: 8g | Carbohydrates: 7g | Fiber: 1g | Protein: 23g
I am not a registered dietician or nutritionist. Nutritional information is provided a courtesy, and can vary depending on the exact ingredients you use.