Korean food is full of flavor, fun, and easy to prepare at home. These authentic Korean recipes show off the cuisine's complex flavors. And they require only simple steps and short ingredient lists. They rely on a handful of pantry staples and a variety of meats and vegetables.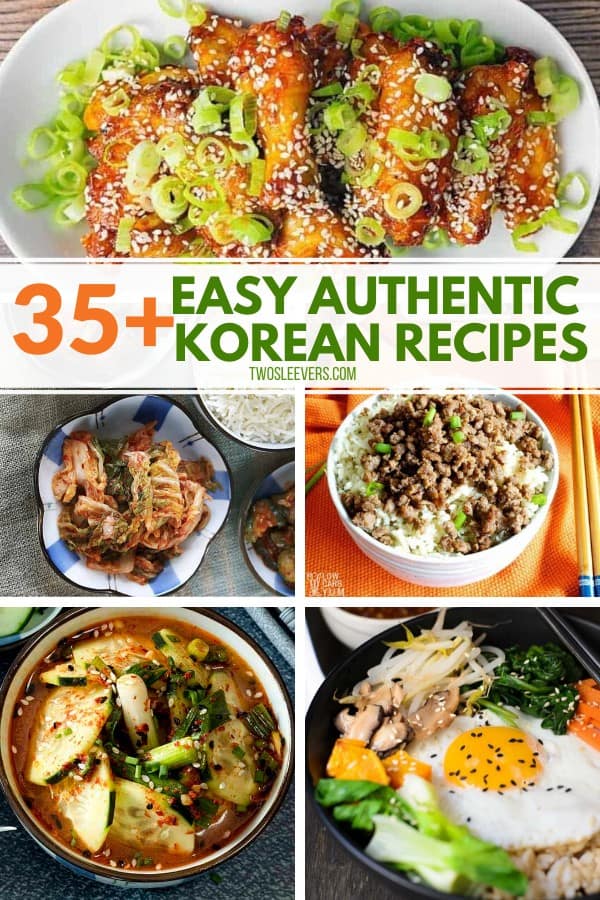 If you're interested in exploring Korean cooking, this collection of authentic recipes is a perfect way to get started. You can make anything from bulgogi bowls (marinated beef) to braised tofu. Enjoy savory pancakes, kimchi fried rice, and japchae.
What are common ingredients for Korean Recipes?
Do you regularly cook Asian foods? You will likely have most of these ingredients in your pantry already.
Soy Sauce
Sesame Oil
Mirin (Japanese rice wine for cooking)
Sesame Seeds
Scallions
gochugaru (Korean red chili flakes or powder)
gochujang (fermented red chile paste)
doenjang (fermented soybean paste)
Kimchi (salted fermented vegetables) is served as side dish. You would use it as an ingredient in many dishes. I like it in fried rice or savory pancakes. All of these ingredients can be found in Asian markets or ordered online.
35+ Easy Authentic Korean Recipes
Is Korean Food Healthy?
Korean cooking is quick and easy to prepare. It is always full of flavor. You will use a wide variety of vegetables, grains, and meats. This makes it an especially healthy cuisine.
Want To Try More International Food?
Finally, if you enjoy this list of recipes, make sure you share with your friends on Facebook and Pin to make them again later.
Indian Instant Pot, Keto Instant Pot, Instant Pot Fast and Easy, Healthy Instant Pot & Vegetarian Instant Pot.