Want to level up your next burger or sandwich? Try Spicy Mayo! This recipe is super simple and is so delicious you'll want to keep it as a lunchtime staple!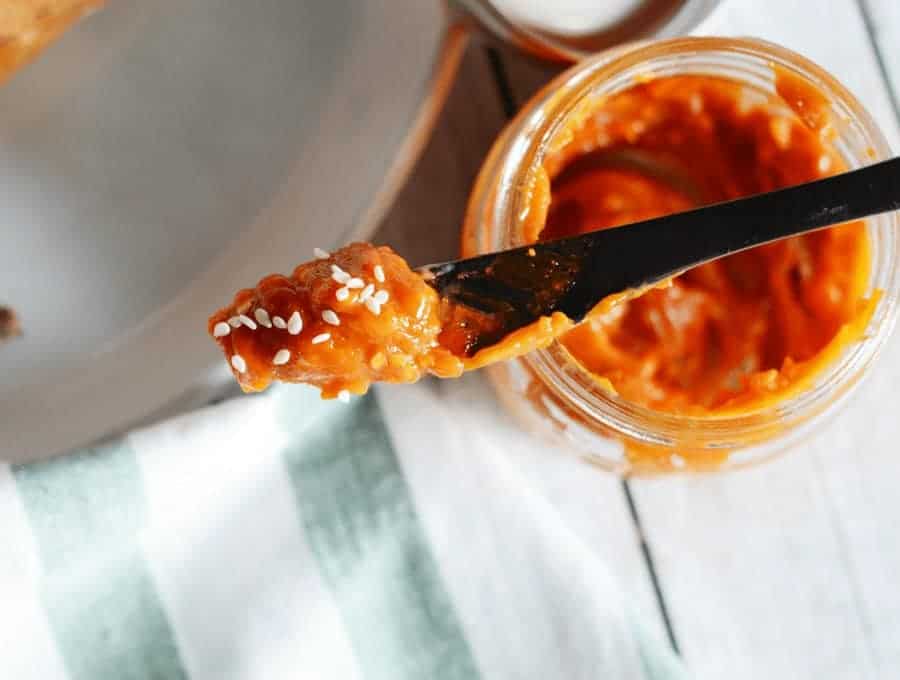 Why You'll Want To Eat This Spicy Mayo With Everything
Fast. You can make this in under 30 minutes. WAY under. If you have your ingredients onhand you can probably whip this up in less than 5.
Easy. Pour your ingredients, mix, and serve.
Low Carb. Only 2 carbs per serving.
Delicious. Creamy, spicy, and the perfect addition to any burger or sandwich.
Skip the plain, boring condiments and make something fun and exciting! Especially if you're doing low-carb or Keto, you can get tired of the same flavors and foods. Plain meat is boring, but you will need to eat a lot of it when you're on a specialized diet. Good news is that you can make SO many sauces to make your food taste different and awesome!
Have You Heard Of These?
Have you heard of Korean Hot Sauce? How about Korean Red Sauce, Bibimbap Sauce, or Korean Fried Chicken Sauce? They're all gochujang.
While it technically can't be considered a hot sauce because of its Scoville units, it still packs a punch.
It's a less spicy version of sriracha with an umami flavor due to the aging process it undergoes.
What Is In Gochujang?
Red Chili Powder
Fermented Soybeans
Ground Glutinous Rice
Salt
Some brands of gochujang will include sweeteners such as honey or sugar.
The chili powder will make it red in color to add a beautiful color to whatever food you add it to.
Is Gochujang Spicy?
There are different levels of spice in gochujang. Here are some of the 5 different heat levels in some of the varieties I've tried. It comes in five levels:
Mild Hot
Slightly Hot
Medium Hot
Very Hot
Extremely Hot
Guess which one is my favorite.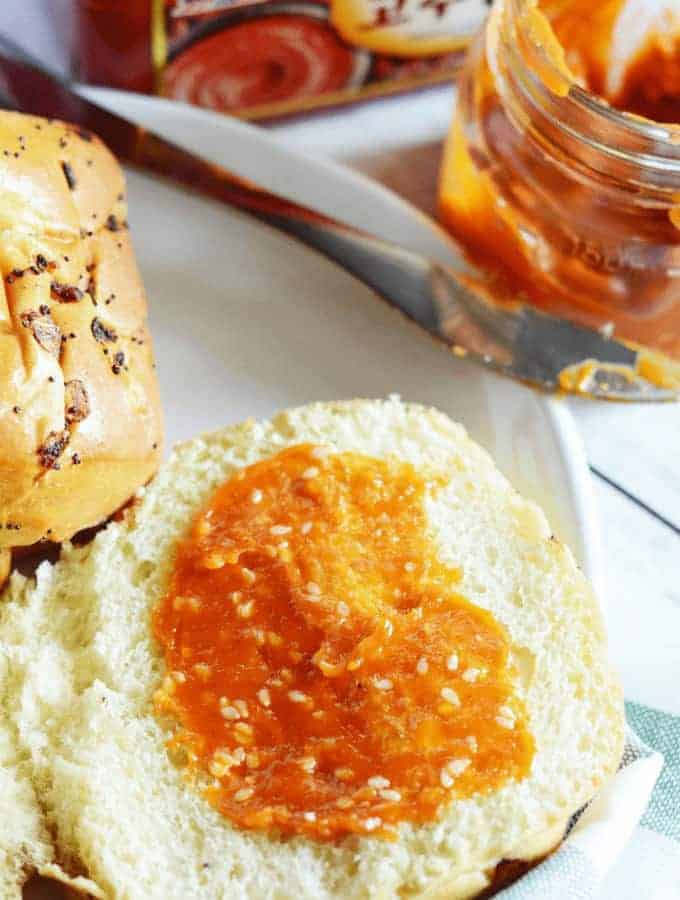 What Is In Spicy Mayo?
This Gochujang Mayonnaise is one of our favorite condiments. It takes only a few ingredients and adds killer flavor! So next time you go to make a burger, or sandwich, or wrap, or grilled meat - make Gochujang Mayonnaise! Now, being that this has Gochujang in it it will be spicy. It's not overwhelming and it has amazing flavor, but you've been warned!
I made this recipe specifically to go with the flavor of my Bulgogi Burgers, and it got rave reviews. Have you tried them yet?
What Can I Use Instead Of Gochujang?
Honestly? Nothing. There's not true substitute for Korean Gochujang. It's a wonderful flavor and worth every minute of waiting for it to ship if you can't find it locally.
If you're having trouble finding it, try ordering this Gochujang.
If you simply can't wait to get your hands on Gochujang, you can try substituting Sriracha. It will still give you a spicy mayo, but the flavor profile will not be the same.
Why Make Korean Hot Sauce?
First, it tastes like a dream.
Second. It's full of flavor and is authentic.
Third. If you follow my recipes, you probably already have all of the ingredients.
How Do You Make Spicy Mayo From Scratch?
Gather your ingredients.
Mix them together.
Enjoy!
Seriously. That's it. It's such an incredibly simple recipe but it will amplify anything you choose to eat it on.
Want More Low Carb Dishes?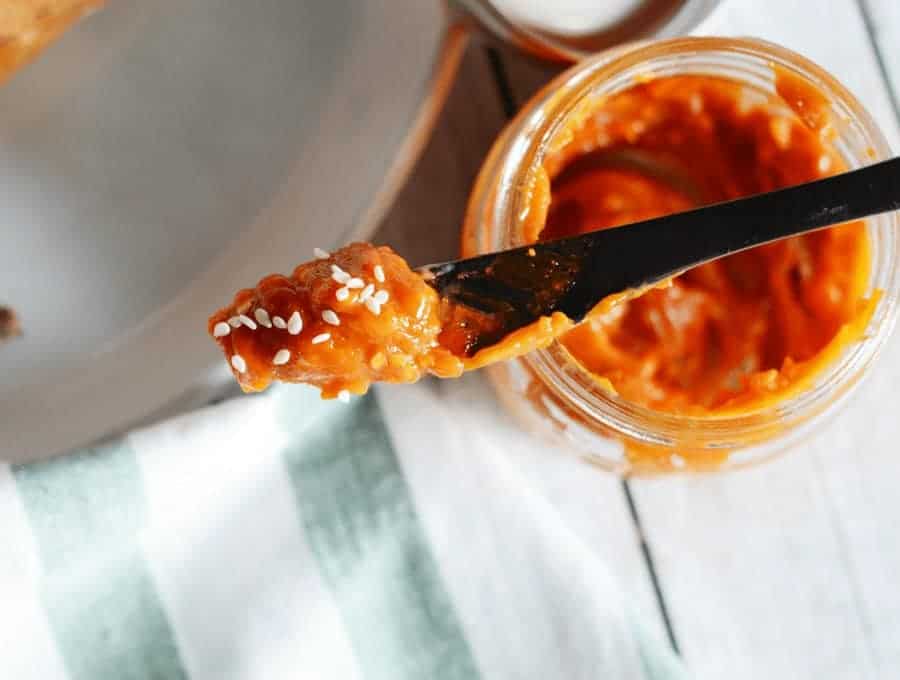 So, use these ingredients to make something full of flavor that takes your favorite recipes to the next level. If you love these flavors, share with your friends on Facebook or Pin to make it again later.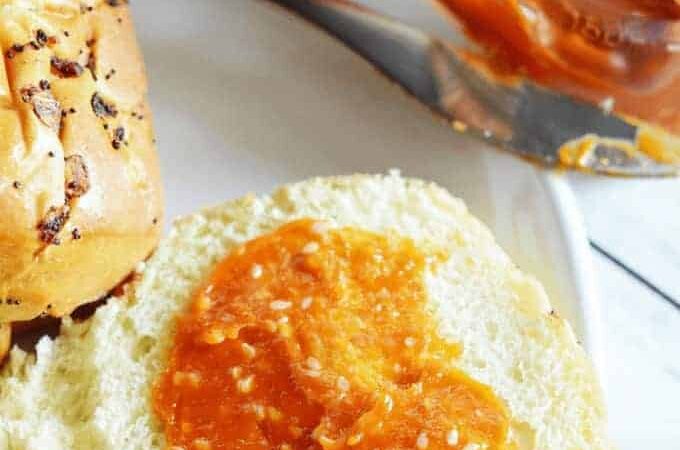 Click on highlighted ingredients or Equipment to see exactly what I use to make this recipe
Instructions
Mix together the mayonnaise, gochujang, sesame oil, sesame seeds and scallions.
Get support & connect with our community on Facebook!
Nutrition
Calories:
138
kcal
|
Carbohydrates:
2
g
|
Protein:
1
g
|
Fat:
15
g
|
Fiber:
1
g
|
Sugar:
1
g
Tried this recipe?
Follow @twosleevers and Pin it!
Originally Published June 28, 2019
Don't forget to check out my other Keto cookbooks.
Keto Instant Pot, Keto Fat Bombs, Sweets, & Treats, and Easy keto in 30 minutes.