Tacos are all the rage and rightfully so! I don't know many people who don't love tacos and I don't blame them one bit. Tacos are a classic Mexican dish that are always a crowd pleaser. If you're looking for a healthier chicken taco recipe, this Tacos de Alambre dish is a perfect choice.
Rich in taste, with all the flavors you would expect from a taco dish. Can you believe this is keto-friendly? What's even better, it's made with chicken and bacon, for a light yet, flavorful recipe.
Of course, many people are used to their taco recipe being made with ground beef. These Tacos de Alambre are chicken tacos, that doesn't mean you can't swap out for the meat you prefer.
Pay attention to any changes you might need to make such as draining the beef after cooking it, etc.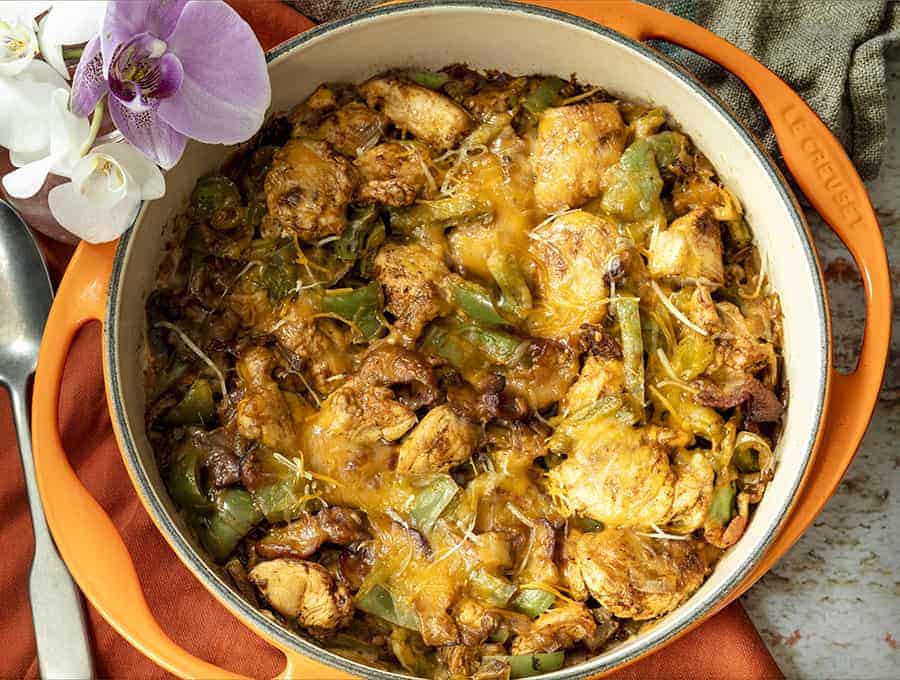 Tacos de Alambre | Keto Taco Meat Recipe
Tacos de Alambre is a popular Mexican dish that consists of meat, bacon, bell peppers, onions, cheese, salsa, and on occasion, some people like to use avocado. This dish is commonly served in homemade, warm tortillas. It's bursting with flavor, especially with that bacon included.
This dish is traditionally served with grilled beef and all the ingredients listed above. However, any meat can be substituted. As you can see, I've used chicken instead of grilled beef.
Not only is chicken cheaper but, it's leaner and many people prefer not to eat red meats. Besides, I usually only see chicken taco recipes that use chicken and salsa.
Which is fine–but #trustUrvashi–these are a LOT more flavorful than chicken tacos made with just salsa.
I like to serve my Chicken Tacos De Alambre with guacamole, and use a Mexican cheese blend instead of just any cheese.
I don't use any strange or unheard of spices in this dish however, to get the best flavor, use the best spices and follow the exact type of spice I recommend in the ingredients list.
Can I freeze Chicken Tacos de Alambre?
This dish doesn't freeze well once you've added the cheese. If you would like to save it for later by freezing it, you can make it without the cheese. Freeze it, and upon reheating it, add the cheese then. Be sure to freeze it in freezer-friendly container for best results.
How to Make Chicken Tacos de Alambre
Definitely watch the video in this post for a short version. For the longer version, head on over to Youtube where the longer Tacos de Alambre video has tips and tricks for you!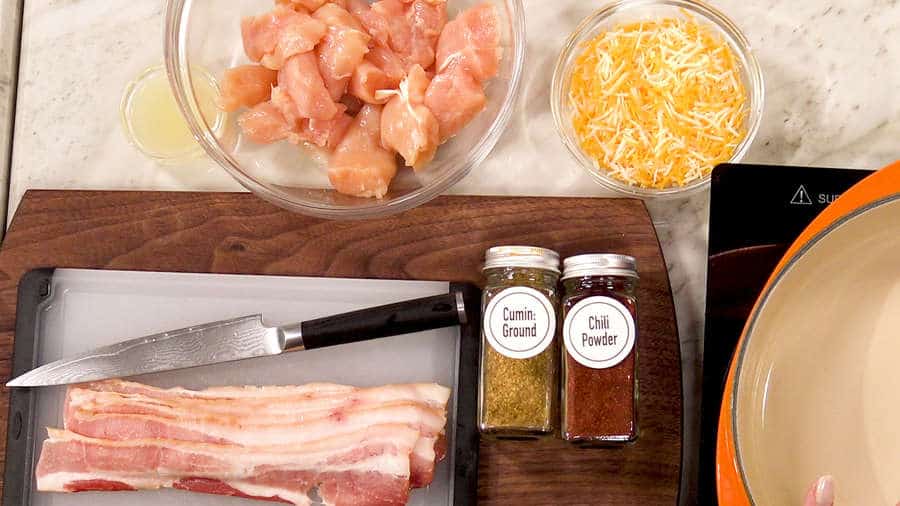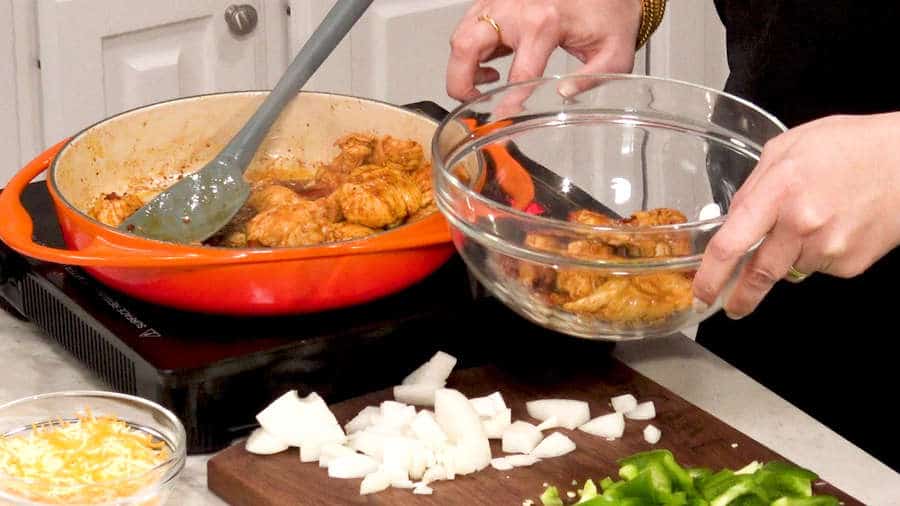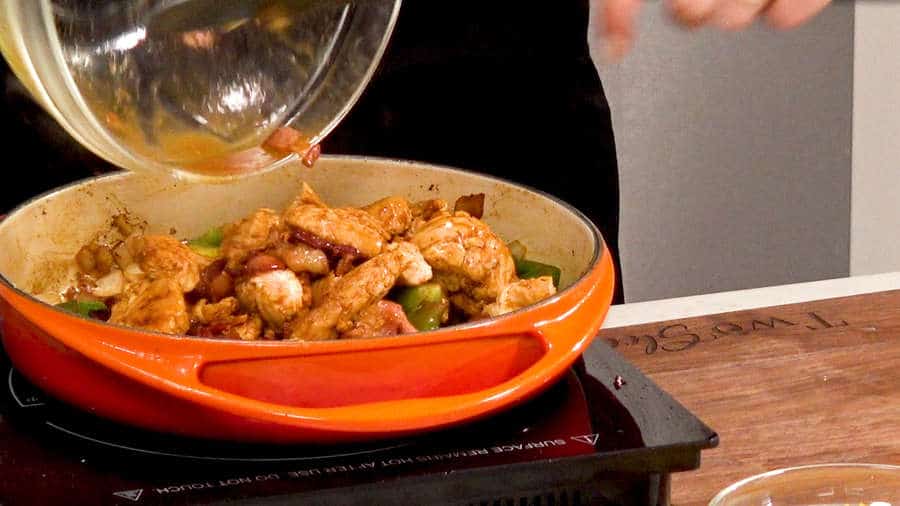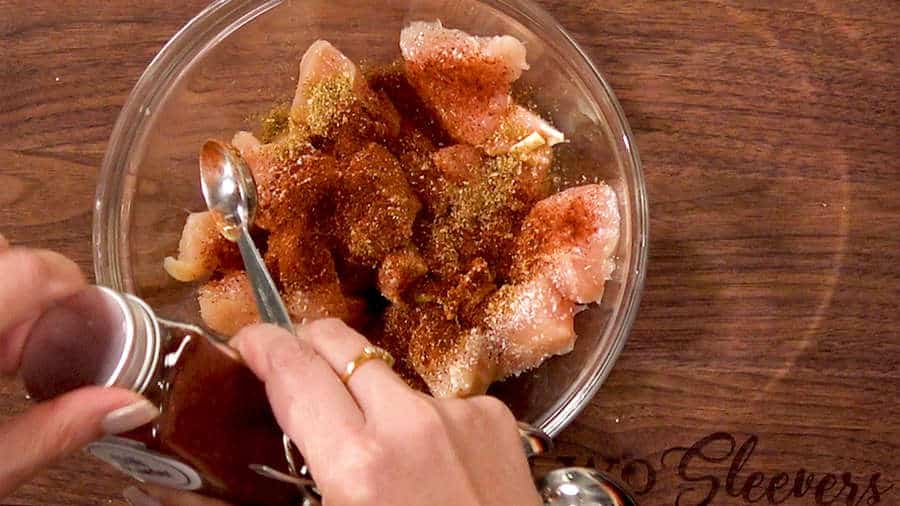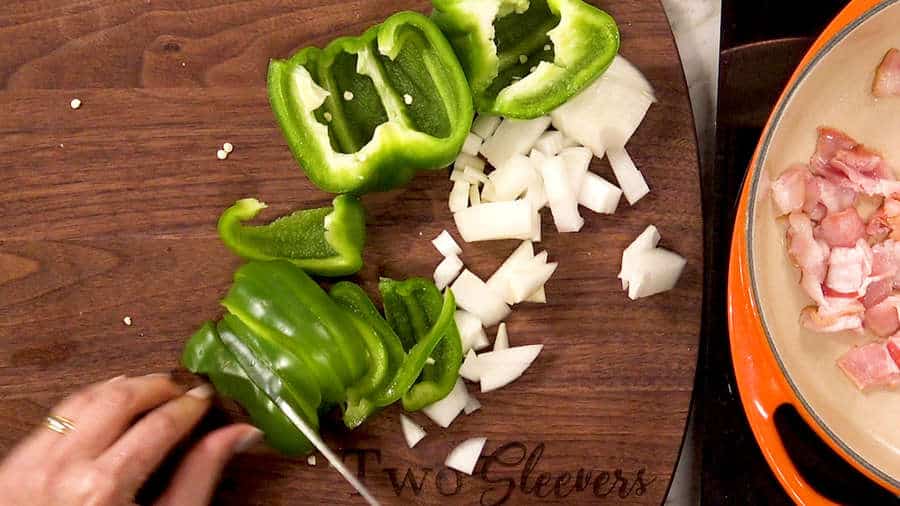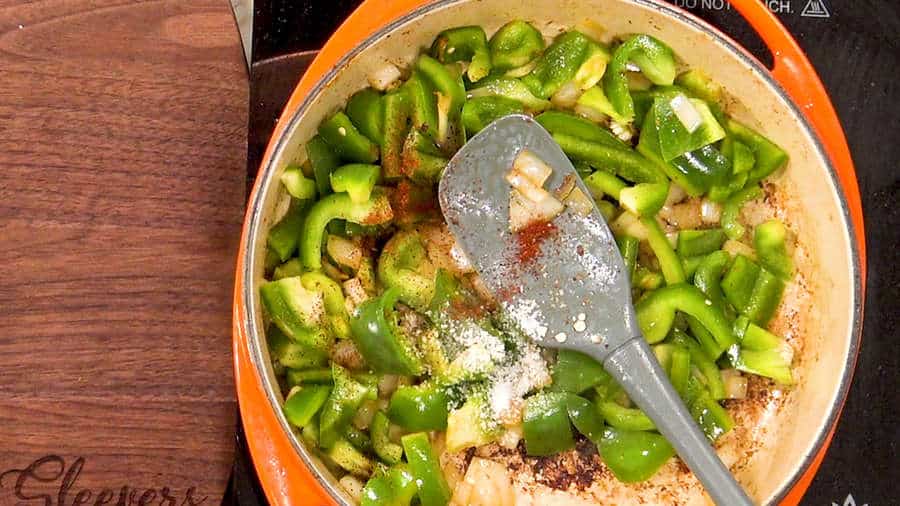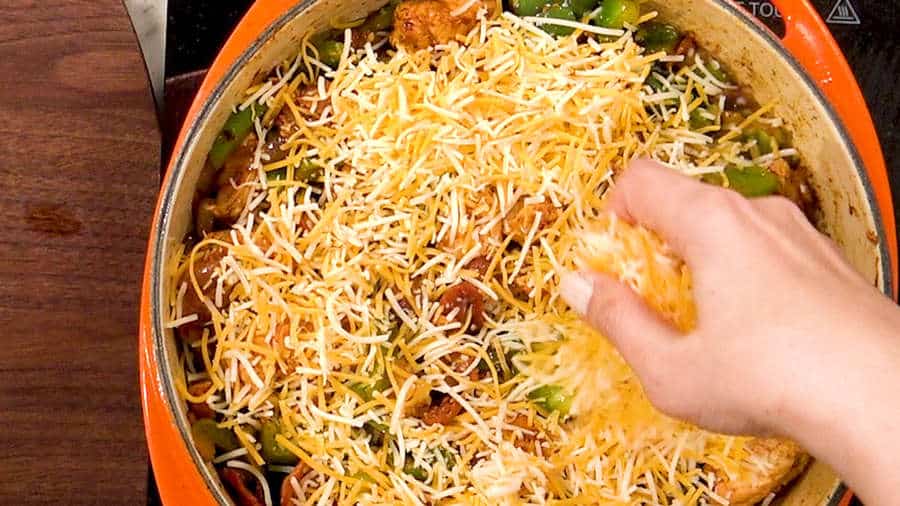 Looking for a great low carb salsa to add to your tacos? Check out my Air Fried Tomatillo Salsa! It's a spicy, authentic and easy to make tomatillo salsa.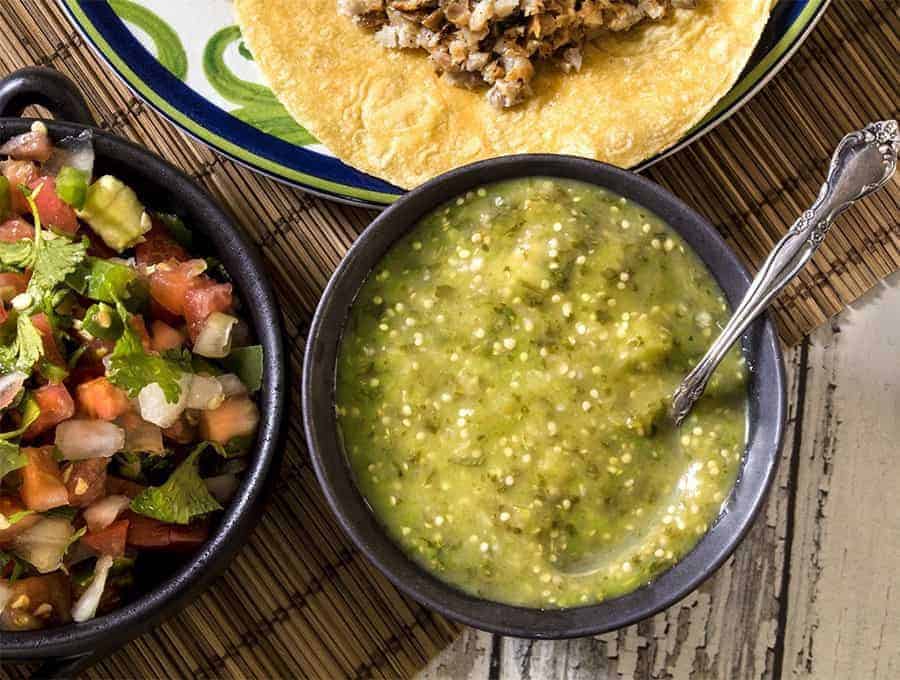 And if you're looking for a great side dish, check out my Mexican Corn Eloté. Make sweet and savory Mexican street corn at home in your air fryer!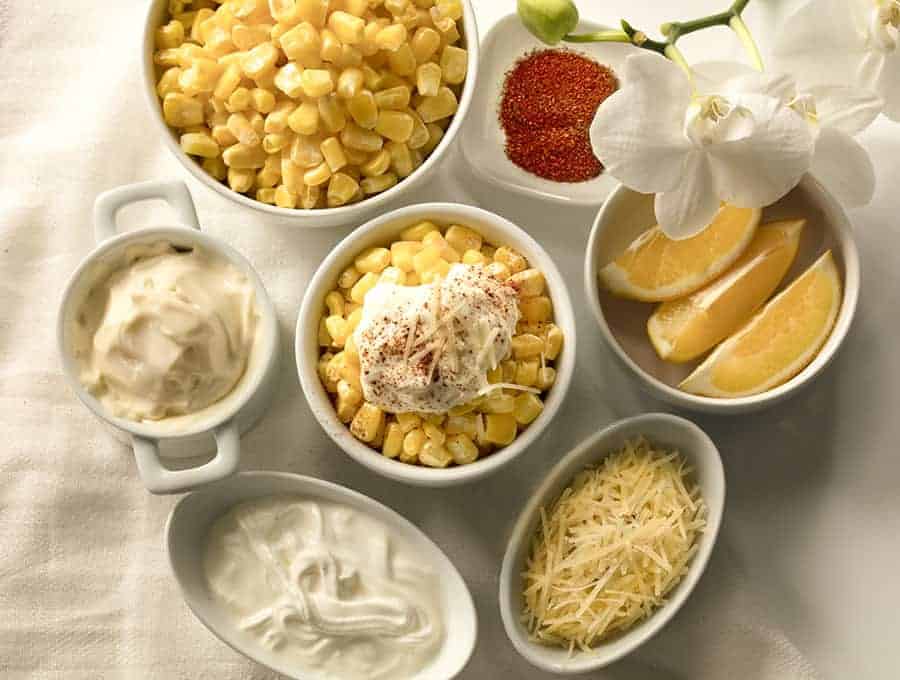 If you are anything like me and love your Mexican food, I guarantee that this Tacos de Alambre will hit the spot. The perk is that you won't have that leftover uncomfortable feeling in your stomach like most Mexican food causes either. It's a hit with the family too. You really can't go wrong with this recipe.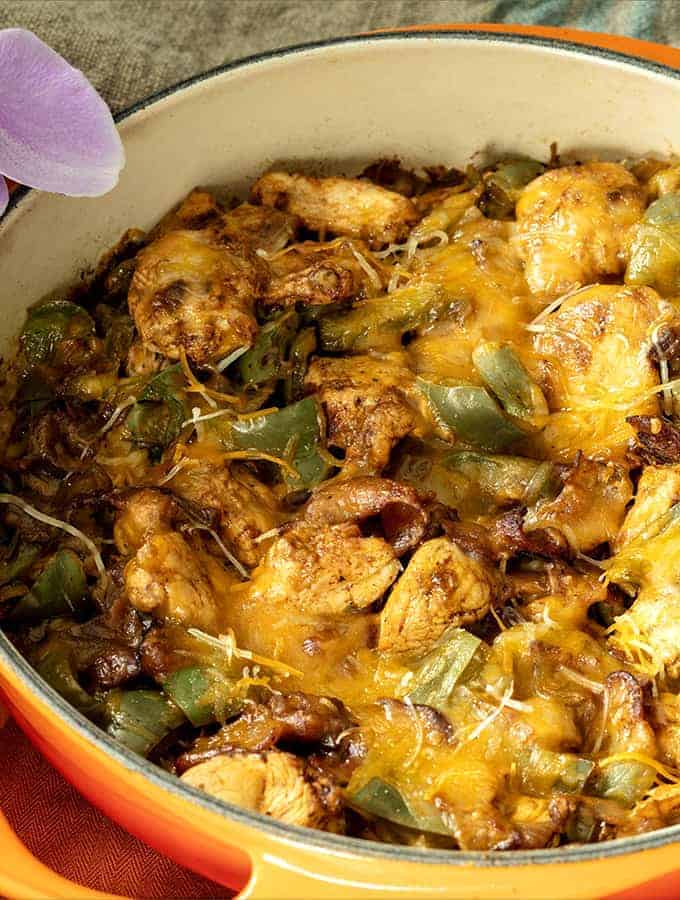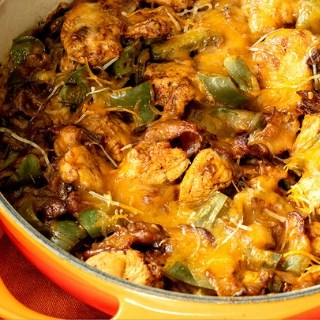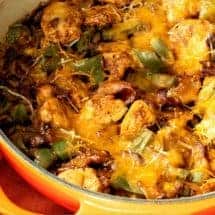 Tacos de Alambre | Keto Chicken Tacos Recipe
Tacos de Alambre is a delicious Mexican chicken taco recipe that's bursting with flavor! It's chock-full of chicken and bacon AND it's keto! Need I say more?

Keyword:
Chicken Tacos Recipe, instant pot mexican recipes, Keto Mexican Recipes, Keto Taco Meat Recipe, Keto Tacos de Alambre, Low Carb Mexican Recipes, Mexican Dinner Recipes, Mexican Food, Taco Meat Recipe, Tacos de Alambre, TwoSleevers
Dietary Consideration:
Egg-Free, Gluten-Free, High Protein, Keto, Low Carb, Soy-Free
Ease of Cooking:
Under 30 Mins
Recipe Type:
Chicken, Keto Low Carb, Mexican
Ingredients
6

slices of bacon

cut into small pieces

1

pound

chicken tenders

cut into bite size pieces

2

tablespoons

lime juice

1.5

teaspoons

Salt

1.5

teaspoons

Ground Cumin

1

teaspoon

chili powder

1/2

cup

white onion

chopped

2

cups

green bell peppers

chopped

3-4

Jalapeño Peppers

(optional)

1

cup

shredded cheese

Mexican blend, Oaxaca or Muenster

salsa and guacamole for serving
Instructions
Heat a 12-inch skillet on high heat. As the skillet heats, chop up the bacon. Add the bacon to the hot pan.

While the bacon cooks, cut the chicken into bite size pieces, and marinate the chicken. To a large bowl, add the chicken, 1 tablespoon lime juice, salt, ground cumin, and chili powder. Set aside.


When the bacon is cooked through, about 8 minutes, add the chicken to the pan and cook for 4-5 minutes until the chicken is cooked through. Remove chicken and bacon to a bowl.


To the pan, add onions and jalapenos if using. Cook until the onions are translucent, about 2 minutes. Add chopped bell peppers, and ½ teaspoon salt. Cook for 2 minutes until the peppers have softened. Add lemon juice and ¼ cup of water and deglaze the pan thoroughly.


Add bacon and chicken to the pan, and stir well.

Sprinkle the cheese on the chicken and vegetables. Turn heat down to medium, cover the pan with a lid, and allow the cheese to melt, about 2 minutes.

Meanwhile, get your salsa, guacamole, and sour cream in small bowls so that you can serve alongside the chicken.
Nutrition facts per serving
306kcal | Fat: 18g | Saturated fat: 7g | Carbohydrates: 6g | Fiber: 1g | Sugar: 2g | Protein: 28g
I am not a registered dietician or nutritionist. Nutritional information is provided a courtesy, and can vary depending on the exact ingredients you use.