This Ham and Cheese Frittata makes a fabulous breakfast, brunch, or a light one pot meal. Plus it's low carb, keto, and Instant Pot! The pressure cooker makes really light and fluffy eggs that are an absolute delight.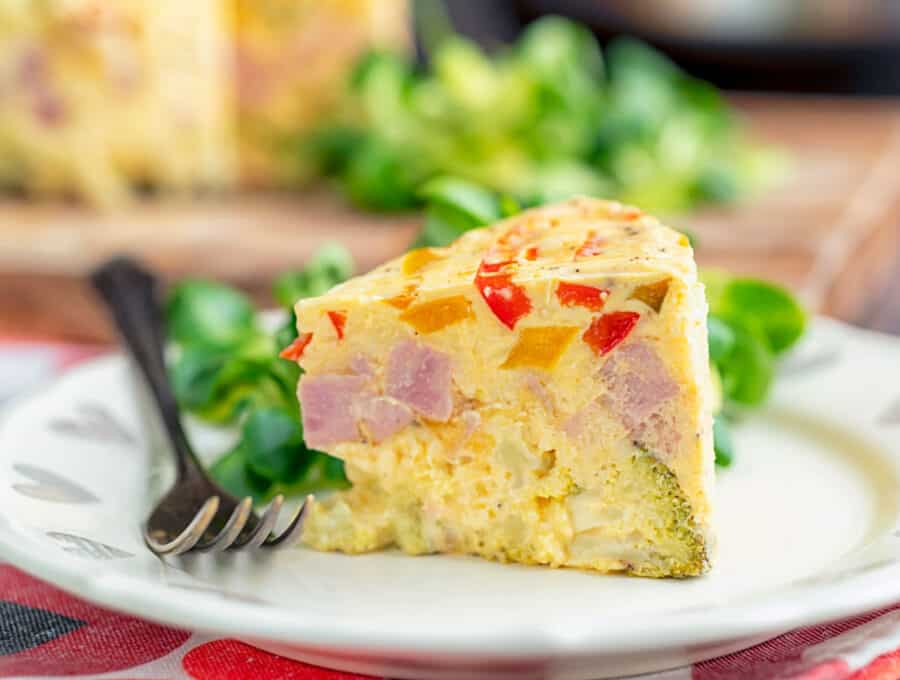 Ham And Cheese Frittata | Instant Pot Frittata Recipe
I love making eggs in the Instant Pot. It's something about the water bath that just makes them cook up smooth and velvety. I have one other frittata recipe that is a reader favorite, and that's my Keto Poblano Frittata recipe. But a woman cannot live on Poblanos alone. I need variety.
I have an old Broccoli, Ham, and Pepper bake that I made in the oven, but I wanted to try it for the Instant Pot, and of course, since I can't follow (even my own) recipes, I just sort of looked at it, and then made whatever I felt like. So the proportions for this are different, but they both work.
But I want you to look at the beautiful texture you get from cooking eggs in the Instant Pot or pressure cooker.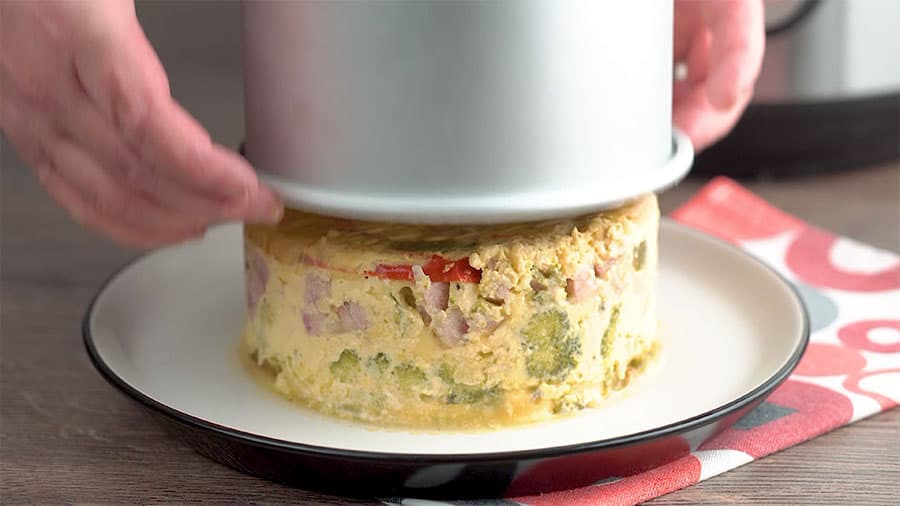 What You'll Need To Make This Broccoli Fritatta With Ham
Ham
Bell Peppers
Frozen Broccoli
Half and Half
Shredded sharp cheddar cheese
One of the things I did this time that I don't normally fuss with was to layer the veggies and the ham. I do think it made for a much prettier presentation for this Instant Pot Frittata and really it didn't take that any more time at all. I just had to add one ingredient at a time and that's all it took to make these layers.
How to Make A Instant Pot Ham And Cheese Frittata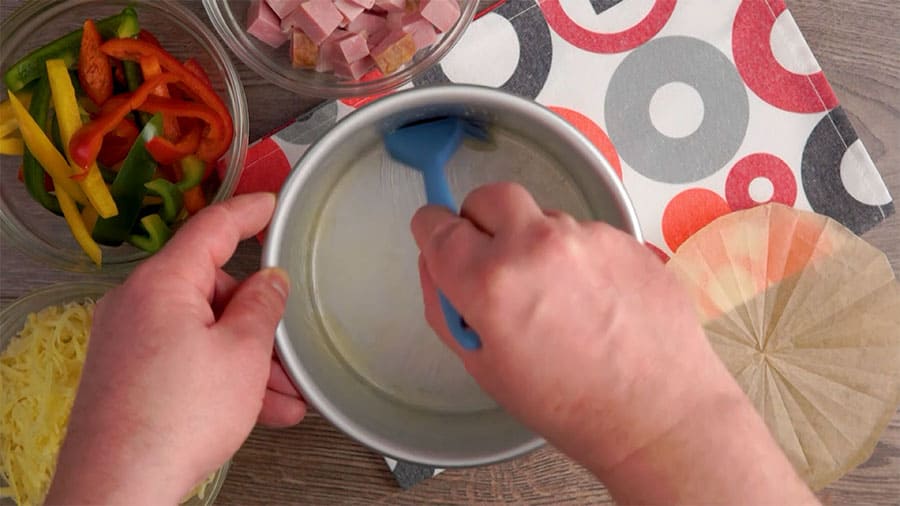 Liberally butter the bottom of the pan with butter.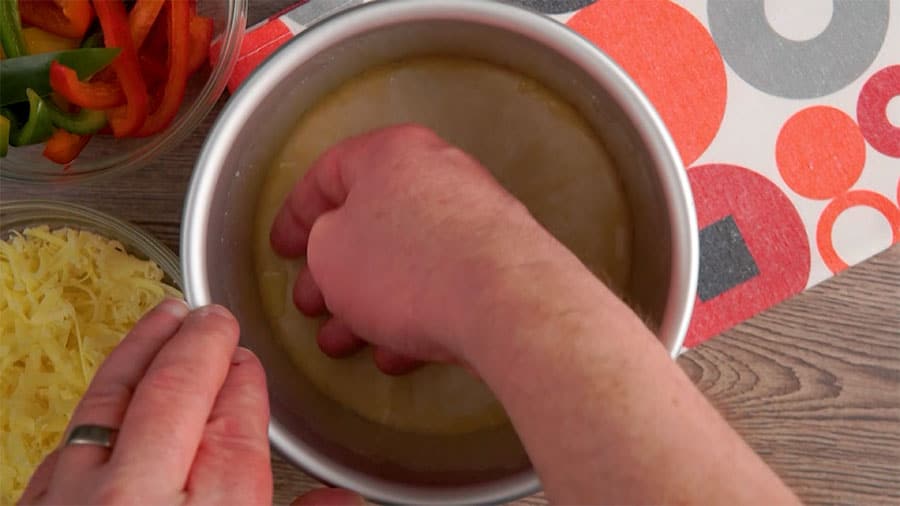 Add a layer of parchment paper.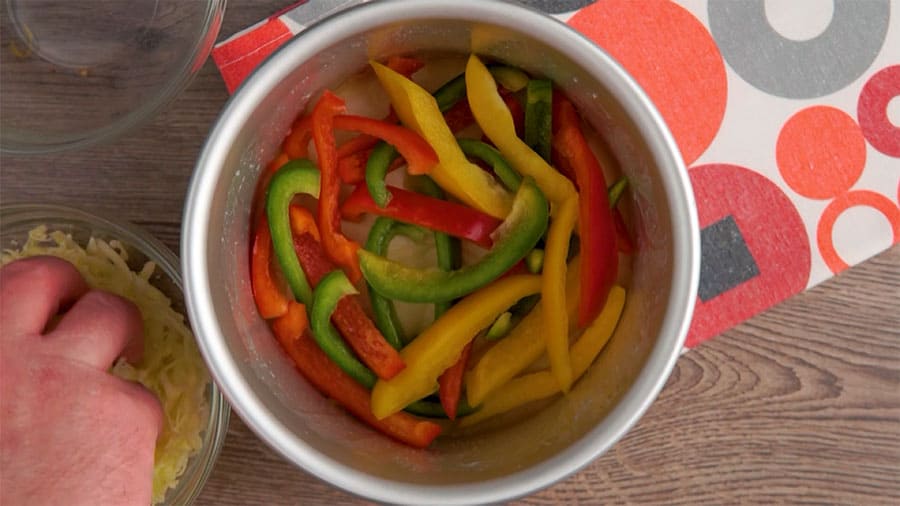 Layer Peppers to taste.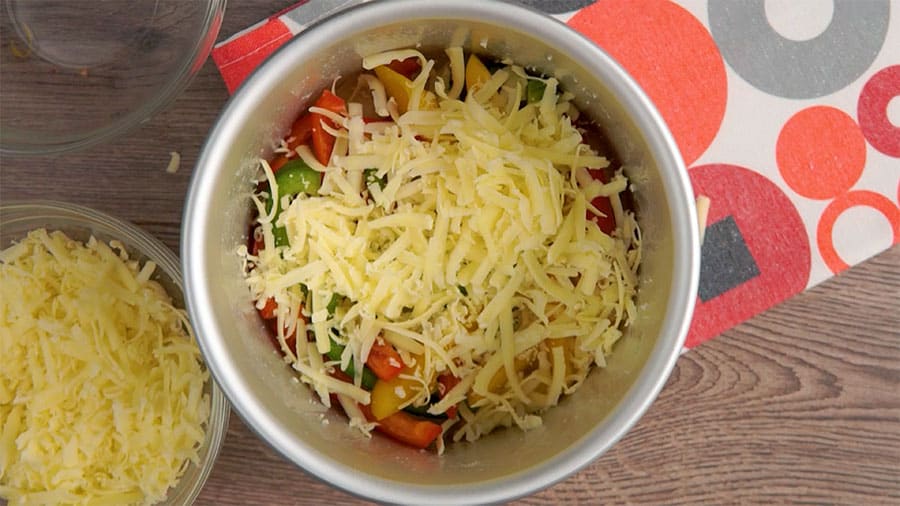 Sprinkle cheese to your liking.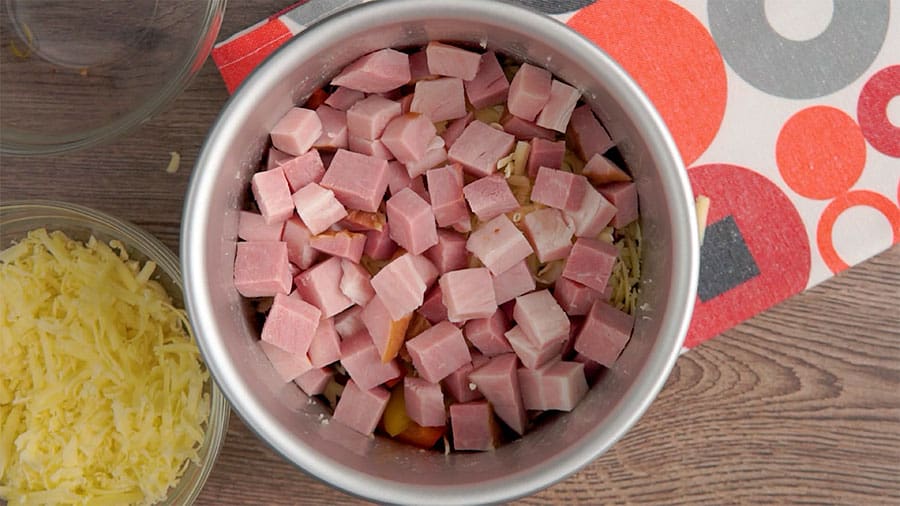 Now comes the layer of cubed ham.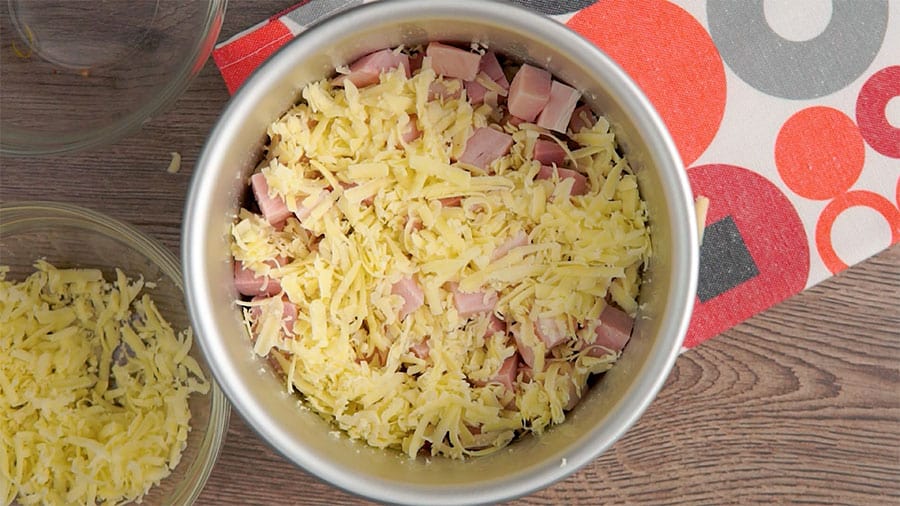 Yep. More cheese. It's the best part.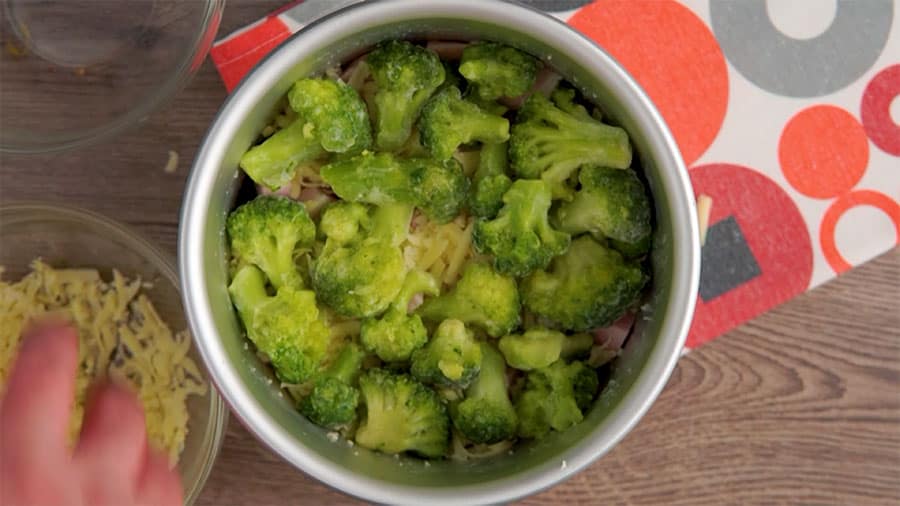 A layer of broccoli to add more veggies.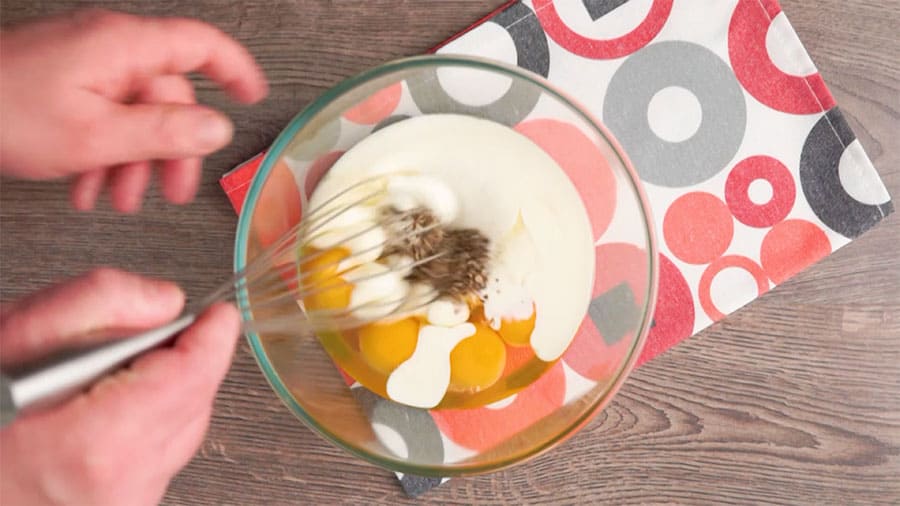 Whisk eggs, salt and pepper.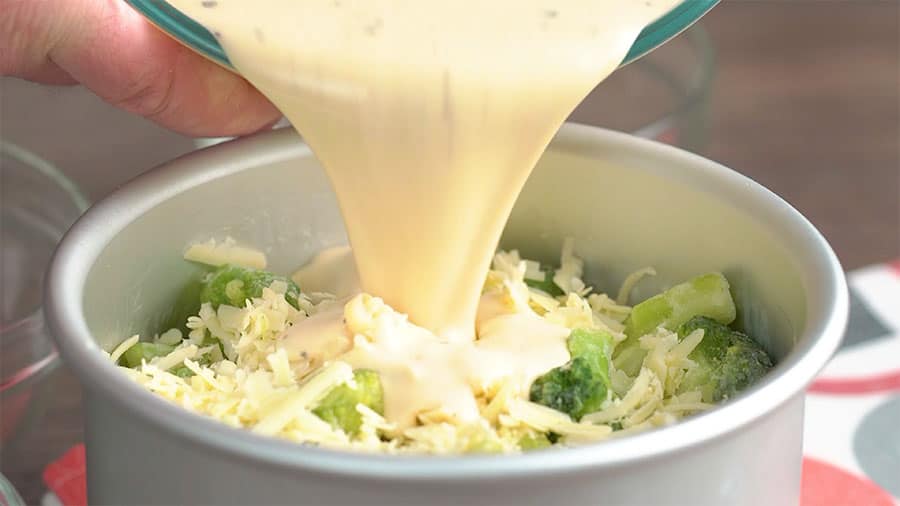 Pour eggs over layered ingredients inside of nonstick pan.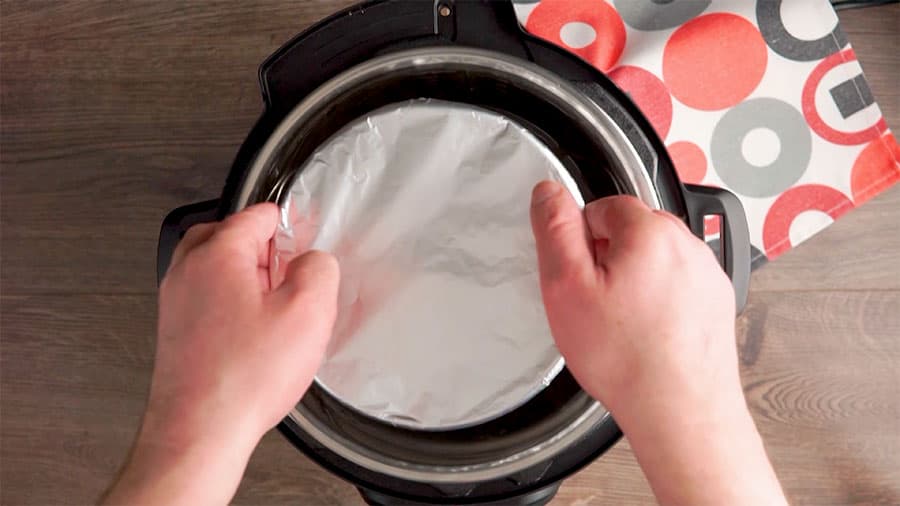 Cover pan with foil and place on top of trivet inside of your Instant Pot.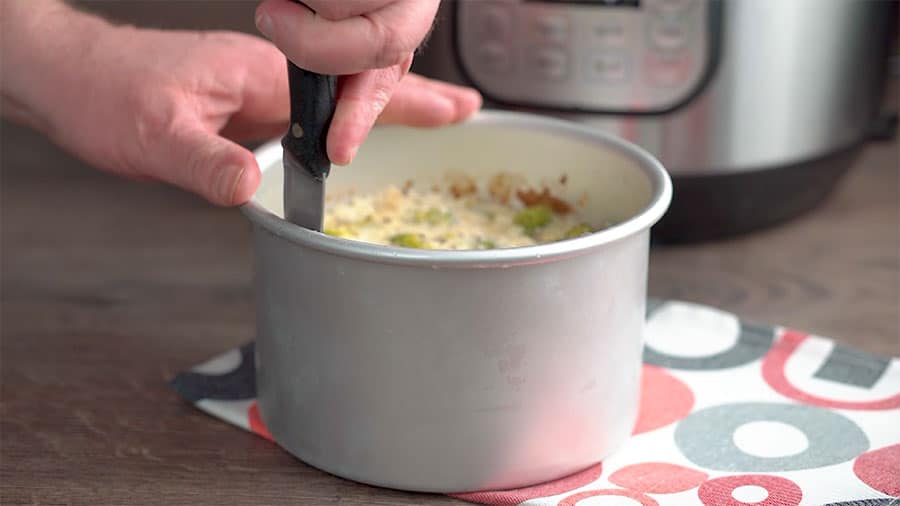 Once finished cooking, use a knife to separate the frittata from the edge of the pan.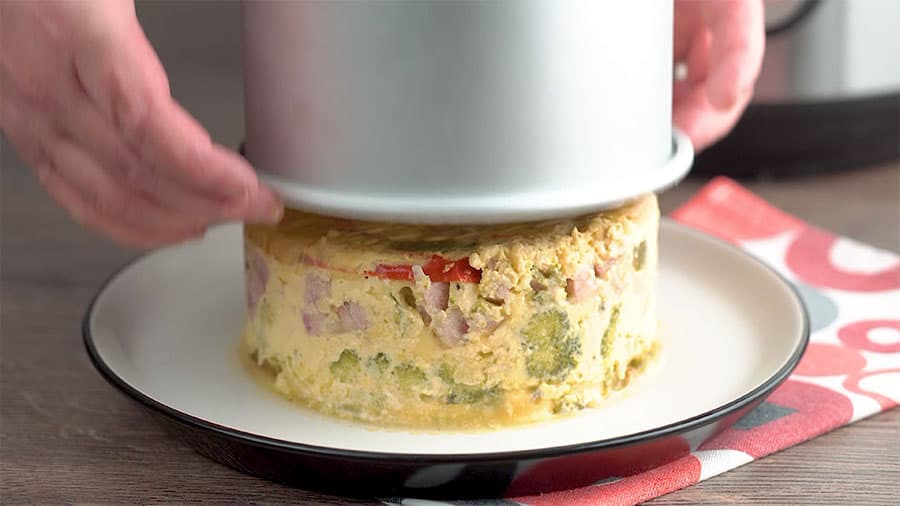 Plate the frittata and enjoy!
Other Brunch Recipes To Consider
If you enjoyed this frittata recipe, you may enjoy my Air Fried Herb and Cheese Frittata as well! It's super delicious and comes together so easily!
Another great Instant Pot breakfast recipe option is my Smooth Cardamom Yogurt! It's a great grab-and-go option that's not loaded with sugar like most other yogurts!
This recipe also makes a great dish for a Mother's Day brunch! Check out my Keto Mother's Day Brunch Recipes post for more great ideas!
If you're a big fan of broccoli, check out my Air Fryer Sesame Ginger Broccoli recipe! Sesame oil, miso, and chili garlic sauce will make this broccoli the best that you have ever eaten!
A great side for this dish is my Cheese Grits recipe! These savory morsels of deliciousness are sure to become part of your regular breakfast after you've tried them.
Satisfy your sweet tooth with this keto breakfast favorite Keto Silver Dollar Pancakes.
How To Serve This Ham And Cheese Frittata
Now I want to tell you something interesting. I had intended to serve this Instant Pot Frittata colorful pepper side up. But when I poured in the eggs with cheese, the cheese settled on the top. By this time it was too late to fix anything. But if I were trying it again, I might try sprinkling half the cheese on top of the ham and the other half on top of the broccoli.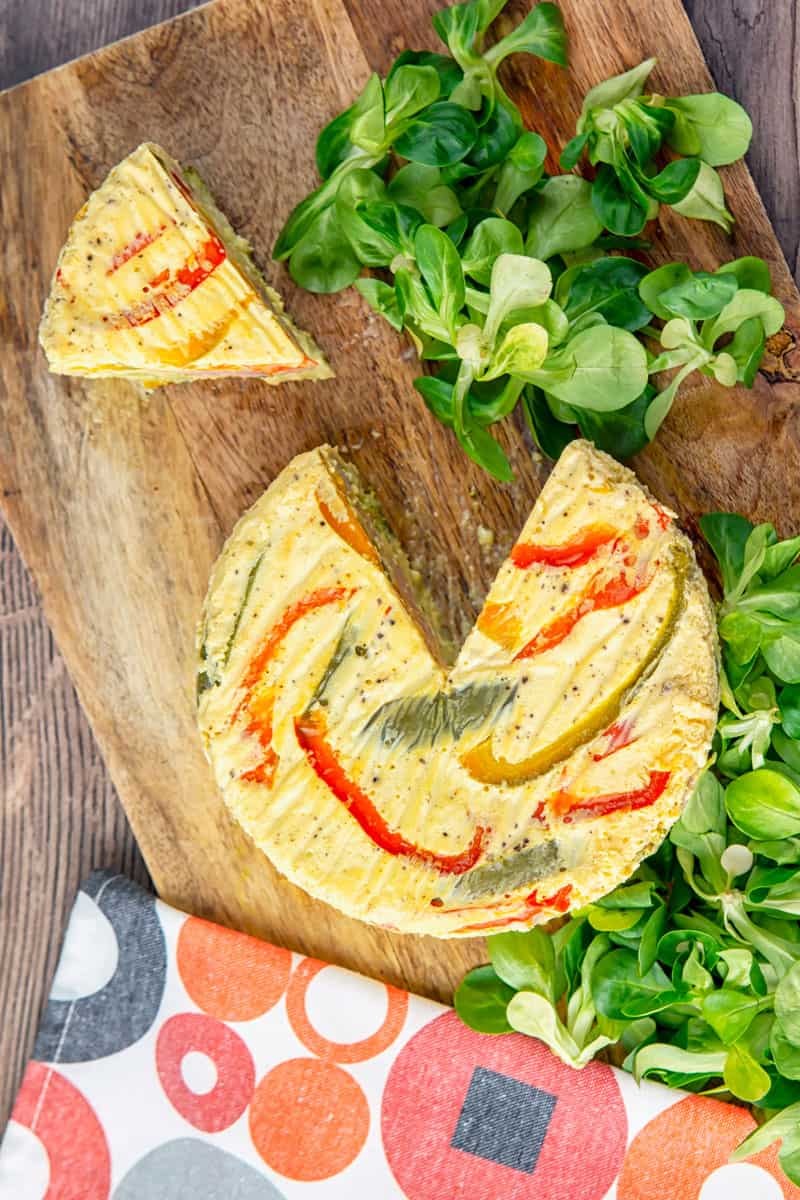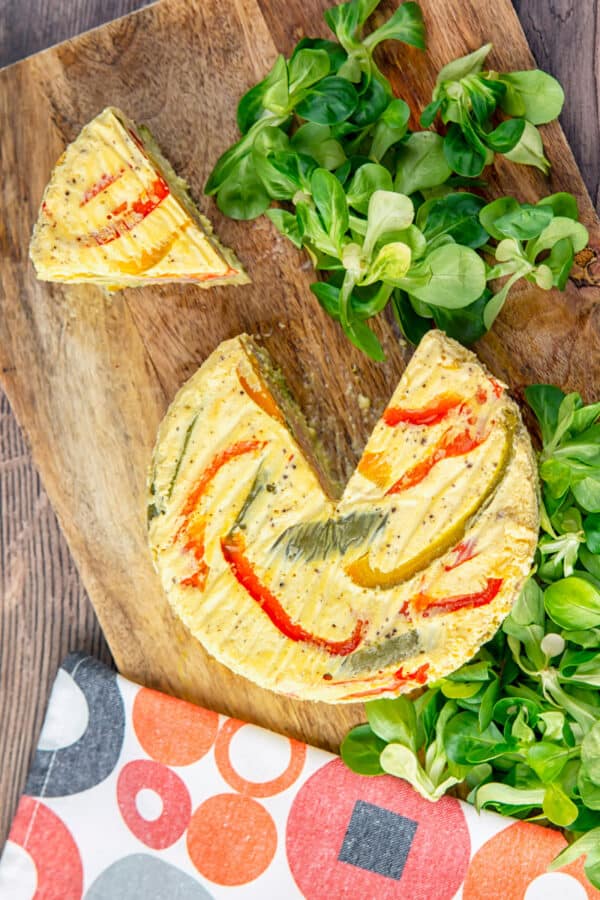 If you're curious about the technique used in this recipe, watch the video in this post so you can see how Pot in Pot cooking works.
If you love this Instant Pot Ham And Cheese Frittata as much as we do, make sure you share it with your friends on Facebook and Pinterest so they can try it too!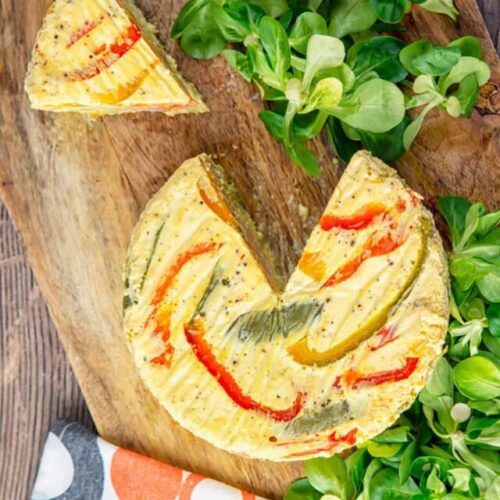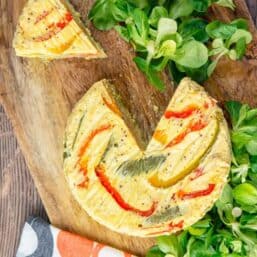 Broccoli Frittata with Ham and Peppers
This Broccoli Frittata with Ham and Peppers makes a fabulous breakfast, brunch, or a light one pot meal. Plus it's low carb, keto, and Instant Pot!
Ingredients
8

ounces

Ham

cubed

1

cup

Bell Peppers

sliced

2

cups

Frozen Broccoli

4

Eggs

1

cup

Half and Half

1

cup

shredded sharp cheddar cheese

1

tsp

Kosher Salt

2

teaspoons

Ground Black Pepper
Instructions
Grease a

silicone brush to get oil or butter into every crevice of my pan.

Arrange the sliced sweet peppers in the bottom of the pan

Place the cubed ham on top of it.

Cover with the frozen broccoli. Before you ask me, yes this will work with fresh broccoli as well, I used frozen because that's what I had.

In a mixing bowl

whisk

together the eggs, half and half, salt, and pepper.

Stir In shredded cheese.

Pour the egg mixture on top of your vegetables and ham and cover with foil or a

silicone lid.

In the inner liner of your instant pot or Pressure cooker, place 2 cups of water.

Place the covered pan on the steamer rack.

Cook on high pressure for 30 minutes. Allow it to release pressure naturally for 10 minutes, and then release all remaining pressure.

Let it sit for 5-10 minutes. Using a knife, gently loosen the sides of your wondrous creation. 
Place a plate on top of the pan, and thump out the frittata onto the plate. If you want the pepper and ham side up, you're done. If you want the cheese side up, flip it on a plate once more.

You can broil for 3-4 minutes to get the cheese to melt or serve as is.
Notes
Recipe notes: Subs that will likely work: 
Fresh broccoli for frozen
Other veggies instead of broccoli and pepper but do not use tomatoes and possibly mushrooms as they will release too much water.
Dairy-free milks
Individual servings in jars or ramekins, cook 4-5 minutes.
Yes, this reheats very well. No, I would not freeze it.
If you don't eat ham, use some other cooked meat. Raw meats will release too much water. Chicken sausage, roast beef chunks, smoked sausage etc. are all good subs.
Originally Published October 27, 2017
Indian Instant Pot, Keto Instant Pot, Instant Pot Fast and Easy, Healthy Instant Pot & Vegetarian Instant Pot.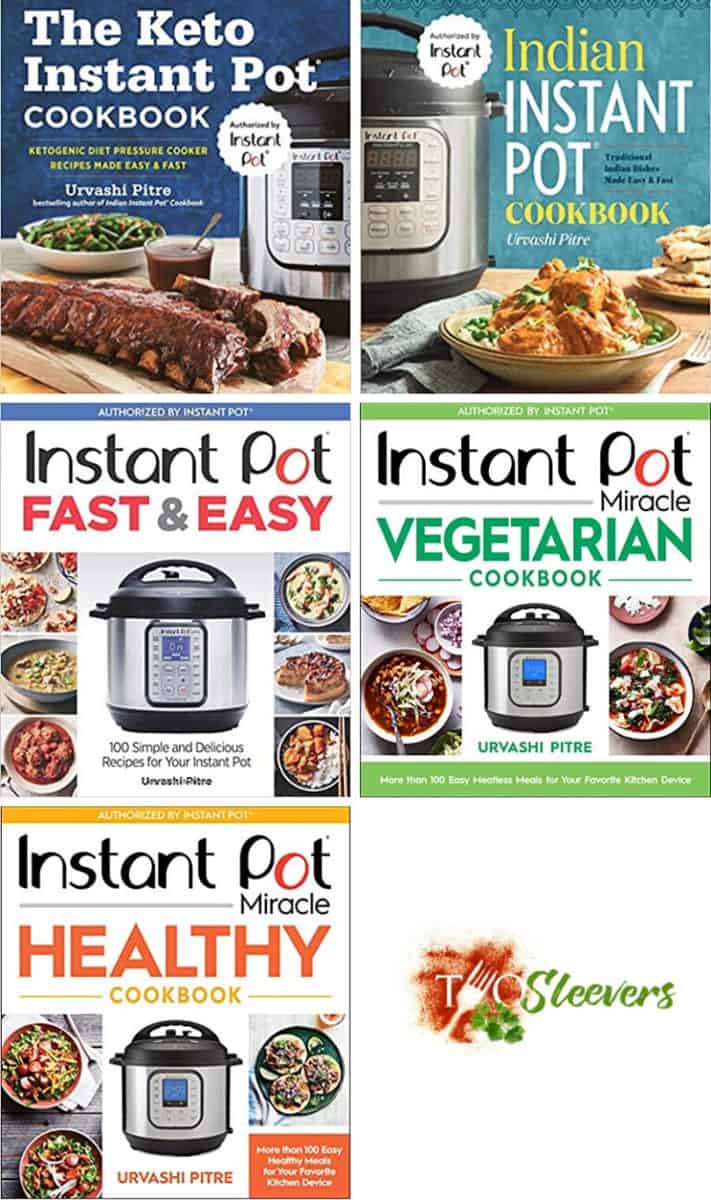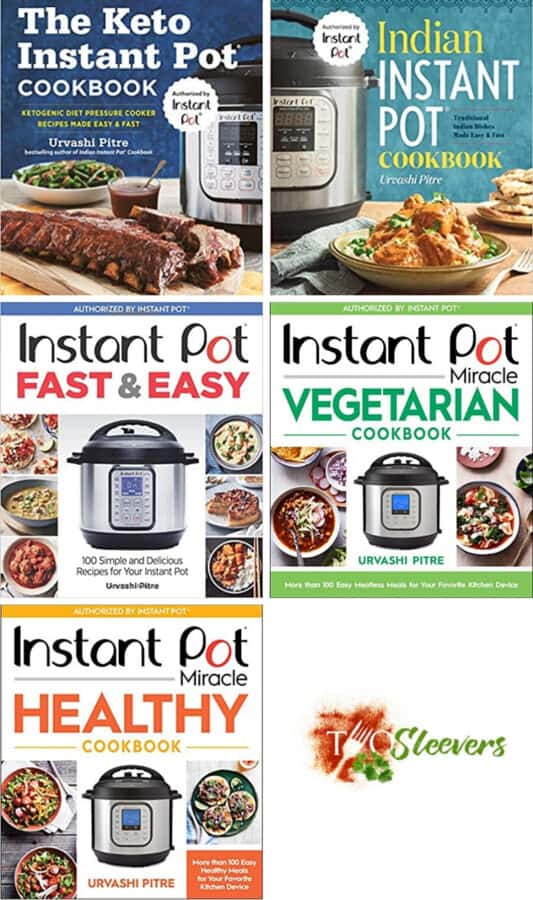 Want More Instant Pot Recipes?