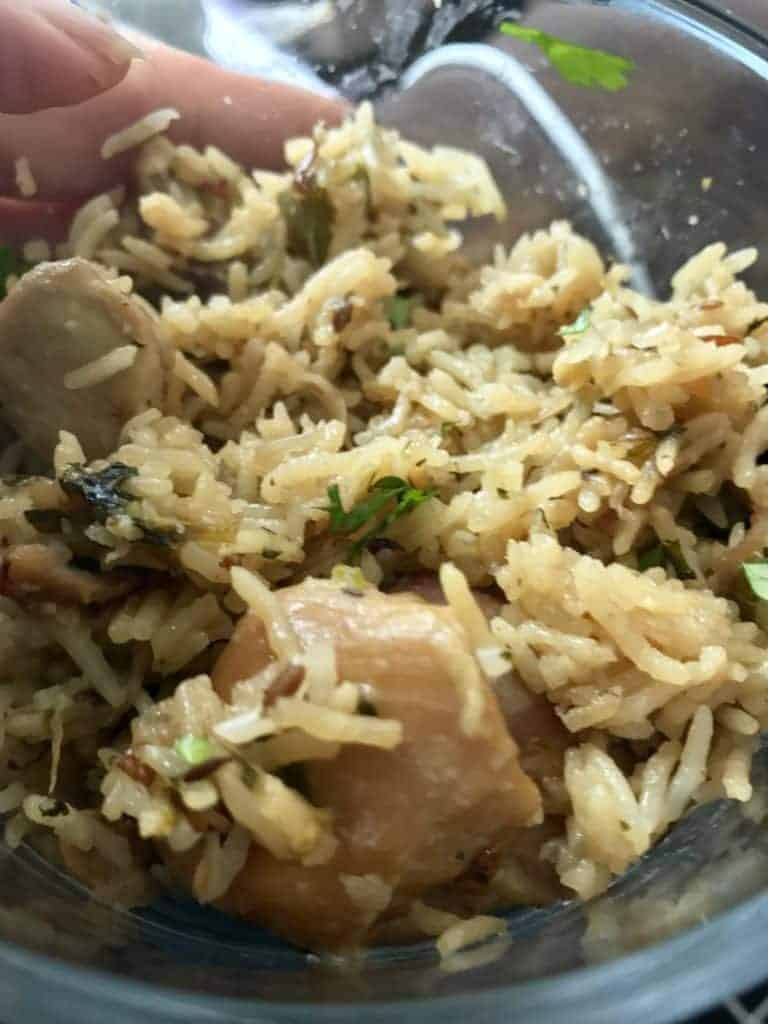 I've finally figured out how to make an authentic-tasting biryani in the Instant Pot–without dirtying every dish in the house. I'm so proud of myself today!
So just so you know, If I'm ever on death row, I will ask for Biryani for my last meal, thats how much I love it. (Considering I'm a law-abiding citizen, if I'm ever on death row, I was framed, so please find me a really good lawyer).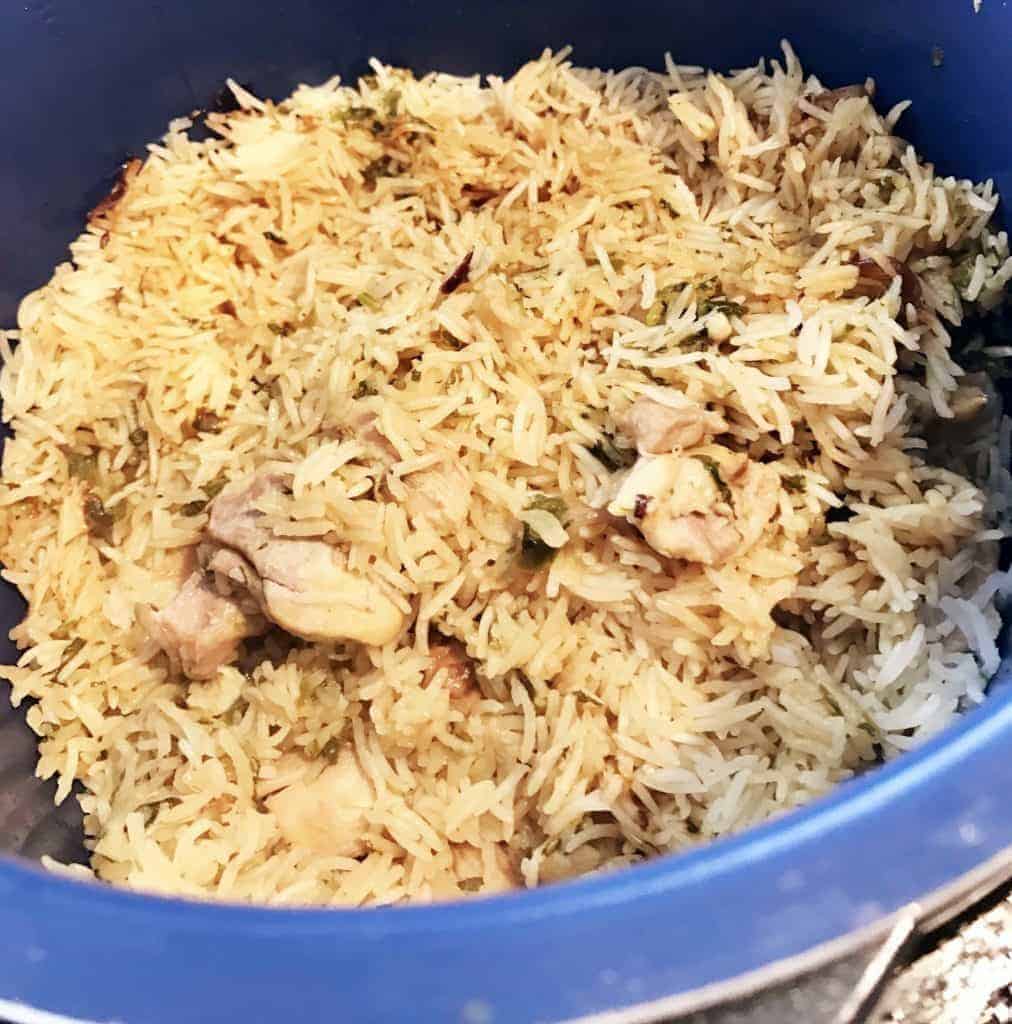 Here's the thing about Biryani though. Complicated to make, dirties every pot in the house, hours of labor, multiple steps, and yet eaten within 5 minutes. So I have been thinking about how to do this in ONE pot and I finally cracked the code. Oh, and I'm not even going to pretend this is low carb. It isn't. It's got a lot of (really tasty) rice in it. So it's definitely for treat days.
The easiest way to do this to get all your spices together, and chop all your veggies at once, keeping the piles separate. Rinse and drain your rice before you start and chop the chicken as you're cooking the veggies. I've included a composite picture of most of the steps so you can see for example, how much to cook the onion.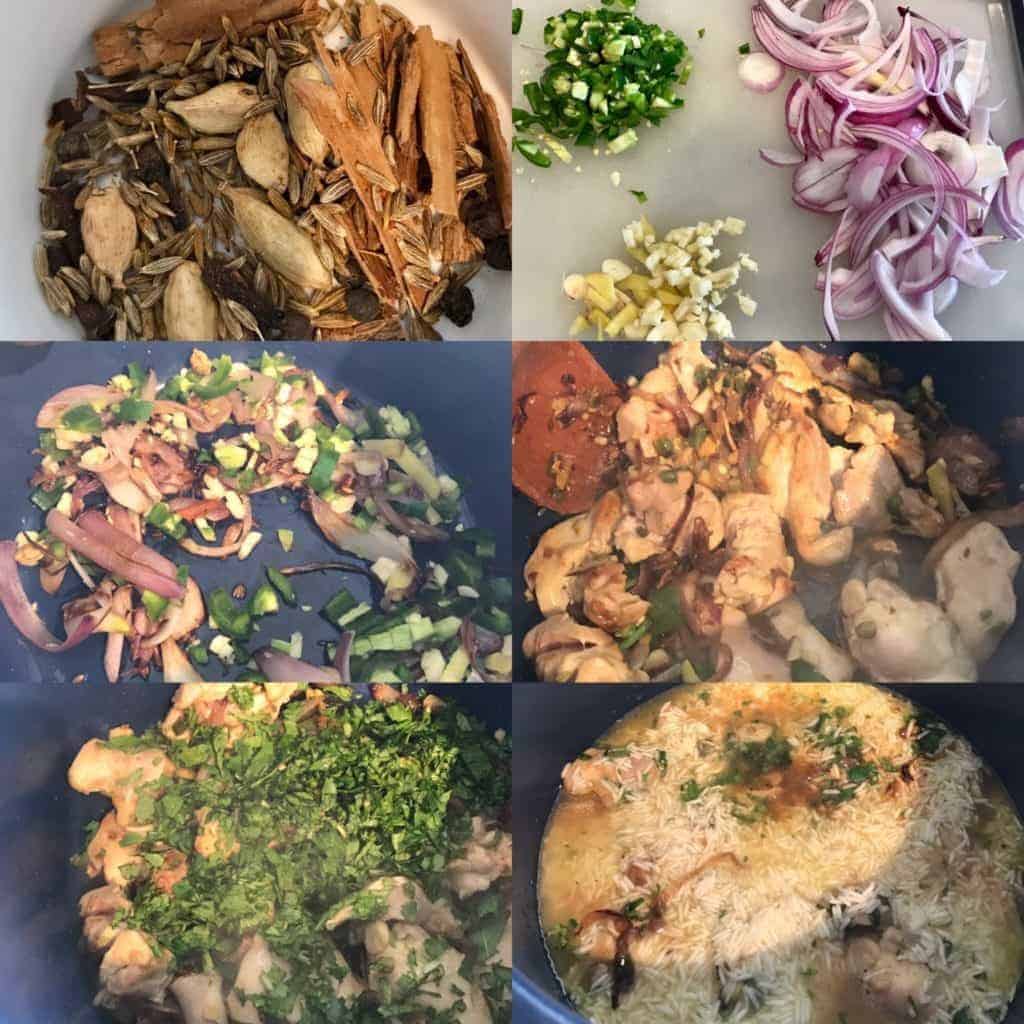 This chicken biryani may not look that impressive, but let me tell you, it is so tasty, with such complex flavors, I doubt I'll be going out for chicken biryani any time soon. I'd love to hear from you if you make this.
Several people have asked me if they could skip the tempering spices and use ready-made Garam masala instead and I definitely think you could do that. If you choose to go that route, just add 1-2 teaspoons of Garam masala after you put in the chicken. I have a very simple garam masala recipe here as well.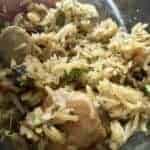 Instant Pot Chicken Biryani
Don't be intimidated by this list of ingredients. Just chop and prep all the veggies first, and it will move fast.
Ingredients
Spices for tempering
2

tablespoon

ghee or butter

1/2

teaspoons

cumin seeds

1

small stick cinnamon

3-4

whole cloves

4-5

peppercorns

4-5

green cardamom pods
Veggies
1

small onion sliced thinly

1

piece

of ginger sliced thinly

, about 2 teaspoons

4

cloves

garlic crushed

2

jalapeno peppers diced

1/2

c

chopped cilantro

6-8

springs of mint

, chopped fine
Chicken & rice
1

pounds

boneless skinless chicken thighs cut into bite size pieces

1

c

rinsed basmati rice

, rinsed and drained

1

c

water

Salt to taste
Instructions
Heat ghee in your Instant Pot and when it's hot, put in all the tempering spices. Once they start to sizzle, put in the thinly sliced onion and cook until it's well-browned and crisp at the edges

Add in the ginger, garlic, jalapenos and cook for 2-3 minutes

Put in the bite size chicken pieces and sear gently on both sides. You need the chicken and the rice to cook together in the same time so don't leave these pieces too big and don't skip this searing step, which precooks the chicken a little bit.

Add salt to taste and mix well. Remember you need enough salt to flavor the rice you'll shortly be adding as well.

If you're using ready-made garam masala instead of whole spices, add it now and mix well.

Spread out the chicken and veggie mixture to cover the bottom of your Instant Pot.

Sprinkle the chopped cilantro and mint on top it.

Spread the rinsed, drained rice across everything. Do not stir.

Pour in the water, and gently push the rice down so it is mostly covered by the water.

Cook on high pressure for 5 minutes, and let the pressure release naturally.

Open and inhale deeply! Enjoy the true-to-tradition aroma of this dish and then either mix it gently from the bottom, or serve by scooping up a layer from top to bottom so you've served chicken, herbs, and rice in every serving.
Nutrition Facts
Instant Pot Chicken Biryani
Amount Per Serving
Calories 281
Calories from Fat 90
% Daily Value*
Total Fat 10g 15%
Total Carbohydrates 32g 11%
Protein 19g 38%
* Percent Daily Values are based on a 2000 calorie diet.