An Instant Pot Tamale Pie recipe that you can make on a weeknight without fuss. It has all of the taste of tamales but done in under an hour. Lower fat, efficient, and fast.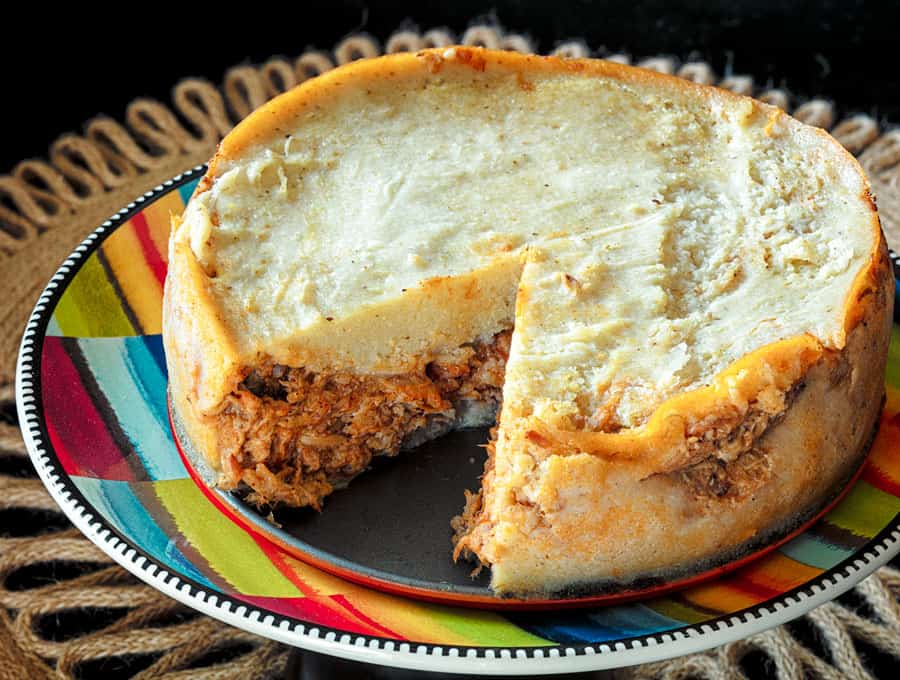 What Makes Old School Tamale Pie So Good?
Let me count the ways that this masa-based Tamale Pie is going to make you happy.
No lard. Yup, none. I used 1/4 cup of oil instead of 1 cup of lard. An authentic tamale masa recipe uses a lot of pork lard for flavor and for leavening. It also makes the batter more pliable, so it comes out of the husk easily. Since we don't need them to unmold, I decided to try it with very little oil. It works so well!
No rolling up each one. You're making a tamale pie here, so you won't need corn husks and you won't be assembling each one separately.
More meat than masa. This is my biggest beef (pun not intended!) with most tamales. A smidgeon of meat and LOTS of masa. Not with this pie. LOTS of yummy meat.
Superfast. You're not making 12 tamales, one at a time. You're assembling one pie. Now, this is super fast if you have leftover meat from recipes I will link to. If you don't, you can still do a shortcut version for the filling which I will explain below.
Tastes EXACTLY like tamales. I kid you not, it tastes exactly like the tamales you spend hours assembling. I had five taste testers for this, 3 of whom grew up making tamales. Unanimous agreement on the taste issue.
Gluten-free. I mean, tamales are all gluten-free so not like I did any magic there, but it's nice to know tamales are gluten-free!
It can be lower carb. There a lot of carbs in Tamales. This recipe is not at all keto, but if you're low carb, you can eat half the masa and still have all the taste. In this case, you can reduce the batter in half, and cook for 20 minutes.
Where Did Tamale Pie Originate?
I know you're going to think I made this up because of where I live, but Tamale Pie originated in Texas. TexMex food is incredibly popular because of how easy it is to make.
While the exact reason it was made and the location is unknown, rest assured it is one of my favorite TexMex recipes because of how simple it is to make compared to traditional tamales and how delicious it tastes.
What Is Tamale Pie Made Of?
For The Topping
For The Filling
Can I Make This Tamale Pie With Chicken Or Beef?
Absolutely! I used pork because it is what I had in my fridge when I started experimenting, but feel free to use whatever meat you're craving.
Chicken Tamale Pie or Beef Tamale Pie are both great variations to this recipe.
How To Make Instant Pot Tamale Pie
Mix the masa. Using a stand mixer, you will be whipping up a quick batter.
Choose your filling. Either use leftover Beef Barbacoa, leftover shredded pork chile verde, leftover carne adovada, or leftover chicken tinga. Or you mix together Mexican pulled pork and homemade enchilada sauce for the filling. If you wanted fast chicken tamales, you could try using shredded rotisserie chicken and enchilada sauce. If you want a vegetarian version, make this Instant pot vegetarian chili, and use the chile without much sauce for a filling. (Yes I understand that tamales don't use enchilada sauce. But remember we are talking about a fast and efficient recipe.)
Assemble the pie. Grease a 7-inch springform pan. Pour in half the masa batter. Top with all of the meat and sauce. Now top with the remaining masa batter and smooth out the top. Cover with foil.
Pressure cook. You are going to cook this Pot in Pot for 30 mins, with 10 mins NPR. So just use a steamer rack, and cook that pie.
Rest the pie. Let it rest for 10 minutes, unclasp and serve.
Can I Bake This Tamale Pie Casserole?
So I made these two ways: Instant Pot and baking it in the oven. The baked version was very tasty--but it did not taste like tamales.
It tasted like roasted masa which was absolutely delicious. Tamales steam the masa so it's really not the same thing at all.
If you would like to bake it, I did it at 350F for 30 minutes for a delicious tamale pie casserole.
Is Masa The Same As Cornmeal?
Masa Harina is a soft flour that is made from dried corn kernels that have been soaked and cooked in lime water. In this case, lime refers to a solution of calcium hydroxide and water. Not the green limes in your supermarket so don't be trying to make it at home.
It can also be made from finely ground hominy. You can get either white or yellow masa.
In contrast, cornmeal is made from dried corn kernel. This hasn't been treated with that special lime water, so you cannot substitute cornmeal for masa or vice versa without having an entirely different product, as I discovered.
So you know how I like to experiment. I made this with a cornbread mix the first time since it's easier for most people to get cornbread vs. masa.
It tasted NOTHING like tamales. Not even close. Maybe tasty, but it was a cornbread casserole. Not tamales.
How Do You Reheat Tamale Pie?
I see this question a lot in various forums. You guys know I love my Instant Pot.
Do not use your Instant Pot to reheat tamales. Instead, leave them in the husk, and zap in the microwave for 1 minute.
ONE MINUTE! Even if they were frozen, they only take maximum of 2 minutes.
I don't know about you, but I couldn't get my Instant pot out and hooked up in that little time!
After years in Texas, I have a ton of easy, authentic Mexican Recipes you should check out. They may not be made in traditional ways, but they taste authentic because I believe in #RuthlessEfficiency.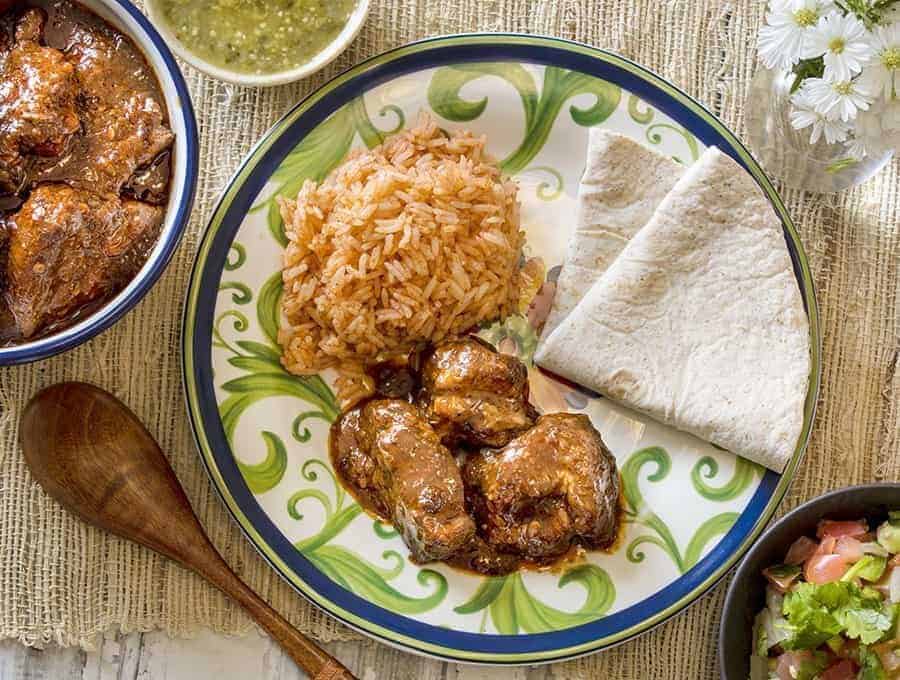 Here are some Fan Favorites.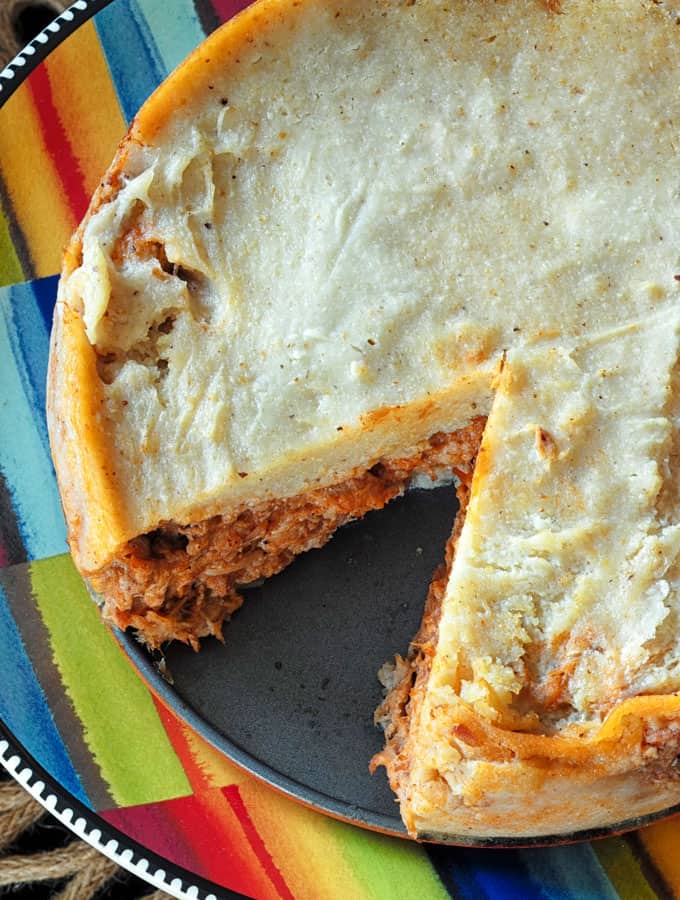 But if you're looking for a fast, authentic Mexican tamale taste but without the authentic work required to make this try my Pressure Cooker Tamale Pie and let me know what you think. Don't forget to Pin this recipe or share on Facebook so your friends can enjoy it as well.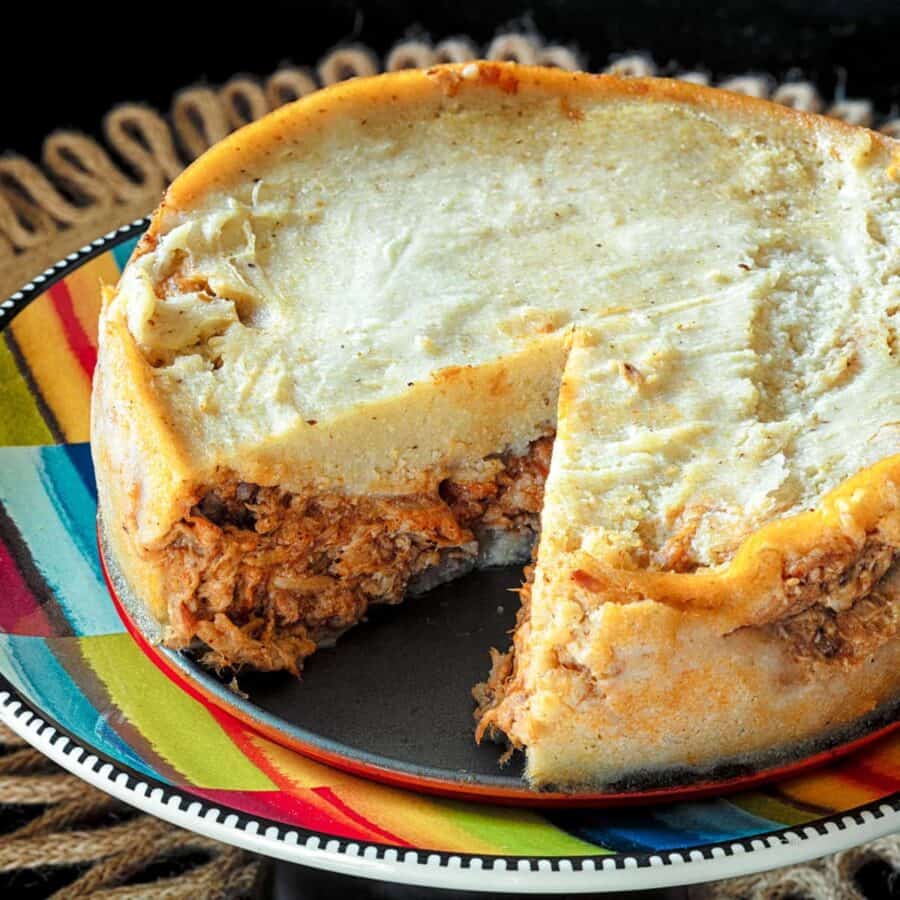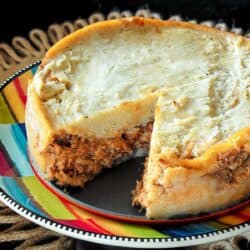 Tamale Pie | Instant Pot Tamale Pie Recipe
Here's an Instant Pot Tamales recipe that you can make on a weeknight without too much fuss. It has all of the taste of tamales, but done in under an hour. These tamales healthier and lower fat, since they don't use pork lard.
Equipment
Instant Pot

7 Inch Springform Pan

Steamer Rack

SILICONE MITTS
Ingredients
2

cups

Masa Harina

2

cups

water

1/4

cup

oil

1.5

teaspoons

Kosher Salt

1

teaspoon

baking soda
Instructions
Using a stand mixer or a hand mixer, mix together the masa, water, oil, salt, and baking soda. Whip this mixture for at least 3-4 minutes until it is light and fluffy. Ordinarily, this recipe would use lard for leavening and whipping in air bubbles formed from the melting lard. We aren't using lard so the only way to get a fluffier texture is to beat the heck out of it.

Use leftover meat (see notes for options) and enchilada sauce for the filling. (Yes I understand that tamales don't use enchilada sauce. But remember we are talking about a fast and efficient recipe.)

Grease a 7-inch springform pan. Pour in half the masa batter. Top with all of the meat and sauce. Now top with the remaining masa batter and smooth out the top. Cover the pie with foil or a silicone lid. You are doing this to keep water from dripping into the tamale pie.

Pour 1[1/2] cups water into the Instant Pot. Place a trivet in the pot. Place the pan on the trivet.

Secure the lid on the pot. Set the Instant Pot at High pressure for 30 minutes. When cook time is complete, let pot release pressure naturally for 10 minutes, and then release all remaining pressure.

Using silicone mitts, carefully remove the foil and test to see if the masa is cooked. It will be moist, but a chopstick inserted into the batter should come out clean.

Allow the pie to rest for 10 minutes, and then unclasp the sides of the springform pan.

Slice and serve your amazing Instant pot Tamale pie!
Indian Instant Pot, Keto Instant Pot, Instant Pot Fast and Easy, Healthy Instant Pot & Vegetarian Instant Pot.