If this isn't the best air fryer chile rellenos recipe you've ever had--or for that matter the best chile rellenos sauce recipe you've ever had--I will eat two of these in penance. But that's not likely to happen. The best, easiest, tastiest air fryer chile rellenos you've never had.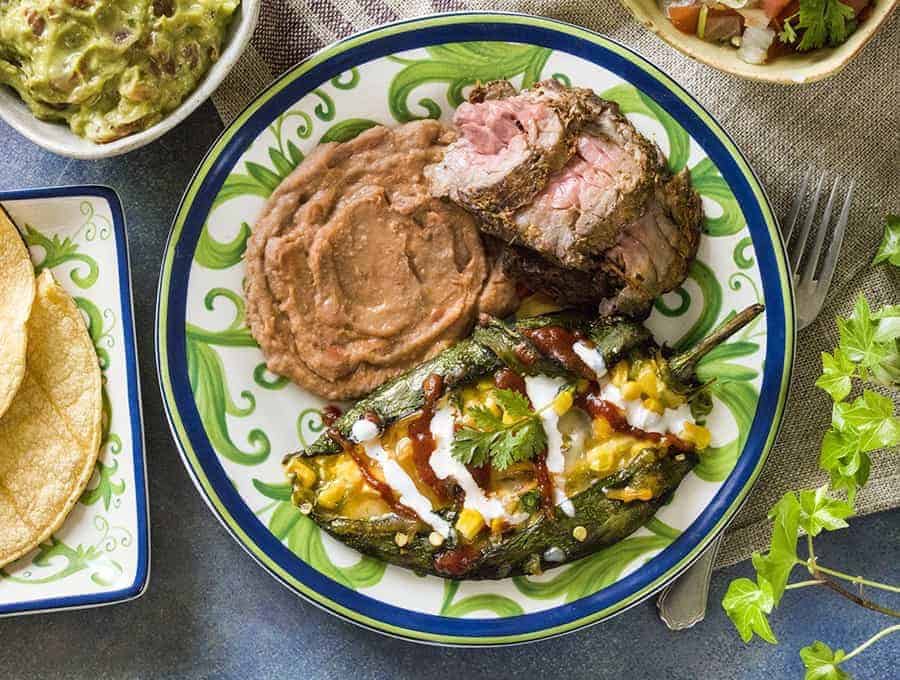 Jump to:
What Makes These Air Fryer Chile Rellenos Perfect?
Fast. An air fryer recipe done start to finish in 40 minutes.
Easy. Char the peppers, stuff them with a delicious filling, cook, and drizzle with sauce.
Vegetarian. A satisfying and filling vegetarian recipe.
Versatile. Serve as a main course or as a side dish.
Delicious. Robust flavors thanks to the charred peppers and a variety of flavorful spices.
So the odd thing about this recipe is that it's for 3 Chile Rellenos. I know, I know, who makes 3?
Someone whose air fryer will only take 3 chiles, that's who. if you have a Breville Smart Oven Air or a Power Oven Air fryer you can probably get 4 in at a time. In which case, just add a little corn and cheese and you should be good to go.
So, let's talk about the sauce. I know several of you will be writing to me telling me how it's not authentic. Tomato paste? What?
Okay, I hear you. But try it before you knock it. It is SO GOOD. You'll be grateful you have extra sauce when it's all said and done.
How To Make Air Fryer Chile Rellenos
Char the chiles in the air fryer
Make the sauce
Mix up the filling
Cook the filled chiles
Drizzle sauce over the poblanos
Enjoy
The way to do this efficiently is to get the chiles char and make the sauce while that happens. Then mix up the corn and cheese and have it ready for when the chiles are done and ready to go.
What I loved about charring the chiles in the air fryer was no smoke, no mess on the stove, and no standing around and turning it. I just put them in the air fryer, and they pretty much took care of themselves.
I served mine with my Instant Pot Refried beans and Instant Pot Arroz con Pollo but I have to be honest, that might have been overkill.
These air fryer chile rellenos stand well on their own. I'd maybe make a nice Tomato Coconut soup with it Air Fryer Carne Asada if you want something with a little meat and call it a day.
How Do You Reheat Chile Rellenos?
It's likely if you're only making one batch of these stuffed poblanos, you won't have to worry about reheating leftovers.
However, if you're making them as a side dish or are making multiple batches to feed a larger family, you may need to warm them up later. Here's how I would do it:
Place the Chile Rellenos in a heatproof pan and place it in the air fryer basket.
Set the air fryer time to 4 minutes at 350F
Test the center of the peppers to check for thorough heating
Enjoy
Looking for more great Mexican recipes to cook up in your air fryer? My Air Fried Carne Asada Recipe makes a delicious carne asada in no time!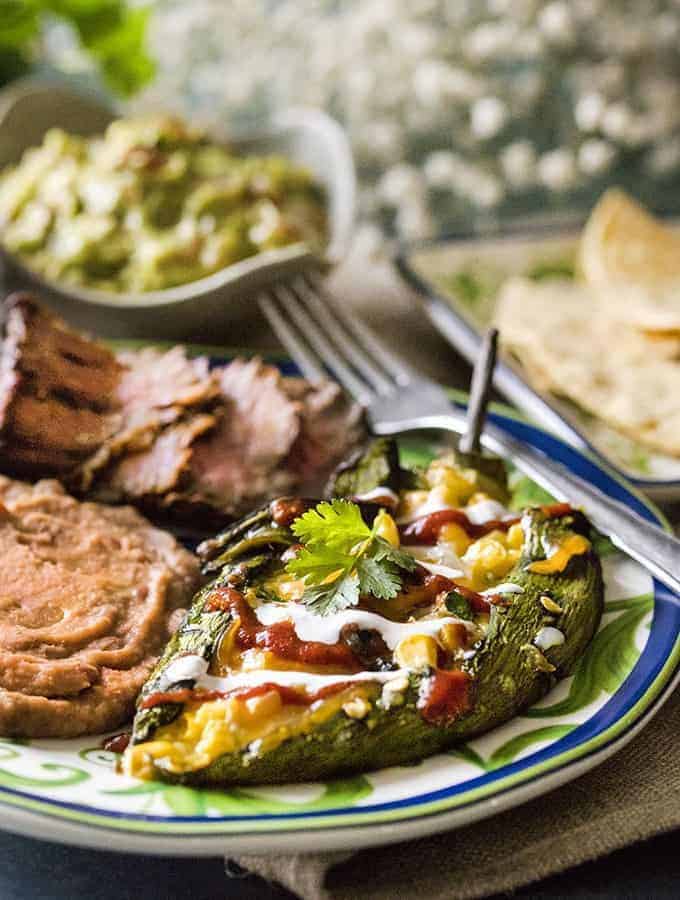 If you love this Air Fryer Chile Rellenos recipe as much as we did, make sure you share it with your friends on Facebook and Pinterest so they can try it too.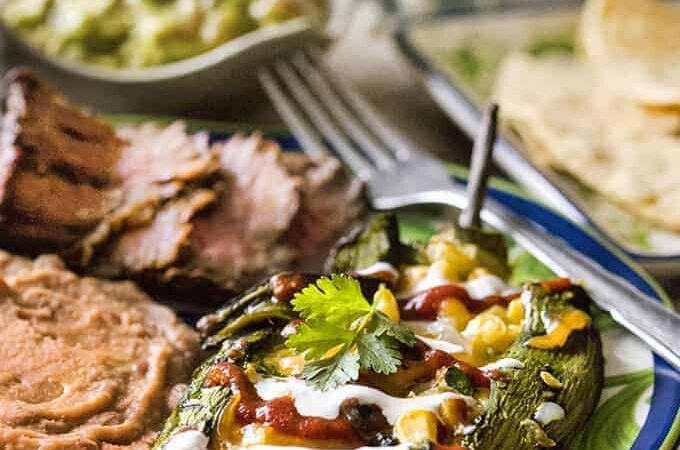 Click on highlighted ingredients or Equipment to see exactly what I use to make this recipe
Ingredients
For the peppers:
3

(

3

)

poblano peppers

,

rinsed and dried

1

cup

(

164

g

)

Frozen Corn Kernels

,

thawed, or use drained canned corn

1

(

1

)

Chopped Green Scallions

,

sliced

2

tablespoons

(

2

tablespoons

)

Chopped Cilantro or Parsley

¼

teaspoon

(

0.25

teaspoon

) Kosher Salt

¼

teaspoon

(

0.25

teaspoon

) Ground Black Pepper

1

cup

(

113

g

)

grated Monterey Jack cheese

2

tablespoons

(

2

tablespoons

)

Mexican crema or sour cream
Instructions
For the peppers: Place peppers in the air fryer basket. Set air fryer to 400°F for 10 minutes, turning peppers halfway through cook time. Remove peppers from air fryer (skins should be charred) and place in a resealable plastic bag to steam for 5 minutes. Peel skin and discard.

In a medium bowl combine corn, scallion, cilantro, salt, black pepper, and grated cheese; set aside.

Meanwhile, make the sauce: Heat the oil in a large skillet over medium-high heat. Cook onion for 5 minutes or until tender. Add garlic; cook 30 seconds. Stir in tomato paste, chile powder, oregano, and cumin, and salt. Cook and stir 1 minute. Whisk in chicken stock, and lemon juice. Bring to a simmer, stirring occasionally.

Cut a slit down the center of each poblano pepper, starting at the stem and continuing to the tip. Remove the seeds, being careful not to tear the chile.

Carefully stuff each chile with a layer of half of the corn and cheese mixture, and 1 tablespoon of the crema.

Place stuffed peppers in 6-inch heat-proof pan and place the pan in the air fryer basket. Set air fryer to 400°F for 10 minutes or until the cheese has melted

Serve with red chile sauce.*
*Note: This recipe makes more sauce than you will use in one meal. Freeze it for another time you are making these chiles rellenos and you will be one step ahead.
Get support & connect with our community on Facebook!
Nutrition
Calories:
394
kcal
|
Carbohydrates:
24
g
|
Protein:
14
g
|
Fat:
29
g
|
Fiber:
5
g
|
Sugar:
6
g
Tried this recipe?
Follow @twosleevers and Pin it!
Originally Published April 24, 2018
And don't forget to check out my air fryer cookbooks! Every day easy air fryer, and Air Fryer Revolution.