This Pineapple Mango Salsa is a fresh and fruity salsa recipe that is so easy to make. Your taste buds will be dancing from all the flavors!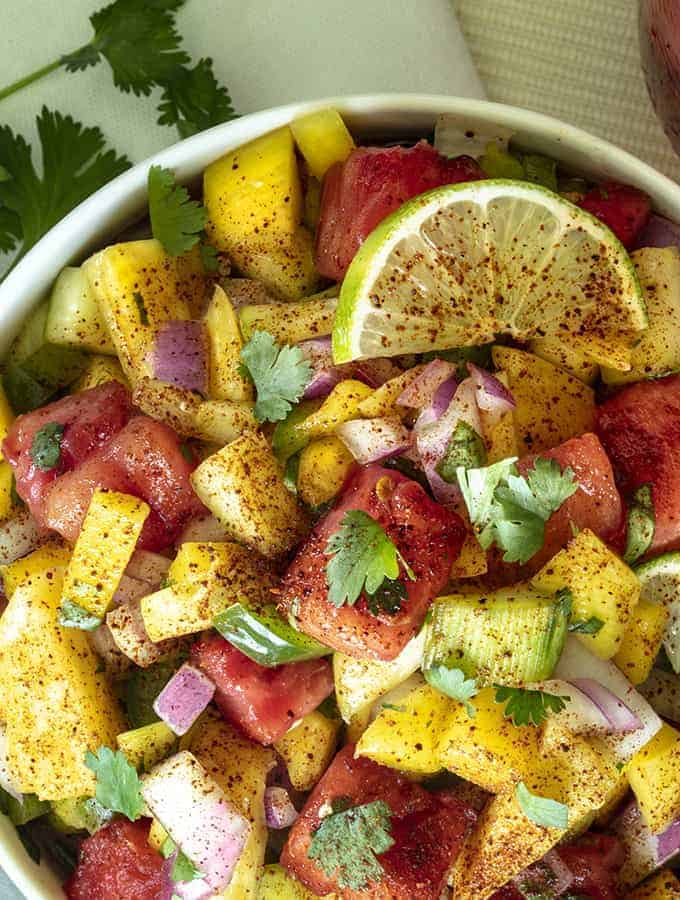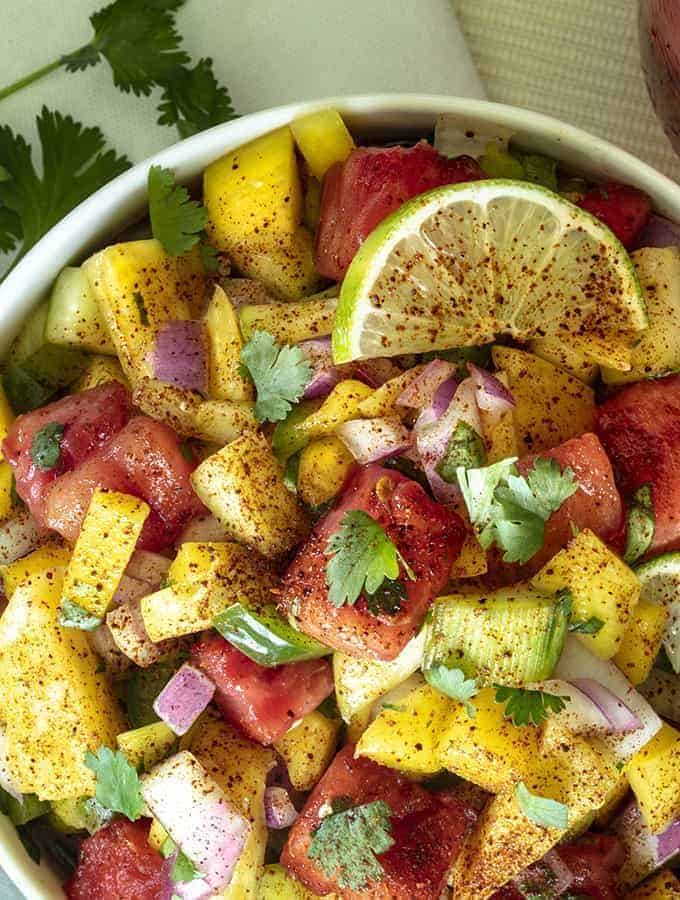 Jump to:
Why Should I Make This Pineapple Mango Salsa?
Easy. This Mango Pineapple Salsa recipe is such a versatile and easy salsa recipe. There's no cooking required and you can make it ahead of time. Just leave it to marinate in the refrigerator until needed.
Quick. It will take you less than 30 minutes to chop all the ingredients up and dump everything in a bowl.
Fresh. Homemade salsa recipes are my favorite. You can taste the freshness of the ingredients and you just can't buy that in a pre-packaged bottle at a grocery store.
How To Make Pineapple Mango Salsa

Chop. Dice all the ingredients with the Pull Chopper.
Mix. Combine everything in a bowl and allow to marinate for at least 30 minutes.
Serve.
What Can I Do With Leftover Pineapple Salsa?
Eat it with Chips - tortilla chips work best!
Garnish Grilled Meat - Chicken and Fish pair very well with this Pineapple Salsa with Mango! My favorites with this recipe are grilled tilapia or orange roughy. Both are mild and don't taste fishy. The freshness from the fruits and vegetables in the salsa would complement the fish. It would be so gorgeous served alongside!
Grab a Spoon! - I'll admit I've sat and eaten this Pineapple Salsa all by itself with just a spoon - it's that good!
Could I Also Make a Pineapple Cucumber Salsa?
Yes! To do this, just omit the mango, and substitute it with the cucumber for a delicious Pineapple Cucumber Salsa!
Tips and Tricks For Making Pineapple Mango Salsa
Adjust. Taste, and adjust as needed since fruit can vary in its level of tartness and sweetness.
Sugar. To reduce the sugar in this recipe, cut down on the mango and pineapple, and add more cucumber.
Jicama. You can also add diced jicama in this recipe.
Additions. Adding corn and black beans to this recipe makes it a great, hearty salad. If you make it ahead of time, the flavors will intensify overnight.
Chile. Be sure to use Mexican chile powder, not cayenne pepper. 
Vegan. Since there is no mayonnaise in this recipe, not only is it vegan, but it is also fantastic for summer picnics where food needs to be able to stand the heat without refrigeration.
Cilantro. If you absolutely are on Team No Cilantro, then you can substitute fresh parsley instead. But I recommend using a fresh herb to highlight this salsa recipe and give it that fresh bite. It really pulls this Pineapple Salsa together.
How Long Does Pineapple Salsa Last In The Fridge?
Making this Pineapple Salsa ahead allows for all of the amazing flavors time to meld. Even using fresh ingredients, this flavor-packed salsa lasts up to five days without sacrificing taste or texture.
Want More Mexican Inspired Recipes?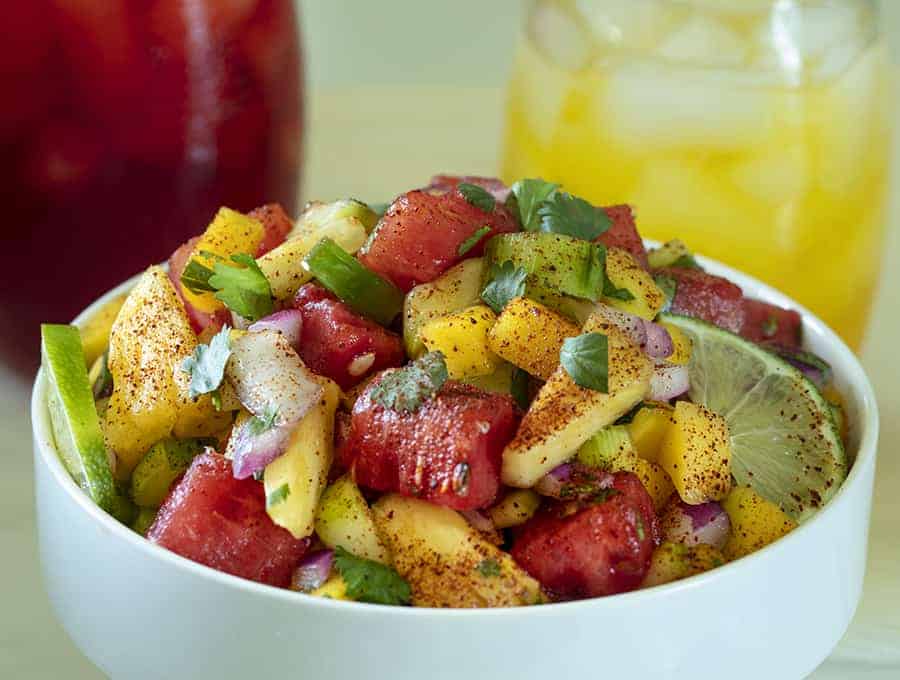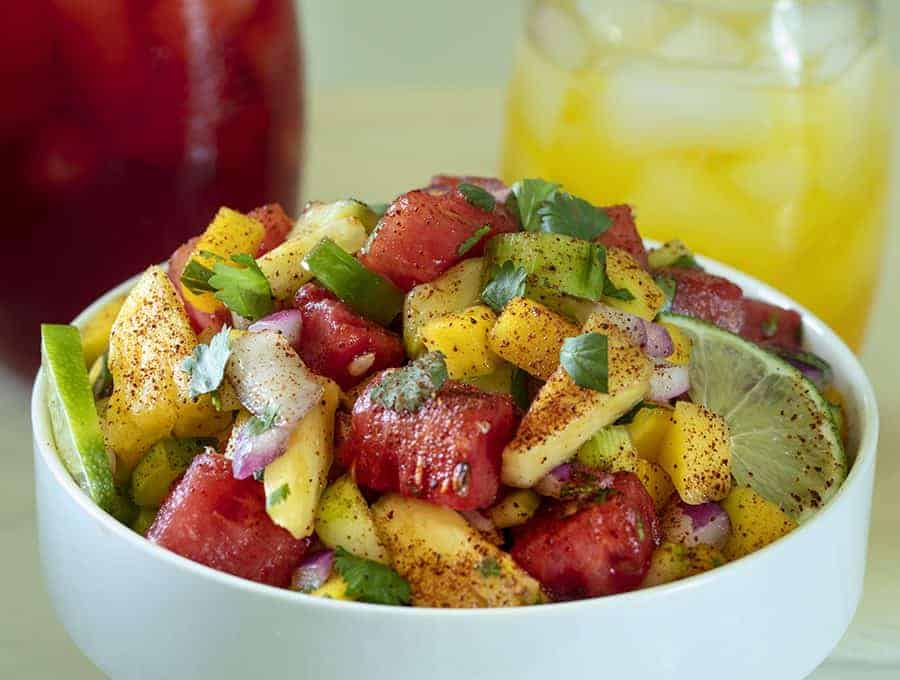 So the next time you're looking to mix it up on Taco Tuesday, or if you're just looking for a fresh and flavorful appetizer for this summer, make this Pineapple Salsa with Mango! Share it on Facebook or Pin it on Pinterest to save this recipe!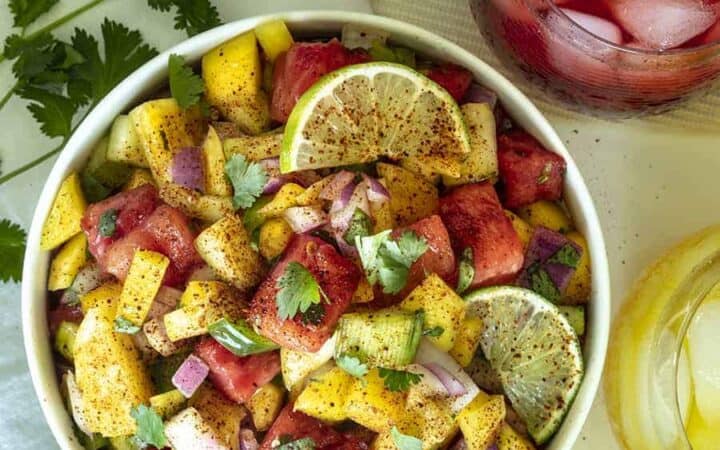 Click on highlighted ingredients or Equipment to see exactly what I use to make this recipe
Instructions
Dice all the ingredients with the Pull Chopper.

Combine everything in a bowl and allow to marinate at least 30 minutes.
Get support & connect with our community on Facebook!
Nutrition
Calories:
49
kcal
|
Carbohydrates:
12
g
|
Protein:
1
g
|
Fat:
1
g
|
Fiber:
1
g
|
Sugar:
9
g
Tried this recipe?
Follow @twosleevers and Pin it!
Indian Instant Pot, Keto Instant Pot, Instant Pot Fast and Easy, Healthy Instant Pot & Vegetarian Instant Pot.