Instant Pot Kacchi Lamb Dum Biryani. Tender morsels of lamb, marinated and cooked with the rice. Get the authentic taste of lamb biryani with half the work and no packaged spices!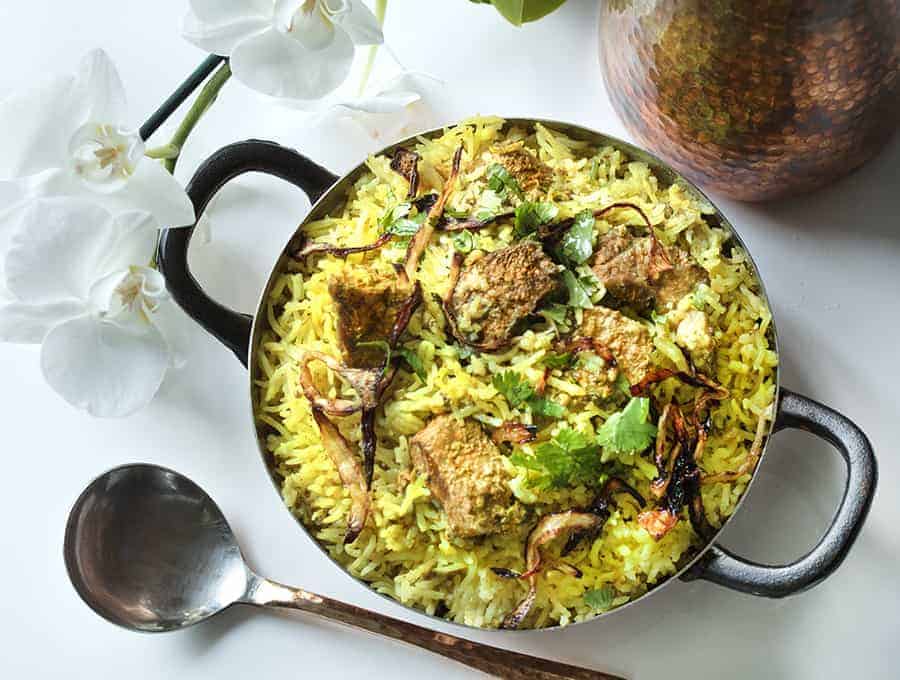 Why You're Going To Love This Lamb Biryani
Fast. Ready in about 30 minutes.
Easy. Just a few easy steps to have a tasty main course on the table.
Authentic. Tastes just like something served at your favorite Indian restaurant.
Delicious. A meal your whole family will love.
I feel confident in telling you that this Instant Pot Kacchi Lamb Biryani, using only fresh ingredients, is restaurant-style and quality. Normally this is not a compliment in my eyes, but restaurants actually do a better job of lamb biryani than most of us do at home.
This homemade, unashamedly full-bodied, well-spiced Lamb Biryani has now negated my need to go out to get my favorite dish. Dum biryani takes forever to make. I mean, forever.
It's also a long multi-step process that despite my love for biryani, I'm not able to even contemplate. So I made this simple but very flavorful Instant Pot Chicken Biryani, and it's equally yummy low-carb cousin, the Low Carb Chicken biryani, but people repeatedly asked me for a Lamb Biryani version.
The problem is that lamb takes a lot longer than rice to cook, and I wasn't sure how I was going to do this.
It's taken me a while but I've finally figured it out, and this Instant Pot Lamb Biryani is the delicious result of my cogitations. Be warned this is indeed a longer list of ingredients than I typically advocate, but I assure you it is utterly worth it. It's one of the best recipes I've made this year.
And if you're looking for more great lamb recipes, my Instant Pot Jordanian Mansaf is absolutely wonderful!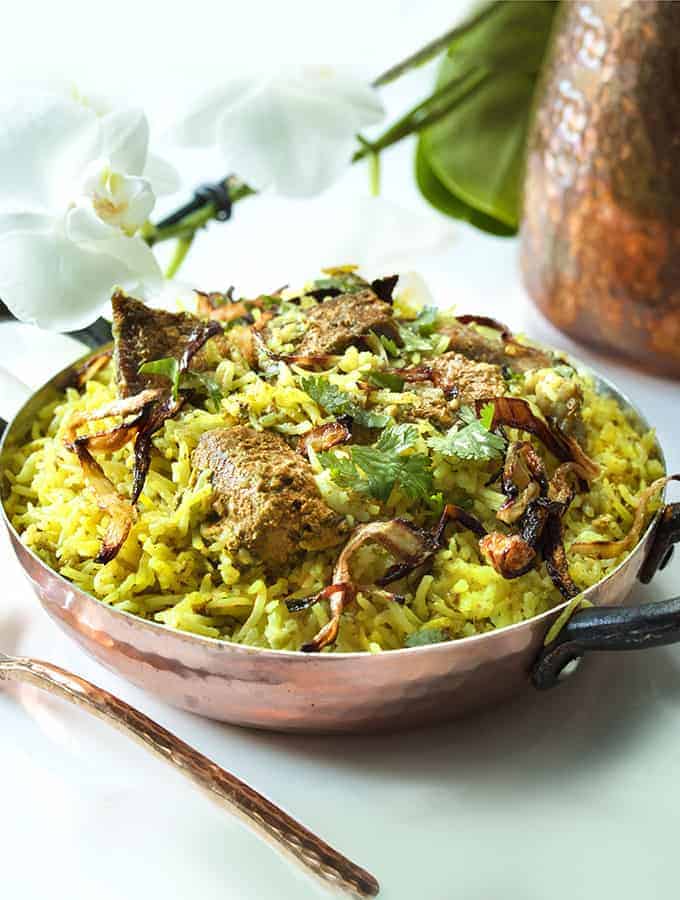 Why Is It Called Kacchi Lamb Dum Biryani?
Before we start a quick Hindi lesson so you understand what you're making. Kacchi = raw. Dum = cooked slowly with steam. Making Kacchi biryani is considered an art form because you're essentially putting raw meat at the bottom, rice on top, and hoping like heck nothing burns as you cook it all together. There are elaborate machinations people go through to make this work.
Or you know, use an Instant Pot and follow this recipe.
It's important to cut as much of the fat off the lamb as you can. I didn't do that as well as I should have, and you can see some grease at the bottom. Honestly, a good Lamb Biryani should be a bit greasy but still. Do your best without going overboard.
What Kind Of Lamb Do You Use In Biryani?
For this Lamb Biryani recipe, you can use either lamb shoulder or leg of lamb. Just make sure you remove any visible fat for a delicious recipe that isn't too heavy or greasy.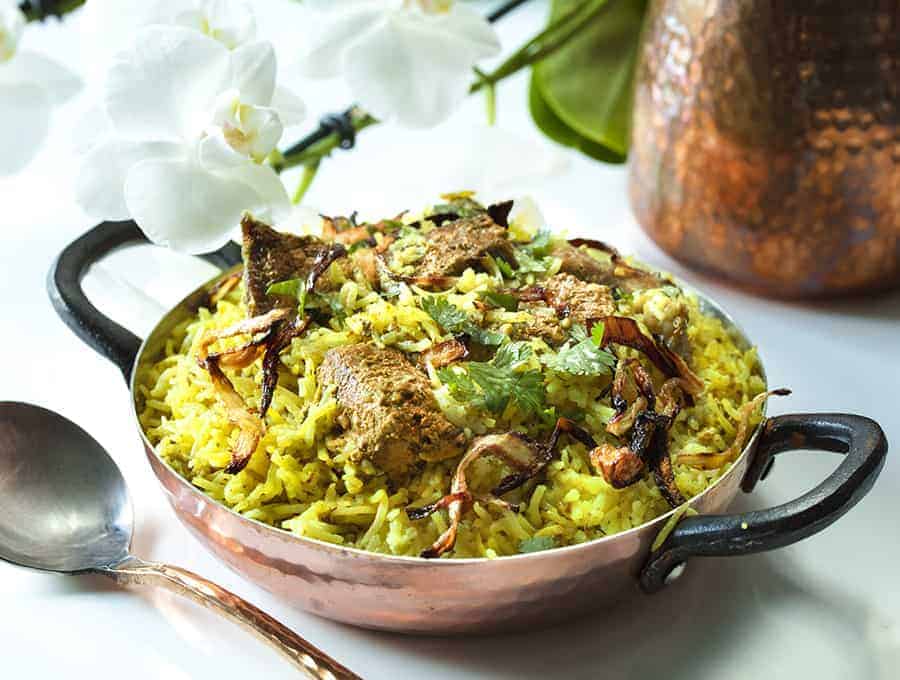 How To Make Lamb Biryani
Rinse rice and set it aside to soften
Marinate the lamb
Cook the onions in the oven
Layer lamb and rice, cook 6 mins HP, and do a FULL natural release (see notes about Dum = cooking with steam).
If you love this Lamb Biryani recipe as much as we do, make sure you share it with your friends on Facebook and Pinterest so they can try it too!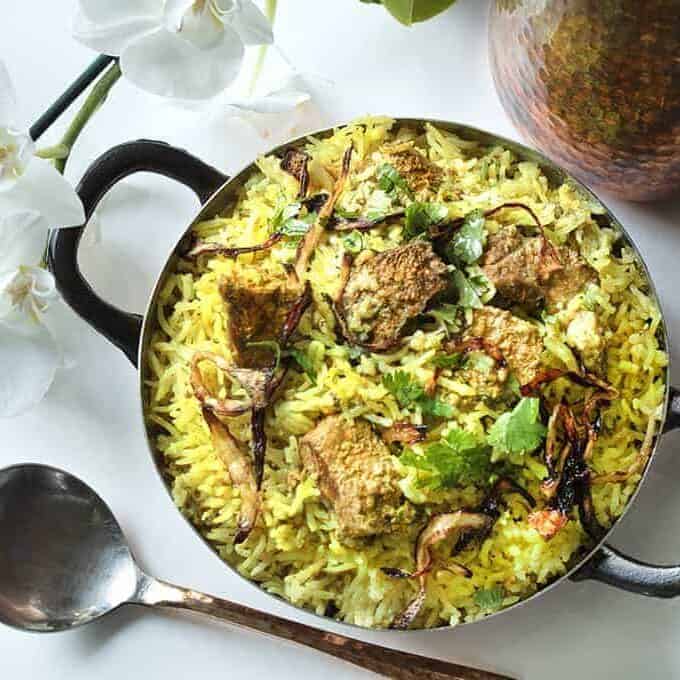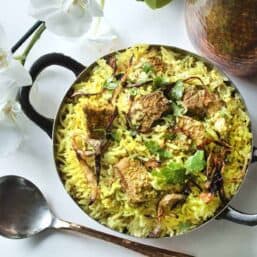 Instant Pot Lamb Biryani | Kacchi Lamb Dum Biryani
Instant Pot Kacchi Lamb Dum Biryani. Tender morsels of lamb, marinated and cooked at the same time as the rice to create this otherwise painstaking dish. Authentic taste with half the work!
Ingredients
Marinate together
1

pound

lamb cubes

shoulder or leg or lamb, all visible fat removed

1//2

cup

Full-Fat Greek Yogurt

1/2

cup

Onion

minced

1/2

cup

Cilantro

chopped

1/4

cup

Chopped Mint

chopped

1

tablespoon

Minced Ginger

minced

1

tablespoon

Garlic

minced

2

teaspoons

Garam Masala

1

teaspoon

Kosher Salt

1

teaspoon

Turmeric

1/4-1

teaspoon

Cayenne Pepper

(adjust to taste)

1/4

teaspoon

Ground Cardamom

1/4

teaspoon

Ground Cinnamon

1/8

teaspoon

Ground Cloves

1

Serrano peppers

minced (adjust to taste)
For the Rice
1

cup

Basmati Rice

Please use aged Indian basmati, not an American basmati, if possible

1/2

teaspoon

Kosher Salt

1

cup

Water
For the Garnish
1/2

cup

chopped cilantro

1

Onion

thinly sliced

1/4

teaspoon

Kosher Salt

1

teaspoon

Oil
Instructions
If you follow the order in which I list steps, this will come together efficiently. So first rinse the rice and set it aside. This rinse will allow the rice to soften a bit and absorb some water.

Into a bowl, pour all the ingredients for the marinade, along with the lamb.

Let the lamb marinate for 30 minutes, while the rice rests. This is a good time to get the onions for the garnish together.

Turn your oven to broil. Line a baking pan with foil.

Thinly slice your onions and break apart the slices with your fingers. Lay these on the foil covered pan, add salt and the oil, and mix well.

Broil these onions for about 15 minutes stirring only once or twice. Traditionally this is done in a pan on the stove, but it's quite a painstaking process. This method is largely hands-off and works well.

By this time, your lamb has probably marinated and you're ready to put it all together.

In the inner liner of your instant pot, spread the marinated lamb, yogurt and spice mixture to cover the bottom.

Carefully spread the rice all over the meat in a uniform layer.

Pour in the 1 cup of water and gently push down the rice until it's submerged under water. Do not mix the lamb and the rice together.

Cook at High Pressure for 6 minutes and allow it to fully release pressure naturally. This part is important, here is where we are approximating the "dum" (steam cooking) part of the Dum Biryani.

Open and garnish with 1/2 cup chopped cilantro and the browned onions.
Notes
Looking for other biryani dishes? Try these:
Originally Published June 25, 2017
Indian Instant Pot, Keto Instant Pot, Instant Pot Fast and Easy, Healthy Instant Pot & Vegetarian Instant Pot.