As an Amazon Associate, I earn from qualifying purchases. We may also earn money from the companies mentioned in this post.
When I made the taco casserole, I used canned refried beans but I really don't like using cans. Elana recommended a recipe to me that I modified for smaller portions, and added a few twists to suit our taste.
I hereby promise to not used canned beans again. With a little planning, you should be all set with these. They really taste very different. Sorry I forgot to take a pic before pureeing them. i will remedy that the next time I make them.
I have two recipes for these. One, the beans served as is, and another, I refried a few of them in ghee with aromatics and it changed their taste entirely. I'd suggest you make a pot and split into three. Save one batch whole and use in tacos, as a side, etc. Refry a batch according to the recipe as a slightly different variation on it, and use the third batch for the taco casserole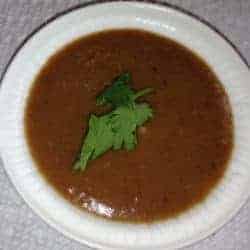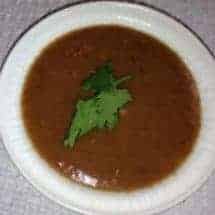 Elana's Slow Cooker Beans
Dietary Consideration:
Dairy-Free, Gluten-Free, High Fiber
Cooking Style:
Instant Pot/Pressure Cooker, Slow Cooker
Ease of Cooking:
Pour and Cook
Recipe Type:
Beans, Legumes, & Lentils
Instructions
Combine all ingredients in slow cooker.

Cook on high for 8 hours or overnight .

Separate into three batches if desired.

Leave one batch with whole beans to use in soups, casserole, tacos, etc.

Puree the rest with a hand blender.
Nutrition facts per serving
728kcal | Fat: 3g | Sodium: 2423mg | Potassium: 2879mg | Carbohydrates: 132g | Fiber: 32g | Sugar: 6g | Protein: 43g | Vitamin A: 14.4% | Vitamin C: 32% | Calcium: 29.8% | Iron: 72.1%
I am not a registered dietician or nutritionist. Nutritional information is provided a courtesy, and can vary depending on the exact ingredients you use.