With holidays spanning multiple months, it can be easy to fall off the Keto wagon. I refer to my Keto journey as a lifestyle and not a diet. That being said, it's great to have some Keto Holiday Recipes on hand so I can make food that still tastes amazing, and embodies all of the wonderful holiday flavors, without completely derailing my journey.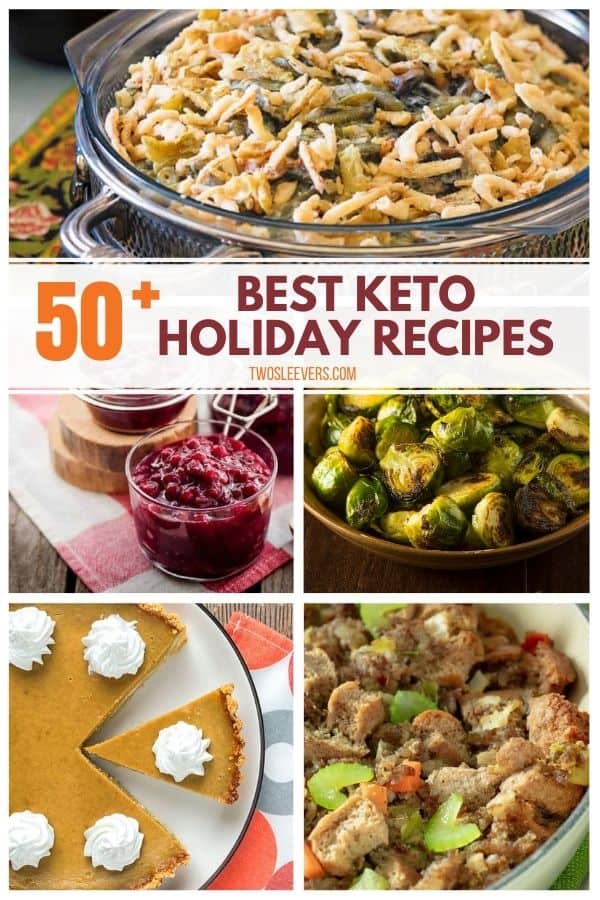 Jump to:
What Makes These Keto Holiday Recipes So Great?
Fast - Many of these recipes can be made in under 30 minutes.
Easy - Most of them use a pour and cook approach.
Delicious - Enjoy your favorite traditional flavors with keto friendly ingredients.
Low Carb - All of these recipes will fit a low carb lifestyle.
How Do I Survive A Keto Diet Holiday?
I know that the holidays are generally filled with lots of family, celebrating, and comfort food. Don't let the idea of traditional comfort food lead you astray from your new low carb lifestyle.
With the help of a few ingredients and easy modifications, you can have a delicious version of all of your holiday favorites without sacrificing tradition.
Pick any of the recipes that made my list and enjoy the holidays with your loved ones without any added stress of meal planning.
What Holiday Dishes Are Keto Friendly?
As I mentioned above, just about any of your holiday favorites can be modified to fit your low carb lifestyle. This is especially true if you enjoy them in moderation.
Here is a list of some of the types of recipes you can still enjoy with your family without falling off of the keto wagon:
Green Bean Casserole
Pumpkin Pie
Stuffing
Cookies
Rolls
Brussels Sprouts
Apple Cider
Egg Nog
Pie
Fudge
Do I Need Any Special Gadgets to Make These Recipes?
No matter what gadgets you prefer to use to prepare your holiday meals, you'll find a recipe perfect for you! I've included made in the Air Fryer, Instant Pot, and even the stovetop!
Whether you need entrees, sides, desserts, or even options for leftovers, you will find some amazing recipes here!
These all have amazing holiday flavors you come to expect, with clever substitutions for high-carb ingredients to make them Keto friendly. Scroll through these Keto Holiday Recipes and make your holiday menu with ease.
Keto Recipes
50+ Keto Holiday Recipes | Entrees, Sides, and Desserts
The perfect Keto Holiday Recipes to keep you on track. With this list of recipes, you're guaranteed not to sacrifice your way of eating for traditional Holiday flavor!
How Do I Start A Keto Lifestyle?
So, if you've been wondering how to start a Ketogenic lifestyle, don't wait until after the Holidays! I have a wonderful resource for you to use to get started. You can read more here! However, you shouldn't worry. Most of your favorite foods can be made to fit a Keto way of life.
Want More Keto Recipes?
I hope you found some delicious recipes that you can serve your guests this holiday season. Just because these are Keto Holiday recipes doesn't mean the rest of the family won't enjoy these recipes too. Have a safe and happy holiday season, and may your food always be delicious!
Originally Published November 2, 2018
Don't forget to check out my other Keto cookbooks.
Keto Instant Pot, Keto Fat Bombs, Sweets, & Treats, and Easy keto in 30 minutes.