Wondering if an Instant Pot is helpful for those who live alone or have smaller families? How about making Instant Pot freezer meals? I want to show you how easy it is to make freezer meals for the Instant Pot--without actually having to spend an entire day in the kitchen.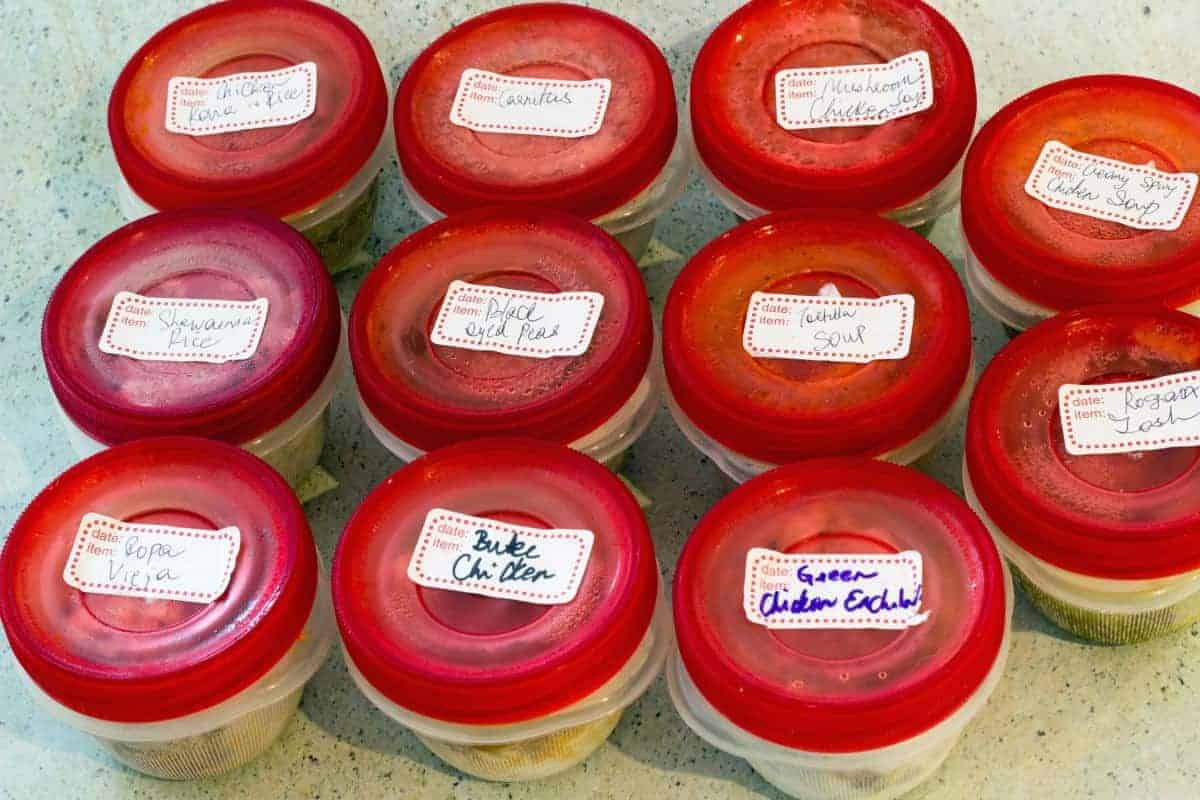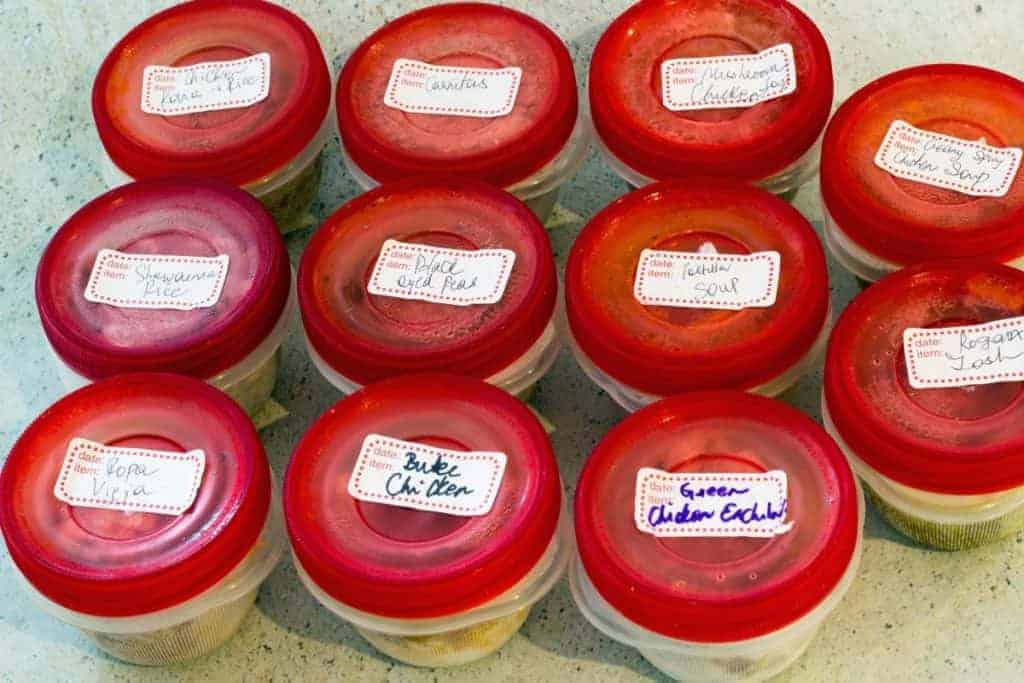 Here's what I do. I make 4 servings, we each eat one serving, and I freeze 2 servings in 1 cup containers. So rather than set aside time for special freezer meals for your pressure cooker, you could just double the recipes as you cook them--and save half for the next time.
The nights I can't cook, we each remove whatever sounds good, and microwave for 3 minutes for the size I show you below. You can barely get a bowl of cereal together much faster than that.
You just have to get in the habit of doubling recipes when you cook, and freezing half before you start eating the rest. It may take you a week or two but pretty soon your freezer will be full of little freezer meals--and you won't have had to do a marathon cooking sessions to get there. Plus, no wasted food, which is always a good thing.
I think my point is that Instant Pot Freezer meals don't have to be cumbersome.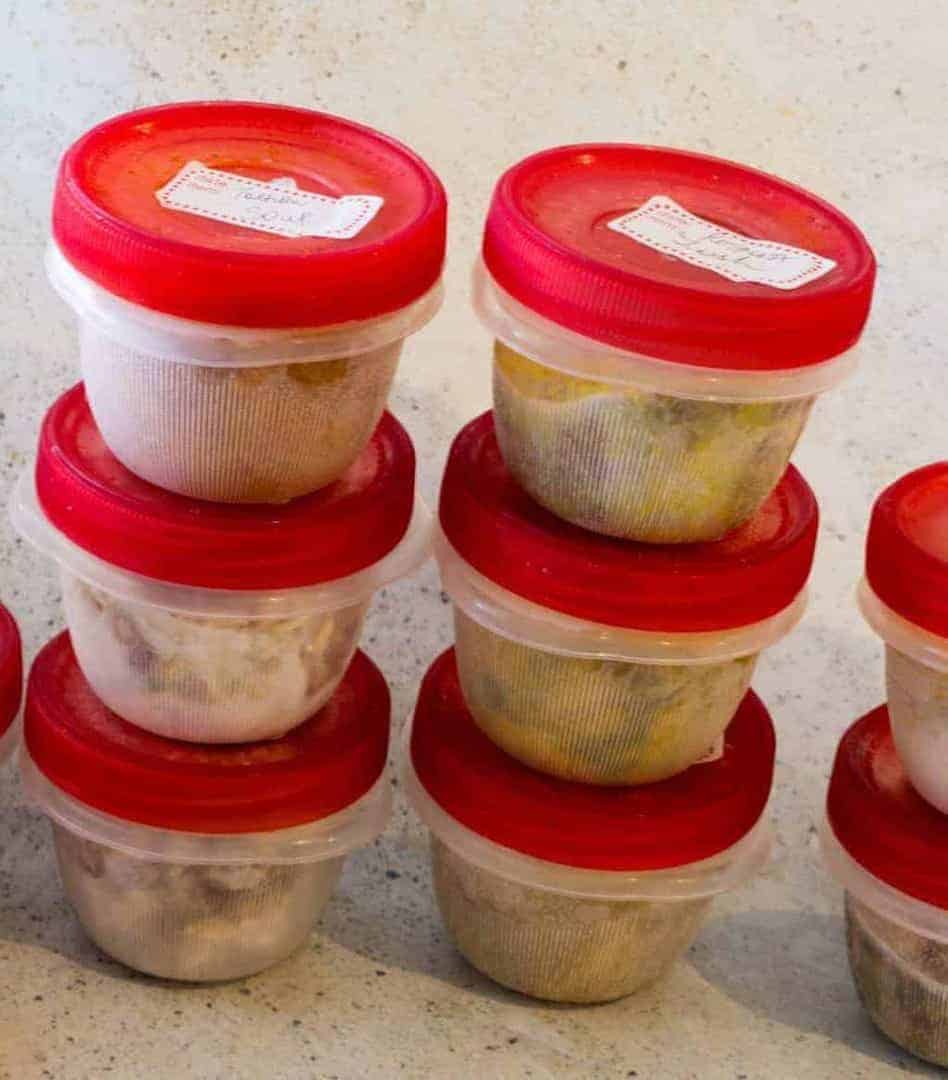 I haven't yet started to put uncooked pressure cooker freezer meals together. Rather I tend to cook things and then freeze the cooked food.
Almost all my recipes except seafood ones can be frozen.
A small sampling of what's in my freezer as my Instant Pot freezer meals:
And I know you guys will ask about my Rubbermaid storage containers so lemme just provide that link already. I bought these in April, I use them all the time, and they're still going strong.
[amazon_link asins='B000YPQ91U' template='ProductGrid' store='twosleevers-20' marketplace='US' link_id='89b7507d-d907-11e7-bb2a-f30ea1b55e54']
Here is what I use for labels. These stay securely on the lids but peeling them off is a breeze, with no sticky residue
[amazon_link asins='B000MF8VPO' template='ProductGrid' store='twosleevers-20' marketplace='US' link_id='12e2fb46-d917-11e7-8607-75cbc4965eb5']
Tips and Tricks for successful Instant Pot Freezer
Meals
:
Pick sturdy items that don't disintegrate upon re-cooking. Cooked seafood is a little harder to reheat so I tend to stay away from it.
Include some sauce or liquid with the item for better reheating
Don't mix huge pieces of meat with smaller pieces of vegetables. Rather cut up the meat little before freezing, to get even reheating.
If you're freezing larger portions, place the food in a plastic freezer bag--and then place the bag in a round container so that the food freezes round, and can just be tipped into the Instant Pot liner.
Meals that include dairy have to be treated differently as dairy curdles under pressure. I often ask you to leave out the butter and cream in the butter chicken sauce if you intend to reheat it under pressure. This is not an issue for microwave heating.
I know many of you will ask about reheating in the Instant Pot. I think that will work for larger quantities, but for 1-2 cup sizes honestly, I find the microwave to be a lot faster.
Label, label, label, and don't forget to label. EVERYTHING looks the same when it's frozen. Use freezer-safe labels

Use freezer-safe labels

that stay secure but come off easily to mark your food.
Cook a variety of different cuisines and meals for two weeks in a row so no one gets tired of eating large portions of the same things over and over. Many nights, all three of us pick entirely different things to eat. Freezing in 1 serving containers rather than a large family-size serving means less waste, more variety and faster reheating for us.
If you found this article helpful, please consider sharing it on your social media accounts. Thank you 🙂