Much like my Lazy Person Chicken Enchilada casserole, this Pressure Cooker Enchilada Casserole also doesn't require rolling of the enchiladas. It's a bit sloppy-looking but it tastes good and it's family-friendly if you leave out the Chipotle chile in Adobo sauce. I'd serve it like this for a quick family meal, but I'd roll them up nicely for company. Same recipe, just two different way to finish it up once it's done pressure cooking.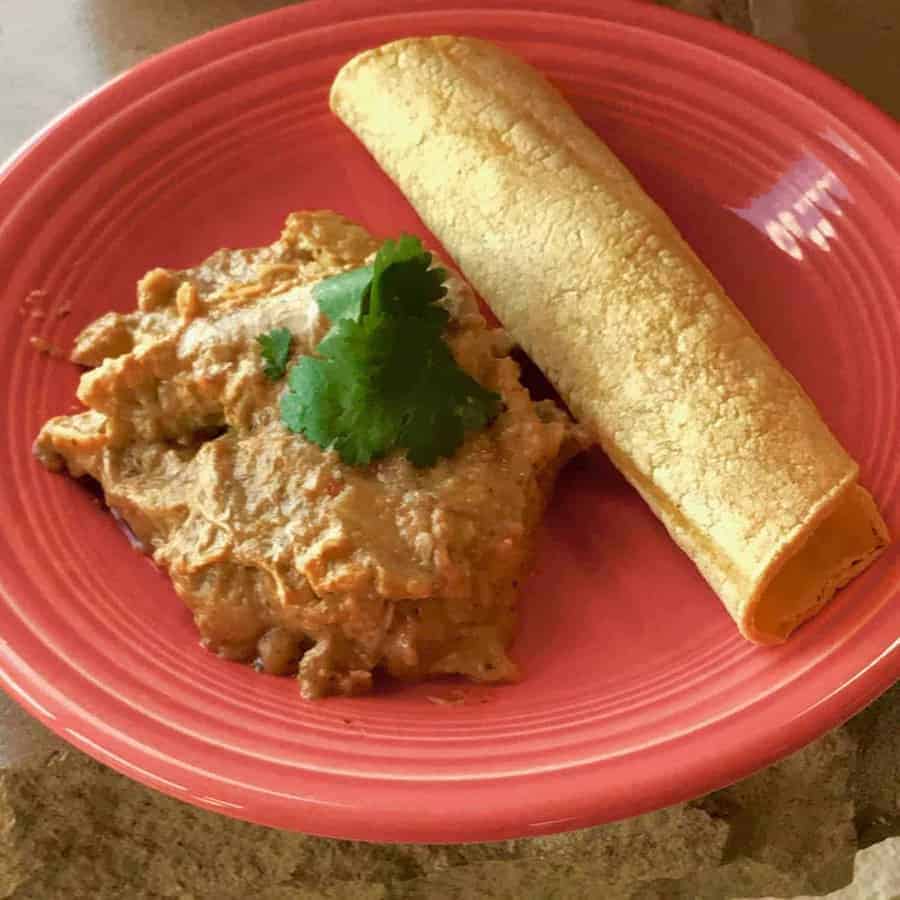 Pressure Cooker Enchilada Casserole
The difference between the Lazy Chicken Enchilada and this Pressure Cooker Enchilada Casserole recipe is that this one uses a homemade sauce, and it's a green sauce. I also added a little cream cheese, which may not be authentic Mexican but it's keto-friendly, adds a nice creaminess without adding flour, making this recipe gluten-free, and it cuts the aggressiveness of spice a little, without making the dish bland.
LOOKING FOR THE PERFECT SIDE DISH FOR THIS RECIPE? CHECK OUT MY MEXICAN RICE RECIPE!
Note: if you want to use the same recipe to roll them up.
Cook up the sauce and the chicken together, shred the chicken.
In a pan, spread sauce at the bottom.
Gently heat the tortillas to make them pliable (I wrap in paper towels and zap in the microwave for 30 second).
Put a bit of chicken in each tortilla, wrap it up and place it seam-side down into the sauce.  Finish rolling 6-8 tortillas in this fashion.
Spread remaining sauce on top, scatter shredded cheese on top, and bake at 350F for 30 mins and then broil the top if needed.
Or you could mix it up like I've listed below.
★ Did you make this recipe? Don't forget to give it a star rating below! Just click on the stars in the recipe card to rate.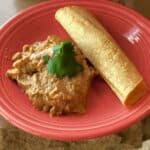 Pressure Cooker Enchilada Casserole | No Enchilada Rolling Required!
This Pressure Cooker Enchilada Casserole has all the great taste of enchiladas without the pesky task of rolling the enchiladas! Delicious and simple!
Dietary Consideration:
Gluten-Free
Cooking Style:
Instant Pot/Pressure Cooker
Ease of Cooking:
Pour and Cook, Under 30 Mins
Ingredients
For the Sauce
3

tomatillos

1/2

onion

2

teaspoons

garlic

minced

1/2

cup

cilantro

3

slices

jalapeño pepper

(optional)

1

tablespoon

chipotle chile in adobo sauce

(omit for less spicy version)

1

teaspoon

salt

1

teaspoon

ground cumin
Instructions
Blend together all the ingredients for the sauce.

Turn your Instant Pot onto Sauté on high. When the display reads HOT, add your ghee or oil. When the ghee is hot and shimmering, add add the oil, and spread it all around.

Pour in contents of the blender and allow it to cook for 10-15 minutes, stirring occasionally to prevent it from sticking. You're doing this in lieu of charring the vegetables ahead of time, so don't short cut this step. You want the mixture to cook well, to thicken and to smell a little smoky.

Add the chicken and the chicken broth, mix well, and set your Instant Pot to either its Poultry setting, or for 15 mins HP. Allow it to release pressure naturally.

When you open it, you'll probably see more liquid than you think you need. Don't worry, as this is about to get thicker.

Remove and shred chicken.

Turn the pot onto Sauté and whisk in the cream cheese. Taste to ensure the sauce is spiced right for you. Add a little extra cream cheese if you want it milder.

Once the cream cheese has melted, add the cut up corn tortillas and mix well. Turn off the pot.

Add the cheese and mix again and let the mixture rest. You want the tortillas to absorb the sauce and get soft.

Serve with some sour cream on the side, and add sliced avocados if desired.
Nutrition facts per serving
260kcal | Fat: 12g | Saturated fat: 4g | Cholesterol: 91mg | Sodium: 714mg | Potassium: 461mg | Carbohydrates: 17g | Fiber: 3g | Sugar: 3g | Protein: 19g | Vitamin A: 16.9% | Vitamin C: 71.5% | Calcium: 11.3% | Iron: 8.7%
I am not a registered dietician or nutritionist. Nutritional information is provided a courtesy, and can vary depending on the exact ingredients you use.