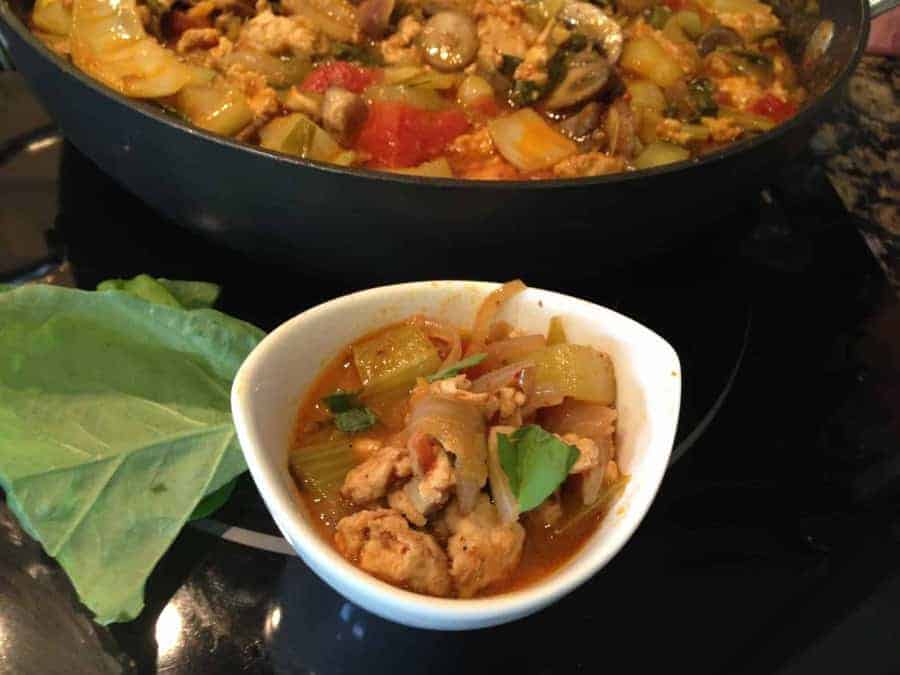 It's been such a long time since I've cooked, that I've felt a physical ache from missing it. Life has been so hectic lately that not only have I not cooked, but if my husband weren't feeding me regularly, I probably wouldn't have had time to eat either. Luckily, we've still been eating low carb, but I always wonder about eating out. I made myself a deal. If only I'd take some time this weekend to cook instead of work, I'd allow myself a little latitude with using packages and premade sauces. Just so long as I used fresh meat and vegetables and got something yummy together.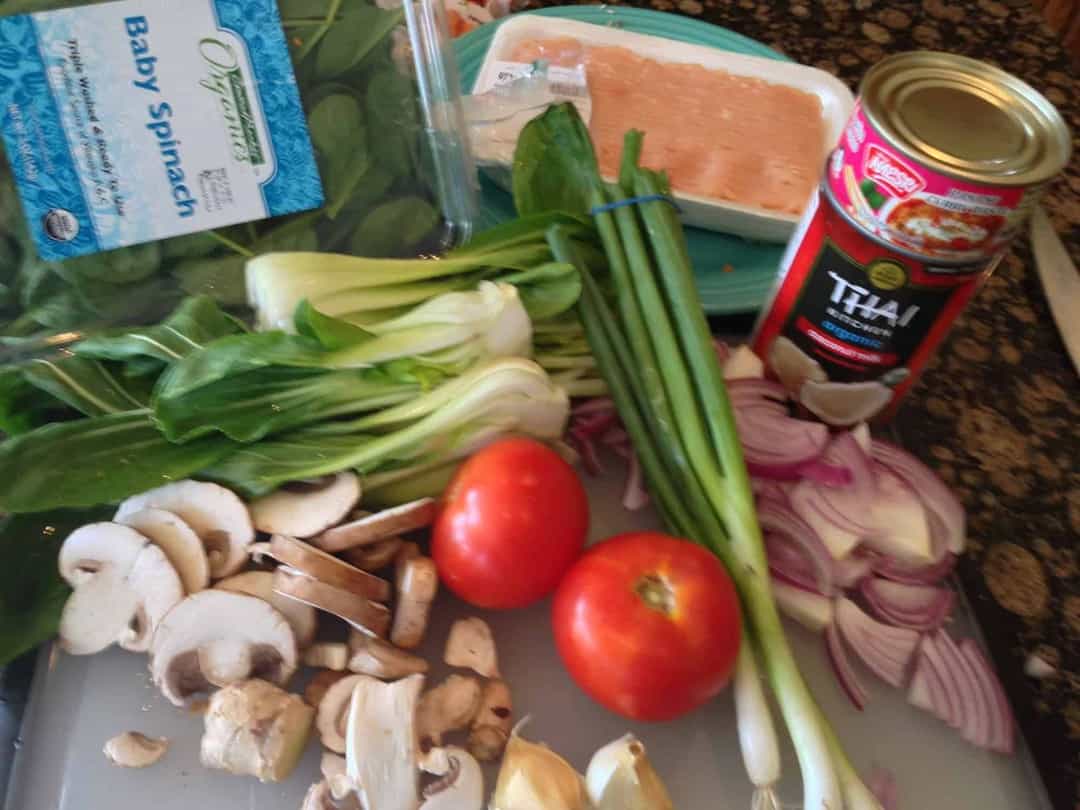 So I decided to start with panang curry. I got my ingredients together and decided to use a canned panang paste to make things easier.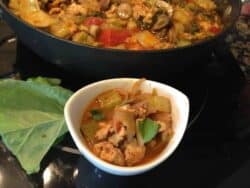 Panang Curry with Chicken and Vegetables
Ingredients
1

pound

ground chicken

1

tablespoon

oil

3

tablespoons

panang curry paste

1

can

unsweetened coconut milk

1/2

red onion,

thinly sliced

2

cloves

garlic,

thinly sliced

2

inch

minced ginger

thinly sliced

1

cup

mushrooms,

sliced

3

baby bok choy,

chopped

2

tomatoes,

chopped

2

teaspoons

lemon juice

1

teaspoon

sugar

6-8

basil leaves,

finely chopped
Instructions
Heat oil in a pan and when it starts to shimmer, put in the sliced garlic and ginger. Let the flavors infuse into the oil, but don't get the aromatics burn.

Put in the thinly sliced onion and sauté for a few minutes.

Add in the ground chicken and break up the lumps. When the chicken is half cooked, put in the panang curry paste.

Mix everything well together and let it cook until the paste smells fragrant, 1-2 minutes.

Gently pour in the coconut milk and mix everything well.

Pour in the mushrooms, bok choy, tomatoes, lemon juice, sugar, and basil leaves and cover.

Let it cook for 10 minutes or so until the vegetables are tender.

Serve over rice, or shiratki noodles for a carb-free option.
Nutrition Facts
Panang Curry with Chicken and Vegetables
Amount Per Serving
Calories 239
Calories from Fat 162
% Daily Value*
Total Fat 18g 28%
Cholesterol 48mg 16%
Sodium 71mg 3%
Potassium 555mg 16%
Total Carbohydrates 7g 2%
Protein 12g 24%
* Percent Daily Values are based on a 2000 calorie diet.