As an Amazon Associate, I earn from qualifying purchases. We may also earn money from the companies mentioned in this post.
This shop has been compensated by Collective Bias, Inc. and its advertiser. All opinions are mine alone. #ToraniEndlessSummer #CollectiveBias
Tired of the same old bulletproof coffee each morning? Looking for a way to add a little zip to your morning coffee? Love Caramel anything but trying to control the sugar? Looking for a tasty cold drink? Trying to save a little money by avoiding the local coffee shop each morning? Whatever the reason, this Keto Iced Caramel Macchiato is your answer.
No really! It is!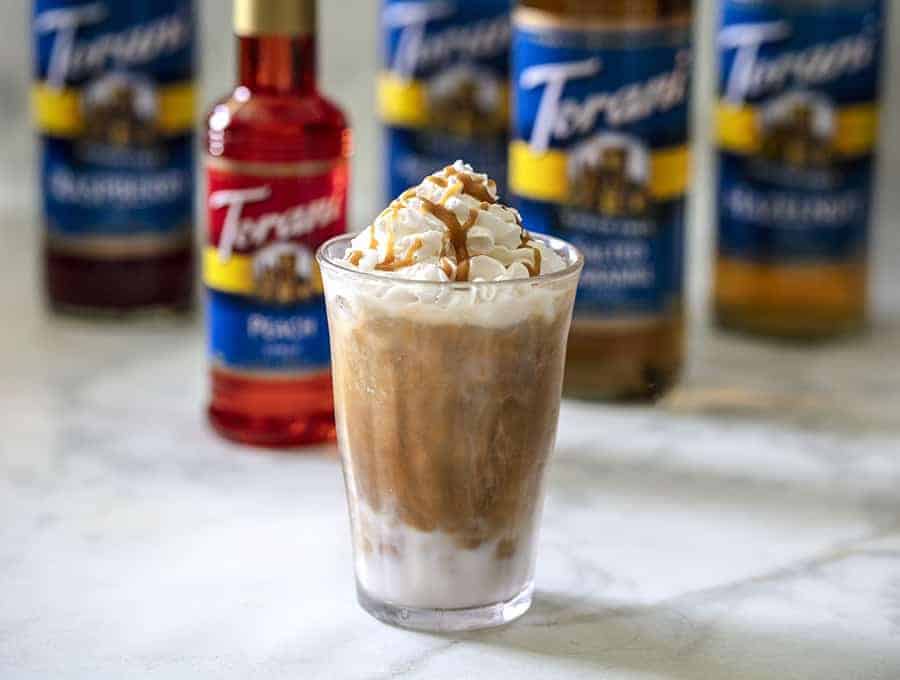 This Caramel Macchiato is a lovely variation on your typical bulletproof coffee drink.
It asks you to make a lovely, thick creamer with butter and cream, and a sugar-free Torani syrup of your choice, and lets you set aside this creamy deliciousness until you are ready for your next cup.
At that point, it is but the work of a moment to brew up a little shot of espresso or a small cup of really strong coffee and add the flavored, creamy goodness to your coffee.
WHAT DO I NEED TO MAKE THIS KETO ICED CARAMEL MACCHIATO?
So you're going to make a little homemade keto coffee creamer. To do this, you need three things: Butter, heavy whipping cream, and a sugar-free Torani syrup.
I used sugar-free salted caramel, but you can use whatever syrup you prefer.
To further sweeten this deal (har har), here's a coupon for you. I bought the Sugar-Free Torani syrup at my Local Kroger store. If you click on the picture below, it will take you to the Kroger coupon center.
From there, you can load up the coupon onto your Kroger frequent shopper card, and the next time you check out, just show that card and your offer will be waiting for you. Super simple.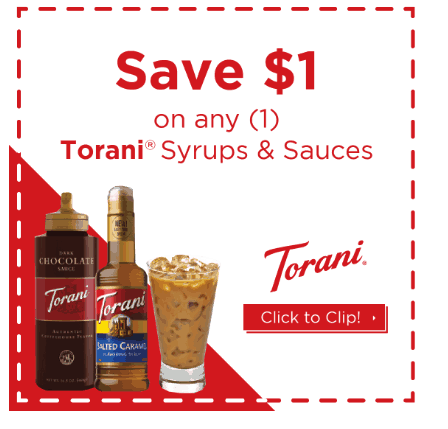 At my Kroger, I find these syrups in the Coffee Aisle. I've included a picture below so you see what it looks like. This way you will know exactly where to look for these Torani Sugar-Free Syrups. Click HERE to find the store closest to you.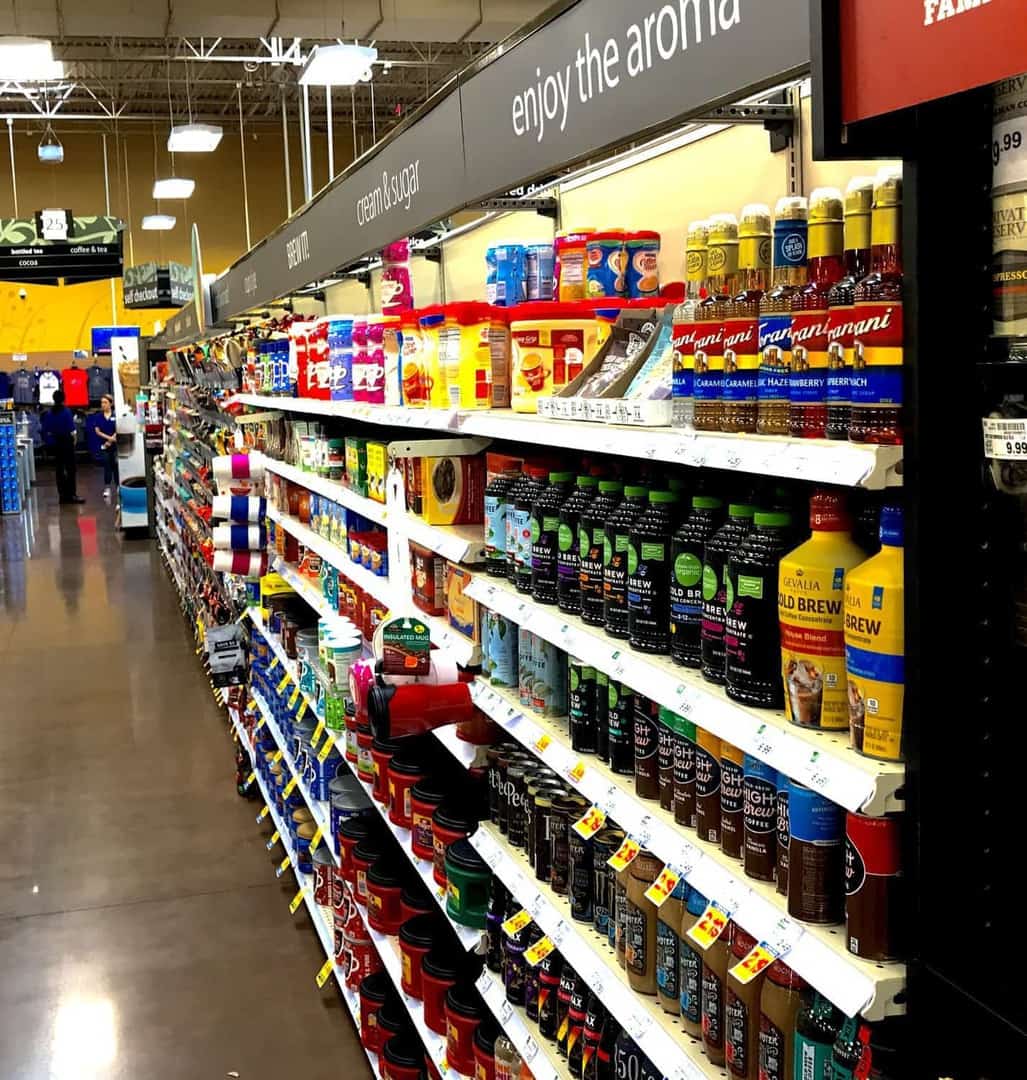 As I make this today, it's still close to 100F in Texas so I'm reaching for an iced version of this Keto Caramel Macchiato, but I can just see this working really well for me in the Fall as well.
While everyone else is getting a super-sugared spiced latte, I will probably be drinking a Keto Version of my Caramel Macchiato– and let's face, it, probably feeling very smug and proud of myself for not succumbing to the sugar bomb they're ingesting.
So let's talk about the Torani Syrup. I am a huge fan of these syrups, not just in drinks like this one, but also in puddings and fat bomb recipes. I love that there are so many different Sugar-Free Torani Syrups available.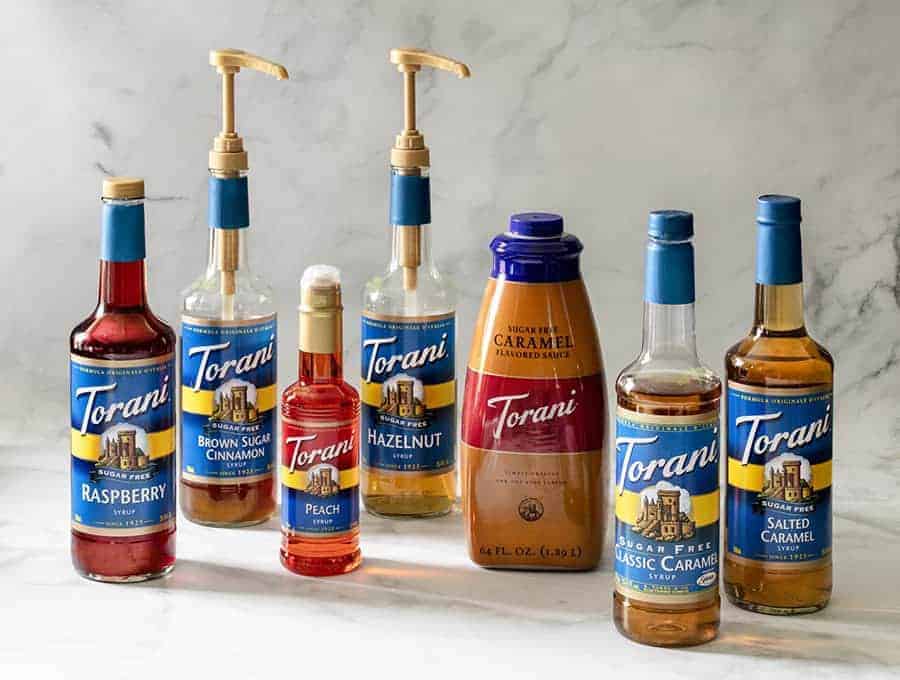 Here are the flavors I know they have:
Sugar-Free Vanilla
Sugar-Free French Vanilla
Sugar-Free Caramel
Sugar-Free Salted Caramel
Sugar-Free Raspberry
Sugar-Free Hazelnut
Sugar-Free Brown Sugar Cinnamon
I know this because I have actually BOUGHT all of these at one point or another–some repeatedly–over the last five years of being keto/low carb.
Roger loves them in his coffee and I love the variety. In fact, there have been times I have had SO MANY of these, that I have probably had a larger selection than my corner coffee shop does.
In fact, that is exactly why I prefer to make my own flavored coffees because the corner coffee shop only has Sugar Free Cinnamon Dolce and Sugar-free Vanilla–and I really like the Hazelnut and Caramel flavors.
Also, I should tell you that Torani has several sugar-free sauces as well. They are in fact, delicious. I am not ashamed to admit that I have had to forcibly restrain myself from not just eating the sauces by the spoonful sometimes.
My favorite is actually the caramel sauce, although they also have a rather lovely Sugar-Free Chocolate sauce that I use to make a Mocha, from time to time.
Oh, and? That sugar-free Caramel sauce or Sugar-Free Chocolate sauce on my Keto Ice cream? Heaven.
WHY MAKE THIS KETO ICED CARAMEL MACCHIATO AT HOME?
So about this Bulletproof version of Keto Iced Caramel Macchiato. There are many, many reasons why I prefer to make it at home.
Ease of making Keto Iced Caramel Macchiato at home.
Bulletproof coffee typically has butter or coconut oil, and heavy whipping cream. My problem is that when I'm trying to get my morning started, I don't necessarily want to mess with butter, coconut oil and coffee, the blending, the mixing and what have you.
So what I do is that I make up a sauce with butter, heavy whipping cream, and Torani sugar-free Salted Caramel syrup or Sugar-free Caramel Syrup. I put this in a jar, and when I'm ready for an iced bulletproof coffee, I use this as a keto creamer to make easy bulletproof coffee.
A cup of ice, a shot of espresso, and 2 tablespoons of my creamer, and I'm usually good to go. You can, of course, add more or less creamer as you prefer.
But either way, you will have a wonderful Keto Iced or hot Caramel Macchiato, and with no more effort than simply pouring in a yummy, homemade creamer.
Control how that Keto Caramel Macchiato tastes.
The other reason I make this at home is that I prefer my coffee to be like me–dark, complex, bitter with a hint of sweetness, and very strong. 😀 I don't usually add almond milk, or milk etc. to my coffee.
Roger, on the other hand, prefers his Keto Iced Caramel Macchiato like him–sweet, strong but mild, with a slight bite at the end. So his coffee is a lot sweeter and a lot milkier than mine.
Making this at home lets me control how strong or mild I make the Caramel Macchiato and all I have to do is vary the amount of creamer to get two very different coffees with one simple recipe.
Drink it all day long, even when fasting.
I actually cannot consume a whole tablespoon of coconut oil or butter along with heavy whipping cream in one coffee without getting really, really sick.
I also tend to fast for 16-18 hours at least 3 times a week, and on those days, I drink iced coffee all day long until I break my fast.
Having a keto creamer handy makes it easy for me to just drink a little bit of the bulletproof coffee at a time, rather than having to drink a whole lot of fat all in one go.
There are many people who don't consume any fat while fasting, but this is what works for me.
I usually end up with 1-2 tablespoons of this creamer twice a day in my bulletproof coffee and that works for me.
Did I mention it's keto?
But of course, the MAIN reason to make it at home is the fact that it is sugar-free. For me, this really, really matters.
I also like being able to use real ingredients in my keto coffee creamer, like butter, heavy whipping cream, and the Torani sugar-free syrup, rather than the Franken-ingredients many creamers contain.
So, lots of reasons why this works for me. As simple as this is, you might end up making several different flavors of keto coffee creamers and save them in your refrigerator until you're ready to use them.
All right so let's get to this very simple but delicious Keto Iced Caramel Macchiato recipe with Torani Sugar-Free Caramel syrup.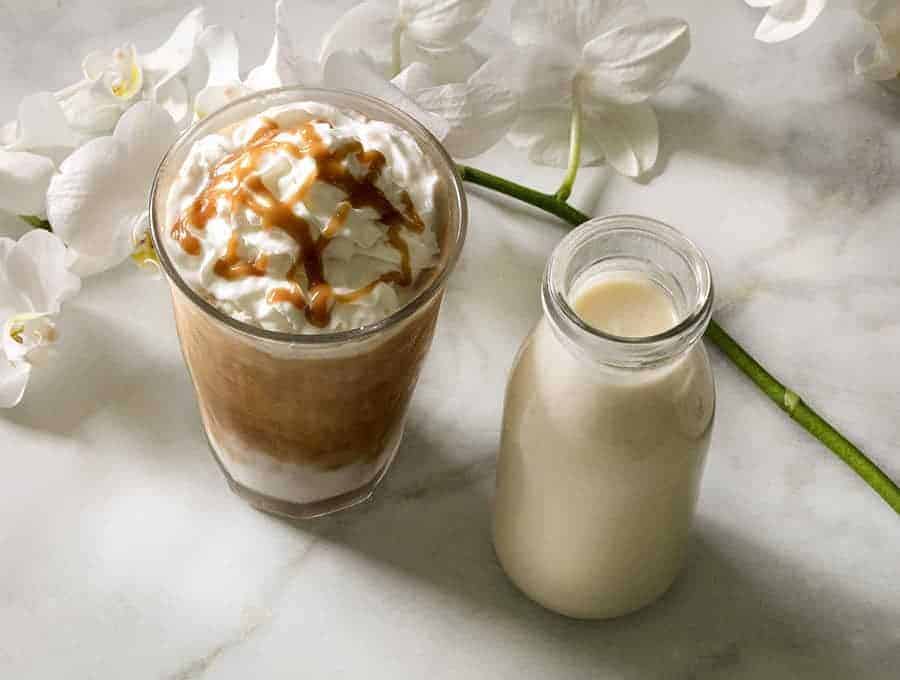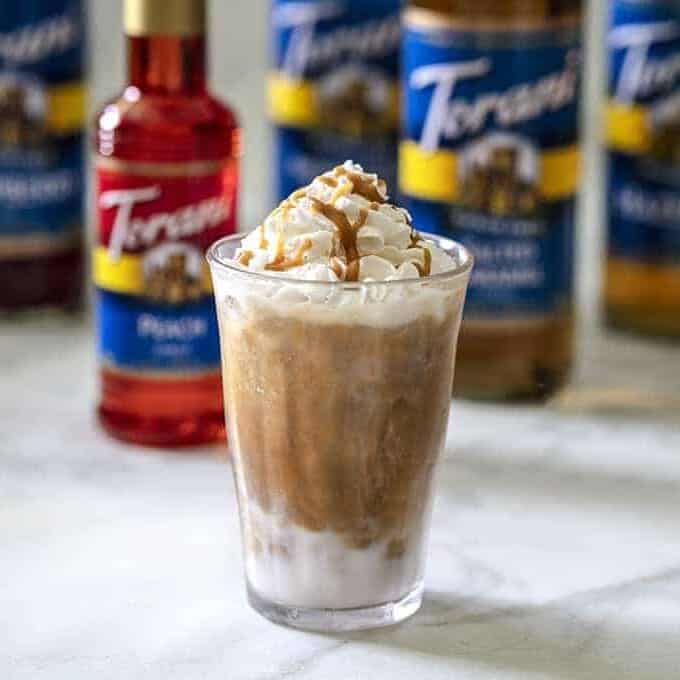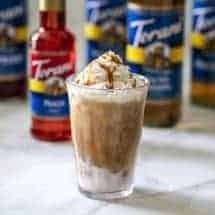 Keto Iced Caramel Macchiato | Bulletproof Coffee Recipe
Keyword:
bulletproof coffee recipe, keto caramel macchiato, keto coffee creamer, keto drinks
Dietary Consideration:
Egg-Free, Gluten-Free, High Fat, Keto, Low Carb, Low Sugar, Nut-Free
Ease of Cooking:
Less than 5 ingredients, Pour and Cook, Under 30 Mins
Recipe Type:
Desserts, Drinks
Ingredients
1/4

cup

Unsalted Butter

1/4

cup

Heavy Whipping Cream

1/2

cup

sugar-free Torani Caramel Syrup
For Topping
whipped cream

Torani sugar-free Caramel sauce
Instructions
In a small saucepan, on medium heat together the salted butter and heavy whipping cream, stirring frequently.

Once the mixture comes to a boil, stir almost continuously until the creamer turns a pale yellow color, and thickens enough to coat the back of a spoon, about 4-5 minutes.

Slowly pour in the sugar-free Torani syrup, stirring well. Allow the mixture to cool slightly.
For Serving
Fill four glasses with ice. In the bottom of each glass, pour in 1/4 cup almond milk and 2 tablespoons creamer, and stir together.

Quickly pour in the espresso or strong coffee. Do not stir. Top with whipped cream and drizzle with the sugar-free Caramel sauce. Serve with the creamer and milk at the bottom, the coffee in the middle, and the whipped cream on top.
Nutrition facts per serving
161kcal | Fat: 17g | Saturated fat: 10g
I am not a registered dietician or nutritionist. Nutritional information is provided a courtesy, and can vary depending on the exact ingredients you use.