I tried four recipes before I settled on this Keto Ice Cream. The others weren't inedible by any means as the empty containers can attest to, but none were this creamy, this smooth, and this delicious. This is going to be the best, easiest keto ice cream recipe you've ever made.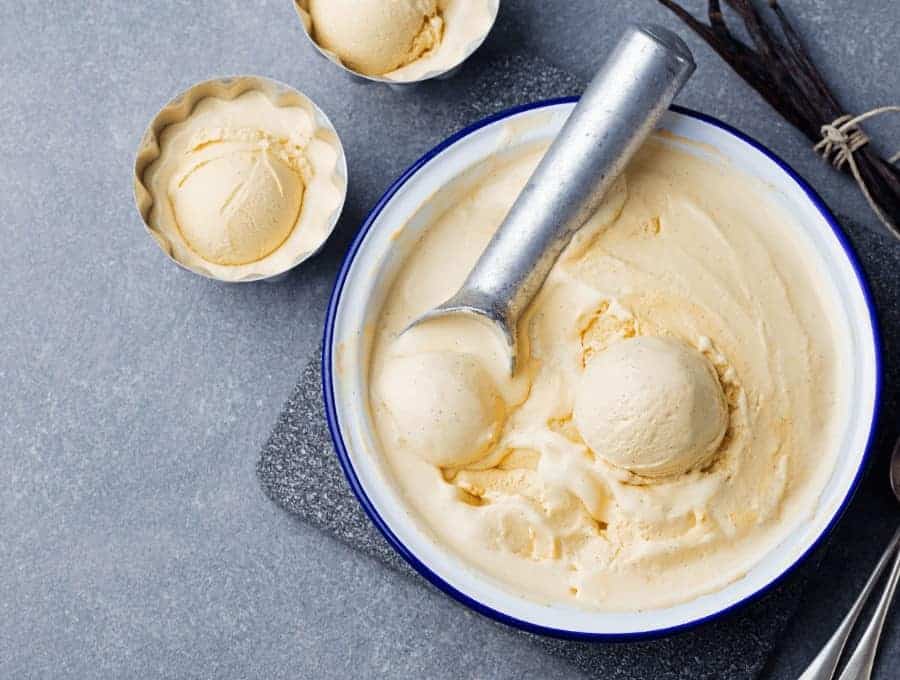 Jump to:
What Makes This The BEST Keto Ice Cream?
Low Carb. Only 4 net carbs per serving.
Fast. A quick keto dessert that is ready in less than 30 minutes.
Easy. Mix a few easy-to-find ingredients and toss them in your ice cream maker.
No Cook. What's better than a tasty sweet snack that you don't have to cook?
I just got a new ice cream maker last week, and I've been playing with it. I was determined to find a recipe that didn't require making a custard because I know myself.
I won't do it and then it will be time to make ice cream and I'll be about half a day away from having it. So I had to find something that worked without a custard.
The low carb Ice Cream recipe I settled on is borrowed heavily from the Serious Eats Ice Cream recipe with only one minor tweak, which was my addition of xanthan gum, and a sugar-free sweetener.
Not only was this tasty, but I got two different textures from one recipe. When freshly made, the Low Carb Ice Cream is like a soft serve, and very creamy. Once it's cured for a bit, it's a lot more like regular ice cream. Two different tastes from the same recipe make it fun.
Is Keto Ice Cream Good?
Heck yeah, it is. Of course, I'm a little biased since this is my recipe. But I have trouble keeping it in my freezer without even my non-Keto friends stealing a bite.
Can You Make Keto Ice Cream Without Eggs?
A lot of ice cream recipes use eggs as an ingredient. Since I'm all about #ruthlessefficiency I wanted a recipe that omitted the cooking step. Plus, the faster it's ready to eat, the better. Am I right? For that reason, I decided that a Keto ice cream recipe without eggs was the one for me.
Want More Tasty Frozen Treats?
My Mango Frozen Yogurt is a delicious and simple way to satisfy your sweets craving while lowering your carb intake at the same time.
My Keto Blueberry Ice Cream is a delicious, sweet treat to keep you cool this summer without feeling guilty.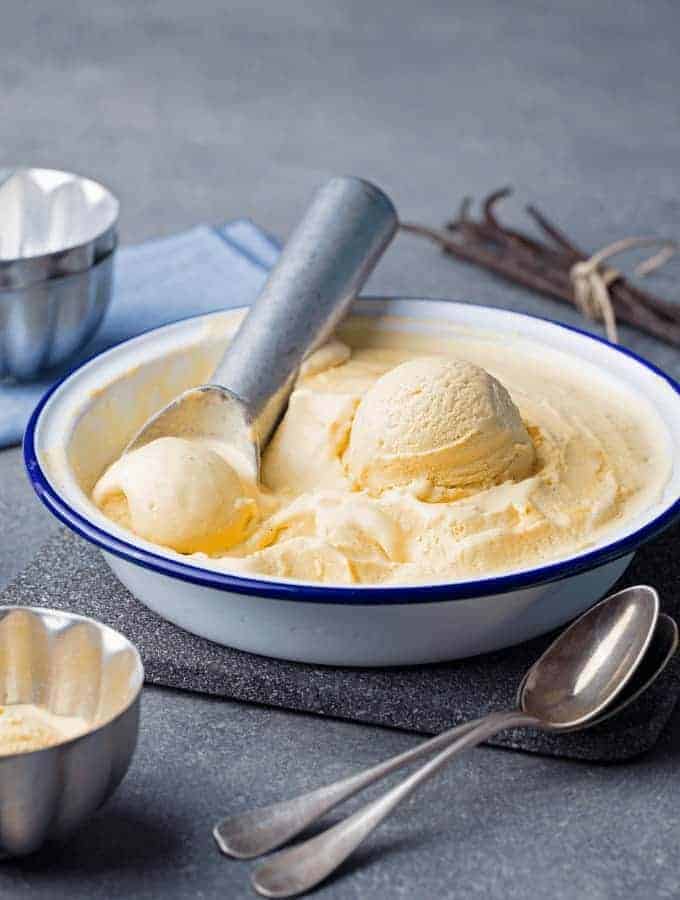 How To Make This Keto Ice Cream Recipe
Mix all ingredients well
Put into ice cream maker and swirl for 30 minutes
OPTIONAL: top with my delicious Keto Granola for a nice crunch!
Will Keto Ice Cream Kick You Out Of Ketosis?
When indulging in low-carb ice cream, you need to be cautious of your portion size.
As with any other food when eating a keto lifestyle, you need to enjoy it in moderation. If you track your macros to keep them within a healthy limit you can easily enjoy this Keto Icecream without being kicked out of ketosis.
After much experimentation, this Cuisinart Ice Cream Maker is the one I absolutely adore. It makes the most delicious, creamy Keto Ice Cream recipe I've ever tried. If you try it and love it, too please share it on Facebook so your friends can make it. Don't forget to Pin it for later so you can make it again.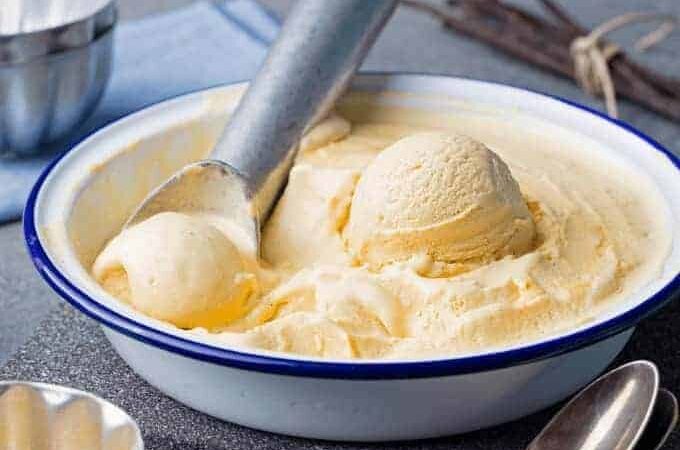 Click on highlighted ingredients or Equipment to see exactly what I use to make this recipe
Instructions
Mix together sweetener, dry milk powder, and xanthum gum, and whisk well to avoid lumps.

Pour in the milk, cream, and vanilla extract and mix until the sweetener is dissolved.

it tastes a lot creamier when fresh, and a lot more like ice cream when it's been allowed to cure in the freezer. Try it both ways and see which you prefer.
The xanthum gum helps the ice cream thicken, and the powdered milk keeps crystals from forming over time.
Get support & connect with our community on Facebook!
Nutrition
Calories:
313
kcal
|
Carbohydrates:
5
g
|
Protein:
4
g
|
Fat:
31
g
|
Fiber:
1
g
|
Sugar:
3
g
Tried this recipe?
Follow @twosleevers and Pin it!
Originally Published June 11, 2017
Don't forget to check out my other Keto cookbooks.
Keto Instant Pot, Keto Fat Bombs, Sweets, & Treats, and Easy keto in 30 minutes.