As an Amazon Associate, I earn from qualifying purchases. We may also earn money from the companies mentioned in this post.
This Keto Chocolate Pudding is rich, creamy, and satisfies any sweet tooth craving you might have. It's low carb so it takes out the guilt that most desserts might give you. Getting into the Keto lifestyle can be rocky but, this pudding makes it feel like a breeze.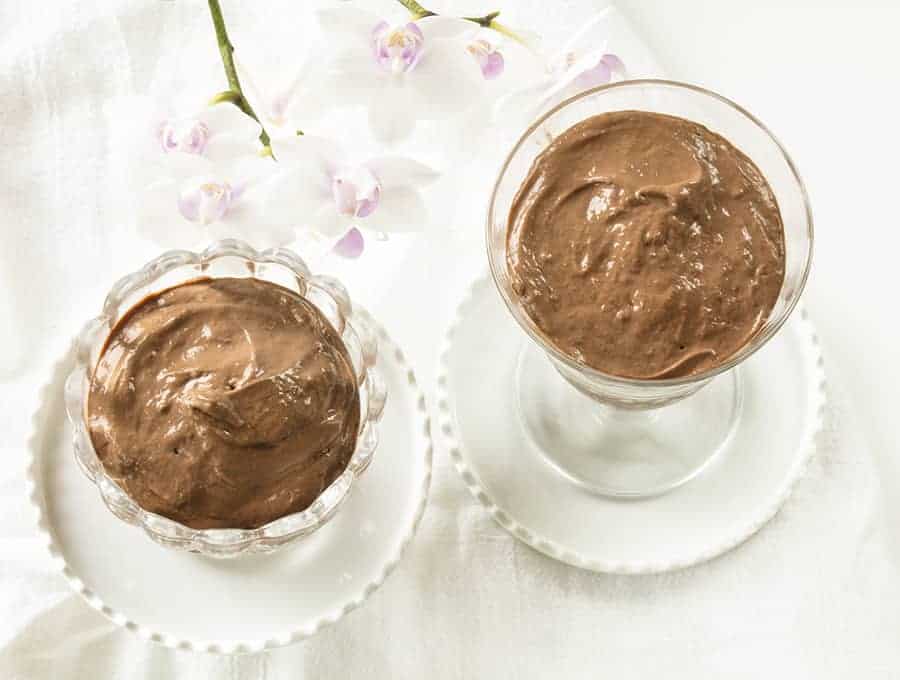 Why Keto Chocolate Pudding Rocks!
There's nothing better than sticking with a food lifestyle change. Of course, when the cravings set in, it feels like sticking to those changes is the worst decision you've ever made. Try this Keto Chocolate Pudding recipe first before you throw away that hard work.
I absolutely love chocolate and sweets in general. One of the best feelings is ending a long day with a good dinner and a nice dessert. There are many times that I get to the end of a day, and I'm just exhausted. This usually means attempting to cook a complicated recipe to curb sugar cravings is out of the question. That's why I love having this Keto Chocolate Pudding recipe handy because it's so simple and is absolutely delicious.
However, when I'm sticking to Keto, it's not as easy to fit that dessert into the meal plan. I've been trying to put all my Keto dessert hacks and ideas on the blog so you all can enjoy treats like I do and still stay well within your macros.
This pudding recipe is also one that kids enjoy too, so you don't have to make multiple desserts. Or you can keep it all to yourself – your call!
Making a Tasty Keto Chocolate Pudding
I admit I really struggled with how to make a good keto chocolate pudding.
When you consider that the main ingredient in most chocolate puddings is flour or cornstarch, you can appreciate my dilemma!
It took me ENTIRELY too long to realize that really, all I needed was some way to thicken the pudding. It didn't have to be flour.
Enter the indomitable egg.
Yup, like I said. Took me way too long to figure out this simple hack!
But luckily for all of us, I did, and it worked, and so we can all now enjoy a great Keto Chocolate pudding that tastes like real pudding!
You will need a whisk for this recipe but other than that, no special equipment needed!
If you're a chocolate and sweets lover like me, add this Keto Chocolate Pudding recipe to your list and curb those sugar cravings without losing your dessert.
If you're looking for more desserts to get your chocolate fix, check out my Keto Truffles. They're full of milk chocolaty goodness and are low carb as well!
If you love this recipe, be sure to check out my Keto Desserts cookbook HERE!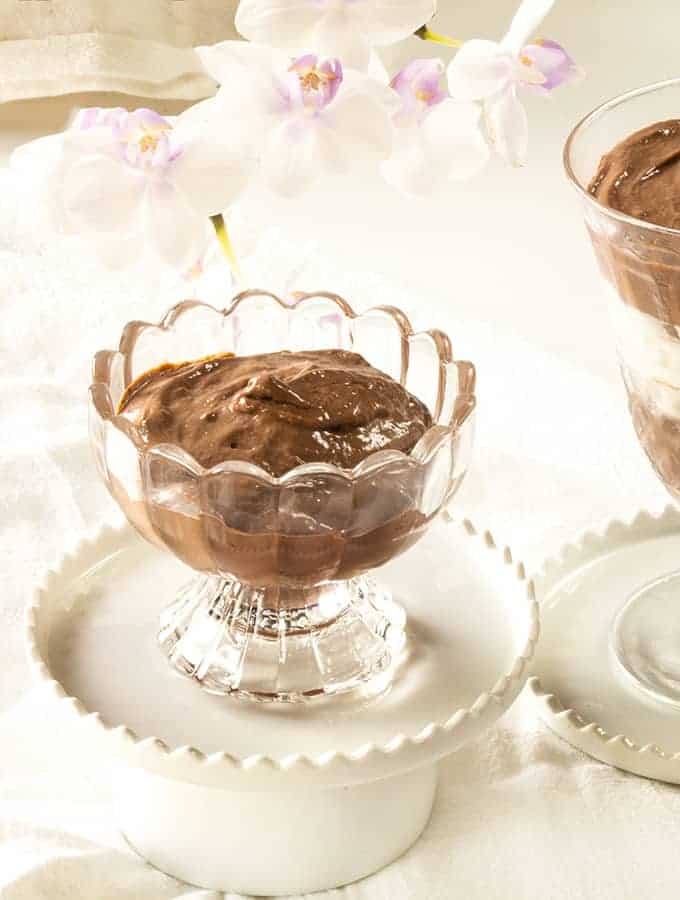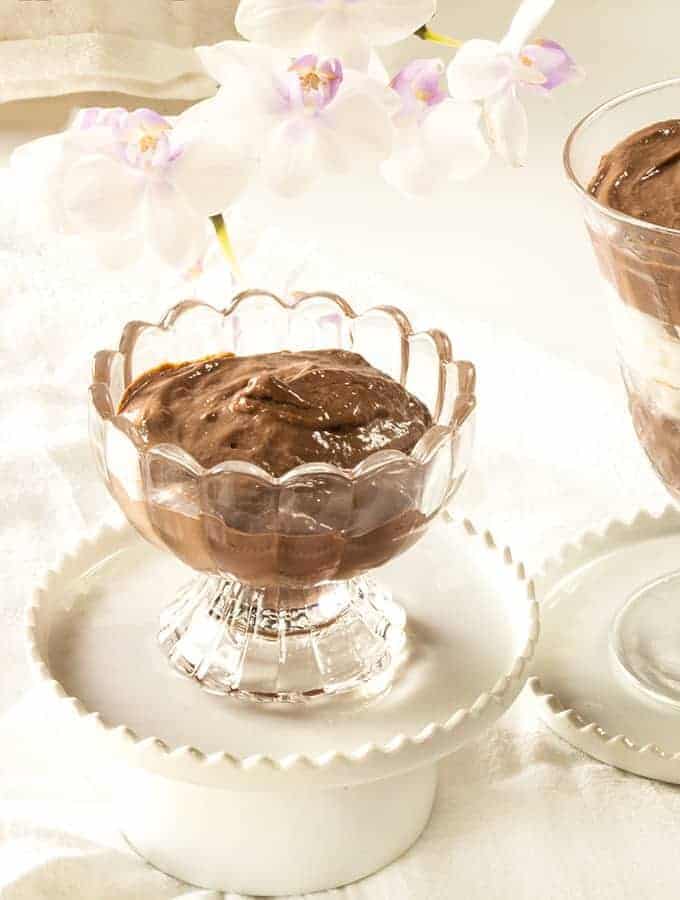 ★ DID YOU MAKE THIS RECIPE? DON'T FORGET TO GIVE IT A STAR RATING BELOW! JUST CLICK ON THE STARS IN THE RECIPE CARD TO RATE.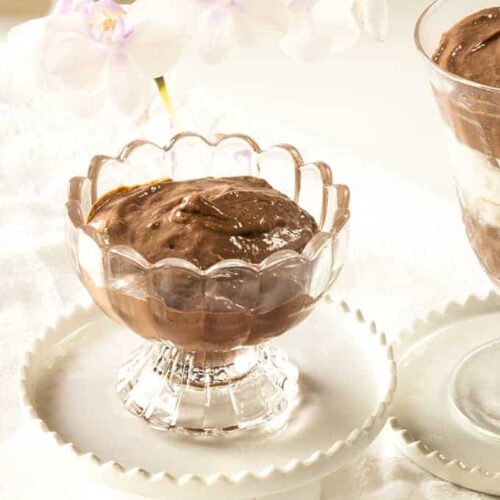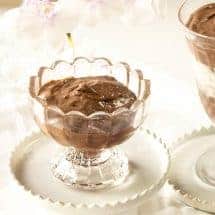 Keto Chocolate Pudding
Add some chocolate to your keto diet with this delightful Keto Chocolate Pudding! It's smooth, chocolatey, gluten free and low carb!
Keyword:
Gluten Free Chocolate Pudding, Keto Chocolate Pudding, Low Carb Chocolate Pudding
Dietary Consideration:
Gluten-Free, Keto, Low Carb, Low Sugar, Soy-Free, Vegetarian
Ease of Cooking:
Under 30 Mins
Recipe Type:
Desserts, Fat Bombs, Full Liquids/Soft Foods, Keto Low Carb
Instructions
In a medium saucepan, combine the heavy cream, almond milk, Truvia, cocoa, egg, and xanthan gum and whisk well. Cook over medium-low heat, whisking frequently,. Do not let the pudding come to a rolling boil. You want to cook it gently and slowly.

Continue to heat and whisk until the pudding is thick enough to coat the back of a spoon. You may need to add a little extra xanthan gum at this point.


Remove from heat, then whisk in the vanilla extract.


Pour into a container, cover, and refrigerate for 2-4 hours.


Serve with whipped cream.

Nutrition facts per serving
247kcal | Fat: 24g | Saturated fat: 14g | Cholesterol: 122mg | Sodium: 142mg | Potassium: 141mg | Carbohydrates: 5g | Fiber: 2g | Protein: 3g | Vitamin A: 18.7% | Vitamin C: 0.4% | Calcium: 12.7% | Iron: 5.2%
I am not a registered dietician or nutritionist. Nutritional information is provided a courtesy, and can vary depending on the exact ingredients you use.