Learn how to cook barley perfectly, in your pressure cooker, on the stovetop, or in your rice cooker. Perfect fluffy, tender, chewy morsels of barley will keep you coming back for more. You can also find a variety of Instant Pot Barley Recipes to try.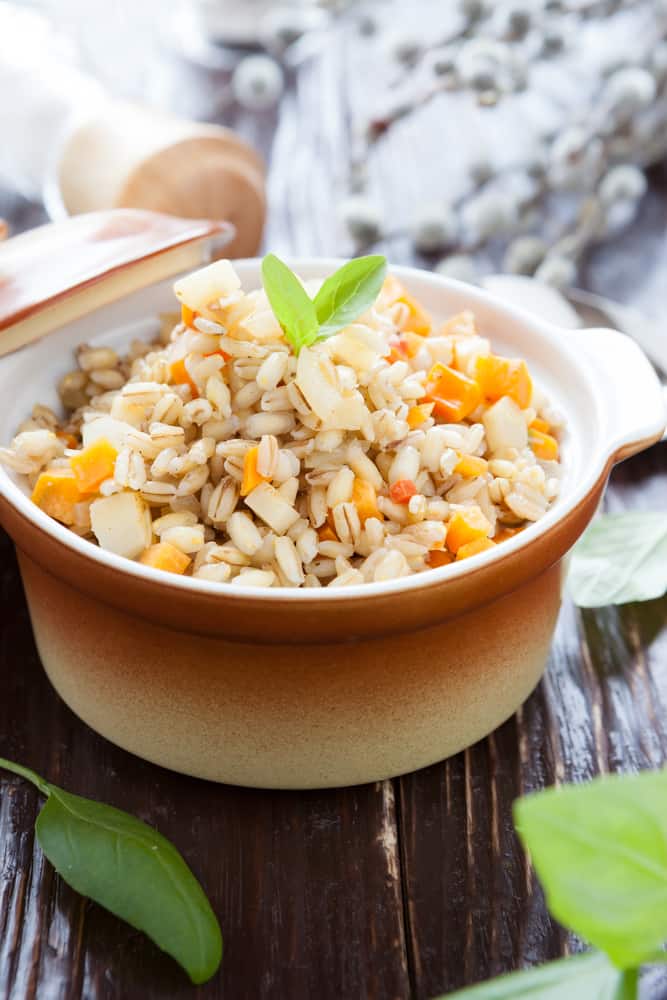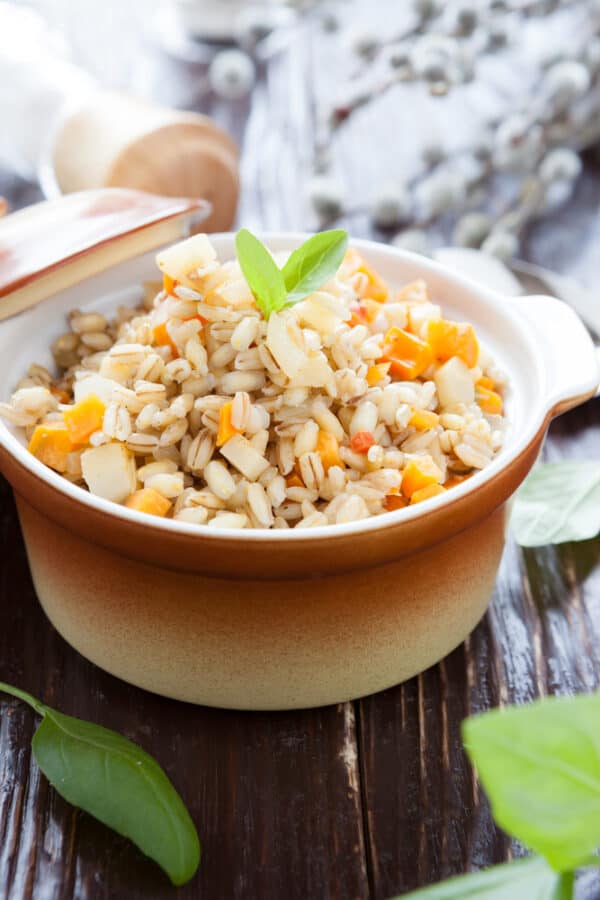 Jump to:
If you've never cooked with Barley before, you are in for a treat. Chewy, filling, nutritious, cheap, tasty--I could go on about the benefits of barley. But before you start cooking, you may have a few questions about how to cook barley, that I want to answer for you.
What is the Difference between Hulled Barley and Pearled Barley?
Let me tell you the biggest difference. You want Pearled barley 🙂 I know not everyone will agree with me on this. But Hulled barley takes FOREVER to cook, and is so much chewier that it's not always well-loved.
But my opinions aside, this is what you need to know.
Hulled barley, or barley groats, are whole grain barley. Only the very outer hull has been removed. So they're more
"whole grain" if you will. In that sense, it could be considered more nutritious. It certainly has a little more fiber. But it is also a lot chewier than pearled barley. The biggest issue for me, however, is that takes a long time to cook. On the stovetop, it can take 60-90 minutes to cook hulled barley.
Pearled barley is the more common form of barley. When a recipe doesn't specify the type of barley, it's usually pearl barley they are referring to. In this case, the outer husk and the bran on the groats have been removed. The resultant barley, while still chewy and nutritious, is a lot faster to cook.
In addition to those types, you may also encounter Scotch Barley, Barley Flour or Barley Meal, or even Barley Flakes.
Or you know, you could be like most people who have never in their lives encountered Barley. If you're one of those, we are going to fix that!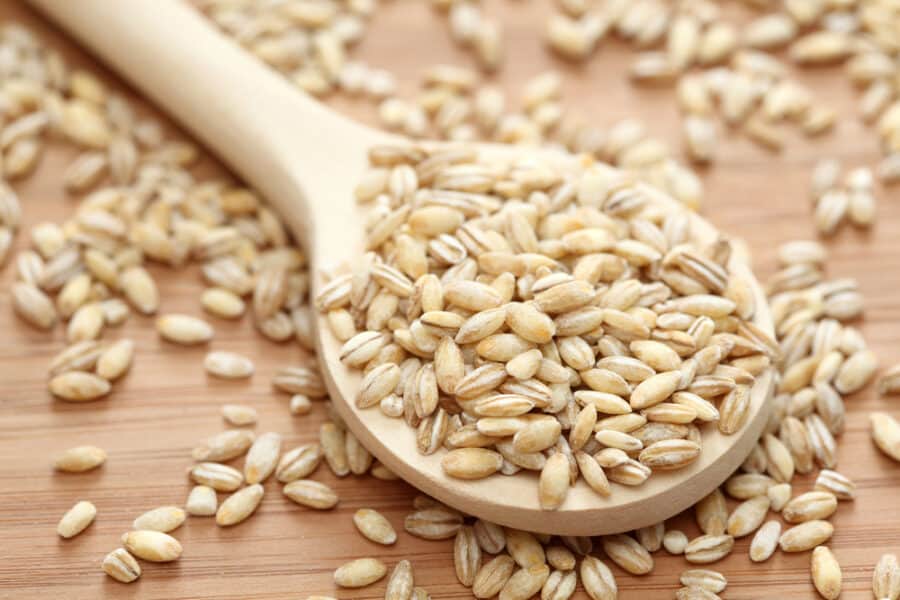 Can I substitute hulled barely for pearled barley or vice versa?
Can you? Yes absolutely.
Will the recipe work as written? Probably not.
You will need to adjust both, the amount of water, as well as the cooking time if you intend to substitute one for the other.
If this is your first time cooking barley, or you aren't a great improviser or experienced barley chef (is there such a thing?), you might want to stick to the recipe.
Why Cook with Barley?
Healthy. Barley is an "ancient grain" and even when used as pearl barley, is still considered a whole grain. It is high in fiber and packed with other nutrients. It has a relatively low glycemic index and less gluten than wheat.
Cheap. Unlike some other "superfoods", barley continues to be much cheaper than say, quinoa for example. In addition, barley expands to about 3.5 times its volume when cooked, and a serving is considered to be 1/2 a cup. So for the cost of 1 cup of barley, you should be getting about 4-5 servings out of it. Not a bad bargain, is it?
Blood Sugar Regulation. Barley was found to aid in blood sugar regulation, not only because of its low glycemic index but also because so much of the fiber in barley is indigestible, that it is believed gut fermentation can take several hours, and that may aid in lowering blood sugar for up to 10-14 hours.
Texture. Barley has a great, slightly chewy texture that is very pleasing in soups, risottos, and salads.
How to cook Perfect Instant Pot Barley
Pearled Barley: Place 1 cup barley, 1 cup water or stock, 1 tablespoon oil/butter/ghee/coconut oil, and 1 teaspoon salt into the inner liner of your Instant Pot.
Secure the lid on the pot. Set the Instant Pot at High pressure for 15 minutes. When cook time is complete, let pot release pressure naturally for 10 minutes, and then release all remaining pressure.
Fluff with a fork, and serve.
How to cook Perfect Stovetop Barley
Place 1 cup barley, 3 cups water or stock, 1 tablespoon oil/butter/ghee/coconut oil, and 1 teaspoon salt into a saucepan with a lid. When the mixture boils, reduce the flame to low so that the water bubbles steadily and gently.
Cover the pan and allow the barley to cook for 30-40 minutes.
Check to see if the barley is tender (by eating a few kernels is the way I prefer!). You may need to cook for a few more minutes.
Turn off the heat and let the pot sit undisturbed, with the lid on, for 10 minutes. This allows the barley to finish cooking with the residual heat from the steam.
Fluff with a fork, and use as you wish.
For hulled barley, expect to double the water and the time. You might want to start with pearled barley instead.
How to cook Barley in a Rice Cooker
Rice cooker barley is very easy, and totally hands off. I like to make this either in the Zojirushi, or my Instant Zest Rice cooker.
Place 1 cup barley, 2 cups water or stock, 1 tablespoon oil/butter/ghee/coconut oil, and 1 teaspoon salt into the rice cooker.
Place the lid on the rice cooker and press the rice setting. If your rice cooker has a grains setting, use that instead.
The rice cooker will automatically turn off when all the water has been absorbed, and your rice cooker barley is done. Budget about 40 minutes for this to happen.
Fluff with a fork, and serve.
Do you have to soak Barley before cooking?
You do not have to soak pearled barley before cooking. You also do not need to precook barley before adding it to soup, unless whatever else is in your soup will be mush before the barley finishes cooking.
Tips & Tricks for Cooking the Best Barley You've (n)ever Eaten
Use the 1 tablespoon of oil/ghee/coconut oil etc. that I ask you to use. It keeps the grains from sticking and makes it a lot less likely to cook up into a sticky clump. Sometimes, I use bacon instead because, bacon!
Salt the barley before cooking. This lets the salt penetrate into the grain and lends a LOT of flavor.
Let the barley steam for 10 minutes after it is cooked. This is cooking time and allows the grains to continue to get softer, without becoming water-logged.
Fluff the barley with a fork before serving. This allows the grains to separate further, and makes them nicer to present and to eat.
Use Stock instead of water. I love using chicken stock for cooking barley. It's also why I made a Chicken and Barley Stew that I think you'll enjoy.
What Can I Make With Barley?
So now that you know how to make perfect Instant Pot Barley, and you know how to cook barley on the stovetop as well as how to make barley in your rice cooker, you should be all set! Let me know in the comments how you like your barley cooked.
Want More Recipes for Your Pantry Items?
Indian Instant Pot, Keto Instant Pot, Instant Pot Fast and Easy, Healthy Instant Pot & Vegetarian Instant Pot.