Pressure Cooker Salmon with Orange ginger sauce is a great Instant Pot low carb salmon recipe that is sure to please the whole family. Making salmon in the pressure cooker can be easy and rewarding, once you learn the basics of Pot-in-pot cooking for seafood recipes.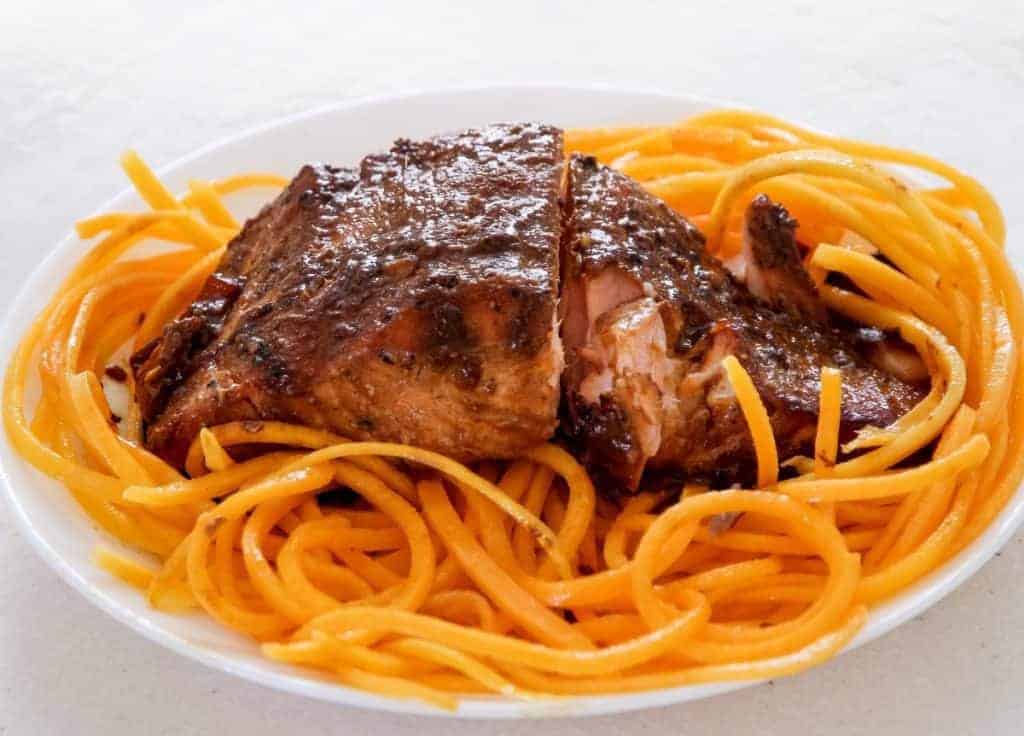 One of the main reasons why I don't cook fish at home very often is that I really can't take the lingering sells of fish in the house.
I used to cook pesto-covered salmon out on the grill because I love salmon but I couldn't stand the whole house smelling of fish for days on end.
Cooking fish in the Instant Pot or Pressure cooker really helps reduce the fish odors in your home—as long as you remember to rinse the steamer rack and inner liner of your pressure cooker immediately after cooking.
I have tried making fish in the Instant pot in a variety of ways and what I have found is that Pot-In-Pot works best so as to not overcook the fish. I have a few other recipes where I've done this, such as this Coconut curry shrimp,
It also works if you put the fish in a steamer basket, as I did with the Ginger scallion steamed fish recipe.
To make this Pressure Cooker Salmon with Orange Ginger sauce, I did much the same. I marinated the salmon briefly and cooked it Pot-In-Pot.
If you have other questions about how to cook Pot-in-Pot in your Instant Pot or pressure cooker, or why you should bother, check out this Pot-in-Pot video to get a good idea.
Once you learn the basics of Pot-in-pot cooking not only can you make fish recipes in your Instant pot, you will be making entire meals at a time, much faster than before.
EQUIPMENT YOU MAY NEED TO MAKE THIS LOW CARB INSTANT POT PRESSURE COOKER SALMON WITH ORANGE GINGER SAUCE: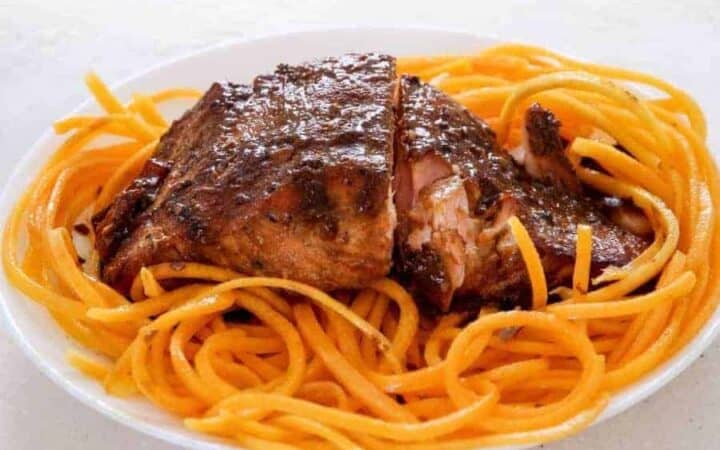 Click on highlighted ingredients or Equipment to see exactly what I use to make this recipe
Instructions
Place salmon in a ziplock bag or in a 6-inch pan that fits inside your Instant Pot


Mix all the sauce ingredient and pour over the salmon. Allow it to marinate for 15-30 minutes.

Put 2 cups of water in the inner liner of your pressure cooker.

Place the pan of salmon and sauce on the rack.

Cook for 3 Minutes low pressure.

Allow it to release pressure naturally for 5 mins and then release all remaining pressure.

At this point, you can serve right away or broil for 3-4 minutes for a browned finish.

You could also bake this salmon in a 350F oven until the fish is flaky and done.
You can substitute regular marmalade for the low sugar version
Since low sugar marmalades vary, nutritional info does not include macros for the marmalade. Please add that to the total macro counts.
This will work with any kind of firm-fleshed fish.
You can do this with frozen fish but it won't take the marinade as well, so your results could be a little blander.
You can sub regular soy sauce for dark if you would like. 
If you've never done PIP before, watch the video posted above to learn how it works. 
Get support & connect with our community on Facebook!
Nutrition
Calories:
166
kcal
|
Protein:
23
g
|
Fat:
7
g
|
Saturated Fat:
1
g
Tried this recipe?
Follow @twosleevers and Pin it!