If you love seafood, and you love using your Instant Pot you've probably searched for seafood recipes you can make in your pressure cooker. You will find so many people tell you that you can't, or shouldn't cook seafood in your Instant Pot.
I disagree wholeheartedly, and once you make this Instant Pot Cioppino Seafood Stew you'll agree with me. This stew is so simple, and BURSTING with flavor!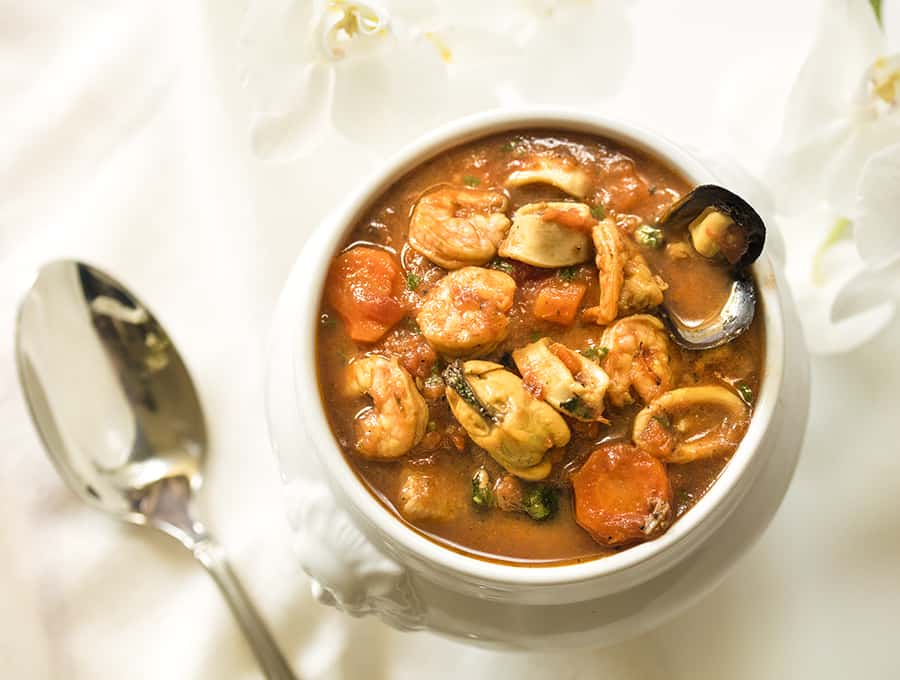 Seafood can be tricky, but once you know how to cook it in your Instant Pot, you're going to LOVE how easy it is, how quick it cooks, and how much flavor it infuses.
To be honest, though, the thing I love most about cooking seafood in the Instant Pot is that my whole house doesn't smell of fish when I'm done. This is very important to me. So if I can find some way to get the fish smell out of my house, while also making something delicious, you can bet I'm going to do it.
Enter this Instant Pot Cioppino Seafood stew. And the fact that it's low carb? Added bonus for me.
Instant Pot Cioppino Seafood Stew | Instant Pot Recipe
If you're reading this, I'm going to assume you're either a big fan of seafood, or you're planning to make this for someone who is. This Seafood Cioppino Stew is going to make any seafood lover very happy. It's rich and flavorful and loaded with seafood and veggies. It's very filling with a small serving, while still being light.
WHAT IS IN THIS INSTANT POT CIOPPINO SEAFOOD STEW RECIPE?
This Cioppino or Seafood Stew is LOADED with so many types of seafood. It includes shrimp, calamari, mussels, fish, and scallops. Traditionally, Cioppino is made with whatever fresh catch a fisherman has left over from his/her day of fishing. For me, it's whatever I can find at the grocery store 😀
It's great for if you have leftover little bits of here and there. Realistically, you don't have to use every single one of these if you don't have them, or if you don't want to. Customize the seafood you want to use, and try it that way.
Some grocery stores also sell a bag of mixed seafood, which is what I ended up using for this Instant Pot Cioppino recipe.
DO I NEED TO LEAVE THIS INSTANT POT CIOPPINO SEAFOOD STEW IT IN THE REFRIGERATOR BEFORE I EAT IT?
In the recipe, I tell you that after it cooks, that you need to leave it in the fridge so the flavors in the stew can marry. However, if you're starving, and you don't want to wait, or don't have the time to wait, then you can certainly eat it right away. The flavors won't be as yummy as if you've left it in the fridge, but it will absolutely still be delicious!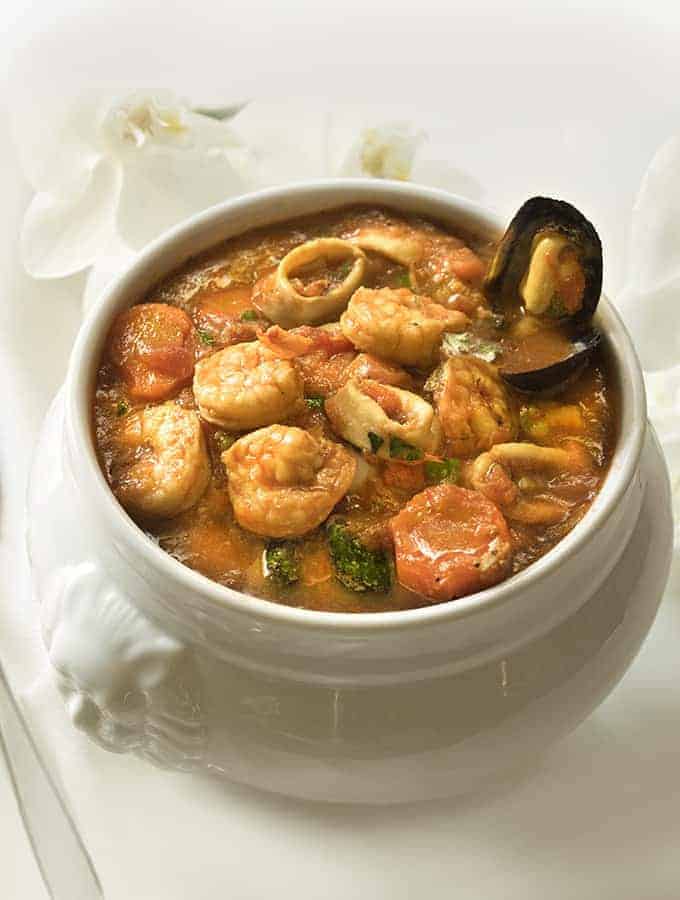 ★ DID YOU MAKE THIS RECIPE? DON'T FORGET TO GIVE IT A STAR RATING BELOW! JUST CLICK ON THE STARS TO RATE.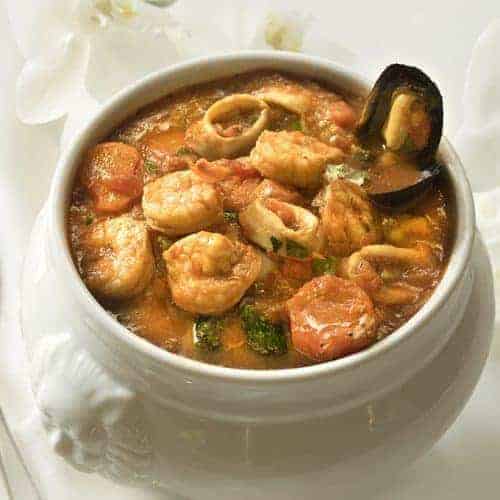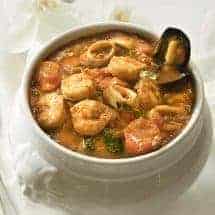 Instant Pot Cioppino Seafood Stew
Scared to try seafood in your pressure cooker? Make this Instant Pot Cioppino Seafood Stew and all your fears will disappear. Low carb & full of flavor.

Course:
Main Course, Soup
Cuisine:
American, Italian, Mediterranean
Keyword:
seafood, Seafood Cioppino Stew
Dietary Consideration:
Dairy-Free, Egg-Free, Gluten-Free, Grain-Free, High Protein, Low Carb, Nut-Free, Soy-Free
Cooking Style:
Instant Pot/Pressure Cooker
Ease of Cooking:
Pour and Cook, Under 30 Mins
Recipe Type:
Pressure Cooker, Seafood, Soup
Ingredients
For Finishing
4

cups

mixed seafood such as fish chunks, shrimp, bay scallops, mussels and calamari rings

1-2

tablespoons

fresh lemon juice
Instructions
For the stew base: Place oil, tomato, onions, carrots or bell pepper, water, wine, bay leaves, tomato paste, garlic, oregano, ground fennel seeds, salt and pepper into the inner liner of the Instant pot. Stir well.

Set Instant Pot at High pressure for 15 minutes. When cook time is complete, let pot sit undisturbed for 10 minutes, and then release any remaining pressure. You can complete these steps and put the soup away in the refrigerator, to finish later. This really helps the flavors in the soup develop, but if you're ready to eat, it's not necessary.


Turn the pot to sauté and add fish, mussels, bay scallops, and calamari rings to the pot. Once the pot boils, add in the shrimp and cook until all the seafood is cooked through. Add lemon juice right before serving.


Serve with crusty bread to mop up all the delicious, savory broth you've just created.

Recipe Notes
You can use stock or water instead of the wine
For Macros, I used bell pepper instead of carrots, and shrimp for the seafood. Please calculate your own depending on what you put in
Nutrition facts per serving
241kcal | Fat: 10g | Saturated fat: 7g | Carbohydrates: 10g | Fiber: 2g | Sugar: 4g | Protein: 18g
I am not a registered dietician or nutritionist. Nutritional information is provided a courtesy, and can vary depending on the exact ingredients you use.
Don't forget to check out my Instant Pot Fast & Easy Cookbook!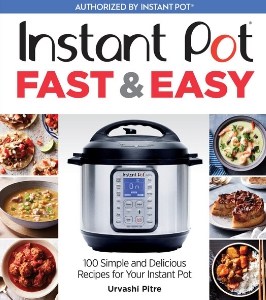 This book is full of all kinds of boldly flavored and internationally-themed recipes—Mexican, Thai, Moroccan, and more—with Instant Pot Fast & Easy, fully authorized by Instant Pot. Just like you have come to expect, my recipes will work perfectly every time, and of course taste great too. And because these are Instant Pot recipes, dishes like Japanese Chicken Curry, Chinese Steamed Ribs, and Mexican Pulled Pork are ready in a fraction of the time they would take using traditional cooking methods. As with all of my recipes, the focus is on whole foods instead of artificial convenience ingredients, so the recipes are delicious, easy, and healthful too.