These Honey Mustard Pork Chops turn out so juicy and flavorful in the Air Fryer! Make some crazy good pork chops in just over 10 minutes!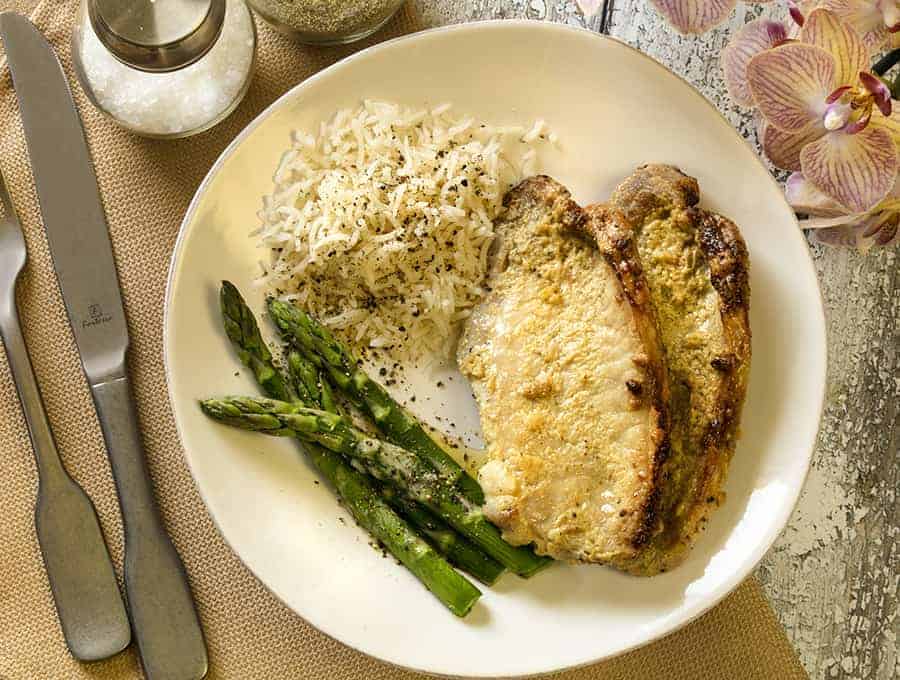 Jump to:
Why These Honey Mustard Pork Chops Are So Fantastic
I like to mix up the flavors we have in my dishes, and this Honey Mustard Pork Chops recipe does just that. It takes a classic dish and amps up the flavor profile into something you can enjoy time and time again. It's also a great base recipe for pork chops in the air fryer that you can customize for yourself.
These Honey Mustard Pork Chops are going to be one of your new favorites! Skip the same old pairing of apples or stuffing with pork chops, and make them bright and fresh with this honey mustard sauce. This recipe will be done in less than 30 minutes from start to finish. Now that's my kind of recipe.
This recipe is easy, and simple enough to have any night of the week. It's also nice enough that you could serve it to guests and be happy about it. This is one of those recipes I like to keep in mind for when I need a last-minute dish because it uses ingredients I always have on hand, and it comes together quickly. Let's get cooking!
What's The Best Way To Get Pork Chops Tender?
In this honey mustard pork chop recipe, the mustard doesn't only go to work to flavor the pork, it also works as a tenderizer.
Slathering the mustard on top of the pork chop works in a similar way to marinating the meat. They both gently break down the fibers and cause the pork chops to become more tender.
What Is The Best Way To Cook Pork Chops Without Drying Them Out?
You don't even need the grill or the stovetop to make these amazing! The Air Fryer will give them a nice, crisp outside while keeping the inside juicy and tender.
No babysitting, and no constant flipping or risk of getting burnt by popping hot oil. You only need to flip them once while they're cooking, and you'll have perfectly cooked pork chops!
Ingredients You'll Need
Pork chops- I like mine about 1/4 inch thick so they cook through without becoming overdone on the outside.
Prepared Mustard- This works as the base of your honey mustard sauce.
Honey- You can't make honey mustard without the honey
Cooking Oil Spray- This prevents the pork chops from sticking to your air fryer basket and also helps brown the exterior of the pork chops.
How To Make Honey Mustard Pork Chops
Mix together the mustard, honey, garlic, salt, and pepper.
Add the pork chops and toss to coat with the sauce.
Spray the air fryer basket and place the honey mustard pork chops inside.
Cook the pork in the air fryer until it is cooked through, flipping halfway through the cooking time and spraying with oil again.
Can I Stack The Porkchops When I Cook Them?
You can stack things like fries and tater tots in the air fryer, but you can't stack meat (or at least uncooked meat). An air fryer cooks the food by circulating hot air around it. Foods like french fries have enough empty space between them that they're able to cook fully. Things like raw meat, however, can't get enough hot air circulating around them in order to cook properly.
The last thing you want to do is ingest meat that hasn't been cooked fully! So if you decide to cook more meat than can fit in your air fryer basket, just cook it in multiple batches to ensure it's cooked sufficiently.
How Long Do They Last?
For the best results try to enjoy the air fried pork chops within 3-4 days of preparing them. After this, you chance the meat spoiling or losing some of the delicious flavor or texture that it had when it was initially cooked.
What Do You Serve With Honey Mustard Pork Chops?
These honey mustard pork chops are almost as versatile as they are tender and juicy. If you're looking for great sides to serve with them, you're in luck!
Here are just a few of my favorites to pair with them:
Looking For More Great Air Fryer Recipes?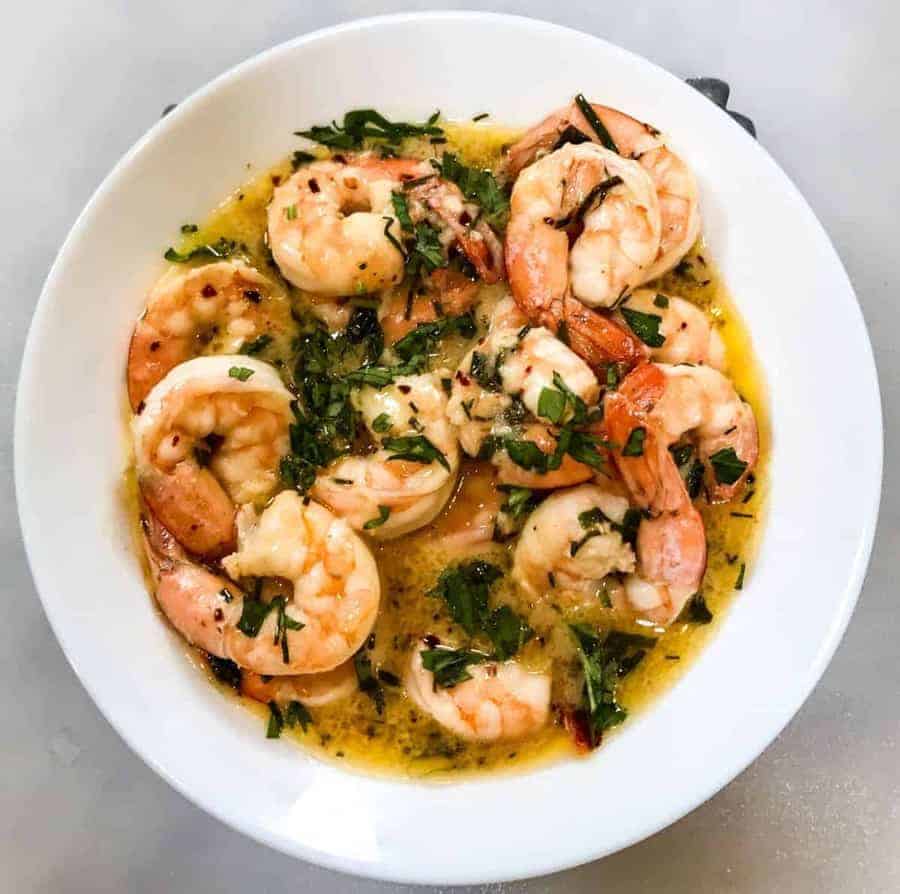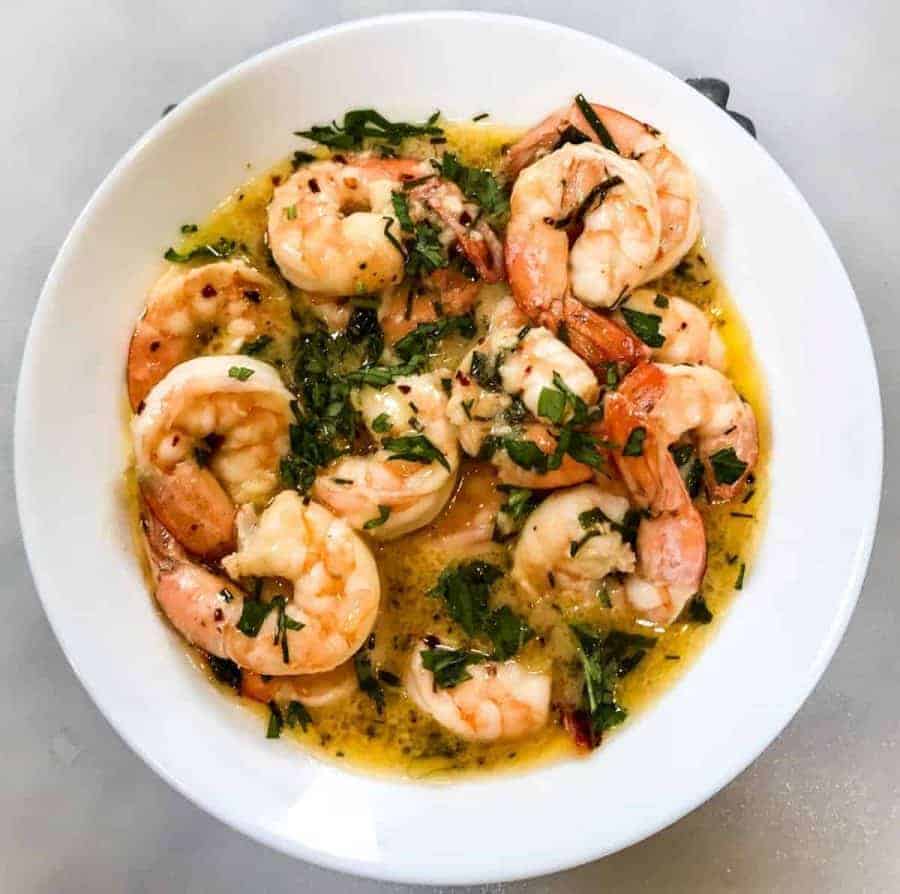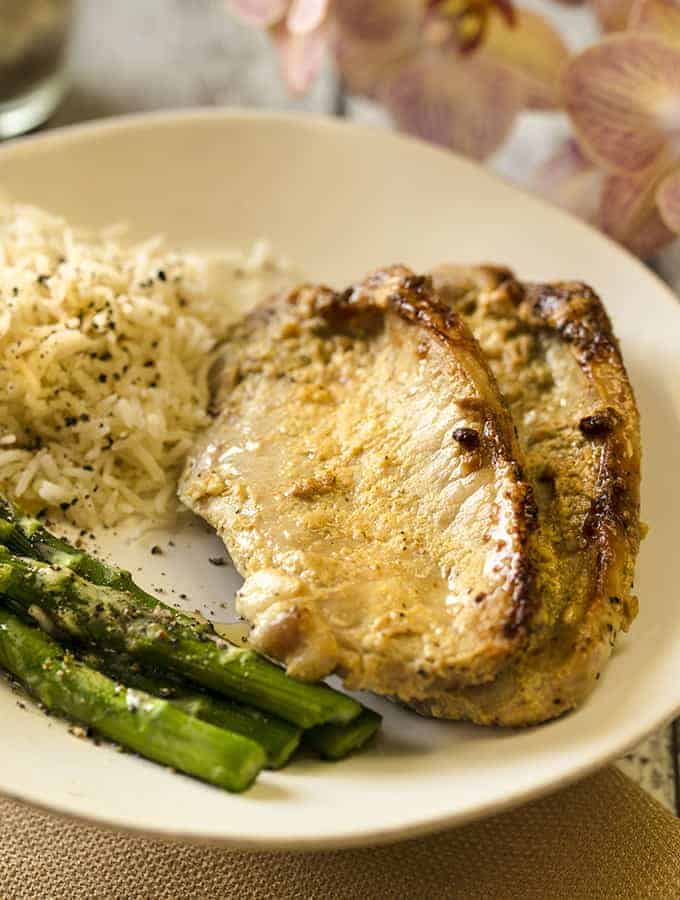 After you've made these Honey Mustard Pork Chops, you're only going to want to use the air fryer to make pork chops from now on! Make sure to share this recipe with your friends on Pinterest and Facebook so they can enjoy it as well!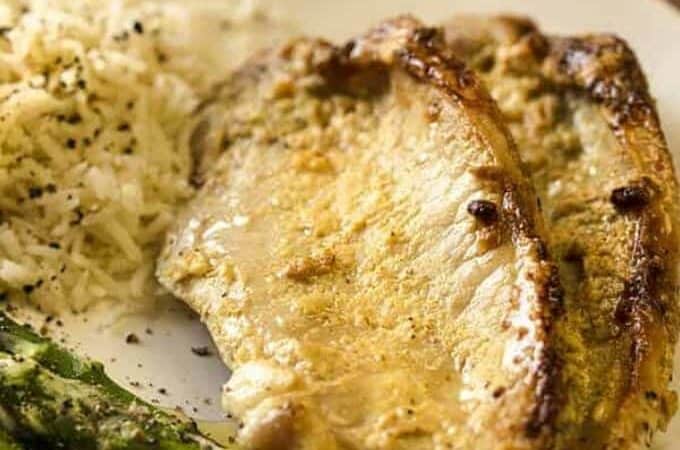 Click on highlighted ingredients or Equipment to see exactly what I use to make this recipe
Instructions
In a large bowl, mix together the mustard, honey, garlic, salt, and pepper.


Add the pork chops and toss to coat with the sauce.

Spray the air fryer basket. Place the chops into the greased basket.

Set the air fryer to 350°F for 12 minutes or until pork is cooked through, flipping halfway through and spraying with oil again.
Make sure to flip the chops and spray with oil again halfway through cooking them.
Do not stack the chops when you cook them! Make sure they have enough room for the hot air to circulate properly and cook the chops.
Get support & connect with our community on Facebook!
Nutrition
Calories:
257
kcal
|
Carbohydrates:
11
g
|
Protein:
30
g
|
Fat:
10
g
|
Fiber:
1
g
|
Sugar:
9
g
Tried this recipe?
Follow @twosleevers and Pin it!
And don't forget to check out my air fryer cookbooks! Every day easy air fryer, and Air Fryer Revolution.