If you're looking for a quick and healthy dinner recipe, this haddock recipe has you covered. This Instant Pot fish recipe is full of everything you need to make a flavorful and balanced meal in just a few minutes with your Instant Pot or pressure cooker. For such a simple dish, it is packed with flavor and nutrition.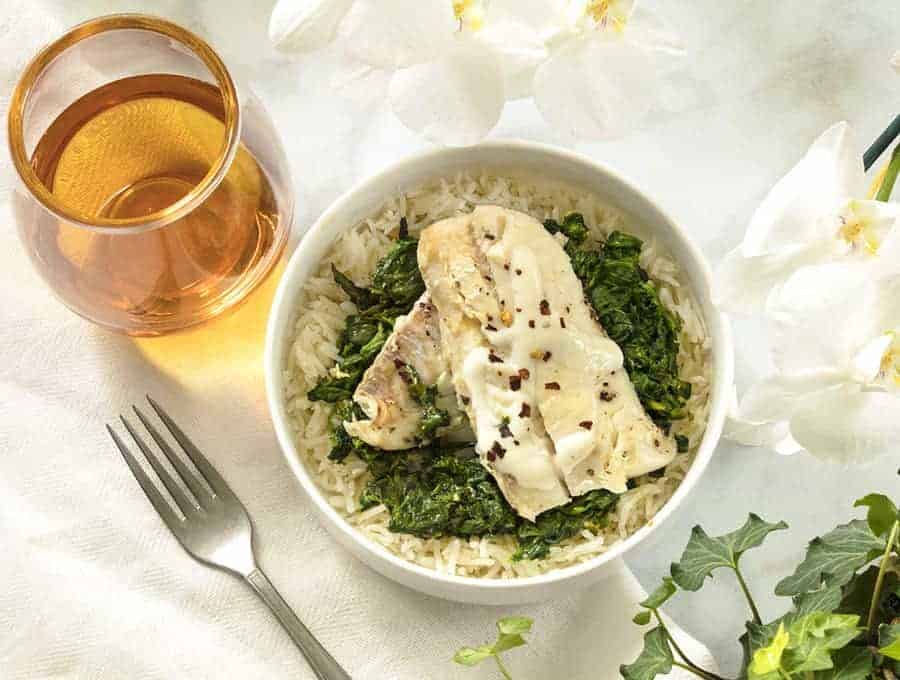 What Makes This Pressure Cooker Fish So Great?
Fast. Done in under 30 minutes.
Easy. Cook the rice, greens, and haddock all at the same time.
Perfectly Cooked. Fish cooked to perfection with the help of your Instant Pot. This is one of my favorite fish and rice recipes.
Delicious. I love the greens with this haddock dish. It gives the fish such a different flavor profile altogether and really breaks up the flavors in your mouth.
I know pressure cookers get a bad rap for making perfect seafood. But honestly, it's not an appliance issue--rather it's either bad recipes or user error. It is indeed possible to get some amazing seafood dishes in your electric pressure cooker.
Can I Use A Different Kind Of Fish?
I used haddock for this recipe, but you could also use another white meat fish like cod or tilapia if you wanted. The cooking times would stay the same.
Haddock with Spinach and Rice | Instant Pot Fish Recipe
One of my favorite parts about this dish is the Lemon Garlic Mayonnaise. I list it as optional in the recipe, but you really should try it. It makes the fish so bright and creamy and really is a delightful way to top the haddock.
Can You Steam Fish In An Instant Pot?
Yes. That is exactly how the fish cooks in this Instant Pot Fish recipe. The pressure inside of your Instant Pot steams the fish to a cooked perfection in almost no time.
How Long Should I Steam Fish?
You will have perfectly steamed fish in only 4 minutes in your Instant Pot. The pot will take a few minutes to come to pressure, so it will take a little bit longer than that for the recipe to be complete. But the actual cooking time is only 4 minutes.
Other Seafood Recipes You Might Like
This Instant Pot fish recipe is a great dish to cook on a busy night when you don't want to be in the kitchen for long.
It can be popped right out of your freezer, along with the spinach, and will be defrosted enough once you finish the other steps to put it right in your Instant Pot.
Then once you take the lid off when it's done cooking, your fish will be light and completely cooked, alongside the rest of the spinach and rice. It couldn't be easier.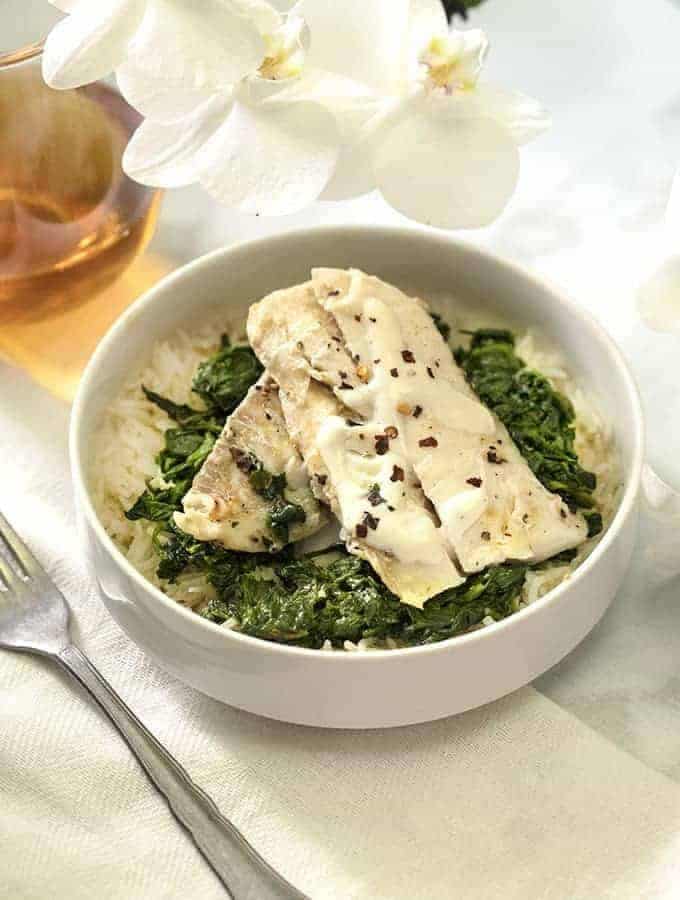 If you're craving seafood and want it done quickly, you're going to love this Haddock with Spinach and Rice. If you enjoy this recipe, make sure you share it with your friends on Facebook and Pinterest so they can try too.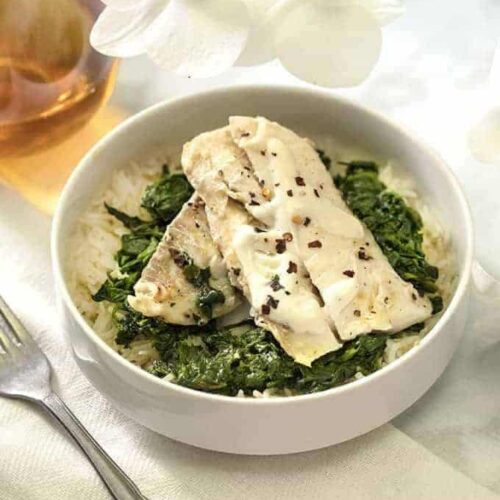 Haddock with Spinach and Rice
This Haddock with Spinach and Rice recipe is a seafood lovers dream! It's wonderfully light and flaky and is super quick to make.
Ingredients
For the Rice
1

cup

Basmati Rice

1

cup

Water

1

tablespoon

Ghee or Oil

1

teaspoon

Kosher Salt
For the Fish
1

pound

frozen haddock fillets about 1/2 inch thin and cut into 4 pieces

or any other firm white fish such as cod or tilapia

2

cups

Frozen Spinach

2

tablespoons

olive oil

1/2-1

teaspoon

Kosher Salt

1-1.5

teaspoons

Ground Black Pepper
For the Lemon Garlic Mayonnaise (optional)
2

tablespoons

mayonnaise

2

teaspoons

Lemon Juice

1

teaspoon

Minced Garlic
Instructions
Set out the fish on the kitchen counter to defrost and proceed with the steps listed below. By the time you gather all the ingredients and get to to the fish, it should be somewhat defrosted and ready for you.

Rinse the rice well and drain. Place the rice, water, salt, and oil in the inner liner of the instant pot and stir to mix.


Cut 4 pieces of aluminum foil large enough to hold and wrap the fish in a pocket. Divide the spinach evenly between the four sheets. Place the fish on top. Drizzle oil, salt and pepper on top of the fish and close each packet. Close up the packets of foil into long

rectangles, ensuring the packages will not leak (otherwise your rice is going to taste entirely too fishy).

Place a steamer rack on top of the rice. Place the aluminum packets of spinach and fish on the steamer rack in one layer.


Cook for 4 Minutes high pressure.


Allow it to release pressure naturally for 10 mins and then release all remaining pressure.


For the Sauce: While the rice and fish cook, mix together the mayonnaise, garlic and lemon juice and let it rest.


To serve, divide the rice into four bowls. Spoon the spinach and fish from each packet onto the rice, pouring any juice in the package on the rice, and drizzle with the sauce, if using. Or you know, let everyone get their own fish—you've already done the cooking for them!

Indian Instant Pot, Keto Instant Pot, Instant Pot Fast and Easy, Healthy Instant Pot & Vegetarian Instant Pot.