Make your own Greek gyro meat at home! This gyro meat recipe is so simple to make, but it authentic and turns out delicious. Uses authentic seasoning to make restaurant-style gyro meat at home. Make your own Greek gyro meat at home!
I absolutely love gyros. Nothing makes me happier than walking down Manhattan with a big huge gyro dripping tzatziki sauce all over my suit. I also love making my Gyro Meat Recipe at home to enjoy wherever and whenever I want!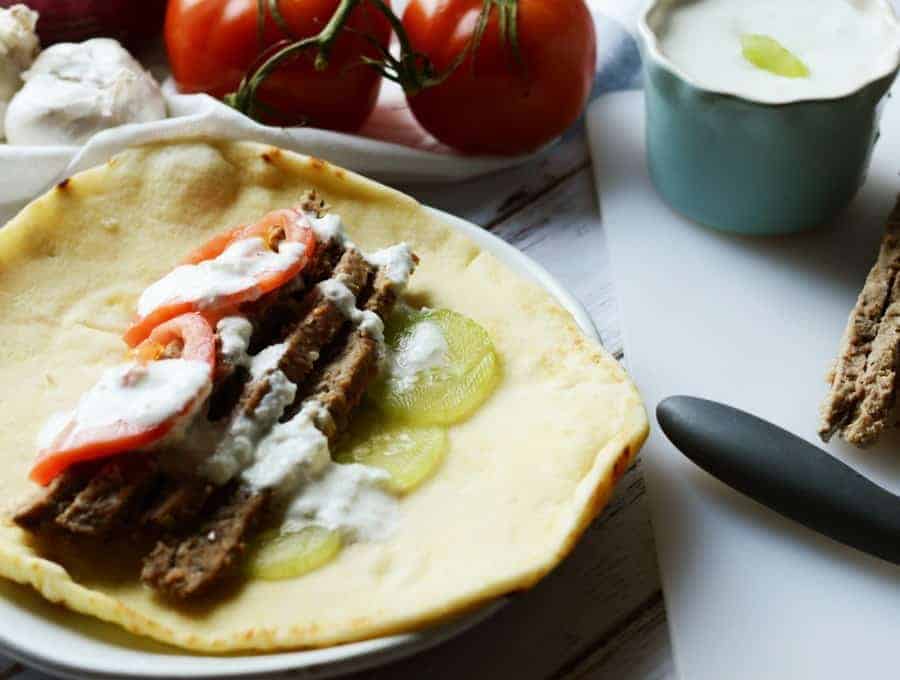 Gyro Meat Recipe
Except I can't do that anymore. I can't do the pita bread, I can't do the quantity of gyro meat, it's pretty much all a non-starter for me these days.
So I decided I wanted to try to make my own. Several hours of internet research ensued and I finally put together something that worked so well, I feel silly for feeling intimated by this very simple recipe.
There's a picture of how it looks on gyros but that's not for me, it's for you to drool over. You will not BELIEVE how simple this recipe is, and how much it tastes exactly like the gyros you can get at an authentic Greek restaurant!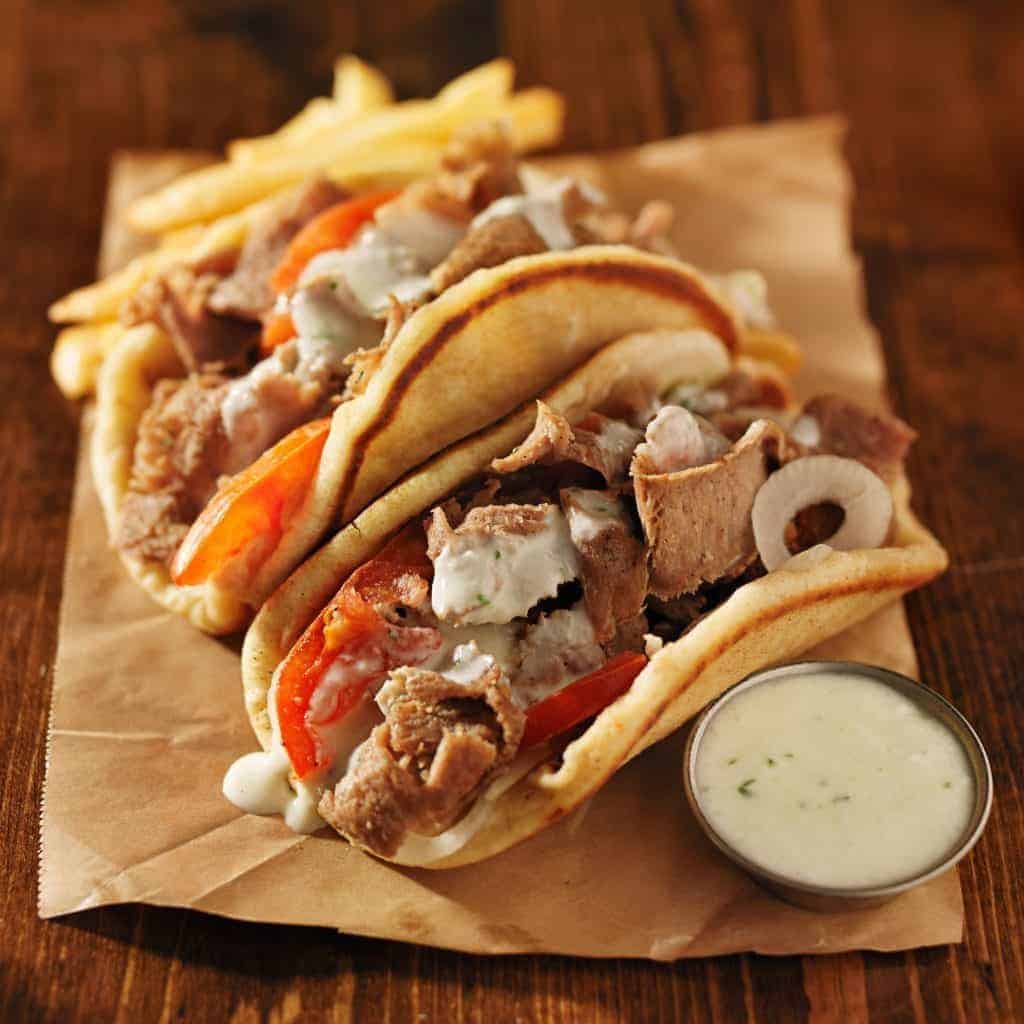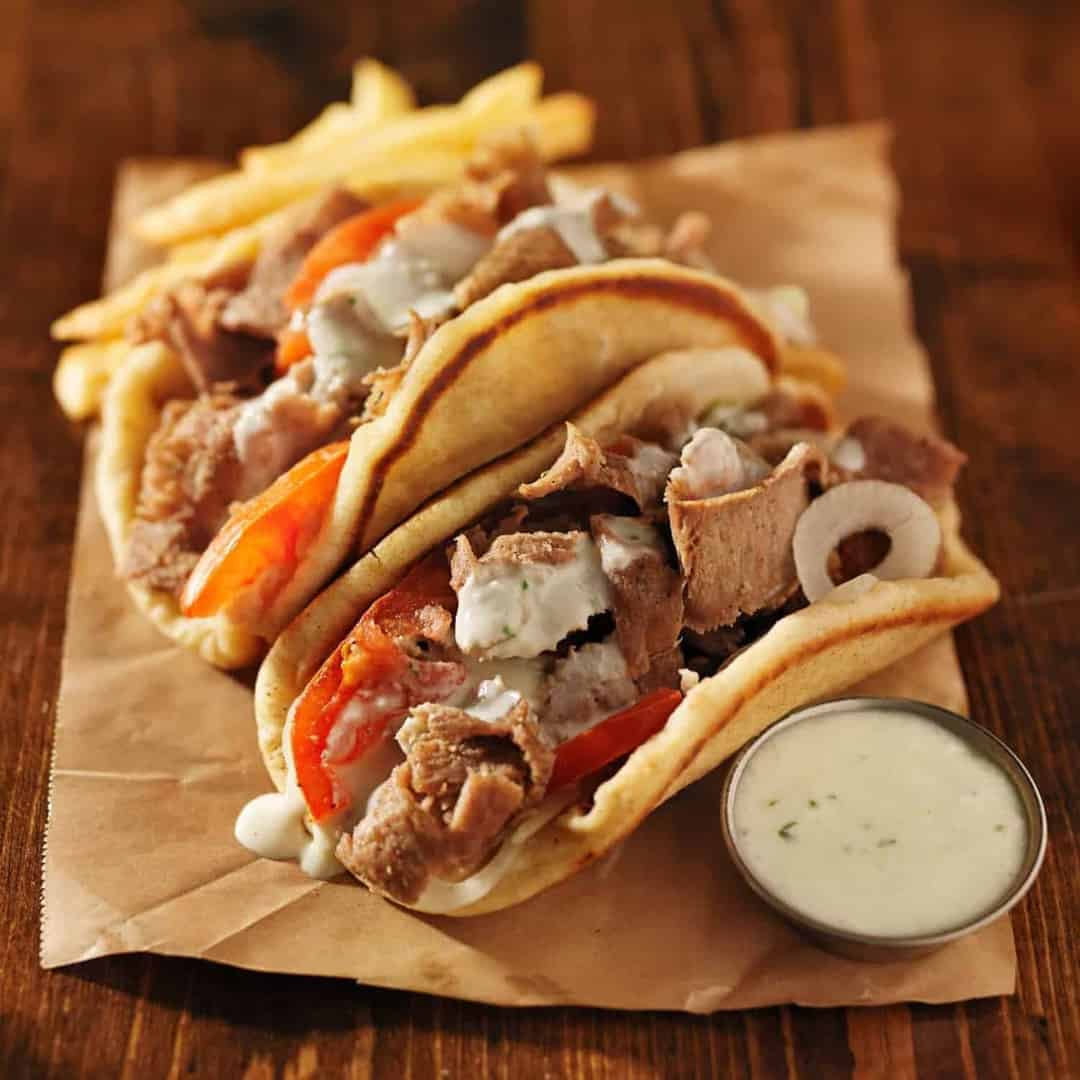 One small note. Traditionally, these are made with lamb, or lamb and beef. We had two issues with this. One, I have one son who refuses to eat lamb because "They're too cute to eat." (??) Two, lamb was $9.99/pounds and I was too cheap to risk that on a dish that might not have worked.
Besides, there was some lovely ground pork sitting right next to it for $3.49/pounds.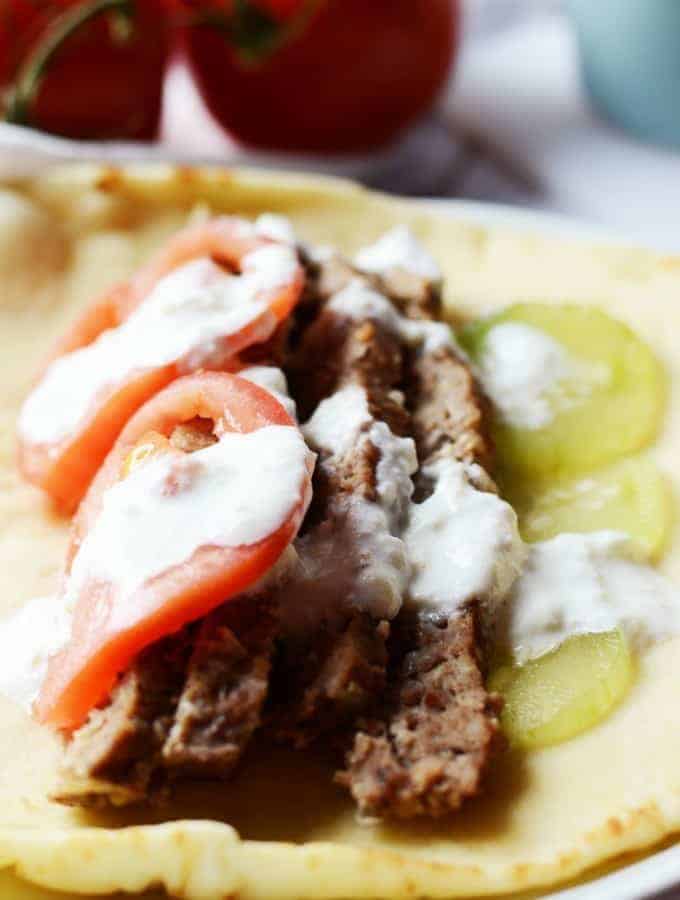 I totally get that it's close to heresy to make a middle-eastern dish eaten originally by Muslims and Jews using Pork. I do, I get it! But see two reasons above.
So you can make it with lamb or pork and it will all taste delicious.
You could serve this gyro meat recipe with homemade Tzatziki sauce, or my 5-minute hummus.  There's also a Greek "Pizza" recipe with the leftover meat this week.
You can also try this recipe that allows you to make the same delicious gyros, but without turning on your oven.
★ Did you make this recipe? Don't forget to give it a star rating below! Just click on the stars in the recipe card to rate.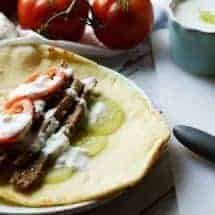 Gyro Meat Recipe
Make doner kababs or gyros at home, with this gyro meat recipe. Tastes just like restaurant gyros, except you control what goes into them.
Dietary Consideration:
Dairy-Free, Gluten-Free, High Fat, High Protein, Keto, Low Carb
Recipe Type:
Beef, Full Liquids/Soft Foods, Lamb, Pork
Ingredients
1

pounds

ground beef

1

pounds

ground pork or ground lamb

1

red onion

rough chopped

6

cloves

garlic

2

teaspoons

ground marjoram

2

teaspoons

dried rosemary leaves

2

teaspoons

oregano

2

teaspoons

kosher salt

2

teaspoons

freshly ground pepper
Instructions
Place onions, garlic into a large food processor and process until finely chopped but not liquefied.

Add meat and all the seasonings and grind for another 3-5 minutes. Do not skip this step. If you do, it will be like ground beef with some weird seasonings in it. Grind it until it's a big, huge, sticky mess that you wonder how you will ever clean up.

Since writing this recipe I've discovered a faster way to do this, which is to use your stand mixer with the paddle. Paddle the living daylights out of the meat with the spices until it's a sticky mess. This is a lot easier to clean up than a blender, and the end result is the same. So use whatever you have that works for you.

Put into a foil pan, and smooth out the top, and bake at 350 for 60 mins, or until it reaches an internal temperature of 175-180

Take it out of the oven and drain all the fat.

Cover it with foil and then place something heavy on it to compress it. I put a cast iron skillet on top and then carefully placed 3 cans of beans on top of the skillet to compress it.

Let it rest for 30 mins and then slice into thin slices.

Gyros!
Recipe Notes
I think the final fat content and calories are lower because I ended up draining out at least half a cup of fat, but I don't know how to account for that in the macros.
Nutrition facts per serving
236kcal | Fat: 15g | Carbohydrates: 2g | Protein: 22g
I am not a registered dietician or nutritionist. Nutritional information is provided a courtesy, and can vary depending on the exact ingredients you use.