Greek Gyro Meat Recipe
Make your own Greek gyro meat at home! This gyro meat recipe is so simple to make, but it authentic and turns out delicious. If you've ever wanted to make restaurant-style gyro meat at a home, you've found the best gyro meat recipe ever. Best of all? it's very easy. I will show you how to make this in a pressure cooker/ Instant Pot, or make gyros in the oven.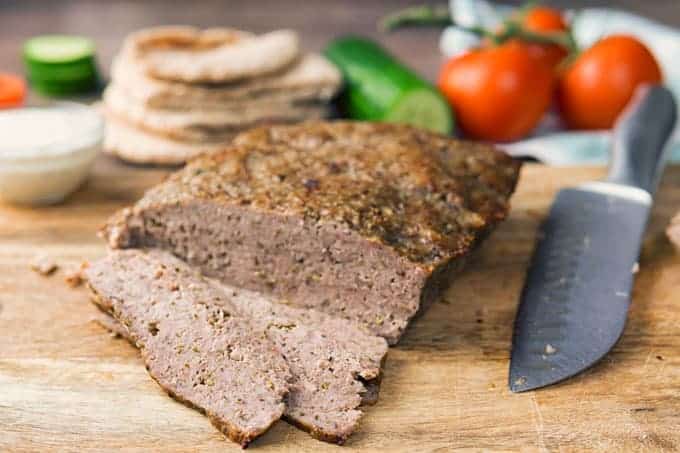 Greek Gyro Meat Recipe
I absolutely love gyros. Nothing makes me happier than walking down Manhattan with a big huge gyro dripping tzatziki sauce all over my suit.
But here's the thing.
I don't live in Manhattan. I live in a little suburb in Texas.
If I wanted to find authentic gyro meat near me? I would be driving about 30 miles round trip. Yeah, not happening.
So I decided I would just try to make my own gyro meat at home.
Several hours of internet research ensued and as usual, many of the other recipes out there were too complicated for me.
So I simplified and now we have this crazy easy recipe that tastes just like authentic Greek gyro meat–but I warn you, it's not made authentically.
You will not BELIEVE how simple this recipe is, and how much it tastes exactly like the gyros you can get at an authentic Greek restaurant!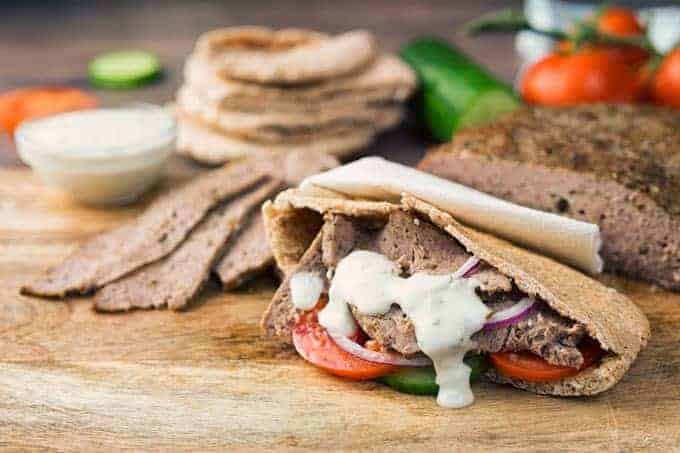 How is Gyro Meat Made?
The word gyro (pronounced yee-roh) means to turn. If you wanted to follow an authentic Greek recipe for this, well the first thing you'd have to do is invest in a ginormous upright rotisserie grill that does just that–turns your meat for you.
Normally you'd have a large cone of meat that had been cooked on a spit, and turned frequently. It would take hours from start to finish.
Oh, and you'd probably also end up with about 50 lbs of meat sitting around because that's how big those rotisserie thingies are.
So yeah. Take my advice. Go for authentic gyro taste, not for the authentic way to actually MAKE the gyro meat at home.
How To Make Gryo Meat at Home
Purée some onions and tomatoes,
Add in ground meat and some seasonings
Paddle the living daylights out of that mixture. Let me tell you–it's all in the paddling of that meat. Without this, you just have a meatloaf texture. Paddling matters!
Put it into a loaf pan and cook it.
Then you want to weight down that cooked loaf. This is not the time for a shortcut. Put a heavy object on that loaf, like a skillet or two cans of beans, and let it get quite thoroughly smooshed so that your homemade gyro meat has the same texture as the restaurant gyro meat does.
And there you are! Gyros. Add some pita bread, tzatziki, some chopped onions and tomatoes, and have at it.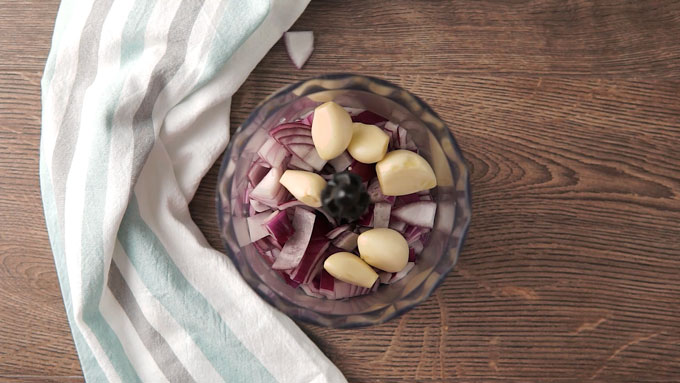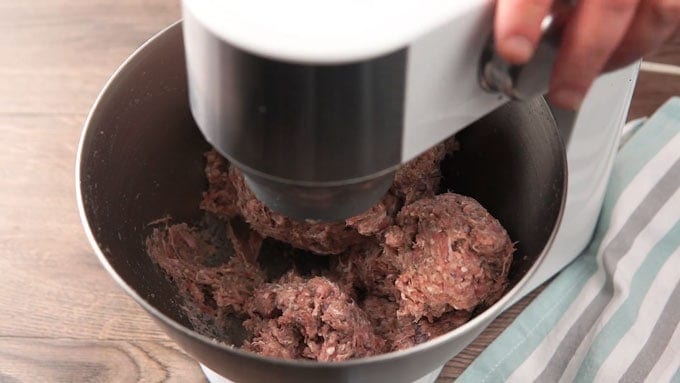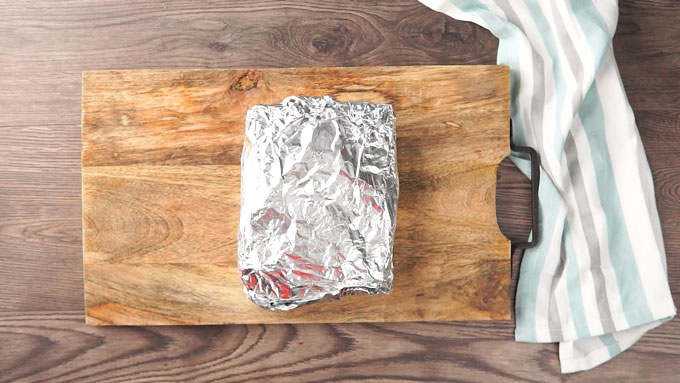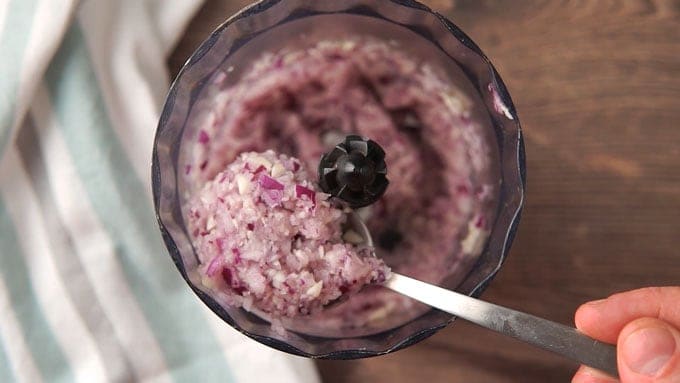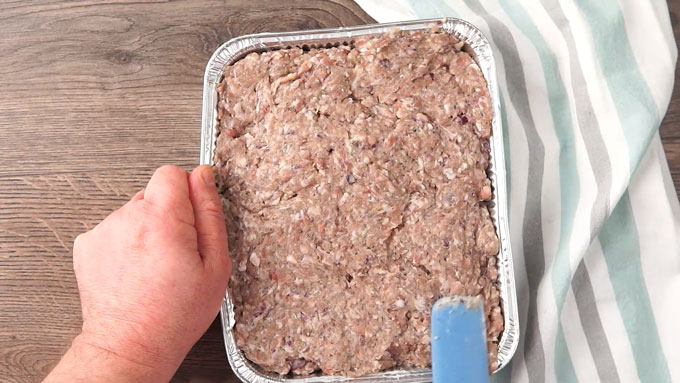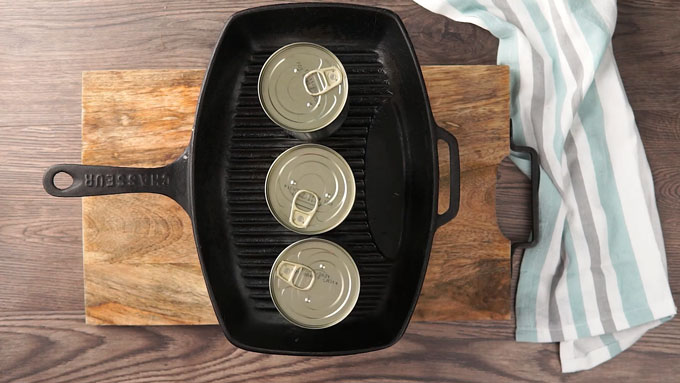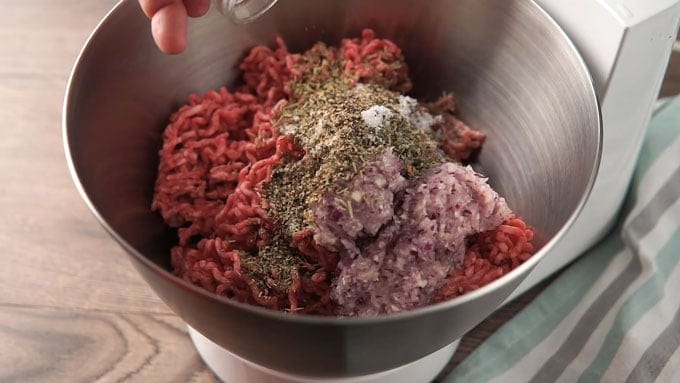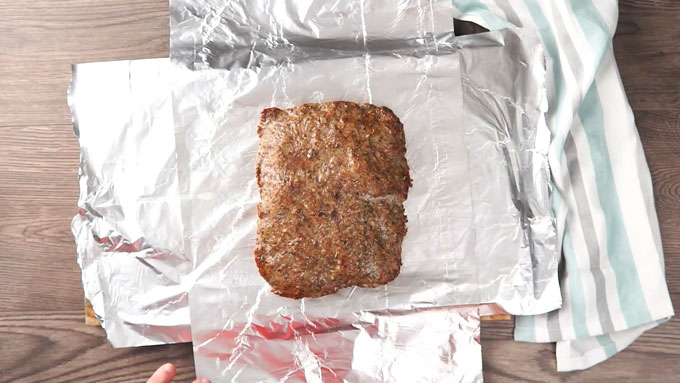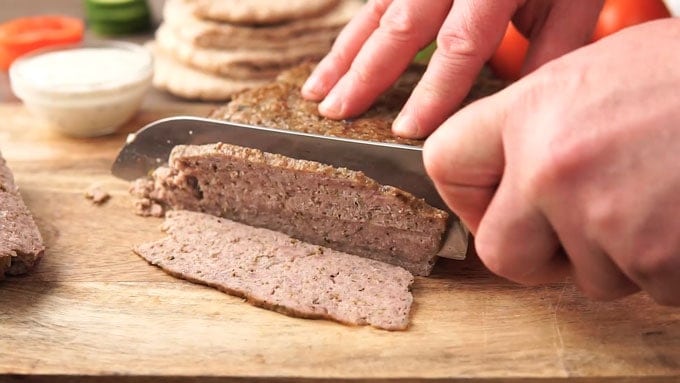 What Kind of Meat is used for Gyro Meat?
Traditionally, these are made with lamb, or lamb and beef.
I have one son who refuses to eat lamb because "They're too cute to eat." (??)
So at our house, the homemade gyros are usually made with either ground beef, or a combination of pork and ground beef.
I totally get that it's close to heresy to make a middle-eastern dish eaten originally by Muslims and Jews using Pork. I do, I get it! But if I want my son to eat any of it? No lamb gyros.
So you can make lamb gryos, ground beef gyros, or pork gyros, or lamb and beef gyros, and they will all taste delicious.
Honestly I just buy whatever in on sale hah!
I would stay away from extra lean meats like ground chicken or turkey for this dish. You need a good marbling of fat in whatever ground meat you use to make gyros.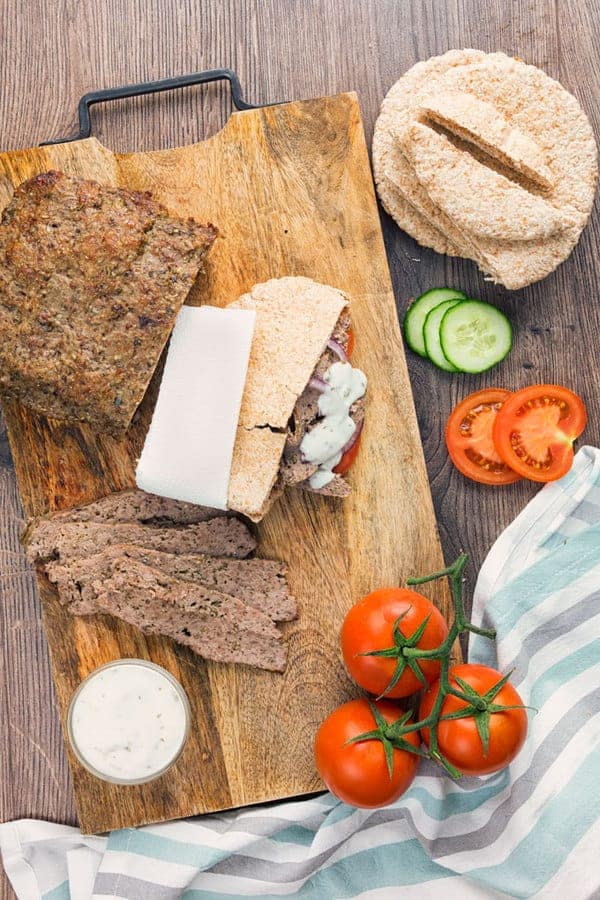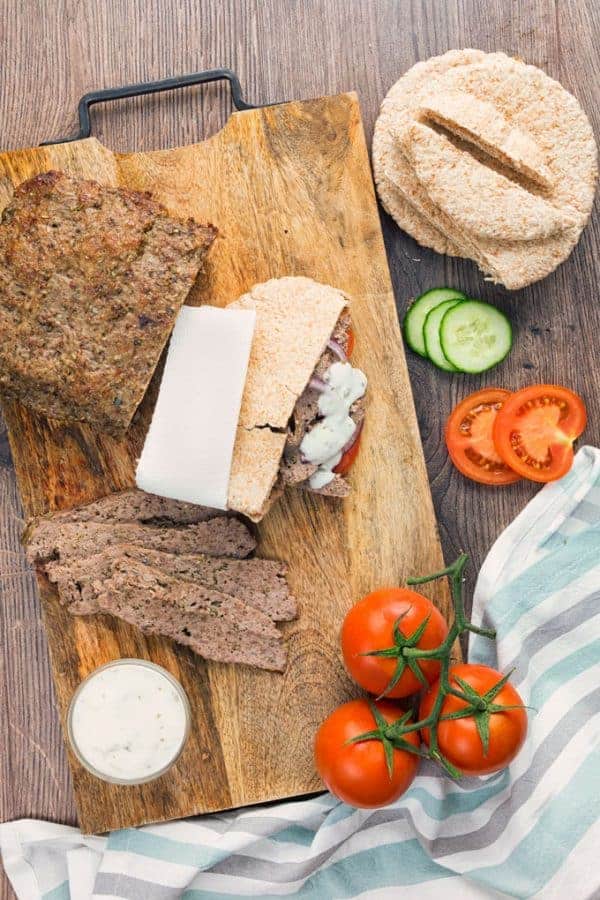 Are Gryos Keto?
Well, they CAN be. But not if you eat the pita bread with it.
What I like about gyros is that you can make the gyro meat at home, and then the keto folks can eat the meat with a few other side dishes, while the non keto family members can chow down the meat with the pita.
I'm okay with that. They are going to be SO FULL with that bread, they won't be able to eat much of the gyro meat.
Which means more for me! Woohoo!
What To Serve with Gyros?
You could serve this gyro meat recipe with homemade Tzatziki sauce,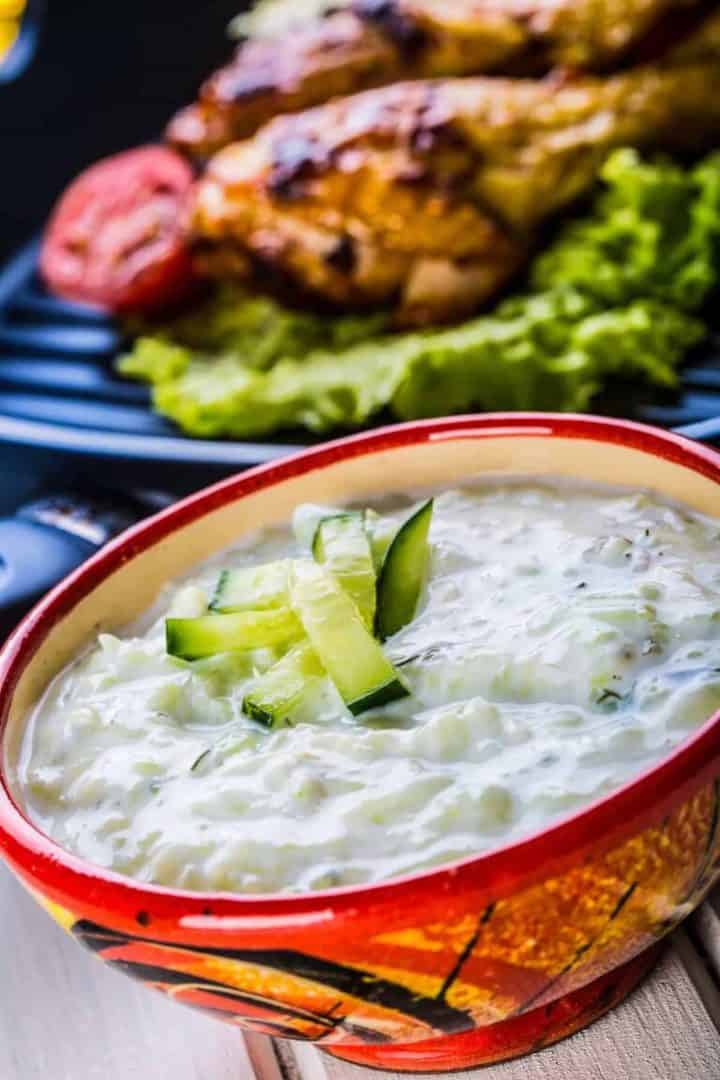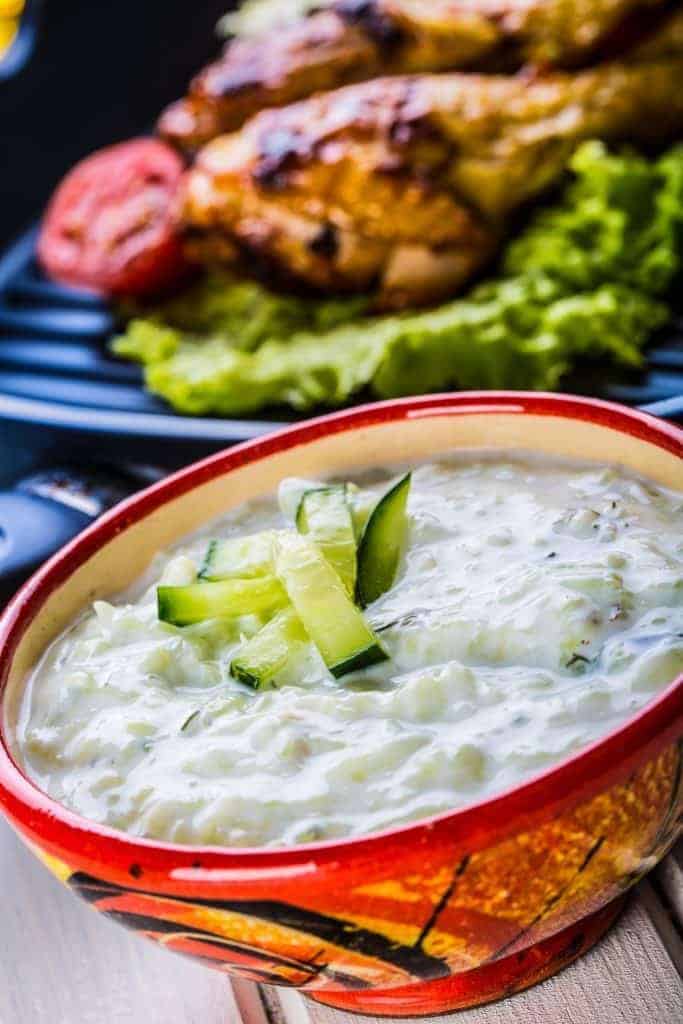 You can have or my 5-minute hummus.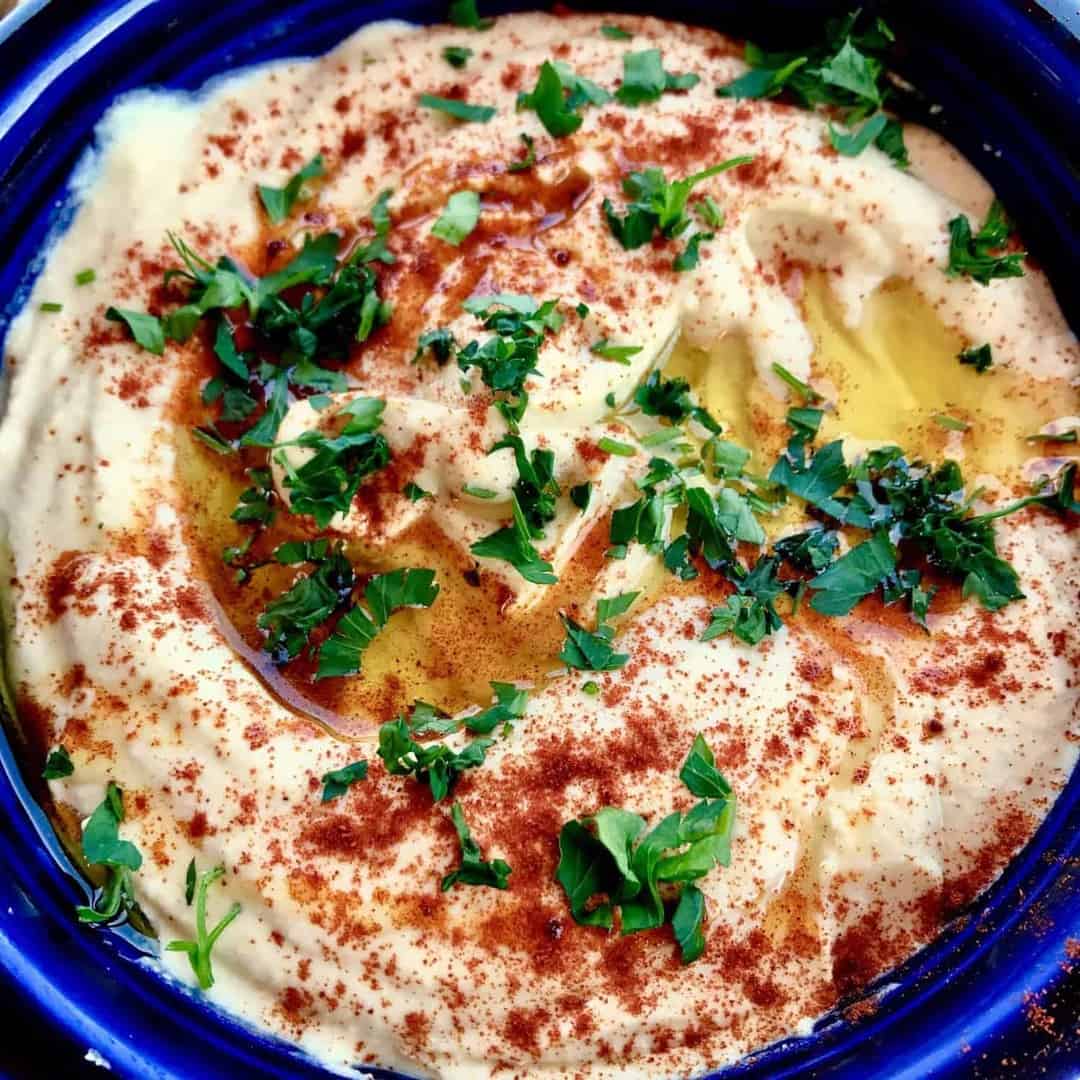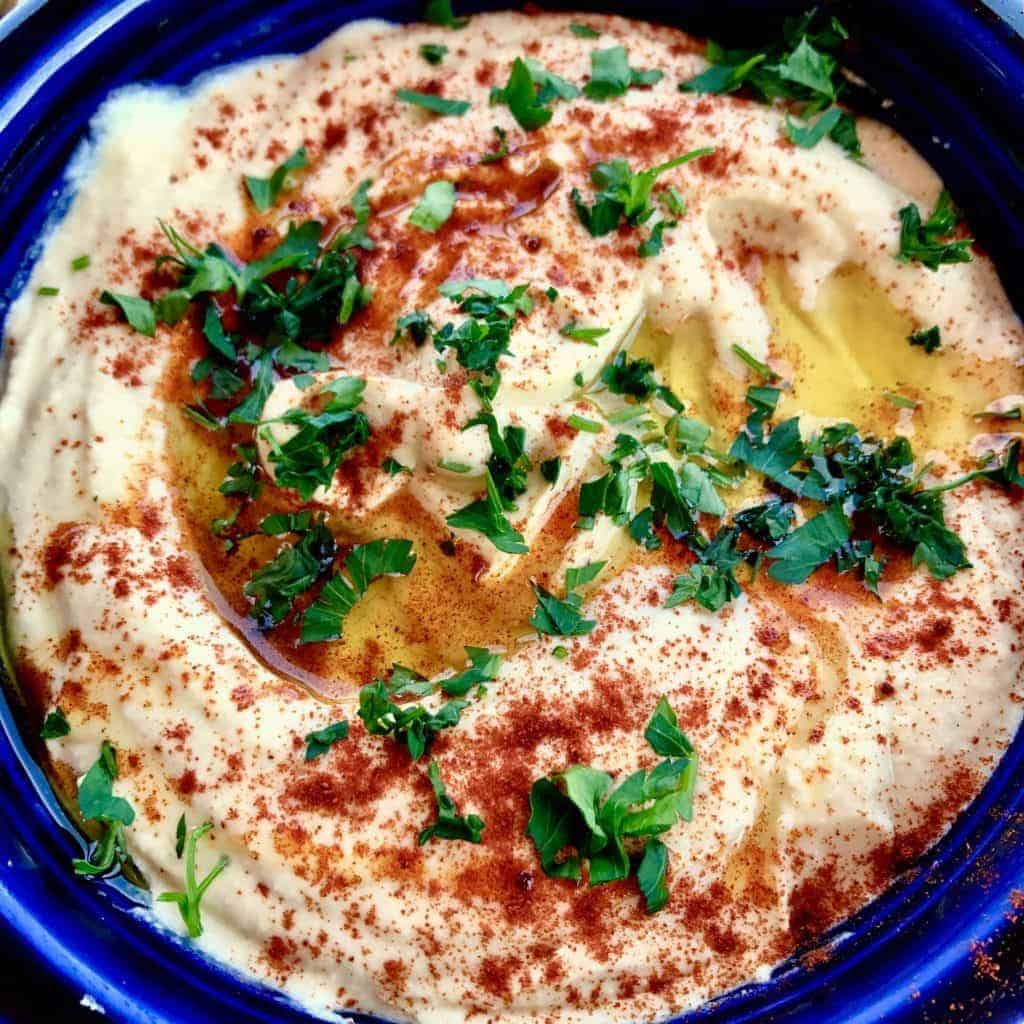 You could add baba ghanoush.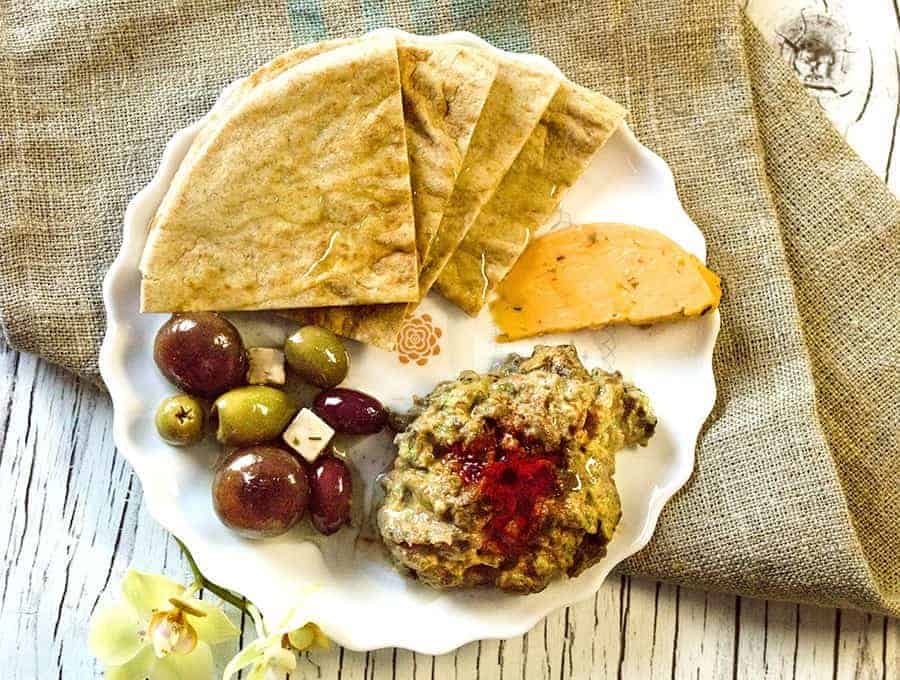 There's also a Greek "Pizza" recipe with the leftover meat –if you have any.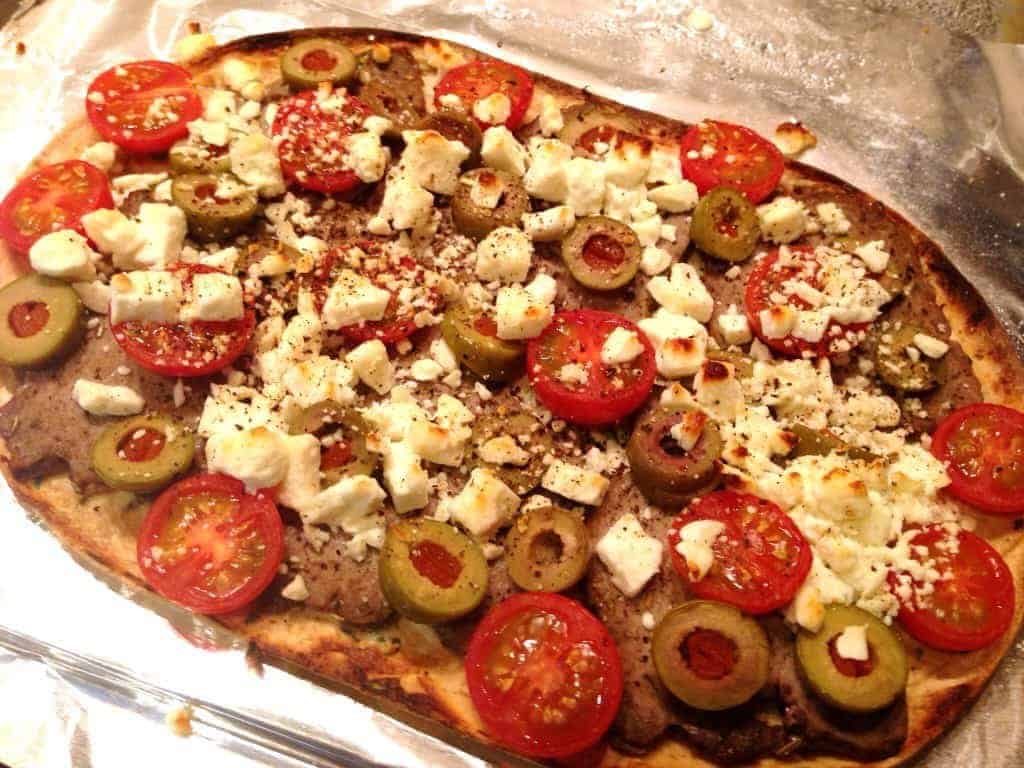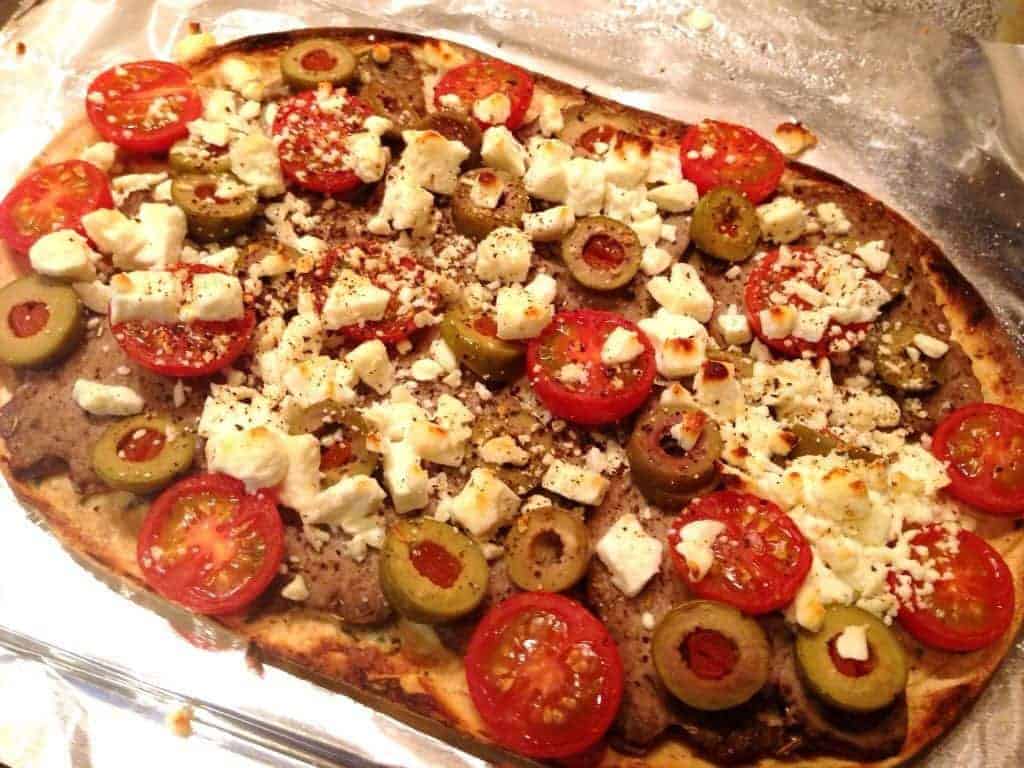 Can I make Gyros in the Instant Pot?
Absolutely you can. Here's a well-loved Instant Pot Gyro Recipe for you. All the taste, none of the heat from the oven ruining your day.
I've seen many recipes for Instant Pot Gyros that use sliced meat and they just really don't seem that authentic to me, so I use the same technique as below to form the gyro loaf, but then I cook it in the Instant Pot.
So use either the oven, or the Instant Pot, and enjoy your homemade gyros!
★ Did you make this recipe? Don't forget to give it a star rating below! Just click on the stars in the recipe card to rate.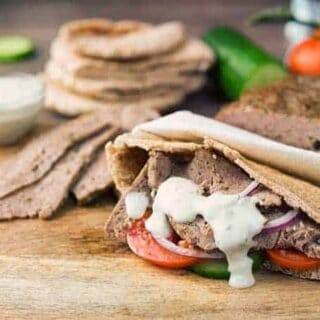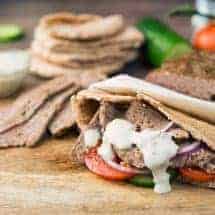 Gyro Meat Recipe
Make doner kababs or gyros at home, with this gyro meat recipe. This gyro meat recipe is so simple to make, but it authentic and turns out delicious. If you've ever wanted to make restaurant-style gyro meat at a home, you've found the best gyro meat recipe ever.
Keyword:
authentic greek gyro meat recipe, gyro meat recipe, homeade gyros, homemade gyro meat, how to make gyros at home
Dietary Consideration:
Dairy-Free, Gluten-Free, High Fat, High Protein, Keto, Low Carb
Recipe Type:
Beef, Full Liquids/Soft Foods, Lamb, Pork
Ingredients
1

pound

ground beef

1

pound

ground pork or ground lamb

1

red onion

rough chopped

6

cloves

garlic

2

teaspoons

ground marjoram

2

teaspoons

dried rosemary leaves

2

teaspoons

oregano

2

teaspoons

kosher salt

2

teaspoons

freshly ground pepper
Instructions
Place onions, garlic into a large food processor and process until finely chopped but not liquefied.

Add meat and all the seasonings and grind for another 3-5 minutes. Do not skip this step. If you do, it will be like ground beef with some weird seasonings in it. Grind it until it's a big, huge, sticky mess that you wonder how you will ever clean up.

Since writing this recipe I've discovered a faster way to do this, which is to use your stand mixer with the paddle. Paddle the living daylights out of the meat with the spices until it's a sticky mess. This is a lot easier to clean up than a blender, and the end result is the same. So use whatever you have that works for you.

Put into a foil pan, and smooth out the top, and bake at 350 for 60 mins, or until it reaches an internal temperature of 175-180

Take it out of the oven and drain all the fat.

Cover it with foil and then place something heavy on it to compress it. I put a cast iron skillet on top and then carefully placed 3 cans of beans on top of the skillet to compress it.

Let it rest for 30 mins and then slice into thin slices.

Gyros!
Recipe Notes
I think the final fat content and calories are lower because I ended up draining out at least half a cup of fat, but I don't know how to account for that in the macros.
Nutrition facts per serving
236kcal | Fat: 15g | Carbohydrates: 2g | Protein: 22g
I am not a registered dietician or nutritionist. Nutritional information is provided a courtesy, and can vary depending on the exact ingredients you use.