People have been asking for an Instant Pot Indian Chicken Korma recipe and I have wanted to make one.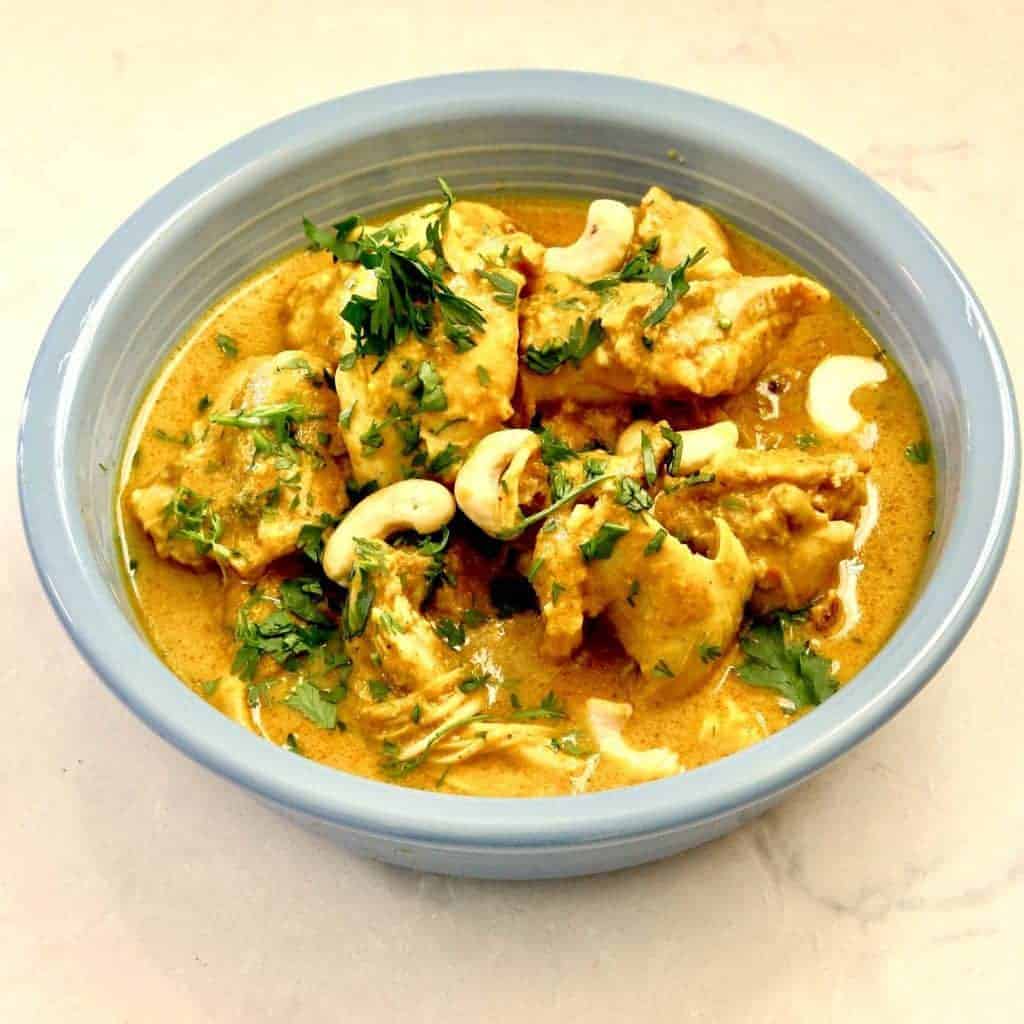 The problem is that most people in the States have had Korma in a restaurant and I was concerned my homemade Korma wouldn't be like what they were used to.
I've read 4-5 books on how Indian restaurants fix their meals and it's not for me. Precooked meat, over-reliance on pastes, and just not how I want to cook.
So I decided to stop worrying and just make what I thought was a good korma, and then not worry about whether it matched what you'd get in a restaurant.
But it had to be easy, and use widely available ingredients, and I wanted to try my Instant Pot for this because it needed to be hands off cooking today.
This recipe worked for us. It was rich, creamy, flavorful but not overly spicy and the sauce was thick enough to pour over rice or eat with naan for those who can have carbs (not me, sadly).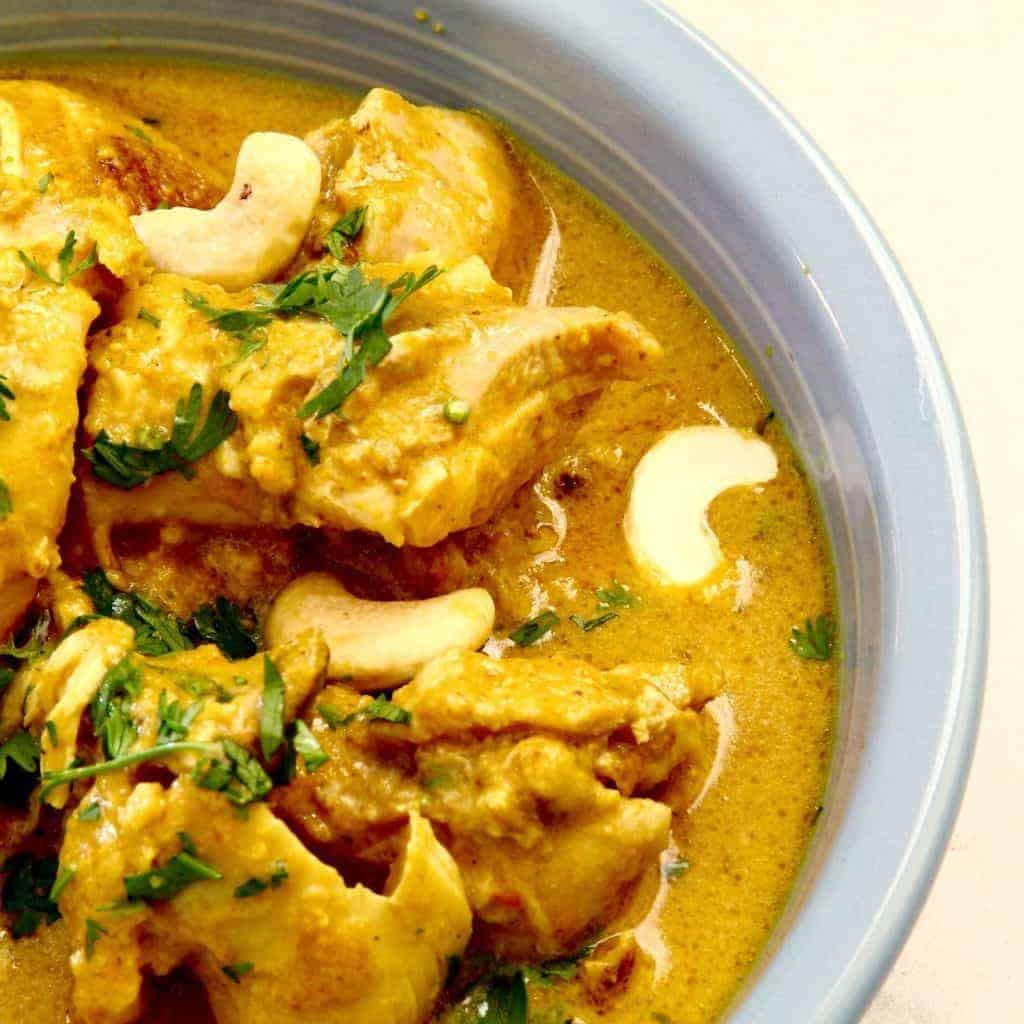 You're going to laugh when you see how simple this Instant Pot Indian Chicken Korma recipe is, and you'll be skeptical, and you'll tell me it's not how your Mama made korma.
Well, mine neither, but make it anyway. It's worth it.
Oh, and since I only made it with 1 pound of chicken, once again I had sauce left over, just like with the butter chicken (this is getting to be a habit) so I can use the extra sauce for veggie korma or maybe even lamb korma tomorrow.
But if you use 2 pounds and double the recipe but not the water, you'll probably have enough sauce to enjoy.
Equipment & Ingredients You May Need to Make Chicken Korma
★ Did you make this recipe? Don't forget to give it a star rating below! Just click on the stars in the recipe card to rate.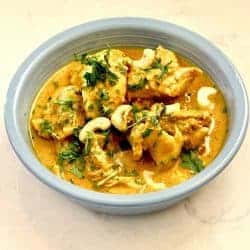 Chicken Korma
Dietary Consideration:
High Fat, High Protein, Keto, Low Carb
Cooking Style:
Instant Pot/Pressure Cooker
Instructions
Blend together the vegetables and spices listed in the "blend together" section. Basically blend everything except chicken, coconut milk, cilantro, and set aside one teaspoons of garam masala for the end.

Pour the sauce into the inner liner of your Instant Pot.

Place the chicken on top. If your chicken is frozen, just push it down into the sauce a little.

Set it at High Pressure for 10 minutes and let it release pressure naturally.

Carefully take out the chicken and cut into bite size pieces.

Add coconut milk and garam masala, put the chicken back in, and eat.

Garnish with cilantro if you'd like.
Nutrition Facts
Chicken Korma
Amount Per Serving
Calories 256
Calories from Fat 171
% Daily Value*
Total Fat 19g 29%
Cholesterol 74mg 25%
Sodium 453mg 19%
Potassium 313mg 9%
Total Carbohydrates 6g 2%
Protein 14g 28%
* Percent Daily Values are based on a 2000 calorie diet.
Making traditional Indian dishes does not have to be difficult and time consuming! Find more recipes in my new cookbook, Indian Instant Pot® Cooking: Traditional Indian Dishes Made Easy and Fast.
In the cookbook, you'll find:
50 Fast and Simple Recipes requiring minimal ingredients and less than an hour of prep and cook time
Advice for stocking your kitchen with the best tools and spices
Guidance for making the most of your Instant Pot for delicious Indian dishes
Useful Tips substituting ingredients for variations on your favorite recipes
Order your copy today!
Instant Pot users love these must have accessories. Also, check out these top 20 gadgets for foodies for yourself or your favorite aspiring chef.