This Keto Green Bean Casserole is an absolute must for your family get-togethers this holiday season! Enjoy this holiday favorite guilt-free!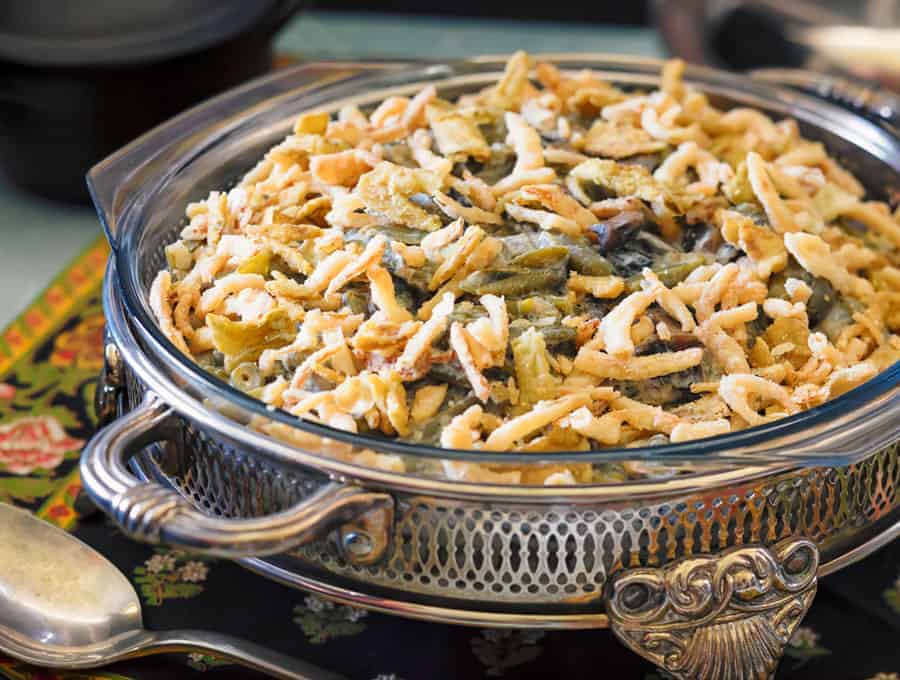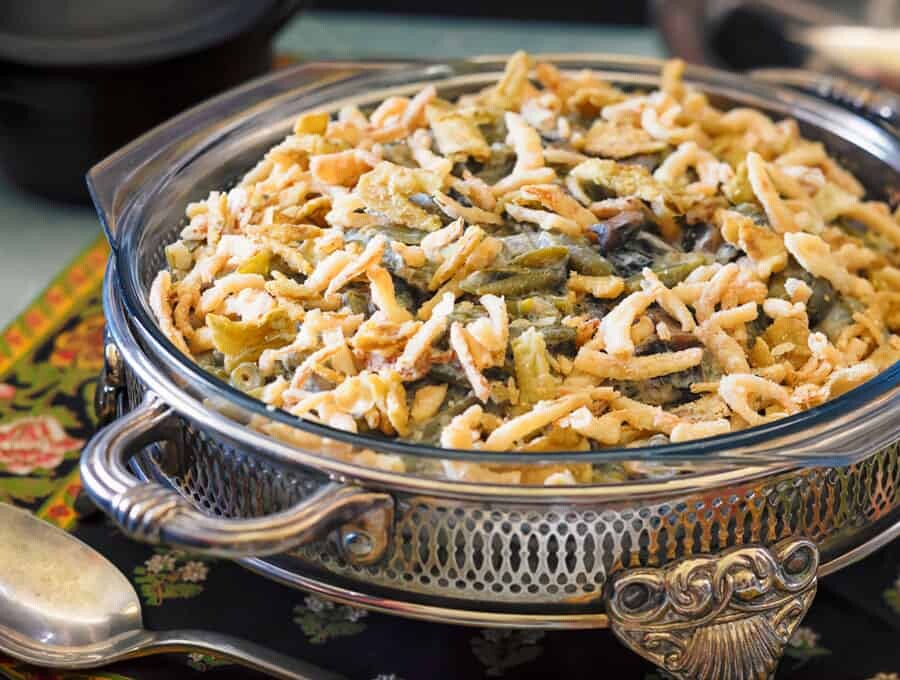 Jump to:
Why You Need This Keto Green Bean Casserole On Your Table
Fast. A twist on a classic side dish made in under 30 minutes.
Easy. A simple pour and cook recipe made with the help of your Instant Pot.
Low Carb. Only 8 net carbs per serving.
Vegetarian. Unlike some versions of this recipe, it is completely vegetarian-friendly.
Delicious. Has all of the traditional flavors you grew up eating, without all of the carbs and processed ingredients.
I don't know about you, but I absolutely LOVE green bean casserole. It's an absolute must-have side dish in my home for the holiday season, with no exceptions.
The only thing is, it's not known for being particularly low carb. And knowing that I just couldn't possibly live without it, I decided I needed to whip up a delicious Keto Green Bean Casserole Recipe, quick and in a hurry.
And let me tell you, this Low Carb Green Bean Casserole is an absolute hit! There's just something so deliciously comforting about this dish.
From the creaminess of the mushrooms to the tender bite of the green beans, to the crispiness of the topping, I love every bit of it. And this Keto Green Bean Casserole is so good that it could make a convert out of even the most anti-green bean friend or family member you have.
The big secret to making this recipe so good? Not using tons and tons of canned, processed ingredients. Instead of cream of mushroom soup, I opt to use fresh mushrooms, cream cheese, and half and half in its place.
I also use fresh green beans instead of canned. The result is a much more flavorful and fresh-tasting casserole. But don't just take my word for it, this Keto Green Bean Casserole really must be experienced to be truly appreciated!
And did I mention that it's just as easy to make as any other green bean casserole recipe? That's thanks to one of my favorite kitchen appliances, the ever-dependable Instant Pot.
Seriously, you can make this dish in a fraction of the time in the Instant Pot and all you really have to do is dump the ingredients in the pot and mix it once. It really is that easy!
Are Green Beans Acceptable On A Keto Diet?
One cup of green beans has about 10 grams of carbs. However, 4 of those are from dietary fiber, meaning that there are only 6 net carbs per cup of green beans.
That fact, along with proper portion control (as with any food), makes green beans a perfectly keto-friendly veggie.
Can I Eat Fried Onions On Keto?
Traditionally a green bean casserole is covered in crunchy, french fried onions. These onions are breaded and are regrettably high in carbs.
I've found the best low carb alternative for this Keto Green Bean Casserole to be toasted almonds. The almonds give that crunch that you'd expect from a good green bean casserole and they lend a flavor to them as well!
How Many Carbs Does Green Bean Casserole Have?
Traditional Green Bean Casserole is extremely high in carbs from the variety of canned soups and the mountain of french fried onions on top.
This low carb green bean casserole only has 8 net carbs per serving. This is achieved by replacing the canned soups with cream cheese and substituting (at least in part) the fried onions with crunchy slivered almonds.
Is Cream Of Mushroom Keto Friendly?
If you use my homemade mushroom soup recipe, it absolutely is!
Skip the premade cans of mushroom soup to cut the carbs even more for this tasty side dish.
Ingredients Needed
For The Casserole
Onion- Adds depth of flavor to a classic recipe.
Minced Garlic- What great recipe doesn't have garlic?
Mushrooms- Are deliciously filling and compliment the flavor of the onions and green beans
Green beans- Works as the body of the casserole.
Cream Cheese- Helps to create the traditional sauce-like consistency of the green bean casserole.
For Finishing
Half and Half- Makes it deliciously creamy
Toasted Sliced Almonds- Give a nice crunchy bite to this casserole
French fried onions - Not keto, but can work for certain low carb diets
How To Make Keto Green Bean Casserole
Add the aromatics to the Instant Pot insert. Place the butter, onions, garlic, mushrooms, water, salt, and pepper into the Instant Pot.
Add green beans on top. Place cream cheese cubes on top of the beans. Do not stir.
Close the lid and press pressure cook. Cook and then release all pressure immediately.
Turn the pot on Sauté. Add in half and half and stir. Allow it to cook until the sauce has thickened.
Add any toppings. Sprinkle them on in moderation and serve.
What Goes With Keto Green Bean Casserole?
This casserole is typically thought of as a Thanksgiving or Christmas dinner staple. So, when you think of it, you generally think of other holiday foods such as:
Who says this is only for holiday gatherings? Here are some other recipes that this green bean casserole would pair nicely with:
How Long Does It Last?
If you're using this for a holiday side, chances are you won't have any leftovers. However, if you're making it for a weeknight side dish or for meal prep, you will want to eat this within 3 days of preparing it.
The mushroom soup can make the green beans too soggy to enjoy after sitting in your fridge for too long.
Try These Other Keto Holiday Dishes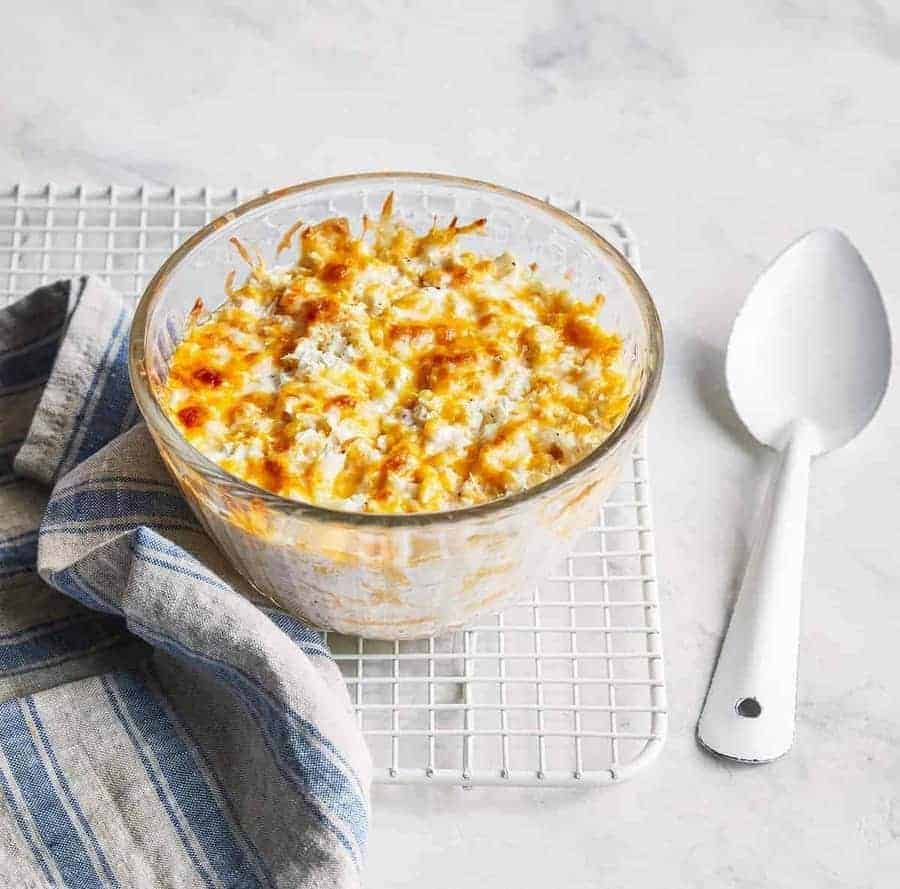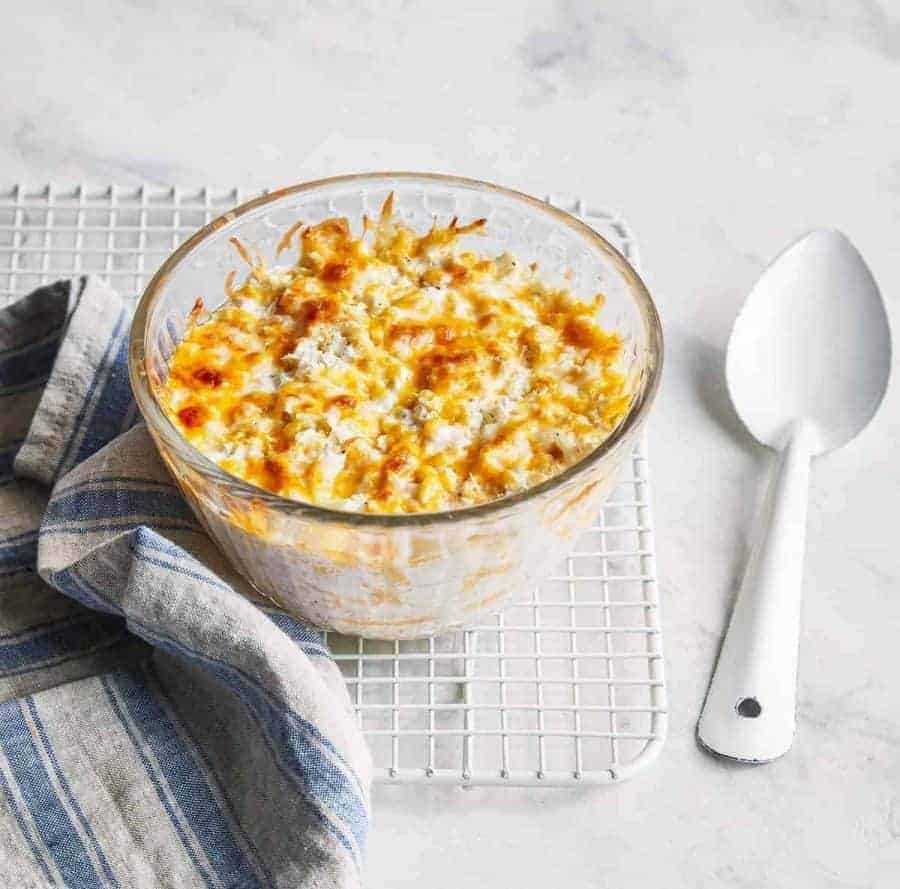 This Instant Pot Keto Cauliflower and Cheese is a creamy, delicious side dish that you can make in your pressure cooker for the ultimate low carb comfort food!
Once you've tried this Keto Eggnog Custard it's sure to become a holiday classic in your home! It's low carb, only 5 ingredients and made in your microwave!
This perfect, crustless Pumpkin Pie Pudding makes a lovely low carb pumpkin dessert in your Instant Pot!
Looking for holiday gifts for Foodies? Don't spend hours trying to find the right product at the best price! I've done all of the work for you! Check out this Gifts for Foodies list for some great, unbiased gift ideas for the foodie in your life!
Looking for more low carb holiday recipes? Check out my post on the Best Keto Holiday Recipes!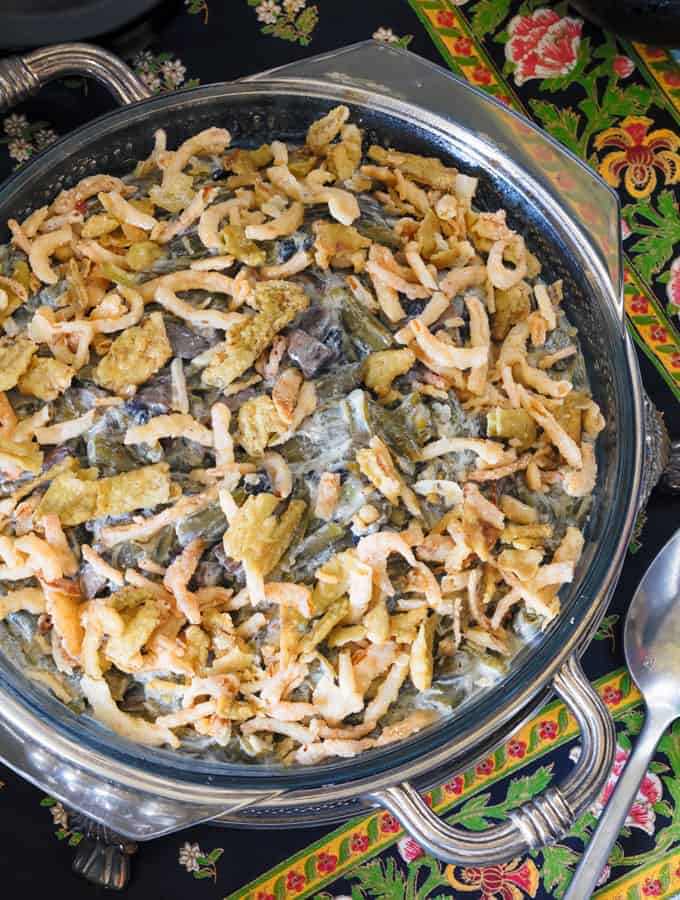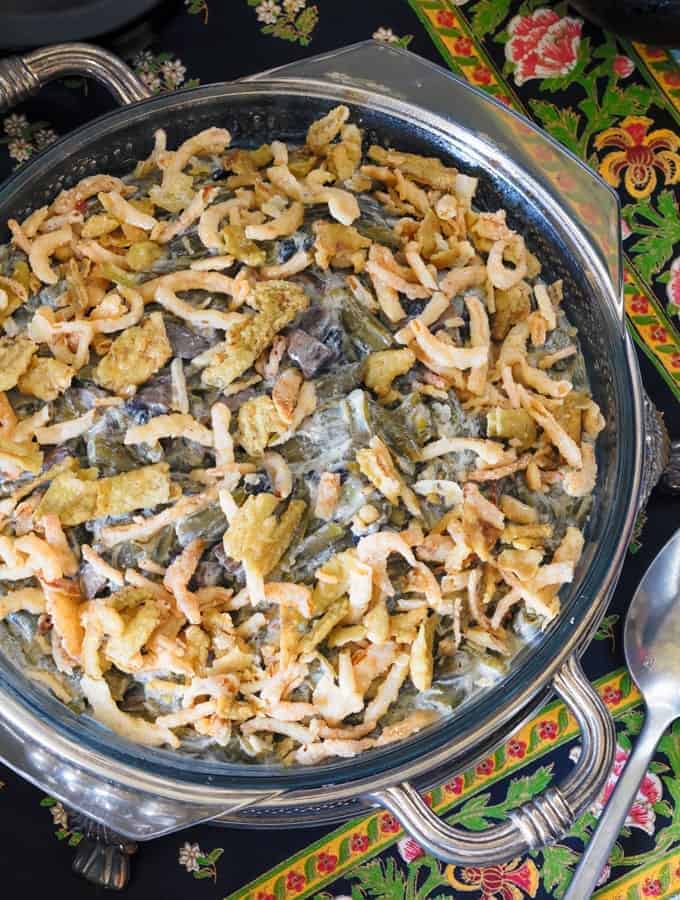 Believe me when I say if you're going to have any green bean casserole on your table this holiday this season, make sure it's this Keto Green Bean Casserole! You will not be disappointed! Make sure to share this recipe with your friends and family on Facebook and Pinterest so they can enjoy it as well!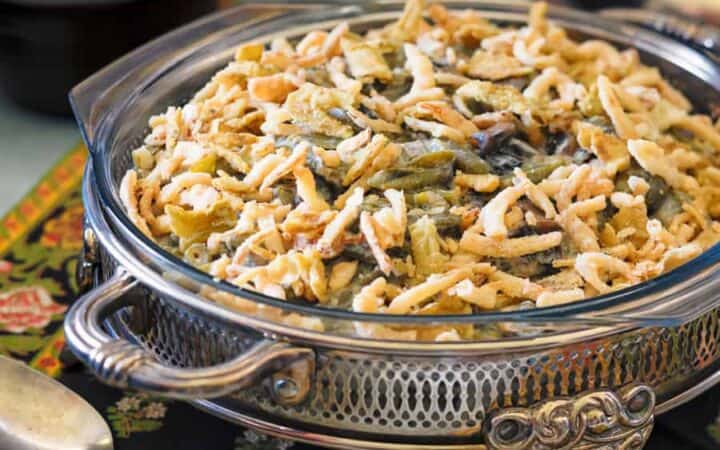 Click on highlighted ingredients or Equipment to see exactly what I use to make this recipe
Ingredients
For Finishing
1/4

cup

Half and Half

1/2

cup

Toasted Sliced Almonds,

for topping OR

1/2

cup

fried onions

,

(not keto but may work for IFFYM)
Instructions
Place butter, onions, garlic, mushrooms, water, salt and pepper into the Instant Pot.

Add green beans on top. Place cream cheese cubes on top of the beans. Do not stir.

Close the lid and press PRESSURE COOK. Cook on HIGH for 3 minutes and then release all pressure immediately.

Turn the pot on Sauté. Add in half and half and stir. Allow it to cook for 1-2 minutes until the sauce has thickened.

Add any toppings if using, and serve.
Optional Toppings:
Toasted Almonds
French Fried Onions (not keto-friendly)
Get support & connect with our community on Facebook!
Nutrition
Calories:
125
kcal
|
Carbohydrates:
12
g
|
Protein:
5
g
|
Fat:
8
g
|
Fiber:
4
g
|
Sugar:
5
g
Tried this recipe?
Follow @twosleevers and Pin it!
Originally Published October 16, 2019
Indian Instant Pot, Keto Instant Pot, Instant Pot Fast and Easy, Healthy Instant Pot & Vegetarian Instant Pot.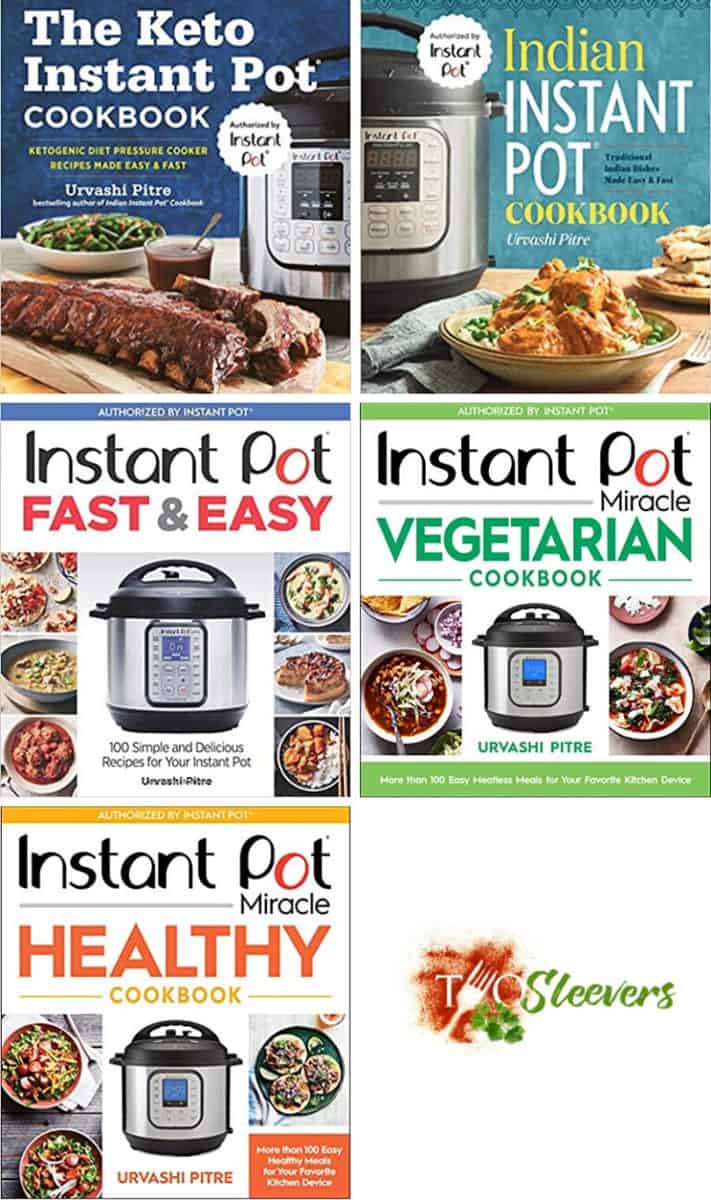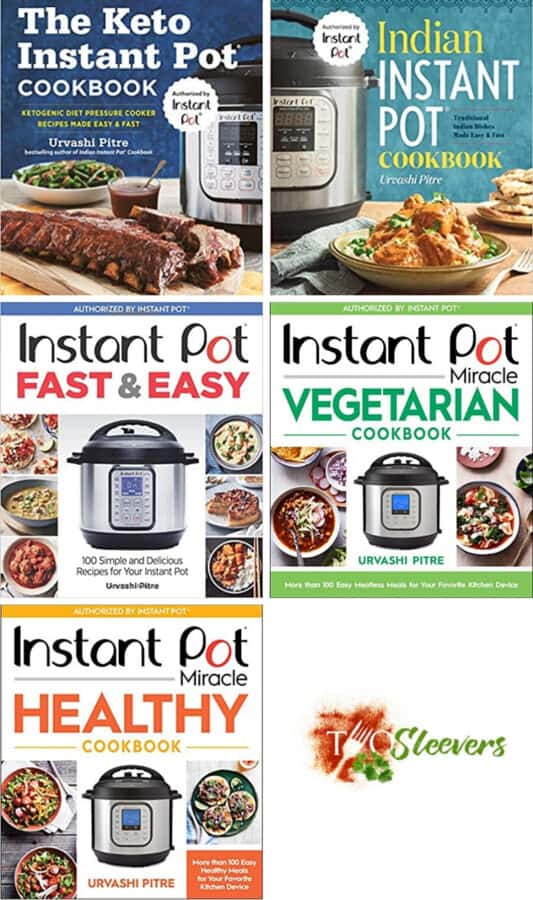 Don't forget to check out my other Keto cookbooks.
Keto Instant Pot, Keto Fat Bombs, Sweets, & Treats, and Easy keto in 30 minutes.