Get perfectly tender, smoked ribs in under 2 hours, with minimal hands-on time. If you're a bad pre-planner who wants last-minute ribs, these Instant Pot Ribs are just the thing you're looking for.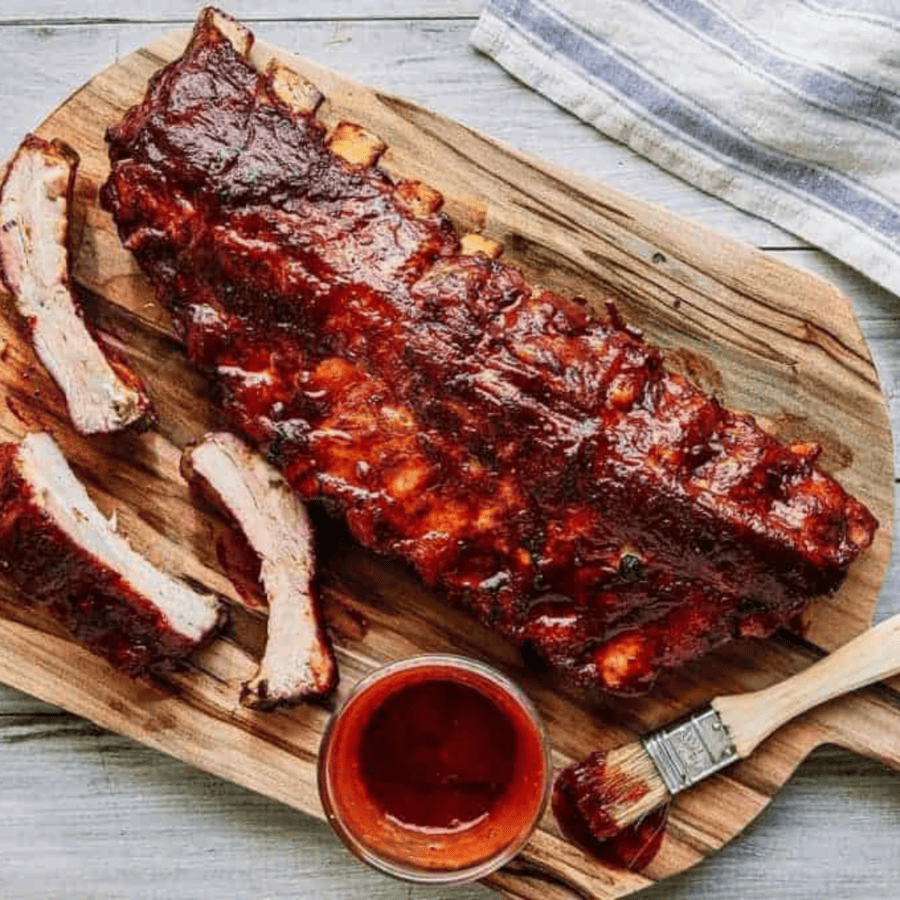 What Is The Texture Of These Smoked Ribs?
There's no way to get around this--your ribs will be boiled. They won't be slow roasted, they won't be crispy, they will be boiled. However, they can still be very tasty, and importantly, by following this recipe, you can have smoky, perfect ribs in 2 hours. This is way quicker than the 6-8 hours you might otherwise need to smoke them.
The slow smoking also crisps up some of the fat, so to me, this is the best of both worlds--authentic smoked taste, as well as speed.
Which Dry Rub Should I Use?
Any meat going into the smoker needs a dry rub. It adds another depth of flavor and the smoky taste makes the ribs taste divine. For a quick solution, you can use a dry rub for ribs that is already pre-made.
If you want to use spices you already have sitting in your spice cabinet, look for spices that will marry the smoky flavor. Look for garlic, onion, cumin, smoked paprika, pepper, and ancho chili powder. A little bit of brown sugar will add a touch of sweetness to balance the smoky flavors and help caramelize the meat on the ends.
How To Make Smoked Ribs
I will say that I don't think your ribs should necessarily fall off the bone. They should be tender and well-cooked. Falling off the bone means they're overdone and floppy and perhaps even a little mushy. If you like your ribs that way, however, all you have to do is pressure cook them a little bit longer.
Rub the ribs with your choice of seasoning. I used pre-made barbecue seasoning, but you can also follow my recipe for a Mexican-inspired rub.
Cook ribs on a rack in your pressure cooker for 20 minutes HP, 10 mins NPR
Smoke for an hour at 250F.
How To Make Instant Pot Ribs Without A Smoker
If you don't have a smoker, no worries. You can still have smoky pork ribs, but you will have to bake them in the oven.
The smoky flavor will come from the dry rub you put on your ribs. You can also add liquid smoke to your barbecue sauce for an extra smoky flavor. I recommend letting the dry rib marinate for at least 8 hours to infuse into the meat if you have planned ahead.
Turn your oven on to 275F. We're going for low and slow here. We will plan to cook the pork ribs for about 2 hours for two pounds of meat.
For the first hour, cover the ribs with foil and bake to keep them from drying out.
In the second hour, remove the foil and bake, to allow the skin to caramelize. If you like your ribs more tender, bake for another 20 minutes. You can baste with barbecue sauce with liquid smoke if you prefer to intensify that smoky flavor.
For a nice crisp outside, broil the ribs just until the top layer starts to blister. You don't want the rib meat to burn! Baste with additional barbecue sauce right before broiling if you desire.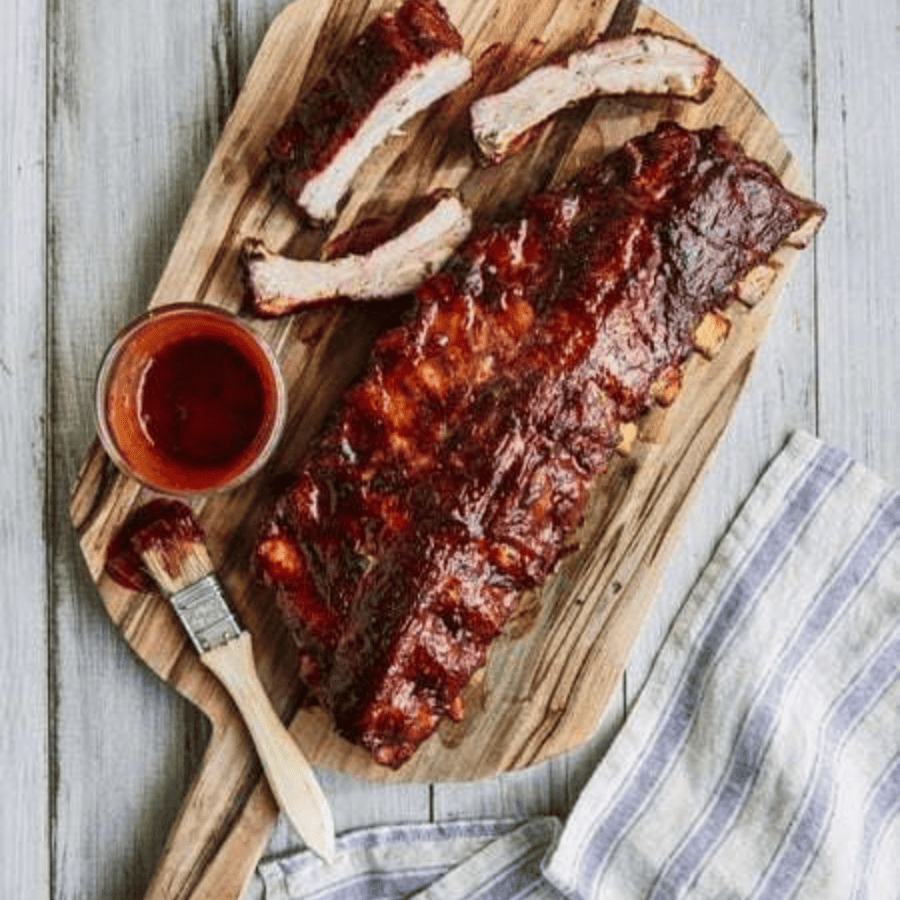 To Sauce Them Or Not?
I've seen a lot of recipes for pressure cooker ribs and they look good--with one exception. Almost all of them ask you to first pressure cook the meat, and then slather sauce and broil them in the oven.
I'm a barbecue purist who doesn't like to coat her meat in barbecue sauce. I think when you make ribs or brisket, you should taste the meat, not the sauce. If you really want some sauce then I think you should serve it on the side, so as to not hide the taste of the meat. But that's just me.
Why A Smoker Is Great For Low Carb Eating
How do you make ribs in a pressure cooker that taste smoky? I have an electric smoker that I absolutely love. I don't understand how I did keto and low carb for almost four years before getting a smoker. (Here's a post that tells you what I love about this smoker). It is however something that requires a little floor space.
One of my readers has a Nordicware smoker that she speaks highly of, and the reviews on Amazon look great as well, so perhaps that is an alternative if you have a smaller area in which to store a smoker.
But if you're trying to low carb, and want something that's easy, not fussy, and delicious, I would highly recommend a smoker. I basically just throw meat on there--and it comes out delicious. It's insane how easy this is.
How Long Do They Last?
If you have leftover smoked ribs, they can be stored in the refrigerator. Place the ribs in an airtight container or wrap them tightly in aluminum foil or plastic wrap.
Properly stored, smoked ribs can last in the refrigerator for 3 to 4 days.
What To Serve With Smoked Ribs
While the ribs are taking on that delicious smoky flavor, you can reuse your instant pot to make some sides to go alongside your pressure cooker ribs. I like to serve Instant Pot Rice and any vegetables you have at your disposal. Try some Green Beans with Bacon!
This recipe makes a great dish for your Memorial Day cookout! You can see more great Memorial Day recipes in this post!
And if you're looking for more delicious rib recipes, you have got to try my Keto Air Fryer Chinese-Style Spareribs or my Instant Pot Beef Short Ribs!
More Instant Pot Recipes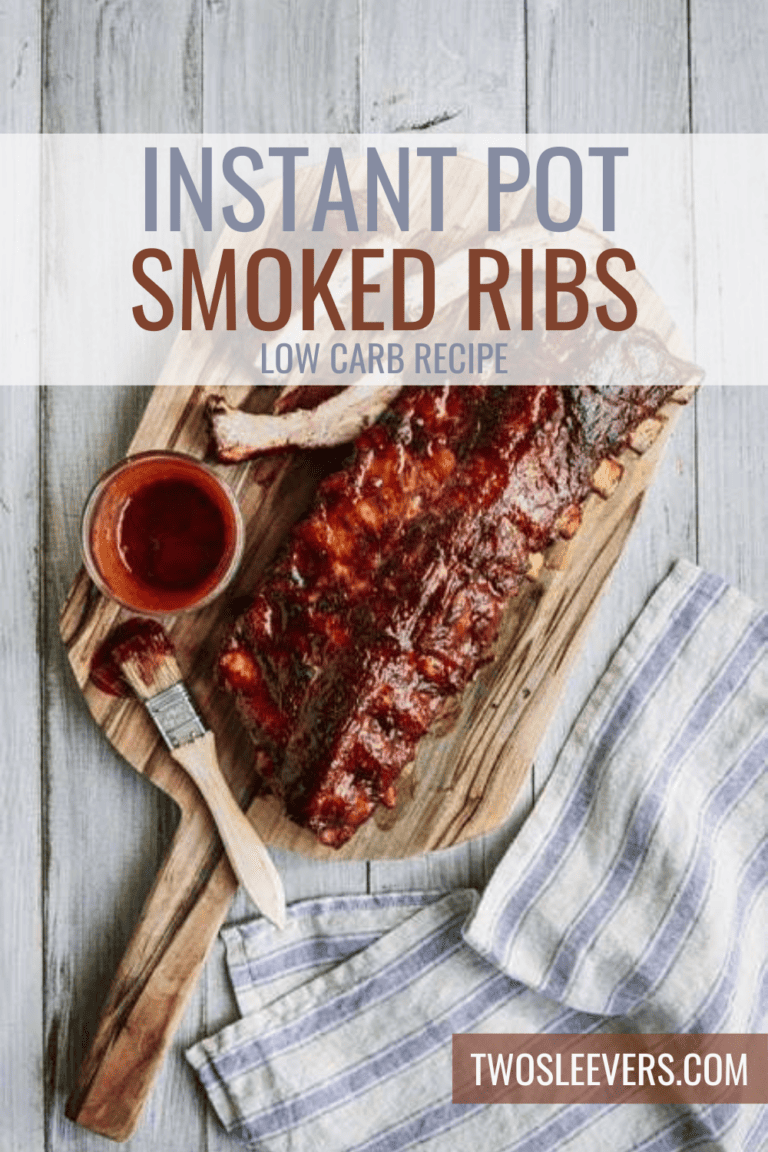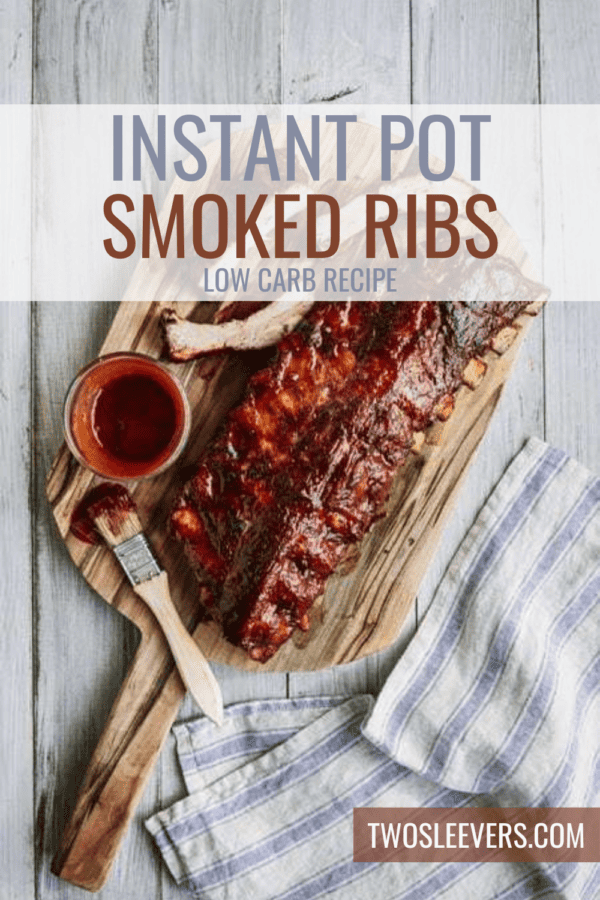 Pin It!
If you love this Smoked Ribs recipe as much as we do, make sure you share it with your friends on Facebook and Instagram so they can try it too! Don't forget to Pin it so you can make them again soon.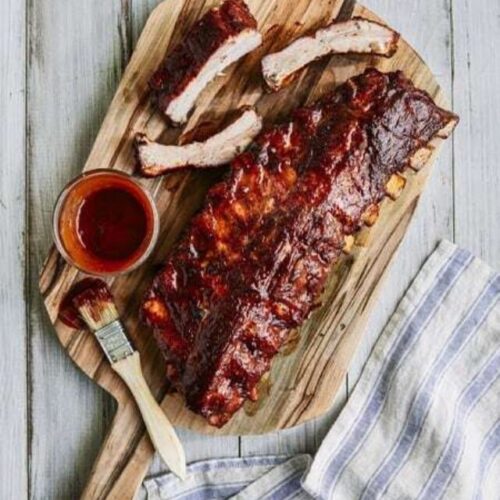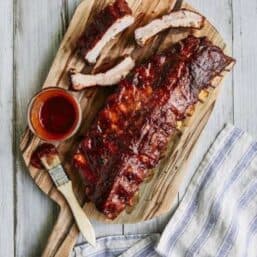 Smoked Ribs | Smoky Instant Pot Rib Recipe
This recipe for Smoky Pressure Cooker Ribs requires two things: a pressure cooker and a smoker. Get perfectly tender, smoked ribs in under 2 hours,with minimal hands-on time. If you're a barbecue purist who doesn't like sauce on their ribs, you will love this recipe. If you're a bad pre-planner who wants last minute ribs, this one is for you.
Ingredients
For pre-cooking
1

cup

Water

1/2

cup

Apple Cider Vinegar

2

tablespoons

Barbecue Rub

1

rack

baby back pork ribs

about 2 lbs, cut into four pieces
Instructions
Turn on your smoker so it can preheat to 225F as you get everything else done.

On a steamer rack, place the four pieces of ribs standing up. Note, these fit in my Mini Duo Instant Pot!

Cook on high pressure for 20 minutes, and allow pressure to release for 10 minutes. After 10 minutes, release all remaining pressure.

Place a cup of water in the water pan of your smoker.

Add wood chips and allow the ribs to smoke for 30 mins to an hour until they are browned, and acquire a smoky flavor.

Place the cooked ribs on the smoker rack.

Allow to sit in the smoker for one hour at 250.

Remove, and Serve. Brush with additional Barbecue Sauce if desired.
Notes
Tips:
Apply the dry rub the night before/morning before to allow that Mexican spice to penetrate the baby back pork ribs.
Pressure cook and smoke the ribs before adding any sauce so you can taste the smokey meat. Add sauce on the side.
If you like your ribs more tender, pressure cook them longer. I like my ribs tender, but not "falling off the bone," so I haven't tested this recipe cooking longer than written.
Indian Instant Pot, Keto Instant Pot, Instant Pot Fast and Easy, Healthy Instant Pot & Vegetarian Instant Pot.