This simple Coconut Panna cotta recipe is so sweet, creamy & yummy that it will become one of your go-to desserts. It is easy, delicious, dairy-free, and low carb.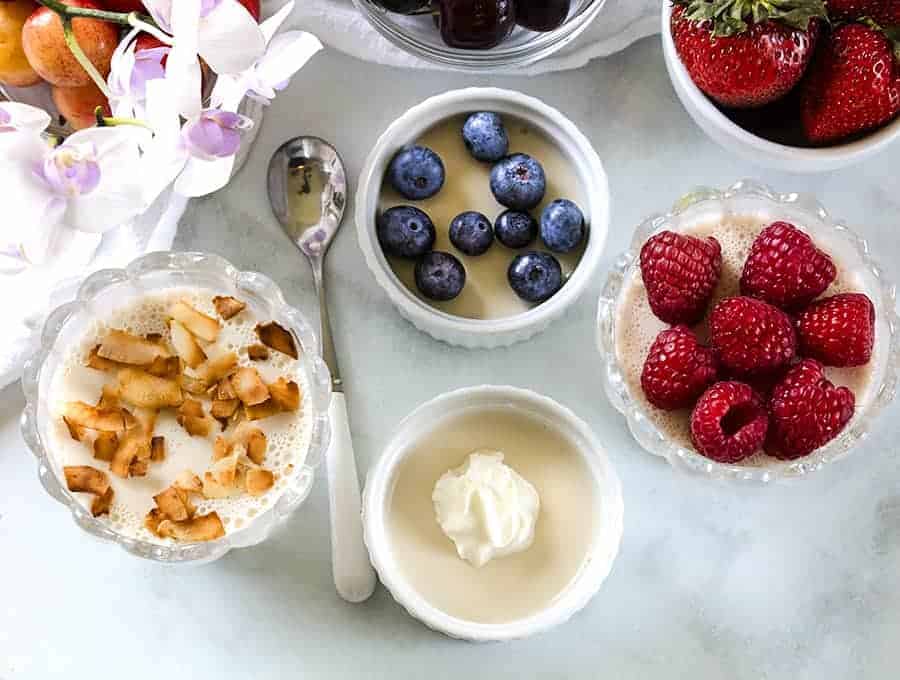 I don't think it's a secret that I love my sweet dishes. I definitely enjoy finding ways to ensure that my crazy sweet tooth is satisfied while still maintaining a healthy diet. That's why I just had to share this Keto Coconut Panna Cotta with you. Whether you're on a diet or not, this delicious, sweet recipe will hit the spot.
If you have trouble with dairy, no worries in that department either.
This Keto Coconut Panna Cotta is dairy-free, ensuring your stomach isn't a mess after enjoying a healthy, sweet treat.
I love when a treat like this doesn't come with any bad consequences. I'm always used to paying the price for tasty dishes like this, but not with this recipe.
Keto Coconut Panna Cotta | Low Carb Panna Cotta Recipe
Do you know how quick it is to make this Keto Coconut Panna Cotta? It's so fast that you'll only need about 20 minutes to whip this together.
Of course, there's some chilling time in there, however, prep time is a breeze so, it's great for making in advance as well. I personally enjoy treats I can make when I have time so it's ready when I need it later.
What is Panna Cotta Made of?
If you're unfamiliar with what panna cotta is, it's a cold Italian custard--smooth, creamy, and utterly delicious. It's essentially a pudding consisting of sweetened cream that is thickened with gelatin.
However, this Keto Coconut Panna Cotta is much healthier and keto-friendly in comparison with your usual panna cotta. My recipe uses coconut milk as opposed to cream, resulting in a delicious dessert dish that is completely dairy-free and vegan-friendly!
I used Truvia to sweeten it, so it's low carb as well. You can use a different Keto-friendly sweetener as well, and if you aren't eating low carb, feel free to use real sugar.
How to Make a Great Panna Cotta
1. Well dissolved gelatin
The biggest factor here is to ensure that the gelatin is extremely well dissolved. What you don't want, are gelatin granules, and chewy gelatin bits left in there. I find heating the water definitely helps, but so does active stirring. Whisk the mixture well to ensure all the gelatin is well incorporated.
2. No acidic fruits
You can add a few different fruits, but don't add fresh pineapple, as the bromelain in pineapple interferes with the gelatin setting. Canned pineapple is usually okay.
3. Full-fat liquid.
This is really not the time to be using low-fat milk. The thicker the liquid, the better the panna cotta sets. A key tip to making panna cotta is to use a thick liquid and well-dissolved gelatin.
If you want a change, use heavy whipping cream instead of coconut milk. If you use a low-fat liquid, you may need to increase the gelatin.
4. Spray the molds well.
This is so that you can pop out the panna cotta in one piece, making it look super elegant. I mean, either that, or do what I do.
Eat it directly from the container you set it in! One less dish to wash. What could possibly be wrong with that??
Why did my panna cotta not set?
What if after all this, your panna cotta doesn't set?
The thing about panna cotta though, is that it's easy to fix.
Just dissolve a little extra gelatin in water, mix it with your first batch, heating gently to ensure it is all well-mixed, and re-set it again.
So there's no reason to be afraid of making panna cotta. These easy tips will ensure your keto coconut panna cotta sets beautifully each time.
How Long Will Panna Cotta Last in the Fridge?
Panna Cotta should keep for about 2-3 days as long as it is stored in a glass or plastic food storage container or covered with plastic wrap.
Can Panna Cotta Be Made in Advance?
But of course! Since the dessert has to be refrigerated for at least 4 to 6 hours before serving, it's the perfect make-ahead dessert. You could even make it a couple of days in advance for the next time you have friends or family over.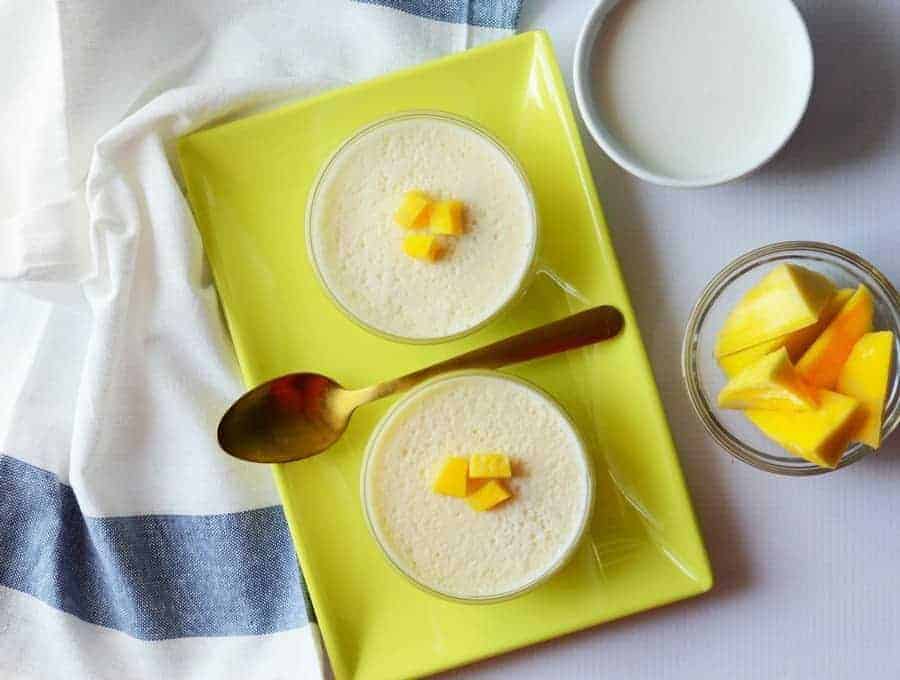 Other Keto Desserts to Try
Keto Mango Panna Cotta is low carb, deliciously creamy, and made in just 10 minutes!
Another fantastic panna cotta recipe is my Coconut Pandan recipe. It's a delicious panna cotta recipe made with only 5 ingredients!
Keto Chocolate Chip Cookies. You can enjoy all the ooey gooeyness of chocolate cookies without all the carbs and sugar.
It makes me crave some Keto Coconut Panna Cotta when I am telling all of you how delicious it is. I still can't believe how easy it is to prepare. It's almost too easy, which is why I make it all the time.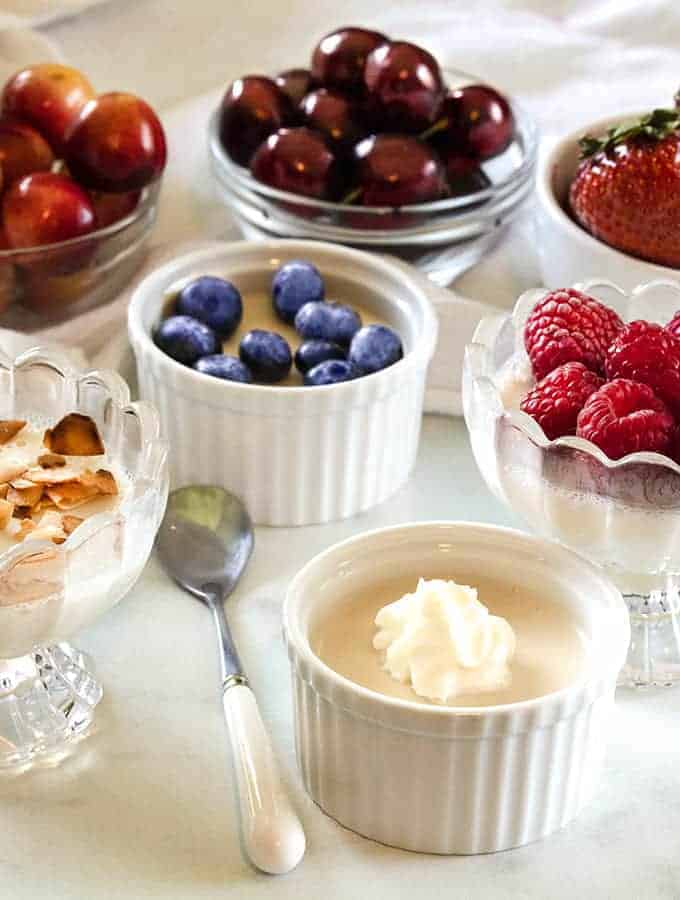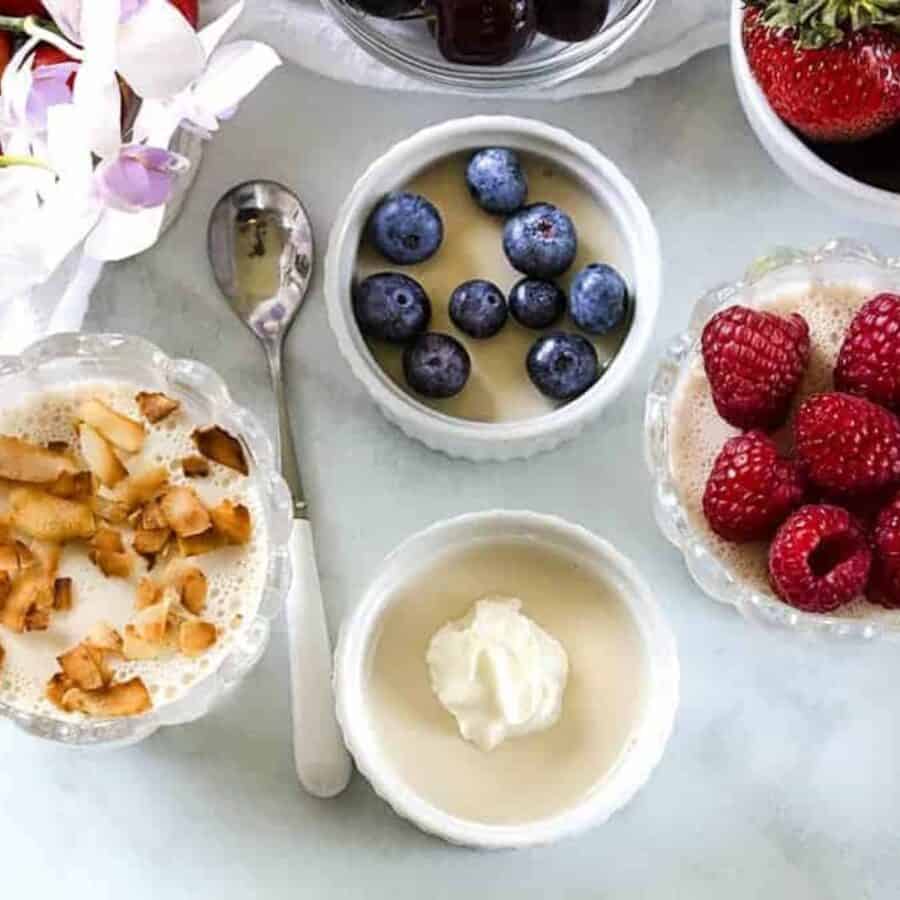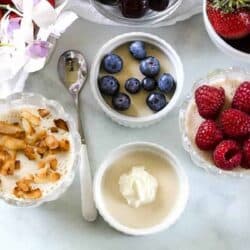 Keto Coconut Panna Cotta
This simple Coconut Pannacotta recipe is so sweet, creamy & yummy that it will become one of your go-to desserts. It is easy, delicious, dairy-free, and low carb.
Equipment
STAINLESS STEEL MEASURING CUPS

OVAL MEASURING SPOONS

GREENPAN SAUCEPANS

WHISK

4 OZ RAMEKINS
Ingredients
1/2

cup

cold water

1

package

Unflavored Gelatin

1/4 oz or 2.5 teaspoons

13.5

ounces

Full-Fat Coconut Milk

1/8

cup

Truvia

1

teaspoon

pure vanilla extract or coconut extract
Instructions
In a medium saucepan, place water, coconut milk, and Truvia and whisk well. Sprinkle gelatin a little at a time, whisking continually. You may see a few small lumps, but these will disappear once you heat the mixture. Cook over medium heat, whisking frequently until the gelatin and Truvia have dissolved.


Remove from heat and stir in coconut or vanilla extract.


Pour cream into six 4-oz serving dishes. Refrigerate for at least 4-6 hours for a firm panna cotta.

Notes
For a vegan option use agar agar instead of gelatin.
See the article for notes on how to make a good panna cotta. 
Ensure that the gelatin is WELL dissolved. This will make all the difference between this recipe setting--vs. you having to drink a delicious soup instead.
Don't forget to check out my other Keto cookbooks.
Keto Instant Pot, Keto Fat Bombs, Sweets, & Treats, and Easy keto in 30 minutes.