Smoked Salmon and Cheese Timbale is a show stopper low-carb appetizer that can be put together in about 15 minutes. The combination of fat and flavor with the creamy and sweet Marscarpone cheese and salty, smoked salmon makes this Salmon Starter quite satisfying.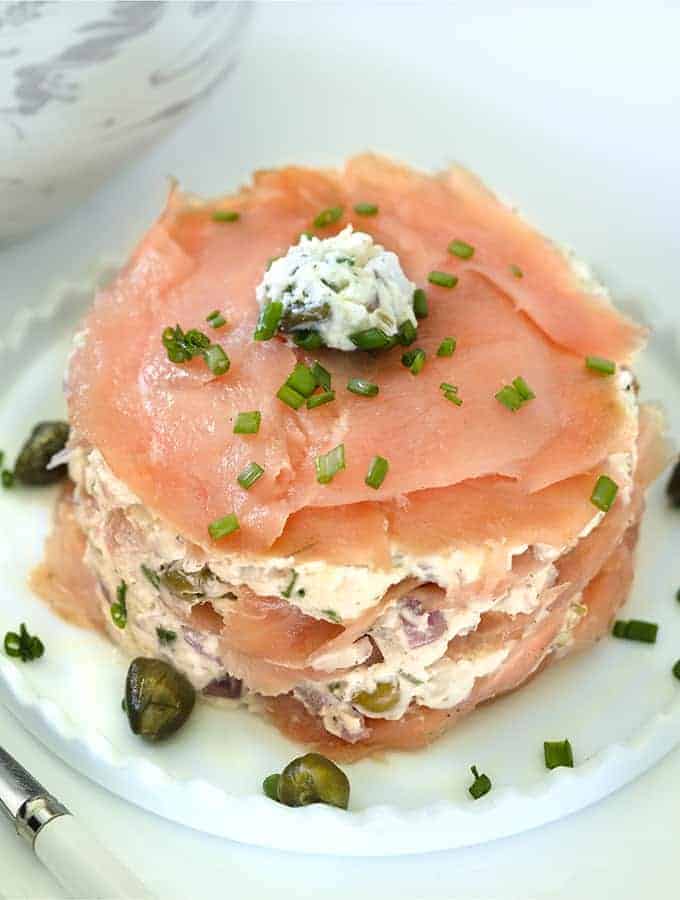 This Smoked Salmon Timbale is all about the presentation AND flavor, in an easy, savory, bundle.
Smoked Salmon and Cheese Timbale
Smoked Salmon is a great way to get healthy proteins, Vitamins B and D, and healthy omega 3. This dish is low-carb which a keto WOE perfectly.
I purchase cold smoked salmon. It is smoked at a low temperature, so it is not heat cooked and has a flexible texture which makes assembling the Timbale a breeze.
I buy cold smoked salmon in flat, vacuumed sealed packages near the meat counter, wherever the seafood is sold in your grocery store.
If you purchase hot smoked salmon, then your salmon will be fully cooked.
Check out this article from Bon Appetit on the difference between hot and cold smoked salmon.
What is a Timbale?
A timbale is defined as a dish that has meat or typically fish, as is this case, with other ingredients and is prepared in a mold. You can buy timbale pans, they are available in various sizes, but you know me. No muss, no fuss.
I just use a 3.5-inch biscuit cutter, and the probability that you have a biscuit cutter over a timbale pan is much higher.
Timbale is derived from the word drum and is cooked inside a pan that usually narrows towards the bottom.
My recipe is assembled by layering the ingredients starting from the bottom inside the biscuit cutter and building up for a delightful presentation.
What Cheese Can I Use For This Salmon Starter?
I used Mascarpone Cheese for this timbale recipe. You can find Mascarpone usually in the Deli section of most grocery stores. The texture of Mascarpone cheese is much softer than cream cheese which makes it a breeze to use. It is made with heavy cream rather than milk, and Marscarpone has a lower fat content.
My main reason for using this over cream cheese is there is no waiting for it to come to room temperature so that it will behave the way you need it to.
You can substitute goat cheese or any soft cheese that you love for this salmon appetizer. Look for a soft cheese that is slightly sweet and creamy to perfectly balance the taste of the smoked salmon.
I do not recommend using potent flavored cheese such as feta or blue cheese. Also, do not use crumbling cheeses such as Parmesan or Feta, your Timbale simply will not hold up and end up a mess on the plate.
If you aren't familiar with these cheeses or are just more comfortable with cream cheese, use that! This is your Smoked Salmon Starter. I like to make dishes that are easy to get on the table. Note that you will have to let the cream cheese come to room temperature so that it can easily spread.
How To Assemble Salmon and Cheese Timbale
Begin by mixing together the Marscarpone cheese, diced onions, lemon juice, capers, chives, salt, and pepper. Set aside.
Cut the smoked salmon slices into large bite-sized pieces. You may need to halve, and then halve the cold-smoked salmon a few times.
Grab your biscuit cutter and place right on your serving platter for easy assembly. You don't have to risk moving and messing up your stacked timbale all over the place.
Take 2 salmon halves and place on the bottom inside the biscuit cutter. Top with about 2 tablespoons of the cheese mixture. Keep stacking layers until you are at the top of the biscuit cutter. Top with a salmon slice.
Assemble all the timbales on the platter, and then top all of them at once with diced chives. Refrigerate to allow the timbale to set up.
Leave in refrigerator until ready to serve.
Need More Appetizer Ideas?
Try my blackened salmon if you can't get enough salmon. Or I have a delicious Salmon and Cream Cheese Dip.
These Savory Potato Patties make a flavorful appetizer, side dish or snack! They're gluten free, vegan and made in under 30 minutes in your air fryer!
I have a cookbook that will be out December 2019. You can pre-order it here: Easy Keto in 30 Minutes: More than 100 Ketogenic Recipes from Around the World. Pictured below is a Shrimp Timbale you will find in my new cookbook!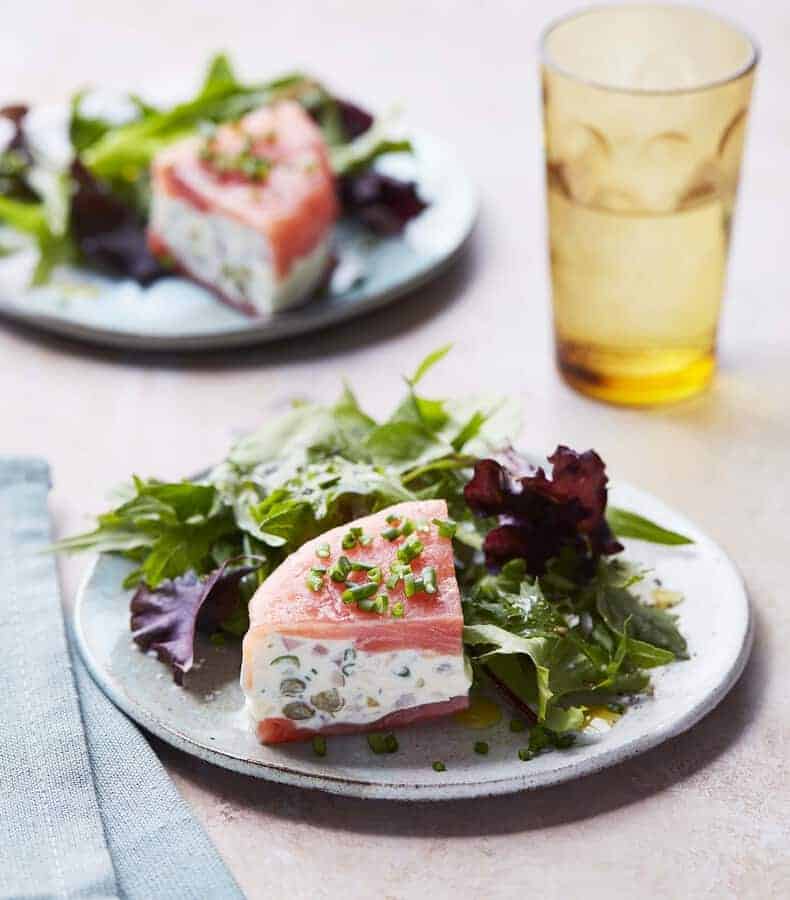 Tips and Tricks to Make Smoked Salmon and Cheese Timbale
Want an even faster way to serve smoked salmon and cheese timbale? Cut the salmon into smaller pieces and mix it into the cheese mixture. Place it in a small baking pan. Smooth the top, and garnish with remaining chives. Leave a few salmon pieces out to place on top so people know what is inside the timbale. Refrigerate to let the timbale set up and just cut into it!
If you are super brave and want to smoke your own salmon, here is an article from Barbecue Bible. And comment below with your results!
Equipment Needed to Make This Timbale
A biscuit cutter or something similar in size to make perfect circles for a beautiful presentation. Or, A timbale pan if you have one.
You are looking for any soft and creamy cheese to offset the flavor of the salmon and to hold the timbale together.
I do not recommend using salty and crumbling cheeses such as Parmesan or Feta.
Serve Smoked Salmon and Cheese Timbale with a side salad for a complete meal.
**DID YOU MAKE THIS RECIPE? DON'T FORGET TO LEAVE A STAR RATING!!**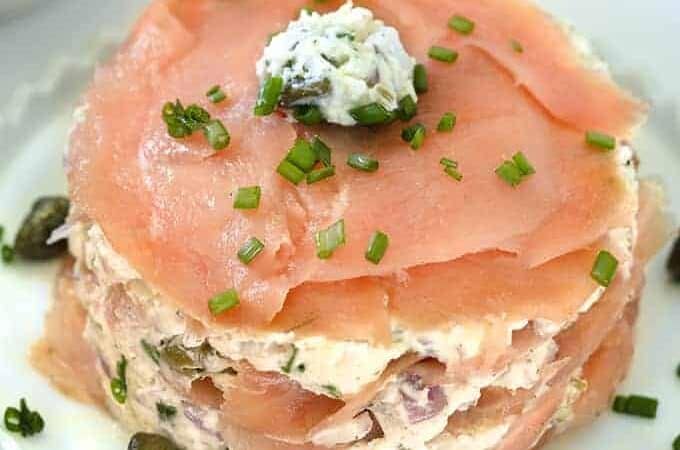 Instructions
Mix together mascarpone cheese, onions, lemon juice, capers, chives, salt and pepper. Cut salmon into bite size pieces.

Use either a 3.5 inch biscuit cutter, to make this appetizers to get perfect circles. Place a biscuit cutter on a small serving plate and use it as your guide.

Cut a salmon slice in half. Place the two halves on the plate, within the biscuit cutter. Top with ¼ of the cream cheese mixture. Top with an additional slice of salmon cut in half.

Sprinkle chives on top. Repeat for remaining 3 plates. Refrigerate and serve.
Notes
Layer everything as directed (Salmon, cheese mixture,salmon) into a small round pan. Then cut into slices.
Or even faster? Chop the salmon into small pieces, mix it in with the cheese, and chomp down.
Use a large deep napkin ring to make perfect circles for the appetizer. 
You are looking for any soft and creamy cheese to offset the flavor of the salmon and to hold the timbale together. 
I do not recommend using salty and crumbling cheeses such as Parmesan or Feta. 
Nutrition
Calories:
181
kcal
|
Carbohydrates:
2
g
|
Protein:
10
g
|
Fat:
15
g
|
Saturated Fat:
8
g
|
Fiber:
1
g
|
Sugar:
1
g