Instant Pot  Beef Stroganoff is a creamy, rich, low carb, keto beef recipe that is made quickly in the Instant Pot or your Pressure Cooker. This is a great Instant Pot low-carb recipe that can be made even more suitable for Keto by subbing butter for the oil I used, and adding more sour cream. You can probably also made this beef stroganoff in your slow cooker if you choose.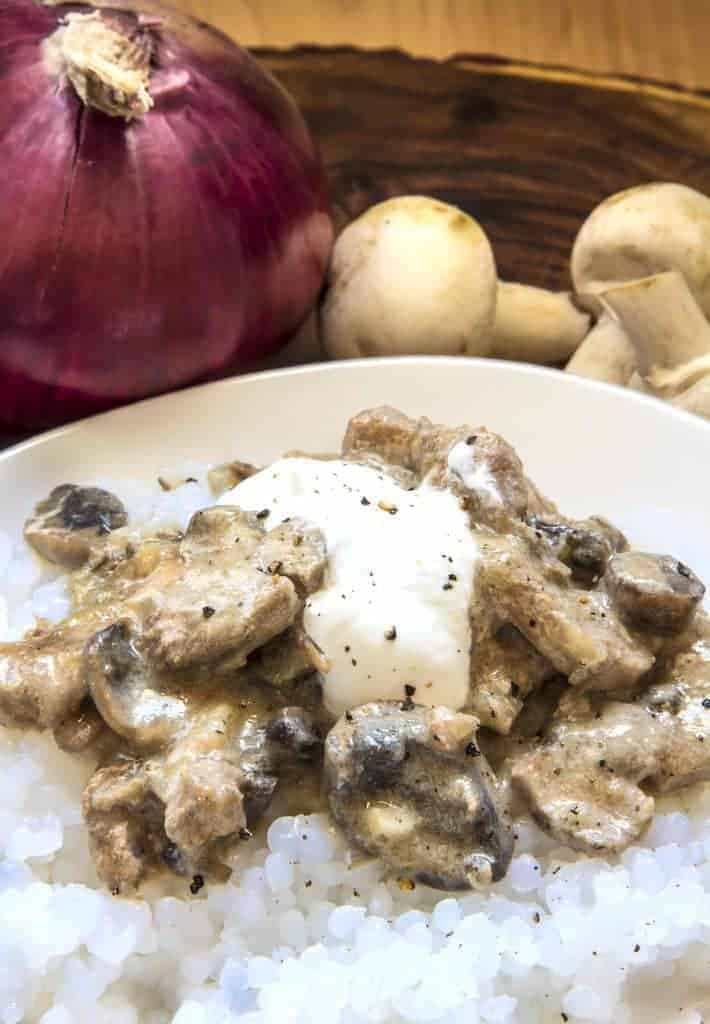 HOW TO MAKE LOW CARB BEEF STROGANOFF IN YOUR PRESSURE COOKER OR INSTANT POT
If you've been looking for an easy beef stroganoff recipe, but are trying to be keto or low carb, or gluten-free, it's not easy to find a good recipe, especially if you also want to make it in your Instant Pot or pressure cooker.  Every recipe I've seen uses flour to thicken.
But the fact is, cream is a great thickener, and Xanthan gum works very well for low carb thickening as well. So I wondered if I could use sour cream and Xanthum gum to thicken the gravy instead. This actually works very well.
HOW TO THICKEN USING XANTHAN GUM
If you've never used xanthan gum, you need very little of it. It's not like using cornstarch to make a slurry. Where you might have used 1 tablespoon or cornstarch, you will likely only use 1/4 teaspoon of Xanthan Gum. It also has a very slippery feel to it, so you really don't want to get the powder on your hands. Otherwise, you will be washing them for hours and wondering if that feeling is ever going to go away.
Xanthan gum, despite its new-age name, is actually made from a type of mushroom, so it is plant-based, and not some weird, manufactured chemical.
You also do not need to premix that little 1/4 teaspoon of it in water to dissolve before adding it to the pot. What works for me is to simply whisk or stir the gum directly into the large cookpot and stir vigorously while doing that. Pretty soon, you have a keto-friendly, low carb thickened gravy.
I used this same technique to make a delicious PRESSURE COOKER BRAISED BEEF BRISKET RECIPE that you will definitely want to check out! This brisket is easy and very popular at parties. I also use xanthan gum to thicken a Low carb Hot and Sour soup recipe, which can be super full of carbs unless you make it at home.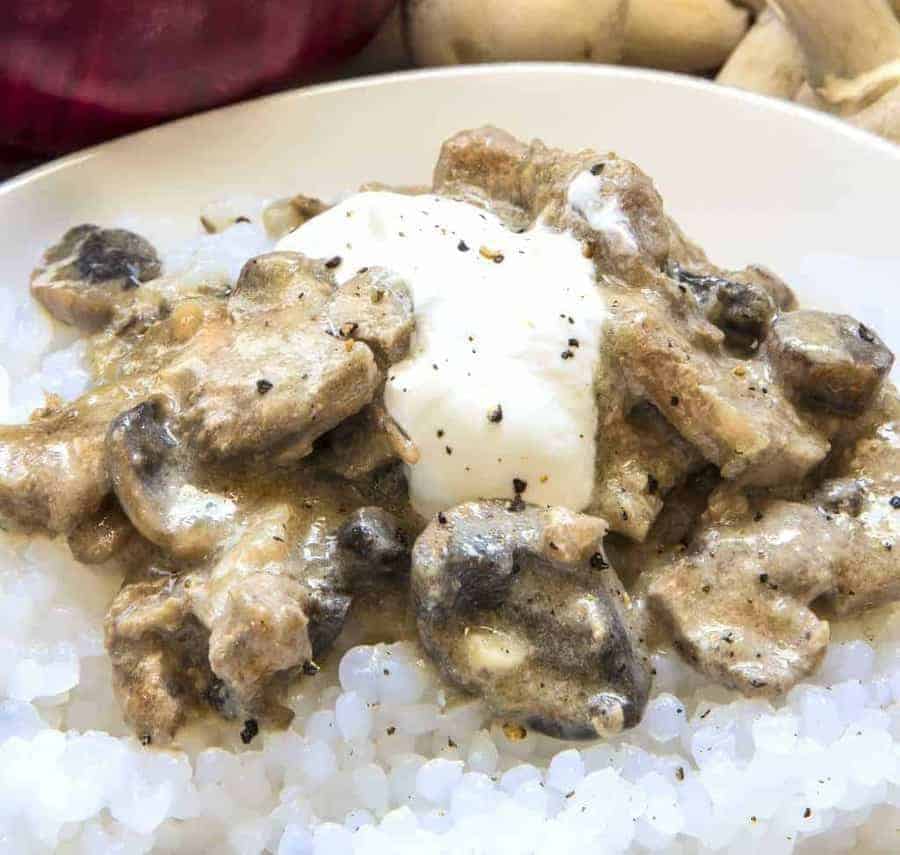 The recipe steps for this Instant Pot Keto Low Carb Pork or Beef Stroganoff are:
Sauté onions and garlic
Add remaining ingredients and cook on high-pressure button for 20 minutes
Add sour cream and thickener
Equipment & Ingredients You May Need to Make Instant Pot Low Carb Beef Stroganoff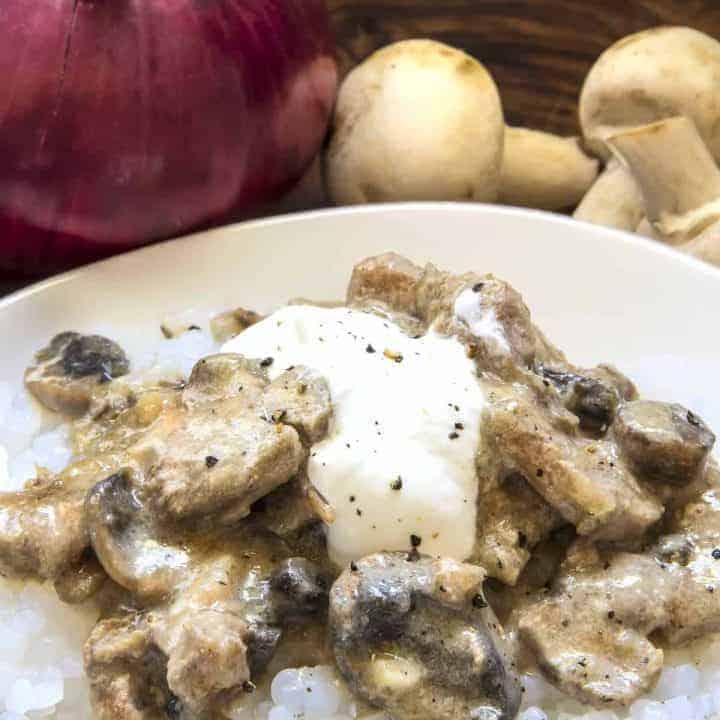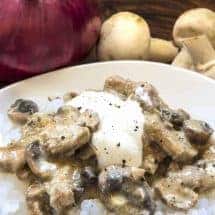 Instant Pot Keto Stroganoff
Instant Pot Keto Beef Stroganoff is a creamy, rich, low carb dish made quickly in the Instant Pot or your Pressure Cooker.
Cuisine:
American, Russian
Dietary Consideration:
Gluten-Free, High Fat, High Protein, Keto, Low Carb
Cooking Style:
Instant Pot/Pressure Cooker
Ease of Cooking:
Pour and Cook, Under 30 Mins
Recipe Type:
Beef, Pork, Pressure Cooker
Ingredients
1

tablespoon

oil

1/2

cup

diced onions

1

tablespoon

garlic

1

pound

pork tips or beef stew meat

1.5

cups

chopped mushrooms

1

tablespoon

Worcestershire sauce

1

teaspoon

salt

1/2-1

teaspoon

pepper

3/4

cup

water
For Finishing
1/3

cup

sour cream

1/4

teaspoon

xanthum gum

(sub with arrowroot starch, corn starch or other thickener)
Instructions
Turn Instant Pot on Sauté on high, and when it's hot, add the oil. When the oil is hot, add onions and garlic and stir for a while.

Add everything except sour cream and close up the pot, set to 20 minutes on high pressure, and let it release pressure naturally.

Open the pot and turn it on to Sauté, and add sour cream and stir.

Shake in the xanthum gum a little at a time, and keep stirring until the mix thickens.

If you're using corn starch etc., mix a slurry with a little water and use it to thicken.

Serve with cauliflower rice or low carb noodles.
Recipe Notes
This post may contain affiliate links
Nutrition facts per serving
321kcal | Fat: 16g | Saturated fat: 5g | Cholesterol: 98mg | Sodium: 690mg | Potassium: 599mg | Carbohydrates: 9g | Fiber: 2g | Sugar: 3g | Protein: 33g | Vitamin A: 2.4% | Vitamin C: 3.2% | Calcium: 4.1% | Iron: 18.3%
I am not a registered dietician or nutritionist. Nutritional information is provided a courtesy, and can vary depending on the exact ingredients you use.