As an Amazon Associate, I earn from qualifying purchases. We may also earn money from the companies mentioned in this post.
Make a perfect low country boil or Frogmore stew with this easy pressure cooker cajun shrimp and sausage boil recipe. This is the best way I've found to make a low country boil in the Instant Pot.
One of my most pinned recipes, and with good reason. Well, maybe two reasons: shrimp done just right, and heavenly, buttery, garlicky, spicy sauce.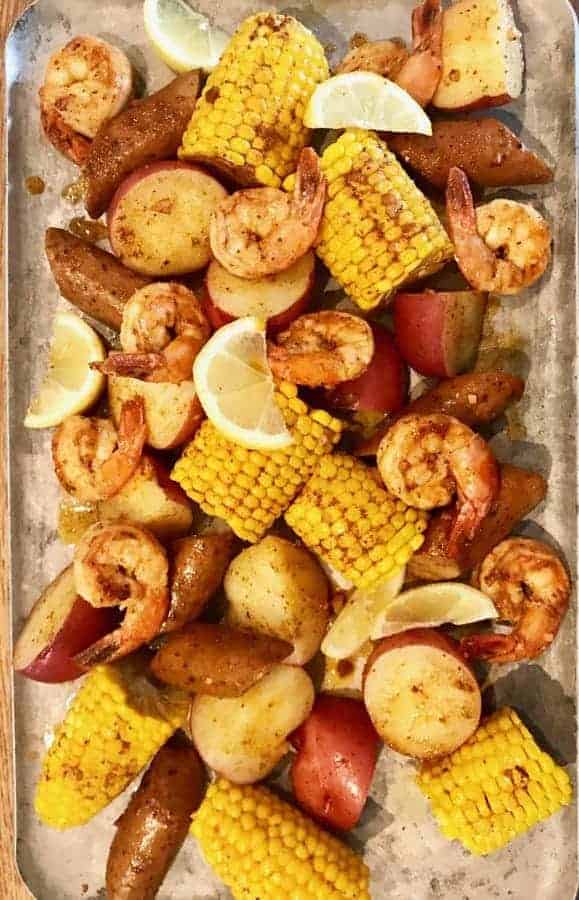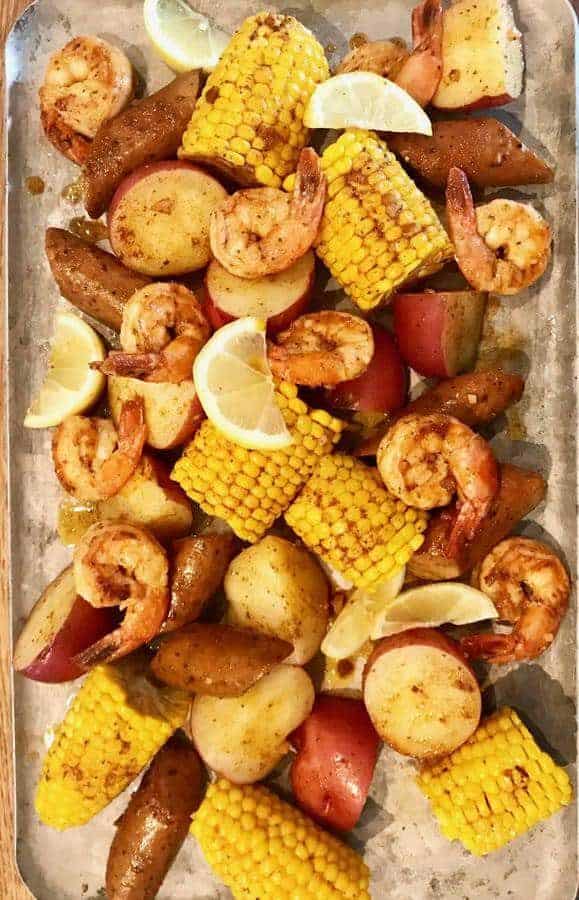 HOW TO MAKE INSTANT POT CAJUN SHRIMP BOIL
So this is Instant Pot + pan, or Saucepan + Pan because you boil the sausage, corn, and potatoes in the Instant Pot, but I made the sauce in a pan.
There's no reason why you couldn't do both in the Instant Pot, but I needed dinner on the table fast, so I made the sauce in the pan while by Instant Pot came up to pressure.
Place sausage, potatoes, corn, seasonings into the Instant Pot or electric pressure cooker.
2. Boil corn, sausage, and potatoes with flavoring in Instant Pot for 4 mins HP, QPR
3. When the vegetables are done, quick cook Shrimp. Do NOT pressure cook the shrimp. Add them to the hot broth, and they will cook in the residual heat.
4. Make the sauce by melting the butter, and then adding all the seasonings to the butter. Don't increase seasonings as there is so much salt in several of those seasonings. Add as directed first, and then you can adjust slowly.
5. Add all the ingredients into the yummy sauce you just made. Toss everything to coat with the seasoned butter. This butter is the secret to a great tasting Shrimp and Sausage boil, so do not skimp on this.
6. Time to pig out!
Instant Pot Cajun Shrimp Boil
We love going out to places like the Boiling Crab that do crab, sausage, shrimp, corn, and potatoes in a bag, so I decided to learn to make it at home!
But our problem is that not only is it an hour and a half drive, the portions are just too large for us even if three of us get one portion to split, and leftovers just don't taste that great with this.
If you are a family of four, this can get expensive to eat out, as each entrée runs about $20-$25.
I decided to try making a Shrimp and Sausage boil at home instead. In the past, however, when I've made shrimp in the Instant Pot, I find it to be a little overcooked, and mealy.
So this time, I was going to quick-cook it in residual heat from the broth. I bought a pound of sausage, 1 pounds. of easy-peel shrimp, 1 package of 6 frozen half ears of corn, 4 new red potatoes and it was about $16–and at our house, this will make two dinners for the four. YMMV.
What to Serve with this Instant Pot Cajun Shrimp Boil?
If you're not low-carbing, definitely serve some light, crusty bread with it to sop up all the sauce. I licked it off a spoon, as I tend to do, but it was calling out plaintively for a little piece of bread.
If you are low-carbing, you could use my Keto Bread recipe and serve it along with the shrimp boil.
Can you Freeze This Recipe?
I actually froze half of the corn, sausage, and potatoes in a bag, and in a separate bag, I added the frozen shrimp and put it all into one bag. Next time I make it, I'll put everything but the shrimp in the Instant Pot, and then add the shrimp later.
Additional Shrimp recipes to Consider
★ Did you make this recipe? Don't forget to give it a star rating below! Just click on the stars in the recipe card to rate.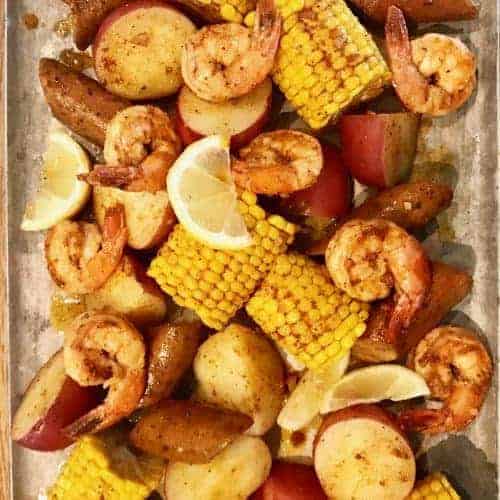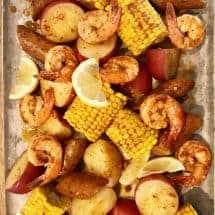 Cajun Shrimp and Sausage Boil
Make a perfect low country boil or frogmore stew with this easy pressure cooker cajun shrimp and sausage boil recipe. Follow the directions to ensure that the shrimp aren't overcooked.
Keyword:
Cajun shrimp boil, frogmore stew, instant pot shrimp boil, low country boil
Dietary Consideration:
Gluten-Free, High Fat, High Protein, Low Carb
Cooking Style:
Instant Pot/Pressure Cooker, Stove Top
Ease of Cooking:
Pour and Cook, Under 30 Mins
Recipe Type:
Pressure Cooker, Seafood
Ingredients
1/2

pounds

smoked sausage,

cut into four pieces

4

ears

corn

2

red potatoes,

cut in half

1

tablespoon

Louisiana Shrimp and Crab Boil

Water to cover the above
Instructions
Place the sausage, corn, and potatoes in the pot and cover with water.

Set your Instant Pot to High pressure for 4 minutes.

Meanwhile in a pan over medium-high heat, melt the better.

Add minced garlic and sauté well while stirring, allowing the butter to boil and take on the garlic flavor.

Add all other spices and mix well, and taste it. Be sparing with these spices otherwise, your sauce will get quite salty. Most of the flavor will come from the butter and garlic, anyway, and you can add the plain hot sauce for heat if you need. Leave this sauce to warm in the pan. By this time your Instant Pot should be done.

Once your Instant Pot is done, perform a Quick Pressure Release and open the lid carefully. Check to ensure the potatoes are cooked. Mine were very tender, but not mushy.

Throw in your shrimp and stir. As soon as the shrimp turn pink, take them out, and then take out the corn, potatoes, and sausage.

Put everything bit by into the sauce, stirring well to coat everything with the spiced butter goodness, starting with the shrimp so they have to cook just a little more.

Serve immediately and be prepared for everyone to want to dip their food into the sauce left in the serving pot.

Adjust this as you need to feed children or adults who can't tolerate spice, by simply relying on butter, garlic, lemon juice, and lemon pepper to add flavor to the butter.
Recipe Notes
It's really, really important to not pressure cook the shrimp in this recipe. They take no time at all to cook, and if you try to cook it with the potatoes and corn, they will turn into a rubbery mess.
It's ALL about the sauce in this recipe so don't skimp on the butter and seasonings.
Make a double batch of veggies, and just freeze half of them. The next time you want this, you can put the frozen vegetables into the Instant Pot. You won't need to increase the time to cook from frozen.
You can also make this shrimp without the veggies if you want a low carb, fast and easy stovetop recipe.Just shrimp and seasoned butter, and you're good to go.
Watch the video in this post to see how to make this recipe.
Nutrition facts per serving
459kcal | Fat: 33g | Saturated fat: 15g | Cholesterol: 228mg | Sodium: 990mg | Potassium: 670mg | Carbohydrates: 18g | Fiber: 1g | Sugar: 1g | Protein: 22g | Vitamin A: 12% | Vitamin C: 17.6% | Calcium: 10.7% | Iron: 14.5%
I am not a registered dietician or nutritionist. Nutritional information is provided a courtesy, and can vary depending on the exact ingredients you use.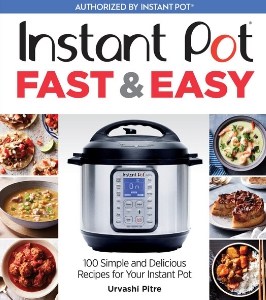 This book is full of all kinds of boldly flavored and internationally-themed recipes—Mexican, Thai, Moroccan, and more—with Instant Pot Fast & Easy, fully authorized by Instant Pot. Just like you have come to expect, my recipes will work perfectly every time, and of course, taste great too.