There are some recipes I make that I just absolutely fall in love with and these Keto Gummy Bears are definitely one of them. Easy, absolutely adorable, and keto.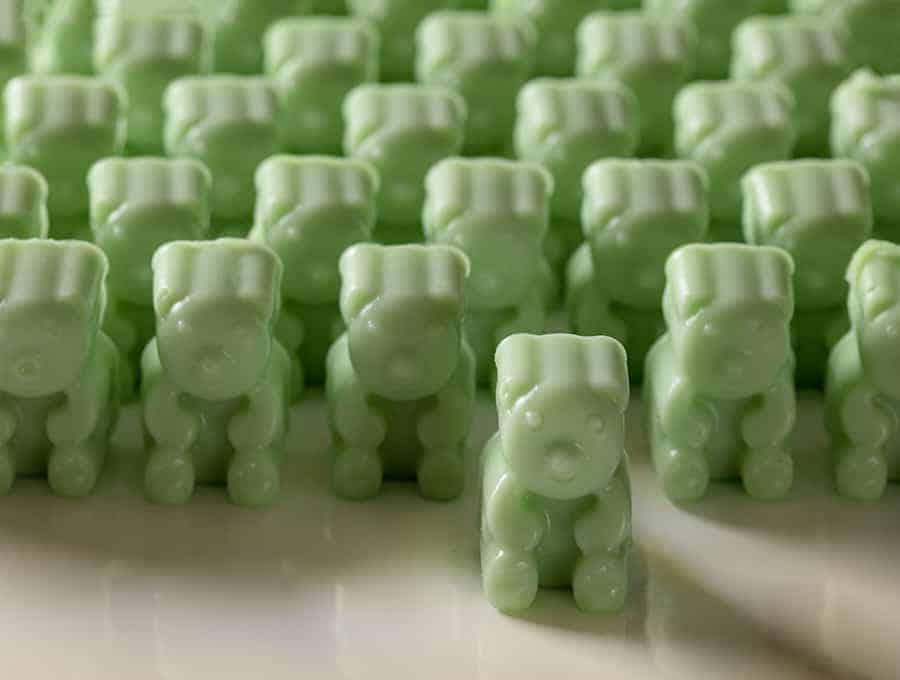 Jump to:
One of my favorite flavors to use in some of my desserts is pandan. It's very similar to vanilla but has its own distinct taste. You can find it at any Asian grocery store and it's not costly. I keep it around since I enjoy using it as often as possible.
Why Your Whole Family Will Love These Gummy Bears
What You'll Need To Make These Keto Gummy Bears
Before you get started, make sure you have these ingredients in your kitchen.
Of course, you can always substitute the flavor of pandan with a different extract or use a different mold, but then are they even really gummy bears?
Bears made in that mold just taste better to me.
One important note that I would like to share about these Keto Milky Bears is that you don't have to use the gummy bear mold if you don't want to. I mean, it's absolutely adorable which is why I love using it for this recipe, however, you can use any mold your heart desires.
I would just be sure to use a mold that makes them turn out in smaller portions rather than larger portions. For example, you don't want to make this recipe the size of a cupcake, you'll want it to be an easier snacking size.
Also, invest in the Pandan extract. You will thank me. I have several recipes that use pandan so you won't have it sitting around for too long.
What Is Pandan
Pandan is a long, leafy green that's found in Asia. It has a naturally sweet flavor and delicious aroma to it. That's why it's the perfect natural flavoring to use for these Keto Milky Bears. Not only is it a healthy, sweet flavoring that can be used in your dishes but, it's a nice way to mix up your flavoring from time to time. You can try using it in place of your other extracts or even your vanilla if you want to explore a bit.
If you've never tried pandan before, that's ok, most people have never even heard of it, much less tried it. This recipe is an easy one to try it and takes very little effort. These Keto Milky Bears are a delicious treat that curbs that sweet tooth craving while you're trying to stay on track with your diet. These tasty little morsels won't kill your diet and will even add a bit of nutrients to your day. Can you believe they only take five minutes to make?? I hope you enjoy them as much as I do.
Since most extracts and additional colors are going to be keto-friendly, you can use whichever combination of colors and extracts you like.
What Else Can I Use Pandan Extract For?
However, I definitely encourage you to try pandan since it's absolutely divine. It's similar to vanilla, as mentioned, but has its own flavor that I'm sure you'll fall in love with. I have other recipes such as Coconut Pandan Chia Seed Pudding and Instant Pot Thai Coconut Pandan Custard that also uses this flavoring. Once you try pandan, you'll understand my love for it.
Want More Low Carb Desserts?
These Keto Mint Brownies are amazing and taste just like an Andes Mint!
These Raspberry Cream Bombs are absolutely delicious and come together in just a few minutes!
If you love cinnamon sugar almonds but don't love carbs, these Keto Candied Almonds are the answer to your woes. They're deliciously sweet and low carb as well!
These Peanut Butter Fat Bombs are the perfect little treat to boost your fat intake while keeping it low carb.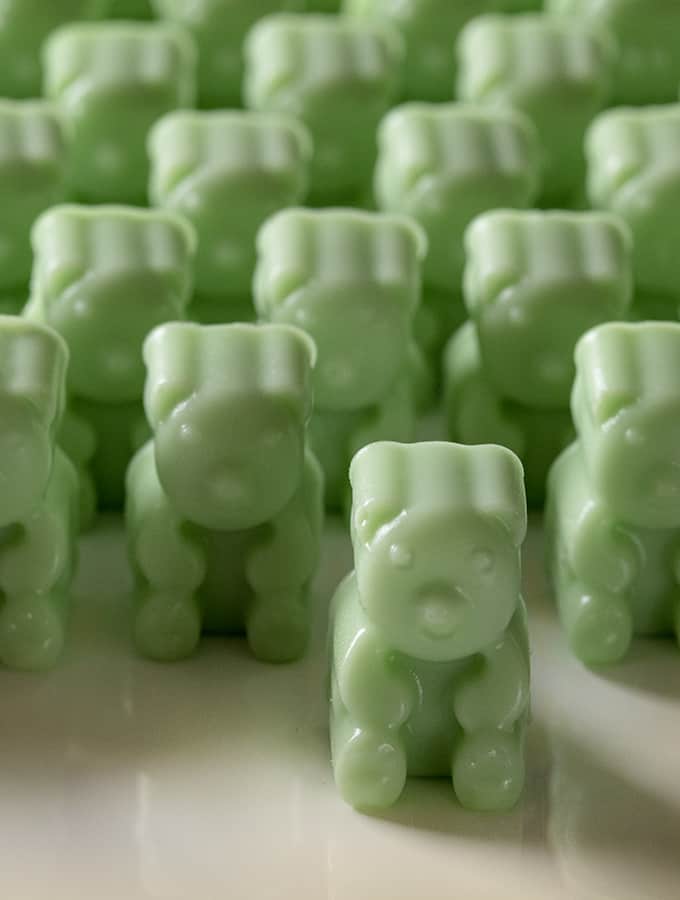 If you love these Keto Gummy Bears as much as I do, make sure you share them on Facebook and Pinterest so your friends can try them too!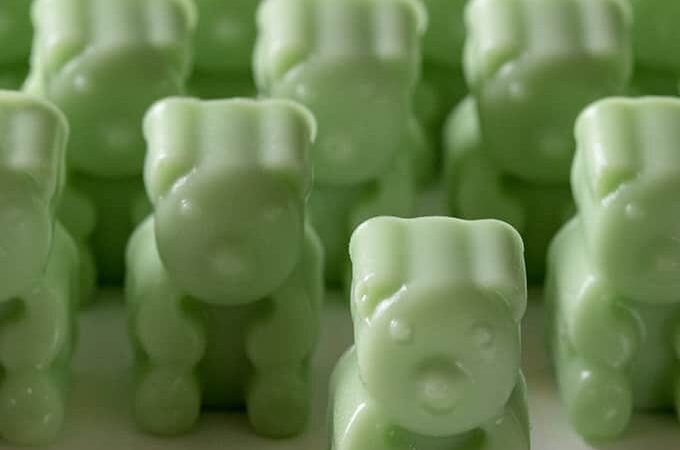 Click on highlighted ingredients or Equipment to see exactly what I use to make this recipe
Instructions
Place 3 gummy bear molds on a cookie sheet. You will be making about 100 small little, cute bears with this recipe. If you do not have a mold, use any type of silicone mold for cupcakes or chocolates that you may have.

Place water in a small bowl and sprinkle the gelatin on the water. Set aside and allow it to soften.


Meanwhile, In a small saucepan, heat the coconut milk, Truvia, and pandan extract. When you see the small bubbles starting to form on the side of the coconut milk, whisk in the softened gelatin. Whisk until all the granules are gone, and you have a smooth mixture. A flat or wire whisk can make this task a lot easier.


Using a dropper, fill a gummy bear mold with the coconut pandan mix. Move the cookie sheet to the refrigerator (this is the point you will thank me for having told you to use the cookie sheet. Moving a floppy mold full of liquid is not the most fun–unless you're a doggy who got to lap up my mistake the first time I made these).


Allow the bears to set overnight and then pop them out of their molds. If you want them chewier, place them uncovered in the refrigerator for another 3-4 hours so they dry out a bit. If not, enjoy as is.


Makes 100 bears, a serving is 10 bears.

For a vegetarian option, use agar agar or another gelatin substitute. You may have to play around with proportions.
Get support & connect with our community on Facebook!
Nutrition
Calories:
18
kcal
|
Protein:
4
g
Tried this recipe?
Follow @twosleevers and Pin it!
Originally Published February 22, 2019
Don't forget to check out my other Keto cookbooks.
Keto Instant Pot, Keto Fat Bombs, Sweets, & Treats, and Easy keto in 30 minutes.