If it weren't apparent, I'm a big fan of simple. This Mexican Shrimp Cocktail recipe is incredibly simple to make, but it has all the flavors of a more complex dish. Win win! Not to mention it's Keto friendly.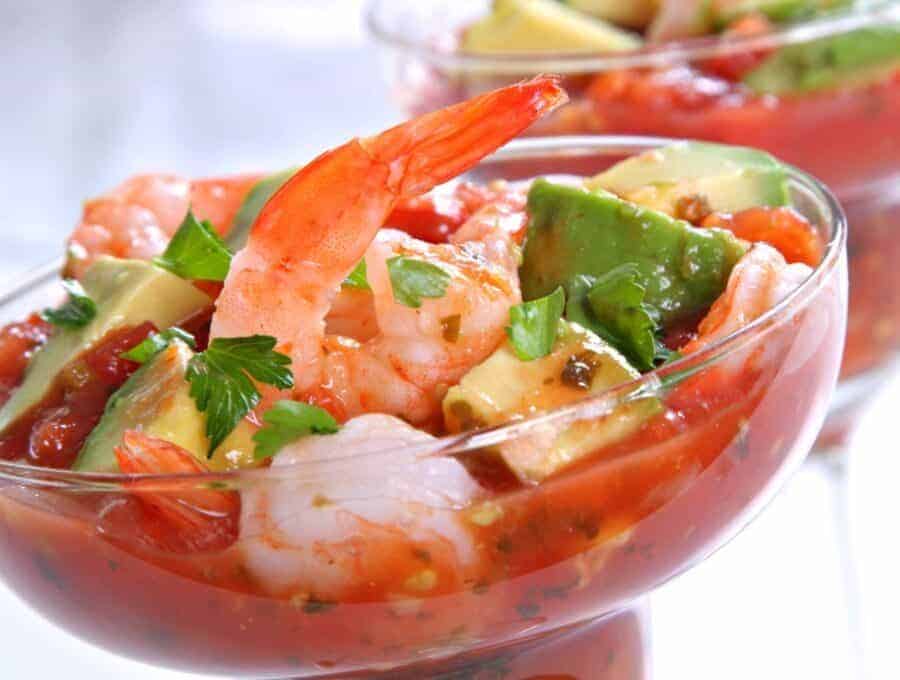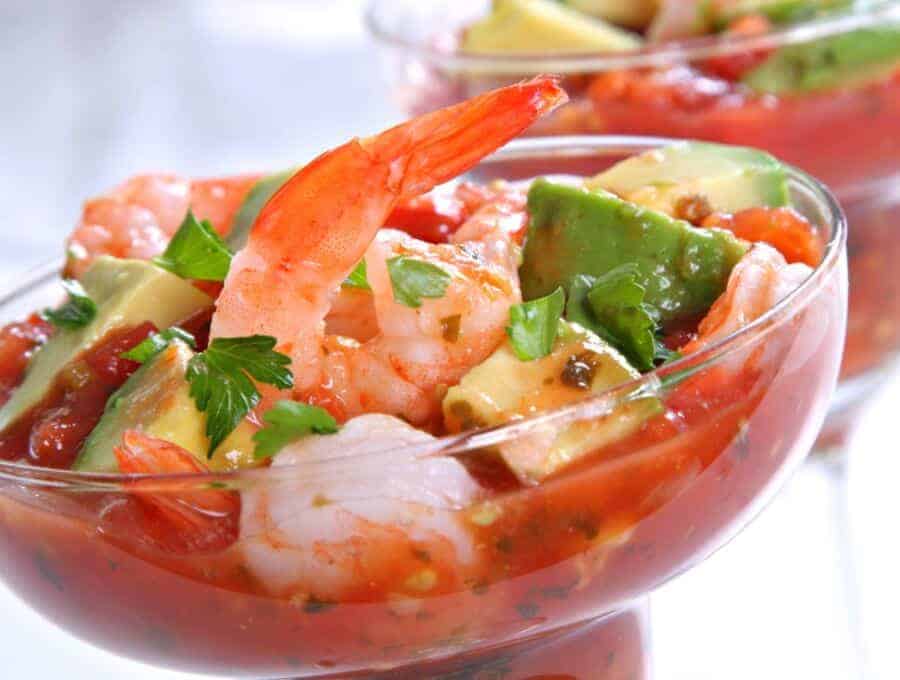 Do you drink a Mexican Shrimp Cocktail?
You'd have a hard time trying to drink this hearty shrimp cocktail! The traditional way to eat this is with an oyster fork, but you can just dig in like I did with any old utensil you have laying around. Unless, of course, you're serving this to guests, then maybe the oyster fork is the way to go.
Sometimes people will even use the cocktail as a sort of dip to scoop up with chips. If you're making it at home, you can eat it however sounds most delicious to you!
How is Mexican Shrimp Cocktail Keto?
When I made this, I wanted something fresh-tasting but high protein. As you know, with Keto it's important to get a lot of protein in a day. This Mexican Shrimp Cocktail fit the bill! Shrimp are an excellent source of protein, and avocados are great for fat content.
Does this need to be made in advance?
The beauty of this is you can make it all from scratch, or if you're in a hurry, buy some pico de gallo and get boiled shrimp and make this in a jiffy. Makes 4 half-cup servings. I suppose I should have let them mix and mingle for a while but I was hungry so we ate it right away. Felt like summer in my mouth!
If you want to let the flavors meld, you can certainly make this in advance and store in the fridge. It's great chilled and is perfect for a warm summer day (like this Avocado Grapefruit Salad I eat a ton of in the summer too)! The tomato blends well with the herbs and the shrimp soak all that flavor up when they're allowed some time to marinate.
Are shrimp cocktails appetizers?
Really, this Mexican Shrimp Cocktail can be whatever you want it to be! I've served these as appetizers before with my Instant Pot Pulled Pork Carnitas recipe (which is also incredible, by the way), and even as sides. I've personally eaten these as my main dish many times in the summer along with this Texas Caviar recipe - they're both perfect for hot days.
They're light enough to be a starter dish, but pack enough protein to be a full meal too. Serve them how you think is best, and they'll be delicious no matter what.
What are these called in Spanish?
If you want to order these in Spanish, or from a Mexican restaurant, you will likely see them on the menu as Coctel de Camarones, which literally translates to Cocktail of Shrimp.
A Mexican Shrimp Cocktail is sometimes served with chips at a restaurant, so keep that in mind if you're living a Keto lifestyle and want to avoid those carbs. Additionally, if you're serving these to non-Keto guests, you may want to serve it with some chips in case they want to eat them that way as well.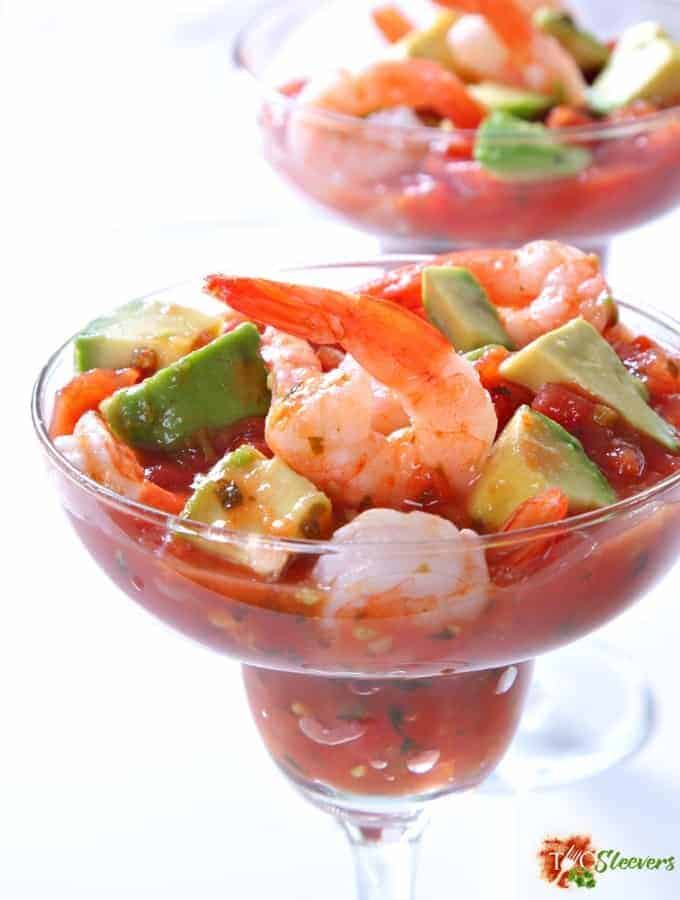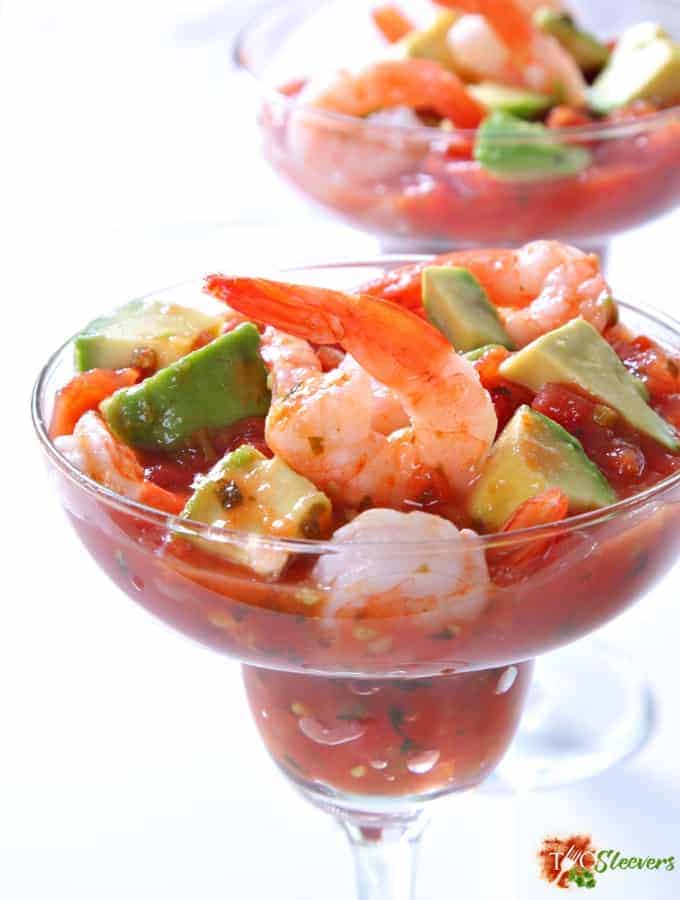 ? DID YOU MAKE THIS RECIPE? DON'T FORGET TO GIVE IT A STAR RATING BELOW! JUST CLICK ON THE STARS IN THE RECIPE CARD TO RATE.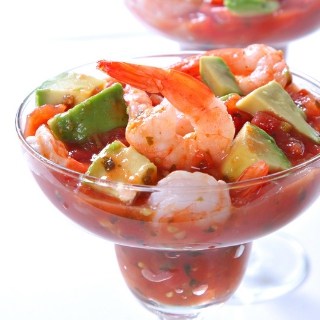 Click on highlighted ingredients or Equipment to see exactly what I use to make this recipe
Ingredients
For the Shrimp
1/2

pound

Shrimp,

cooked, peeled, de-veined, and tails taken off

1

teaspoon

Kosher Salt
Instructions
Chop all pico de gallo ingredients (except avocado) into small cubes of uniform shape and size. I totally cheat and use a chopper to chop everything including the tomatoes. Just be sure to put the tomatoes skin side down and it will go through your onions, tomatoes, cucumber, jalapeno and yes, even the cilantro. I use this pull chopper or this push chopper
and love them both!

Mix all ingredients for sauce.

Mix sauce with chopped vegetables and shrimp and let it sit on the counter to let the flavors marry. If longer than 30 minutes, let it sit in the refrigerator.
This is best if served chilled. The flavors will blend best if it's allowed to sit in the fridge for 30 minutes or longer before eating.
Save time by using store bought pico de gallo and boiled shrimp.
Use parsley instead of cilantro if you don't like it. 
Omit the hot sauce to keep it from being spicy, or add more to kick it up a notch!
Get support & connect with our community on Facebook!
Nutrition
Calories:
156
kcal
|
Carbohydrates:
13
g
|
Protein:
10
g
|
Fat:
8
g
|
Fiber:
5
g
|
Sugar:
5
g
Tried this recipe?
Follow @twosleevers and Pin it!