This Instant Pot Shrimp with Tomatoes and Feta and olives is one of the easiest, simplest recipe you will make in your Instant pot or pressure cooker. High protein, low carb, and fast.
Shrimp with Tomatoes and Feta
As is my wont, I threw together things into the pressure cooker and hoped like heck they'd turn into something half way reasonable. But I don't think I really understood how to eat this dish until we had finished with dinner. I ate it as mostly shrimp with toppings.
We realized later that it was the totally wrong way to approach this dish. Because one of the tastiest parts of this dish is actually the tomato broth.
So you're better off eating the Shrimp with Tomatoes and Feta it like a soup, with buttered bread to dip into it, or like a thinner stew, or over rice. I also realized it tastes better when a little cooler.
I think the trick with this Shrimp dish is to put the cheese in when the broth is hot so it melts/warms, and then let it sit for a few minutes before serving it. That thickens up the stock and makes it very tasty.
This is a wonderful, light supper with a fresh summer taste. The cheese and olives give it a tang and some rich umami taste.
Variations on this the Shrimp with Tomatoes and Feta:
Bake it. I've provided pressure cooker directions, but you could of course also bake this. I think baked shrimp with tomatoes, olive and feta would be amazing during the cooler months.
Change up the herbs. I used oregano but you could use a greek seasoning blend, or an italian seasoning blend or even a cajun seasoning blend to add a variety of flavors.
The Recipe Steps for the Shrimp, Feta and Tomatoes are:
Add butter, garlic and red pepper flakes to your Instant Pot or electric pressure cooker
Add remaining ingredients and cook at low pressure for 1 minutes, QPR
Add feta cheese, parsley and olives and serve
Equipment you may need to make this Dish are:
You may also want to check out my Keto Instant Pot Cookbook–the only Keto Cookbook authorized by Instant Pot. This cookbook is full of delicious recipes that even your non-keto Family will love.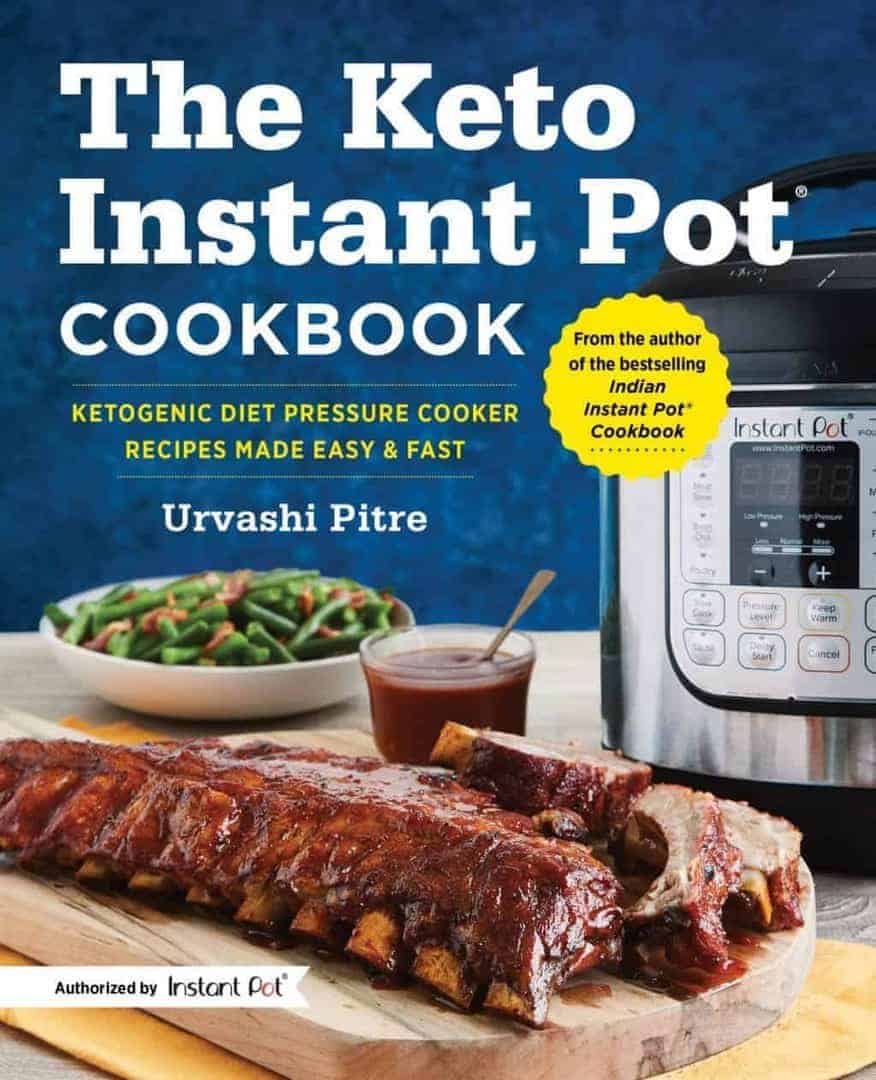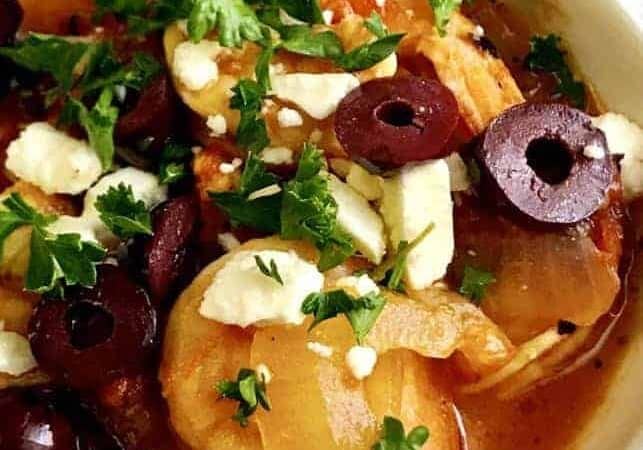 Instructions
For the Instant Pot
Turn your Instant Pot or Pressure cooker to Sauté and once it is hot, add the butter. Let it melt a little and then add garlic and red pepper flakes.

Add in onions, tomatoes, oregano and salt.

Pour in the frozen shrimp.

Set your Instant pot to LOW pressure 1 minute.

Once the pot is done cooking, release all pressure immediately.

Mix in the shrimp with the rest of the lovely tomato broth.

Allow it to cool slightly. Right before serving, sprinkle the feta cheese, olives, and parsley.

This dish makes a soupy broth, so it's great for dipping buttered french bread into, or eat over rice, or riced cauliflower.
Notes
Serving suggestions:
French Bread & Butter
Rice Riced
Cauliflower
Eat plain.
Nutrition
Calories:
211
kcal
|
Carbohydrates:
6
g
|
Protein:
19
g
|
Fat:
11
g
|
Saturated Fat:
6
g
|
Cholesterol:
222
mg
|
Sodium:
1468
mg
|
Potassium:
148
mg
|
Fiber:
1
g
|
Sugar:
2
g
|
Vitamin A:
525
IU
|
Vitamin C:
9.8
mg
|
Calcium:
259
mg
|
Iron:
2.2
mg