Make a festive Instant Pot Apple Cake with a simple box mix and some fresh apples!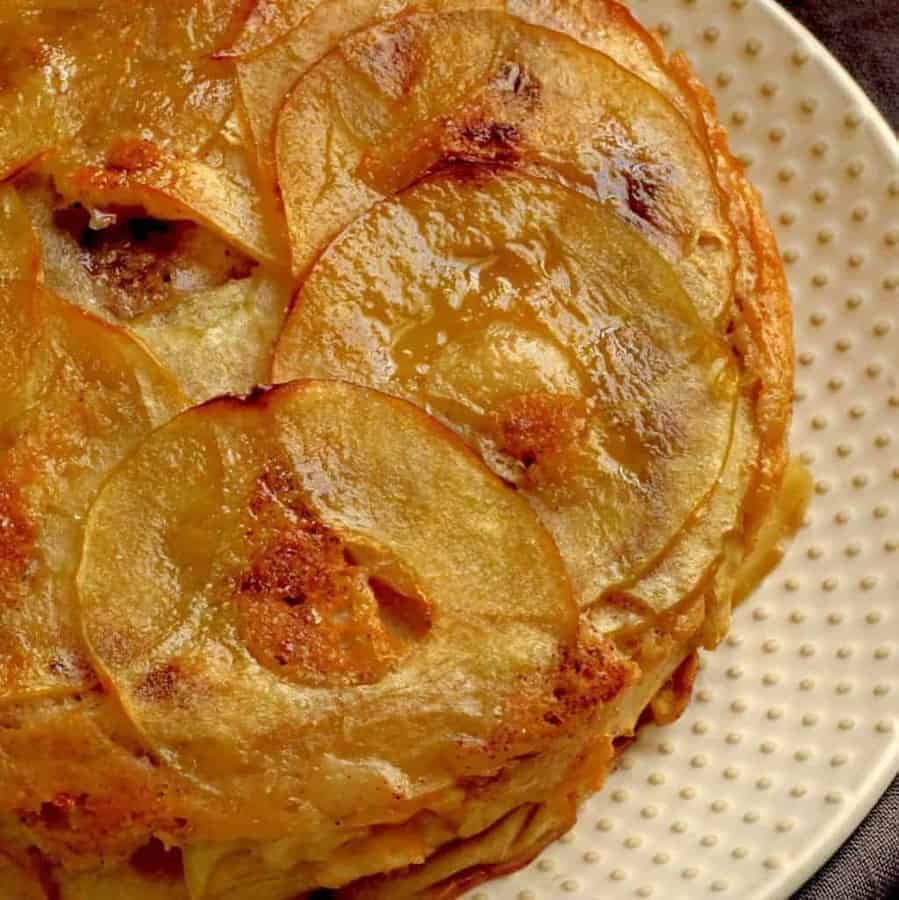 This is a recipe for an Instant Pot Apple cake. It's my husband's birthday tomorrow and I love him but it's also 100 degrees in Texas and I really didn't want the oven on. So I made an apple cake in the Instant Pot.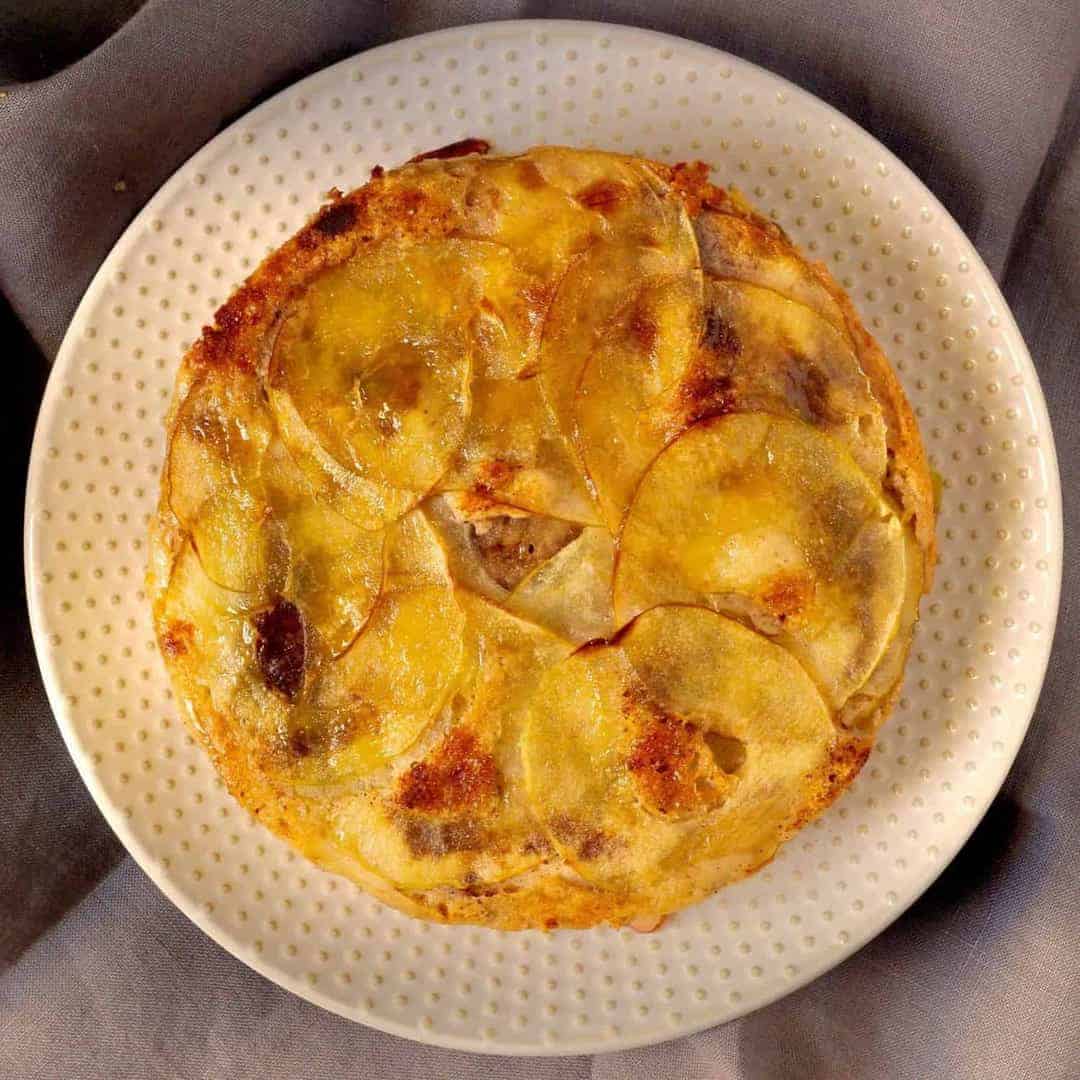 This recipe is not at all keto or low carb. I plan to try it that way, but the way I made this was by just using a quick ready muffin mix. To make this Instant Pot Apple Cake, you will need to do the Pot-in-Pot cooking.
What is Pot-in-Pot Cooking?
This is just a fancy way of saying you'll be placing some water in the inner liner of your Instant Pot.
Then, you're going to place a steamer rack in the liner, with the water below it.
You'll use a smaller pot that can fit inside your Instant pot to place the apples and the muffin mix into.
You're going to cover this cake pot with either silicone or foil to keep the condensation out and place it on top of the steamer rack.
Now you have liner +water + steamer rack +cake pan+lid.
This is a very useful technique for either cooking multiple things together, or for slowing down cooking for things like Shrimp, fish or vegetables that might overcook if cooked directly in the pot.
The steps for this Instant Pot Apple Cake are:
Line a 6-inch pan with apples
Pour muffin mix on top
Cook PIP for 20 mins, 10 mins NPR
Sprinkle sugar and broil
★ Did you make this recipe? Don't forget to give it a star rating below! Just click on the stars in the recipe card to rate.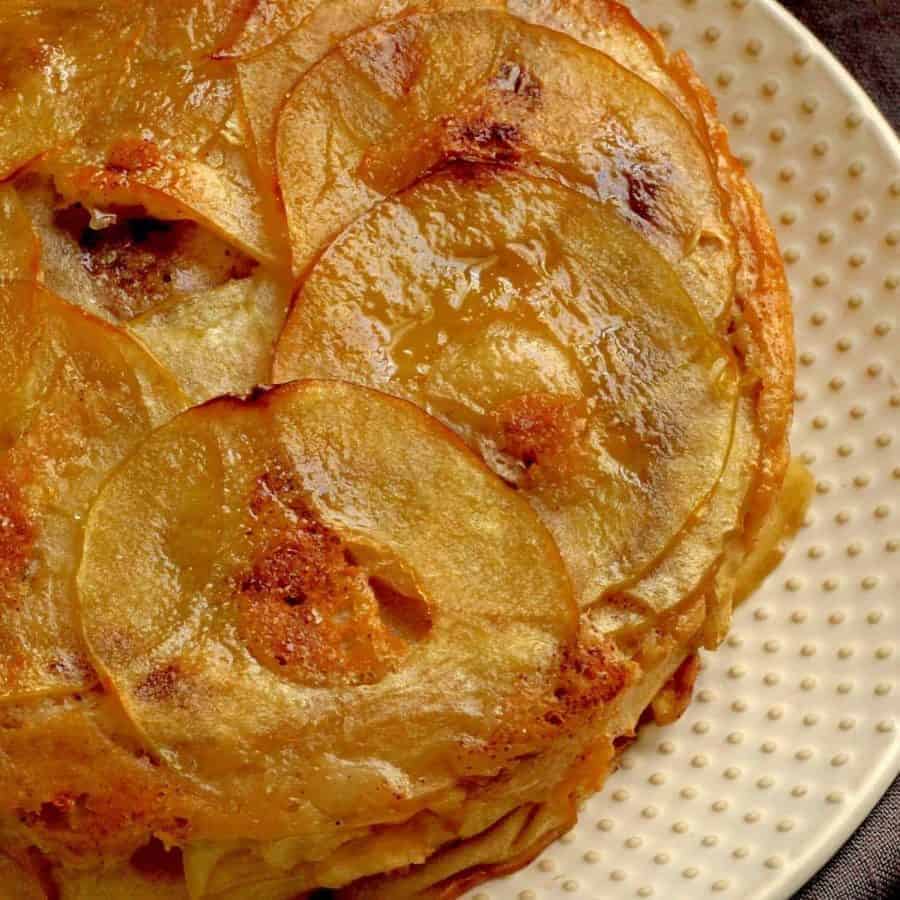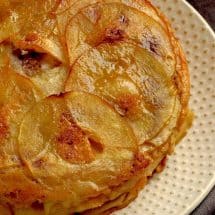 Instant Pot Apple Cake
Quick cake in your pressure cooker or Instant Pot using a cake mix and some fresh apples
Dietary Consideration:
Vegetarian
Cooking Style:
Instant Pot/Pressure Cooker
Ease of Cooking:
Less than 5 ingredients, Pour and Cook, Under 30 Mins
Recipe Type:
Desserts, Pressure Cooker
Instructions
Into the pan, layer thinly sliced apples along the bottom, and up the sides a little. Don't worry about this being perfect, just make sure you're overlapping slices so you have the bottom and a portion of the sides covered in apples.

Sprinkle the apple pie spice on the apples.

Prepare the muffin mix according to the directions, combining it with the milk.

Pour the mix on top of the apples. Cover this bowl with foil or a silicone lid.

In the inner liner of your Instant Pot, place two cups of water, and a steamer rack. Place the foil-covered pot on the rack.

Cook the cake on high pressure for 20 minutes and let it NPR for 10 minutes.

Remove the carefully and let it cool for 5-10 minutes before overturning carefully.
To brown the top of the cake:
Turn on your oven broiler and sprinkle the overturned cake with sugar.

Broil until the sugar melts and caramelizes, about 5-7 minutes.
Nutrition facts per serving
I am not a registered dietician or nutritionist. Nutritional information is provided a courtesy, and can vary depending on the exact ingredients you use.
Don't forget to check out my Instant Pot Fast & Easy Cookbook!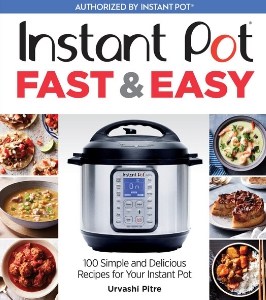 This book is full of all kinds of boldly flavored and internationally-themed recipes—Mexican, Thai, Moroccan, and more—with Instant Pot Fast & Easy, fully authorized by Instant Pot. Just like you have come to expect, my recipes will work perfectly every time, and of course taste great too. And because these are Instant Pot recipes, dishes like Japanese Chicken Curry, Chinese Steamed Ribs, and Mexican Pulled Pork are ready in a fraction of the time they would take using traditional cooking methods. As with all of my recipes, the focus is on whole foods instead of artificial convenience ingredients, so the recipes are delicious, easy, and healthful too.