If you're looking for a quick, simple, gluten-free, vegan dessert recipe, you will love this easy Ginger Cassava Cake recipe. No grating cassava, no cans of condensed milk, just 4 quick ingredients.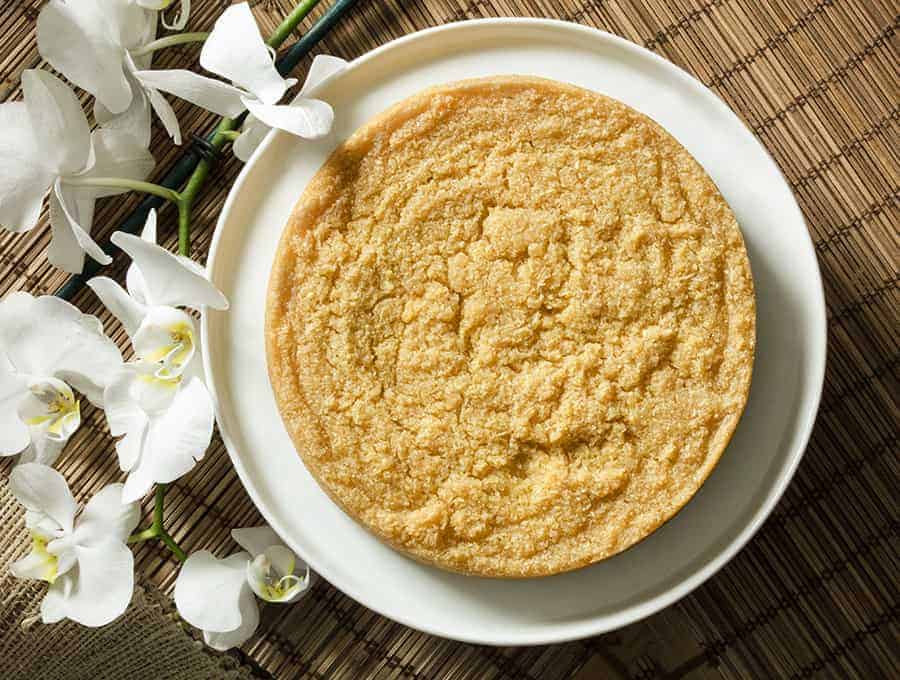 This Ginger Cassava Cake delightfully sweet, moist and positively scrumptious, and is a great dessert option for those days when you want to bake but don't feel like measuring out tons of ingredients.
But don't let the simplicity of the recipe fool you. This Ginger Cassava Cake an absolute treat that you're sure to love!
What is Cassava?
Cassava is a shrub that is native to South America. The portion that is used to make Cassava flour is actually the tuberous root of the plant.
Cassava is high in Vitamin C and is a great source of energy as well. Though it is commonly known for being used to produce tapioca, it's also used as a potato-like side, in soups or as a flour in desserts.
You will need to get cassava flour for this recipe. You can find it easily in African grocery stores--but if you're like me, the problem is FINDING an African grocery store near your house!
So of course, I get my cassava flour on Amazon. Here's the link to the cassava flour you will need.
What Makes this Ginger Cassava Cake Amazing?
Now that you know what Cassava is, let's get to why this Ginger Cassava Cake recipe is so great!
4 ingredients. First of all, it only takes 4 ingredients to make. No, that's not a typo. It legitimately only takes 4 ingredients.
Simple. All that it takes to make this delicious dessert is mixing the ingredients together, pouring the batter into a pan and throwing it in the oven for half an hour. How's that for simple?
How To Make Ginger Cassava Cake
Grease a 6-in baking pan and set aside.
Preheat oven to 350F.
Whisk together cassava flour, coconut milk, Truvia or sugar, and minced ginger in a medium bowl. Pour into the prepared bowl.
Bake at 350F for 30 minutes and then allow the cake to cool in the pan for 5-10 minutes. Slice into 6 wedges and serve hot.
What is the Texture of This Cake?
This is a recipe I made up one day, after I returned from Belize where I saw them making sweets with Cassava flour.
Then, I had a friend who was teaching me about Nigerian cuisine and she was using cassava to make a pounded cassava bread. I decided to make a sweet cake with it instead.
Texture. The cake is moist, but it most resembles a moist cornbread in texture.
Taste. The taste of the ginger is sweet, and warming, but not spicy.
Sugar. You can use sugar instead of Swerve in this cake.
What makes this Cassava Cake Recipe Different?
No grated yucca. Most of the other cassava cake recipes you will find are recipes for a Filipino cassava cake. That cake uses condensed milk (or, sugar overload!). Many of them also ask you to start with grated Yucca. There is no grated Yucca to be found in my suburban neck of the woods!
Cassava flour. My recipe calls for cassava flour to help you skip a few steps.
No condensed milk. There is no condensed milk in this one, just coconut milk from a can. So basically this is a cake you can make with pantry staples--once you get the cassava flour of course!
Can I freeze this Cassava Cake?
I am not sure that I would. There's really so little in this cake. No egg, no butter, nothing that would hold up, except the fat in the coconut milk. I think you should plan to eat this within a day or two.
Other Gluten-Free Cakes You Might Like
This Cassava Ginger Cake is sure to be one of the easiest cakes you've ever made. Since the cake doesn't use eggs or flour, it's completely vegan-friendly. And for those of you with gluten intolerance, this cake is gluten-free!
This Cassava Ginger Cake is Simple, sweet and delicious. What more can you ask for? Make sure to share this recipe with your friends on Pinterest and Facebook so they can enjoy it as well!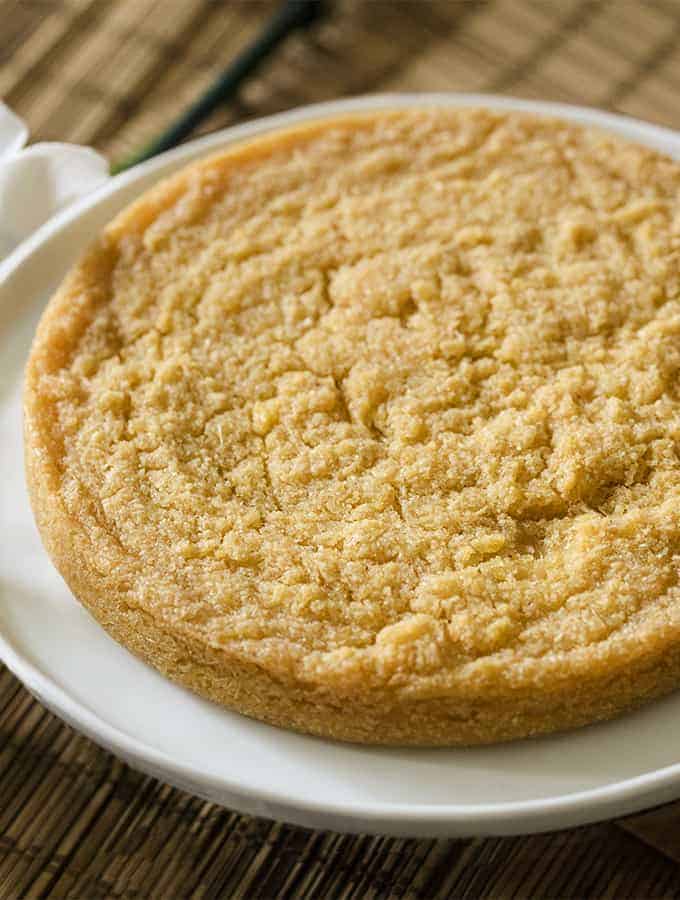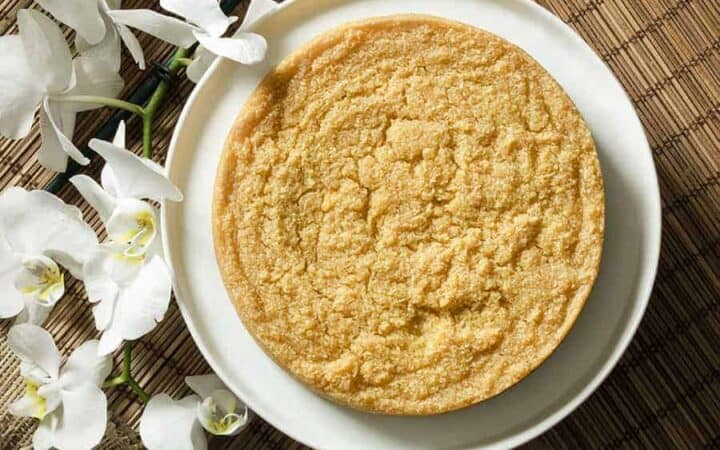 Click on highlighted ingredients or Equipment to see exactly what I use to make this recipe
Instructions
Preheat oven to 350F. 


In a medium bowl, whisk together cassava flour, coconut milk, Truvia or sugar, and minced ginger. Pour into the prepared bowl.


Bake at 350F for 30 minutes and then allow the cake to cool in the pan for 5-10 minutes. Slice into 6 wedges and serve hot.

Get support & connect with our community on Facebook!
Nutrition
Calories:
71
kcal
|
Carbohydrates:
17
g
|
Protein:
1
g
|
Fat:
1
g
|
Fiber:
1
g
|
Sugar:
1
g
Tried this recipe?
Follow @twosleevers and Pin it!
Indian Instant Pot, Keto Instant Pot, Instant Pot Fast and Easy, Healthy Instant Pot & Vegetarian Instant Pot.