Are you on a keto diet and missing dessert? Are you just dying for some keto chocolate truffles? I have a recipe for keto truffles that is so good that you might want to try it even if you aren't following a keto diet. Low carb chocolates that taste good? Yes indeed!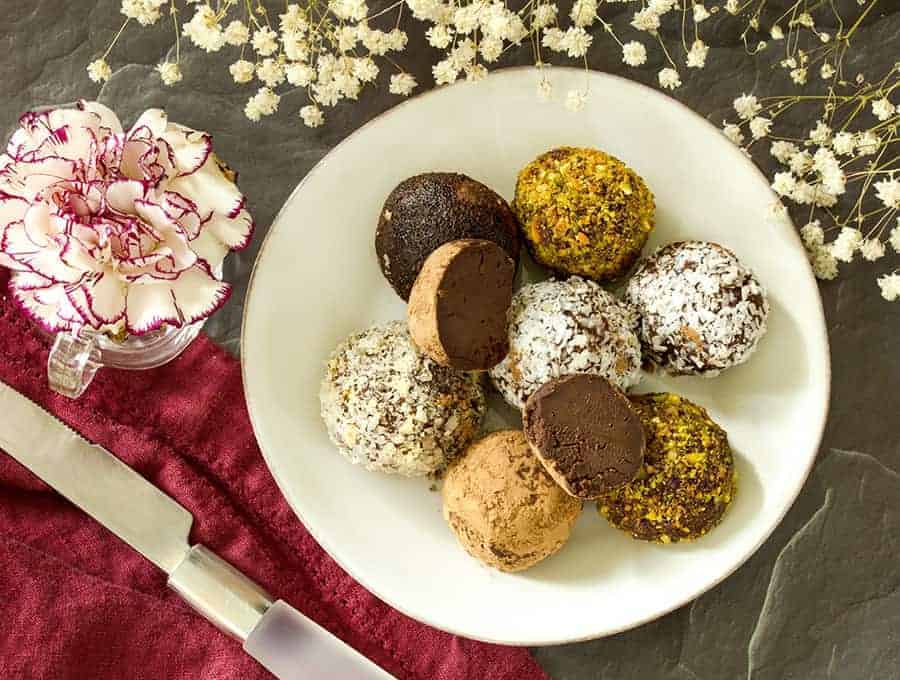 Jump to:
What Makes These Chocolate Truffles The Perfect Keto Snack?
Fast. I don't know about you, but I never have time for complicated recipes. If I can't make something in under 30 minutes, I don't bother. This keto truffle recipe only takes 5 minutes to make.
Easy. This is a simple pour and cook recipe. Pour everything in a heat-safe bowl, microwave, and chill.
Low Carb. Believe it or not, there is only 1 net carb per serving in these delicious chocolate truffles.
Gluten Free. These sugar-free truffles are the perfect low carb dessert for anyone that has a gluten allergy.
Low carb desserts and sugar-free desserts can really help you stick to your keto diet without feeling deprived.
I have accepted that I need sweets sometimes, and I find it's easier to plan to make keto sweets than fail at the last minute. I've been wanting to make a keto version of truffles but I wanted something fast, with very little cooking.
Well, I got half of my wish. There's not much cooking--really it was ONE MINUTE in the microwave. But it requires pre-planning because you actually need to put it in the freezer or a little bit, and then save it in the fridge. But still, it's mainly hands-off time.
At 1 gm of net carbs, it's a great easy, delicious dessert that satisfies my sweet cravings.
What Sweets Can I Have On A Keto Diet?
Believe it or not, a low carb lifestyle doesn't prevent you from enjoying some of your favorite sweet treats. While you can't have the exact indulgences that you had before, you can modify them with great keto-friendly ingredients that taste just as good -- if not better -- than the original.
This is why I decided to come up with this keto truffle recipe (and dozens of other low carb desserts you should try too!)
How To Make Perfect Keto Truffles
After a little bit of playing around, here is what I have learned:
Do not skimp on the chilling time. This can make ALL the difference between a fun experience, and a very frustrating experience as you make these keto chocolate truffles. You will need to chill twice: once after you've microwaved all ingredients so that the chocolate ganache can stiffen, and once after you've shaped it into truffles.
If your chocolate seizes or turns into a big sticky, grainy mess, don't panic. Use 1 tablespoon of hot water at a time and stir vigorously to incorporate and melt your chocolate.
You can always turn this keto truffle recipe into a pourable ganache and ice some low carb keto cakes that I have listed such as the keto chocolate cake, the coconut almond cake or any other keto cake that you like.
Keto Chocolate Truffle Variations
These sugar free chocolate truffles are absolutely delicious as the recipe is written, but some times I need a little variety to keep this low carb lifestyle exciting.
Here are a few variations I've tried that are just as delicious with some great low carb additions. *NOTE* the nutrition facts listed below are for the original truffle recipe. Any additional toppings will change the totals for your chocolate truffles.
Coconut Chocolate Truffles- roll your keto truffles in unsweetened coconut flakes
Double Chocolate Truffles- sift dark chocolate cocoa over your sugar free truffles
Peanut Butter Chocolate Truffles- dip your truffles in PB2 or another brand of powdered peanut butter
Chocolate Crunch Truffles- finely chop pecans or pistachios and sprinkle over the top for a delicious low carb truffle
Want More Low Carb Desserts?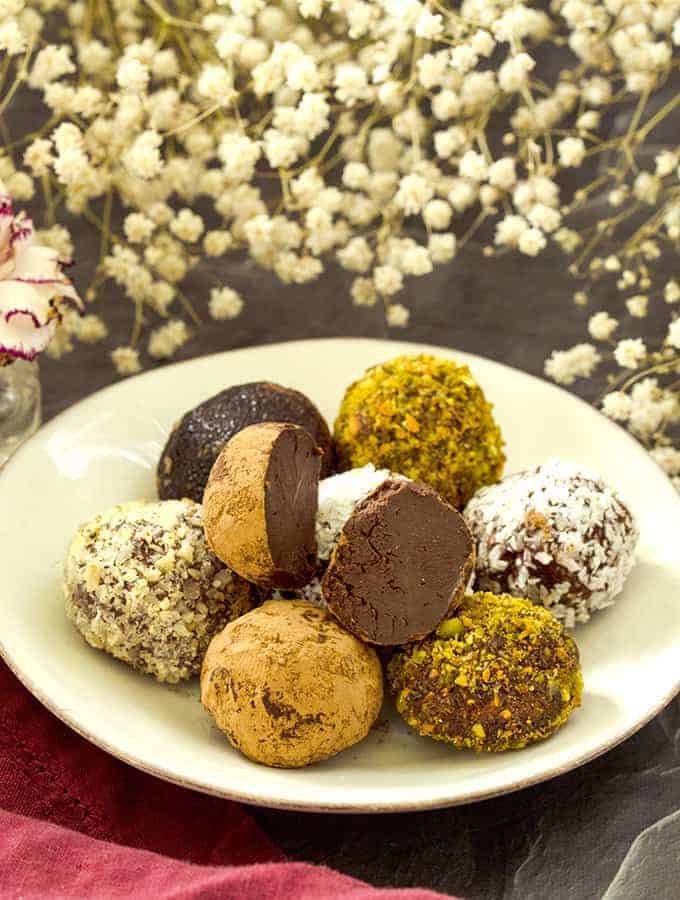 If you love these keto chocolate truffles as much as I do, make sure you share them with your friends on Facebook and Pinterest so they can make them too!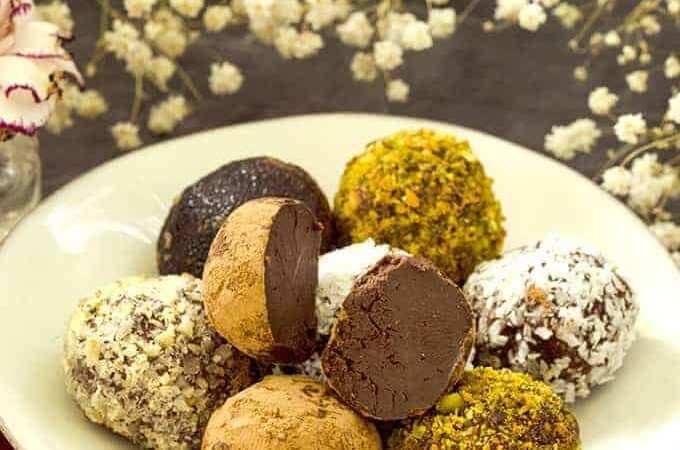 Click on highlighted ingredients or Equipment to see exactly what I use to make this recipe
Instructions
Place chocolate chips, cream, butter, espresso, and vanilla into a heatproof bowl and microwave for 1 minute.

Stir everything together with a spatula until everything is well-mixed.

Place in freezer for 30 mins or more until the mixture solidifies.

Place cocoa and coconut shreds in two small places.

Remove truffle mix from the freezer and make 16 small balls. Place half the balls in the cocoa plate, one at a time and roll them around until they're coated and set aside.

Press the coconut shreds into the remaining truffles and form into round balls.

Set both lots in the fridge to set for about 30 minutes, or until ready to serve.
Get support & connect with our community on Facebook!
Nutrition
Calories:
250
kcal
|
Carbohydrates:
5
g
|
Protein:
3
g
|
Fat:
20
g
|
Fiber:
4
g
Tried this recipe?
Follow @twosleevers and Pin it!
Don't forget to check out my other Keto cookbooks.
Keto Instant Pot, Keto Fat Bombs, Sweets, & Treats, and Easy keto in 30 minutes.