If you love sweet potatoes, but hate how long it takes to cook them in the oven, you HAVE to try this Air Fryer Sweet Potato recipe! Not only is it fast and easy, but it gives a perfectly crispy skin without adding a ton of oil.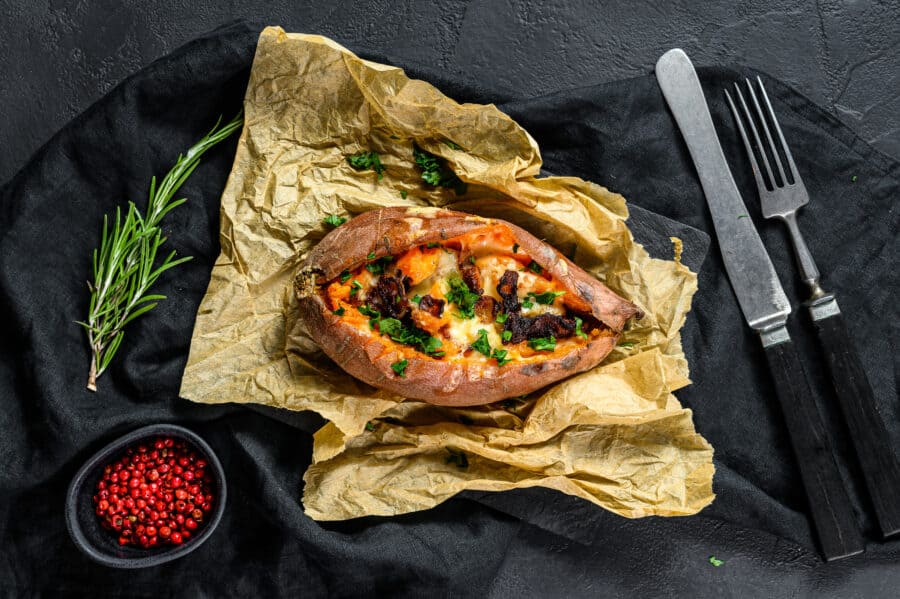 Why You'll Love Making These
Fast. A wonderfully filling side dish or main course made in less than 30 minutes.
Easy. Wash your sweet potato, poke a few holes, spray with oil, and air fry until tender.
Versatile. Top with your favorites for a customizable recipe your whole family will love.
Healthy. Sweet potatoes are rich in vitamins and minerals.
Ingredients You'll Need
Sweet Potatoes- Grab sweet potatoes that are uniform in size, approximately the size of your fist to easily gauge the cooking time.
Butter- You can use vegetable spread as a vegan option.
Cheese- Again, vegan shredded cheese is just as tasty. If you're not living a vegan lifestyle, you can pick your favorite shredded or crumbled variety.
Bacon- Adds a little more protein to this to make it a great meal option. Plant-based crumbles are a tasty alternative.
Parsley- to garnish and give additional color to your plate.
How Long Does It Take To Air Fry A Sweet Potato?
The trick to giving you an accurate answer to this question is establishing the size of your potatoes.
Unfortunately, sweet potatoes are far from consistent in size. So buying them individually instead of in bulk is the key to success.
If you grab sweet potatoes about the size of your fist, and similar in size, you should be able to air fry them in about 30 minutes.
How To Make This Air Fryer Sweet Potato Recipe
Thoroughly wash your sweet potatoes.
Use a fork or knife to puncture holes across the surface of the sweet potatoes.
Spray with vegetable oil and season.
Air fry for half of the time listed and flip them over.
Continue to air fry for the remaining time, spraying with additional oil.
Remove from the air fryer basket and cut the potatoes lengthwise.
Garnish with your favorite toppings and enjoy!
Tips and Tricks
Don't skip the oil. Even with a fine mist, the amount of oil you use is substantially less than deep frying these potatoes or slathering them in lard for deep frying or baking.
Top to your liking. This is one of my favorite recipes to use what I have left in the fridge or pantry between shopping trips. Use what you have to top these air fryer sweet potatoes for an always-satisfying bite.
Make extra. If you live a hectic lifestyle or love meal prep, this will be your new favorite recipe
Poke lots of holes. For a faster cooking experience and to prevent splitting of the skin, take a fork or the tip of a knife to poke holes evenly in the skin of the potato.
Variations
Make it meaty. Add steak, chicken, or pulled pork for a hearty dish.
Sweet and salty. Top a split sweet potato with butter, honey, and brown sugar for a side dish that reminds you of the holidays without all of the fuss.
Taco Tuesday. Use your favorite taco toppings with a crispy sweet potato for your "shell".
Protein-packed and vegetarian. Top with cheese, air fryer chickpeas, and a dollop of greek yogurt for a vegetarian-friendly meal.
How Long Do They Last?
If you are using air fryer sweet potatoes for meal prep, cook them as the recipe calls for, but avoid topping them. This will help them last longer and make them easier to reheat.
If stored in an air-tight container, you can expect them to last 4-5 days and be just as tasty as the day you made them.
To Reheat
To reheat your cooked sweet potato, you can use your air fryer, microwave, or oven.
Since they are fully cooked, you can expect to warm them in your oven at 375F for 8 minutes, your air fryer at 400F for 5 minutes, or in your microwave at full power for 3 minutes.
If you're going to eat the skin, I would highly recommend using your air fryer to reheat these. It makes the skin extra crispy and closely resembles the texture of one of my favorite appetizers--potato skins.
What Do You Serve With An Air Fryer Sweet Potato?
The best things to serve with these air fryer sweet potatoes completely depend on how you top them.
If you're making them a full meal and topping them with lots of protein, use one of these as a side:
If you want to make these as a side dish, here are some of my favorite main courses to serve alongside them:
More Easy Air Fryer Recipes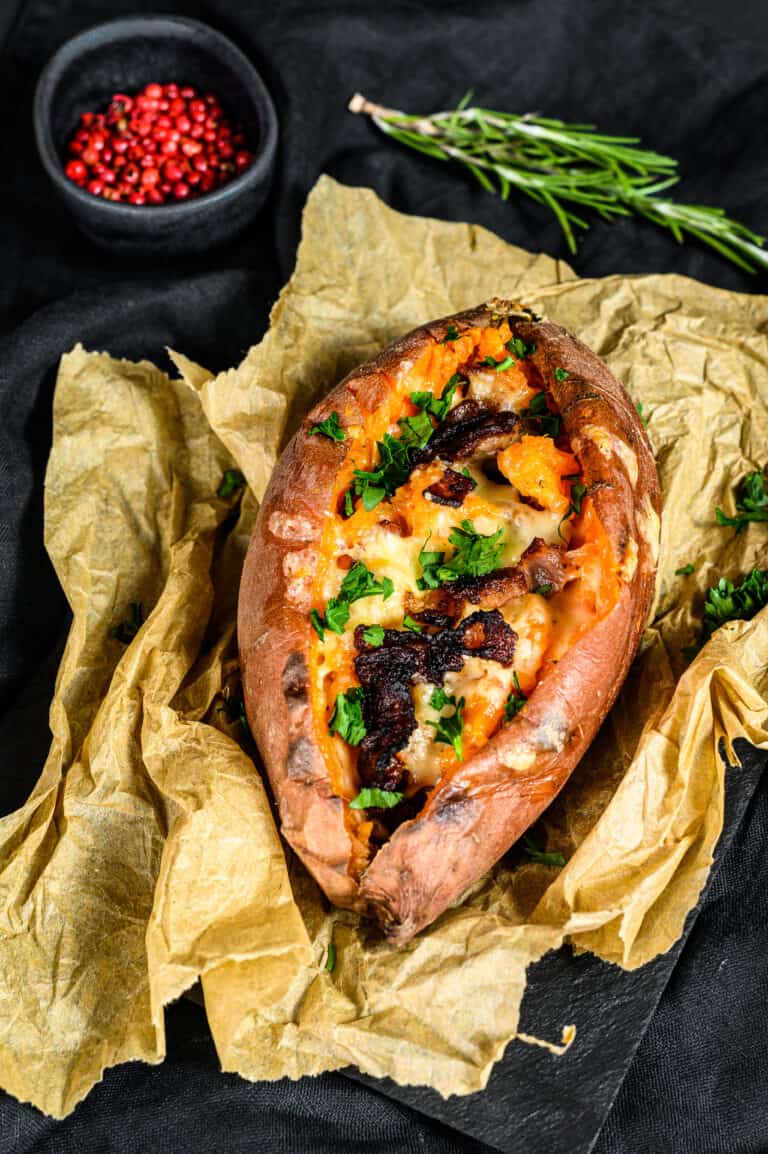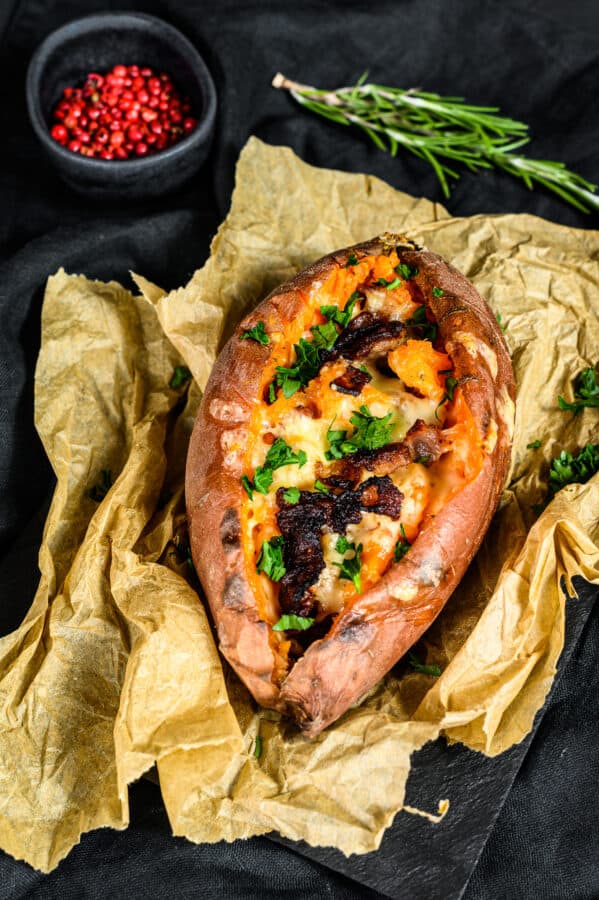 If you love this Air Fryer Sweet Potato recipe as much as we do, make sure you share it with your friends on Facebook and Instagram so they can try it too! Don't forget to pin it so you can make them again soon.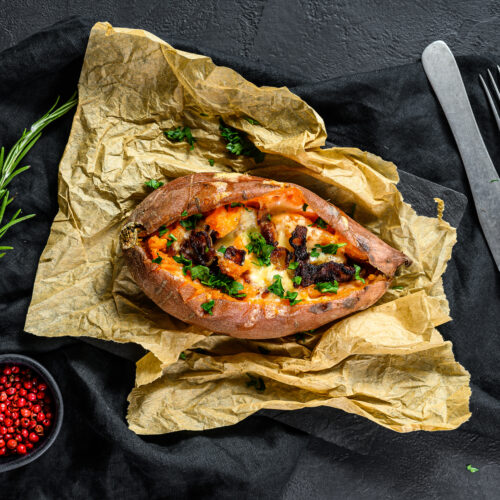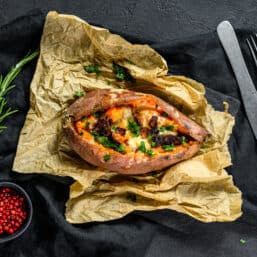 Air Fryer Sweet Potatoes
Ingredients
4

sweet potatoes

2

tbsp

Olive Oil

1

tsp

Kosher Salt

1

tsp

Ground Black Pepper

1

cup

shredded sharp cheddar cheese

1/2

cup

bacon bits

1

tbsp

Chopped Parsley
Instructions
Preheat your air fryer to 375F

While waiting for your air fryer to preheat, thoroughly wash your sweet potatoes and use a fork or sharp knife to puncture holes in the skin.

Spray the outside of your sweet potatoes with oil and season. Air Fry for 35 minutes, turning half way through the cooking time.

Remove the potatoes from the air fryer basket and slice them vertically. Garnish with your favorite toppings and enjoy.
And don't forget to check out my air fryer cookbooks! Every day easy air fryer, and Air Fryer Revolution.