Picky eaters rejoice! With this incredibly simple but utterly delicious Air Fryer Mushrooms recipe, you'll have a low carb side dish the whole family will love.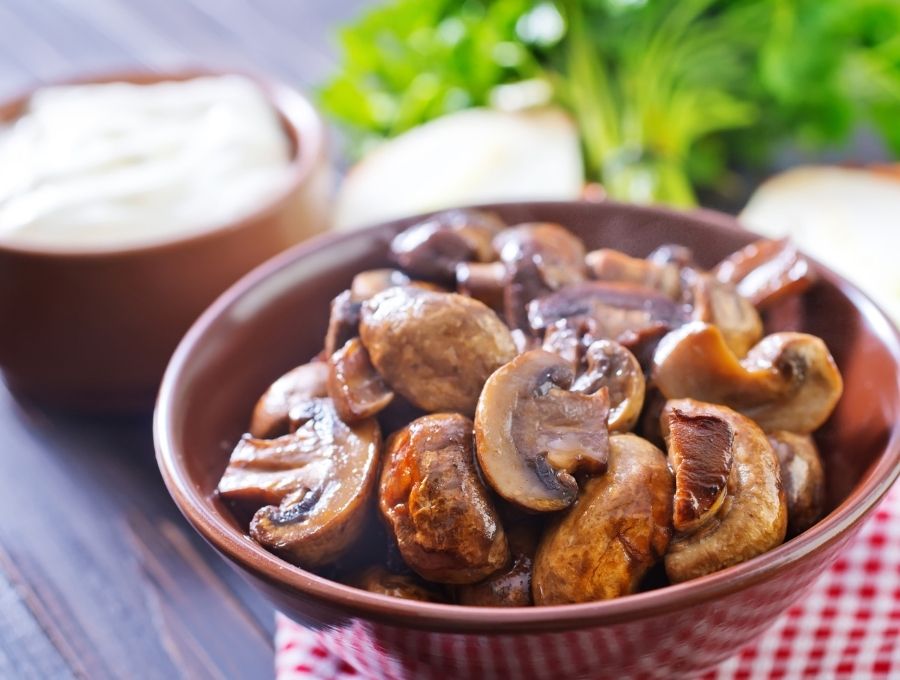 Jump to:
Why Your Whole Family Will Love These Air Fryer Mushrooms
Fast. Make these perfectly cooked mushrooms in less than 30 minutes.
Easy. Toss your mushrooms in some spices and oil and cook them in your air fryer.
Low Carb.
Few Ingredients. Less than 5 ingredients to have a tasty weeknight side dish.
Vegetarian. Kick Meatless Monday up a notch with this simple air fryer recipe.
Are Mushrooms Good On Keto?
Not only are they delicious, high in fiber, and a source of protein, mushrooms are also incredibly low in calories and carbohydrates.
If you're struggling to find a healthy and yummy addition to your daily keto meal rotation, mushrooms are a perfect choice.
How Many Carbs Are In Mushrooms?
Mushrooms are low in carbs, but just HOW LOW are they in carbs? If you're familiar with a keto lifestyle, you're probably aware that tracking macros can be essential to your success, especially if you've hit a weight loss plateau.
Mushrooms average 3.3g of total carbs per serving. If you choose to track net carbs instead of total carbs, mushrooms average 2.3g of net carbs per serving.
What Are The Best Mushrooms To Air Fry?
As a mushroom lover, I will tell you that I try not to play favorites with flavor. Each type of mushroom adds something different and delicious to a dish.
For air frying, however, I prefer Baby Bella mushrooms or button mushrooms. They hold up to the higher temperatures without drying out and they're one of the more mild-flavored mushrooms.
If you're cooking for picky eaters or just want this to be a universal pairing for your main course, they are the best choice for mushrooms to air fry.
Ingredients You'll Need
With less than five ingredients, you can have a tasty low carb side dish. Here's what you'll need to have in your kitchen before you get started:
Baby Bella Mushrooms
Olive Oil
Salt
Pepper
Garlic
How To Cook Mushrooms In Your Air Fryer
Who doesn't love a super simple air fryer recipe that is perfect for a busy weeknight and can be made in under 30 minutes?
These air fryer mushrooms fit that bill perfectly. Here's how to make them:
Thoroughly wash and dry your mushrooms
Cut mushrooms in half vertically
In a mixing bowl, toss the halved mushrooms in olive oil, salt, pepper, and minced garlic
Place seasoned mushrooms into your air fryer basket
Cook at 375F for 12 minutes, shaking your air fryer basket halfway through to prevent sticking and uneven cooking.
Can You Make This Keto Mushrooms Recipe In The Oven?
If you're still getting up the nerve to try out your new air fryer, or simply haven't picked up one of your own yet, you can still make this easy mushroom recipe in your oven. Here's how:
Preheat your oven to 400F
Wash and dry mushrooms
Cut them in half or in quarters
In a mixing bowl, toss the halved mushrooms in olive oil, salt, pepper, and minced garlic
Place the seasoned mushrooms on a baking sheet
Bake in the oven for 15 minutes
Carefully remove any moisture that may have accumulated in the bottom of your baking sheet
Gently shake mushrooms in the baking sheet and return to the oven
Bake for an additional 20 minutes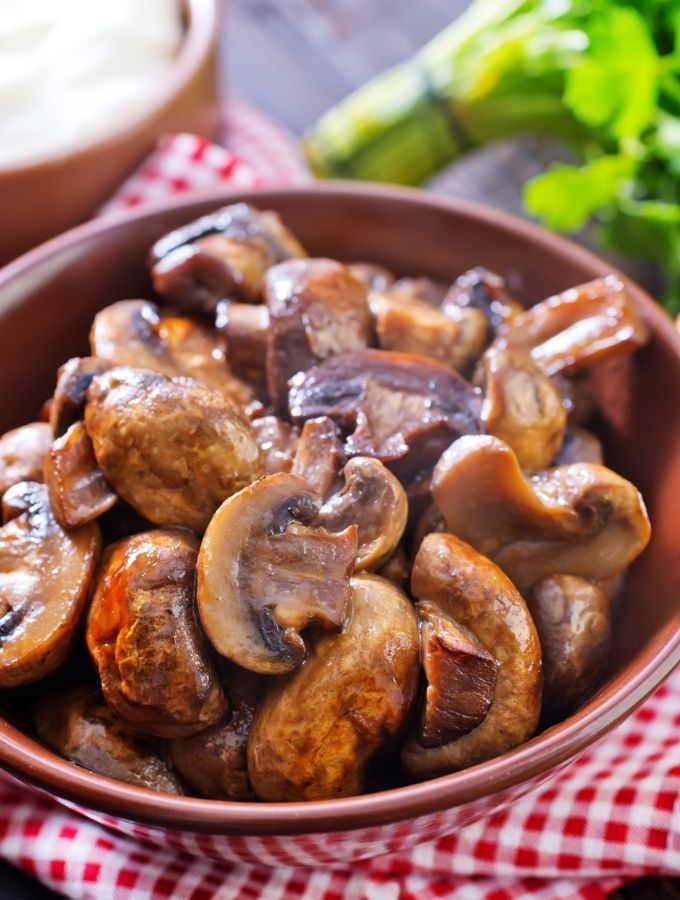 Tips And Tricks
Change it up. Feel free to swap out the Baby Bella mushrooms with your favorite type of mushroom or whatever you happen to have in your fridge.
Marinate. After you have washed and dried your mushrooms, toss in teriyaki sauce, soy sauce, or even Worcestershire sauce and marinate for 15 minutes for an extra punch of flavor.
Make them consistent. Whichever way you choose to cut (or not cut) your mushrooms before tossing them in your air fryer, make sure they are uniform in size. This will help them cook evenly.
Can I Cook Frozen Mushrooms In The Air Fryer?
You absolutely can! If you don't have access to fresh mushrooms, or just want to skip the extra prep, just toss them in the air fryer at 375F for about 15 minutes.
Can You Air Fry Mushrooms To Dry Them?
Technically, yes. However, I wouldn't recommend it. While most air fryers aren't overwhelmingly loud, you can still hear them.
Considering the time to dehydrate mushrooms in an air fryer can be up to 8 hours, I would reach for an actual dehydrator to get the job done.
If you're wanting to give it a try, cut your mushrooms into thin slices and toss them in the air fryer at 200F for 6-8 hours.
What Do You Eat With Mushrooms?
I absolutely adore mushrooms (especially when they're made in the air fryer) because of how versatile they are and how well they round out a meal.
Pair these easy air fried mushrooms with one of these other tasty dishes:
How Long Do They Last?
Air fryer mushrooms are great for meal prep because they are easy to make, pair well with many dishes, are low carb, and reheat well.
For the best results, try to enjoy your air fryer mushrooms withing 3-5 days of preparing them.
More Easy Air Fryer Recipes
Keep your time spent in the kitchen enjoyable and efficient with the help of your air fryer!
Here are some of my favorite air fryer recipes you'll want to add to your weekly meal rotation: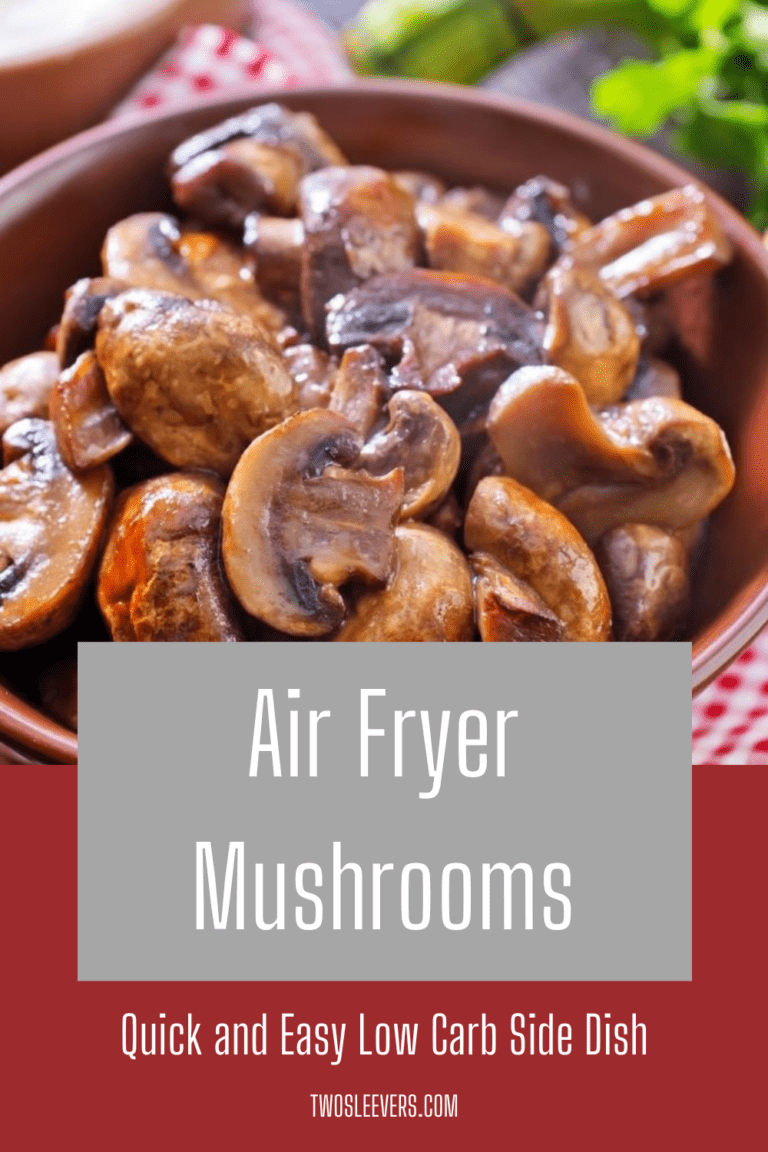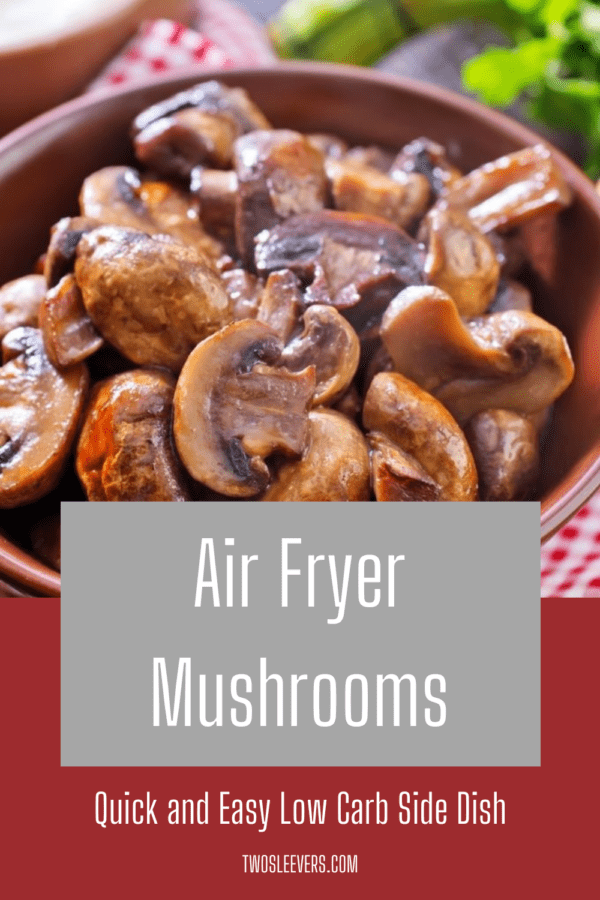 If you love this tutorial on how to make Air Fryer Mushrooms, make sure you share it with your friends on Facebook and Pinterest so they can try it too!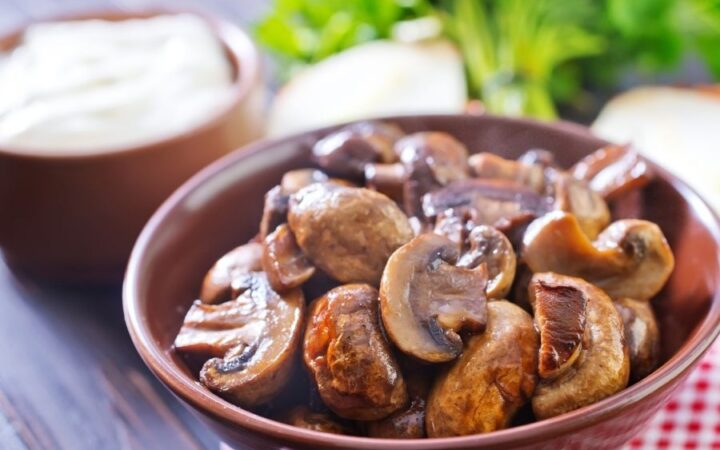 Click on highlighted ingredients or Equipment to see exactly what I use to make this recipe
Get support & connect with our community on Facebook!
Nutrition
Calories:
78
kcal
|
Carbohydrates:
3
g
|
Protein:
2
g
|
Fat:
7
g
|
Fiber:
1
g
|
Sugar:
1
g
Tried this recipe?
Follow @twosleevers and Pin it!
And don't forget to check out my air fryer cookbooks! Every day easy air fryer, and Air Fryer Revolution.