If you've been afraid to start making yogurt in your Instant Pot, this Pressure Cooker Vietnamese Yogurt recipe is the perfect recipe with which to get started.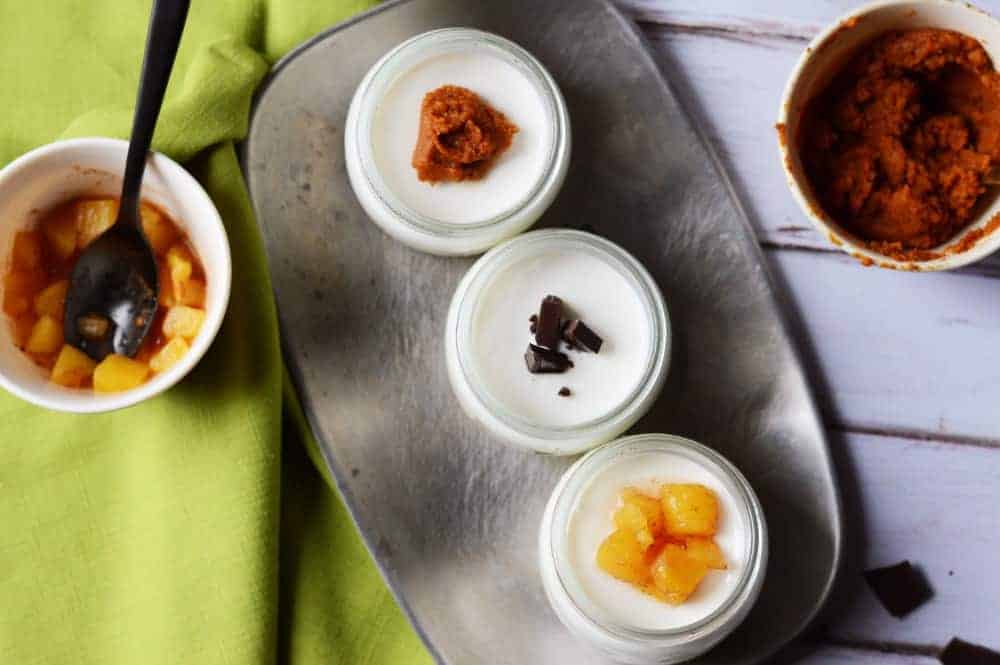 Vietnamese Yogurt
First, let me start off by saying that this is not my original recipe. I found it somewhere, and much to my frustration I can't remember where I saw it, so I can't give credit to the right person and that's bothering me. If you know whose this is, please let me know so I can credit them.
So why is this the best yogurt?
No boiling to 180F.
No cooling. In fact, no heating at all.
Forget the straining. Totally delicious. Just pour and go.
Needs no adding. Delicious without topping, nothing.
Best of all? Less than 5 ingredients.
Doesn't even need a measuring cup, let alone a thermometer. You will use your condensed milk can as the measuring device. When I say one can of water, I mean use the condensed milk can to measure the water.
How To Make Instant Pot Yogurt
Use the can of condensed milk as your measuring device.
Use hot water to get the last of the condensed milk out
Mix everything together, pour into jars, and incubate. This mixture is your yogurt starter (and finisher?)
Refrigerate yogurt once done before serving. That's it.
Which Instant Pot Makes Yogurt?
Technically, they all do. But they're not all created equal. Some have the Yogurt function built-in, while others, like the Instant Pot Lux does not. The following are the models that do have a yogurt button.
Instant Pot Duo
Instant Pot Duo Plus
Instant Pot Ultra
Instant Pot Smart
Instant Pot Duo Nova
Instant Pot Duo Evo
Can Instant Pot Yogurt Be Frozen?
I would not recommend freezing this Instant Pot yogurt recipe. After freezing, the texture tends to change and become gritty. It also slightly changes the flavor of the yogurt.
Why Make Instant Pot Yogurt?
Why not? I love experimenting in the kitchen. However, I understand not everyone enjoys cooking as much as I do. So if you're one of those people that cook out of necessity instead of pleasure, here are some reasons to make your own:
It's inexpensive. Some of the higher end yogurts you find in the grocery store can be quite expensive.
Ingredients. You can control which additives you put into your yogurt.
It makes a lot. If you love yogurt and like to reach for it at breakfast time or for a snack, this is perfect.
Delicious. It's just really dang good.
Is Pressure Cooker Yogurt Low Carb?
This particular It's not low carb, as it has 22 gms of carbs in it.
I do have another Instant Pot Yogurt recipe that is lower carb if you're counting carbs.
While I think it's a good starter yogurt recipe, once you feel confident in your yogurt-making abilities, you may want to reserve this for special occasions.
If you're not watching carbs that closely however, this Vietnamese yogurt recipe makes a great-tasting, easy yogurt.
Want More Yogurt Recipes?
Hot Start Yogurt- Uses the heating method.
Cold Start Yogurt- Makes a slightly thinner yogurt.
Homemade Greek Yogurt- Makes a slightly thicker yogurt.
Cardamom Yogurt- A copycat Noosa yogurt recipe
Shrikhand Greek Yogurt- a delicious dessert.
In the pictures, I added some fun toppings like dark chocolate, cinnamon peaches, and some pureed pumpkin with pumpkin pie spice for some additional flavor and to mix it up. But, feel free to eat this Vietnamese yogurt plain or add toppings!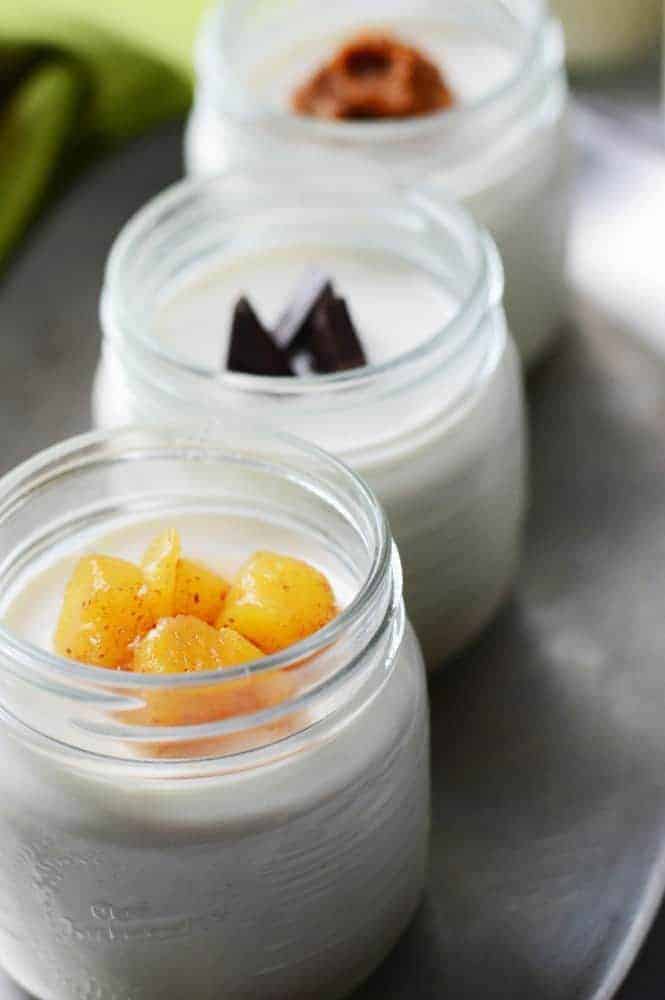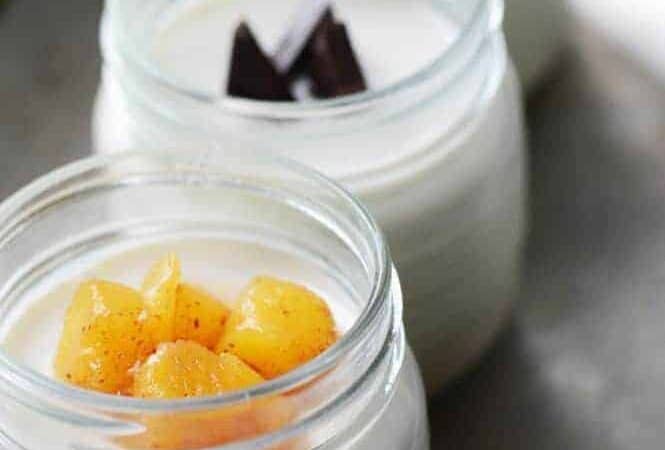 Click on highlighted ingredients or Equipment to see exactly what I use to make this recipe
Ingredients
1

can

(

1

can

) Sweetened Condensed Milk

1

can

(

1

can

) hot water,

( use condensed milk can, pour hot water, and use it to rinse out the condense milk left overs)

2

cans

(

2

cans

) Whole Milk,

(use condensed milk can as your measure)

1

can

(

1

can

)

Half and Half

,

(use condensed milk can as your measure)

5.3

ounces

(

150.25

g

)

Full-Fat Greek Yogurt
Instructions
In a large bowl with a spout, pour the condensed milk.

Fill the condensed milk can with hot water from your faucet, and stir well to get the last bit of goodness out of that can. This is a good time to get a little lick of that condensed milk, just to make sure it's good.

Pour in the hot water into the bowl and using a whisk, stir it well.

Using the now-empty can of condensed milk, measure out the milk and half and half, and stir well.

Mix in yogurt, and ensure it's well-incorporated.

Pour into small jars with lids.

Turn your electric Instant Pot on, and press the Yogurt button. It may show 8 hours by default.

Set your jars into the pot directly (no trivet, no water, just the pot and your jars). Cover with a glass lid or the Instant Pot lid. This recipe makes about 10 jars of 6-7 ounces each.

Once 8 hours are up, refrigerate the jars overnight before serving your thick, slightly sweetened, creamy yogurt as is.
Get support & connect with our community on Facebook!
Nutrition
Calories:
136
kcal
|
Carbohydrates:
22
g
|
Protein:
4
g
|
Fat:
3
g
|
Sugar:
22
g
Tried this recipe?
Follow @twosleevers and Pin it!
Indian Instant Pot, Keto Instant Pot, Instant Pot Fast and Easy, Healthy Instant Pot & Vegetarian Instant Pot.