I have to say that I was quite surprised to learn that many don't know you can have chocolate on the keto diet. Of course, it has to be a specific type, like the kind I use with these Keto Sweet Cream Truffles. However, you can definitely have chocolate without ruining your diet.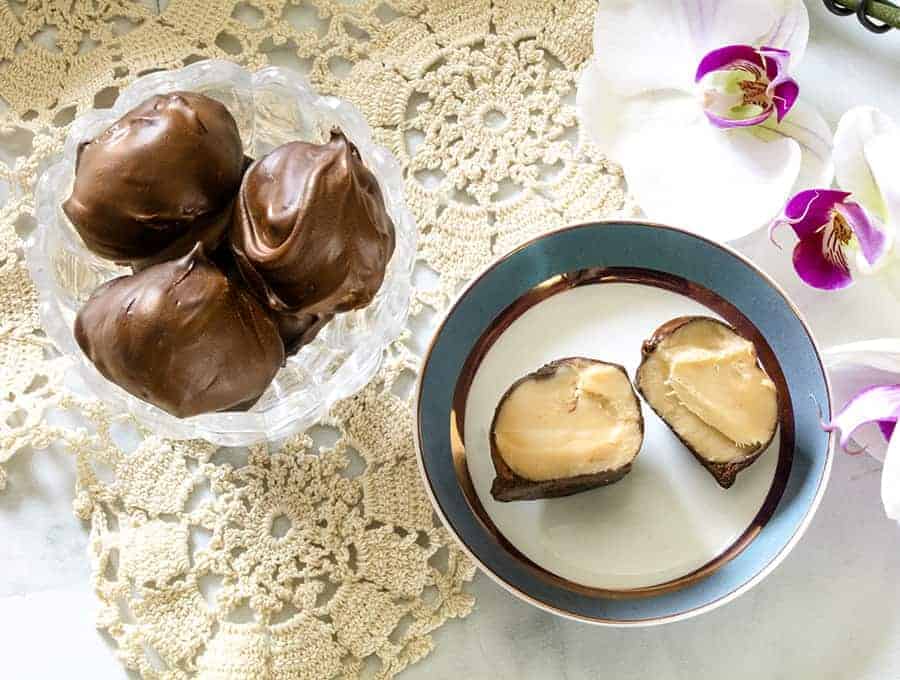 The center of these Keto Sweet Cream Truffles is mind-blowing. You will feel like you're cheating on your diet but, you're really not. They're a sweet delight to kill any sweet tooth craving.
Keto Sweet Cream Truffles | A Delightfully Low Carb Treat!
Most people think that super healthy desserts take a lot of effort to make. That's not the case with these Keto Sweet Cream Truffles. They are super easy to make and take very little effort to throw together.
Keto Sweet Cream Truffles are one of my number one go-to dessert options. Being on a keto diet will mean a sweet tooth craving will pop up. That's easily taken care of with one of these tasty morsels.
Who made up this Keto Sweet Cream Truffles recipe?
But there's another reason that I love these Keto Sweet cream truffles--and that's because my brother and I made up this recipe when we were kids.
I mean, who else but kids would think of randomly cooking nothing but cream and sugar together??
I am not entirely sure whose idea it was to cook cream and sugar together, but I think it was my brother's idea. But here's the thing.
It was absolutely delicious! It makes a sweet, creamy, slightly chewy center--sort of like taffy but better.
I will say that I rarely bother to cover them with chocolate. The center by itself is quick to make, quicker to eat, and just as delicious as the whole shebang.
However, covering them with chocolate does make for a better presentation and a less sticky feast.
Best Low Carb Dessert Recipes
If you're looking for more delicious low carb truffle options, check out my Keto Truffles recipes. These Keto Truffles are so milky and creamy, and you're going to love them!
Another fantastic keto candy option is my Chocolate Coconut Candy recipe. It's Paleo, Keto friendly and is ABSOLUTELY delicious!
Just talking about these Keto Sweet Cream Truffles makes me want to make them again. They're so easy and are the perfect sweet treat. They can be rich, so it only takes one to fix that craving.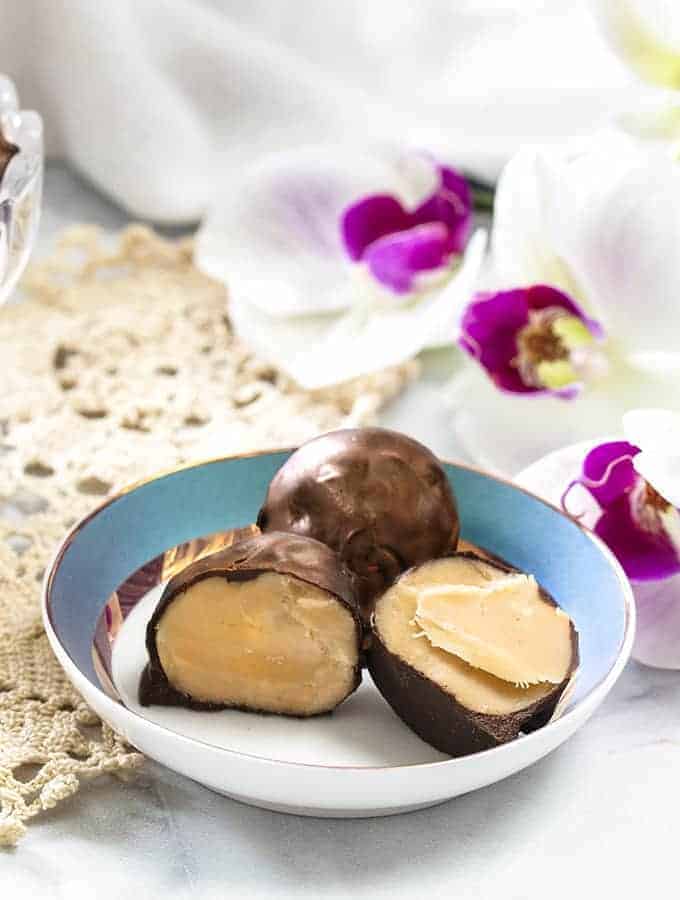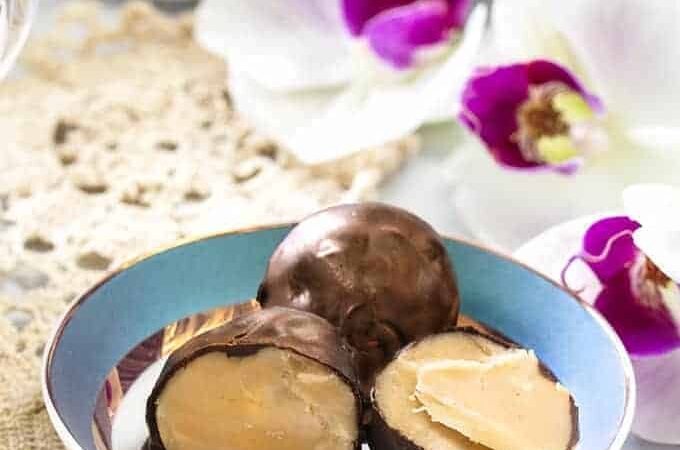 Click on highlighted ingredients or Equipment to see exactly what I use to make this recipe
Ingredients
For the Chocolate Coating
Instructions
Make the Truffle Centers
In a nonstick saucepan, cook the heavy whipping cream and Swerve, stirring frequently, until the sauce has turned light brown and has thickened. You will be evaporating out most of the liquid from the cream and will have a thick, light brown mixture. This should take about 5-6 minutes. Pour into a small bowl and the mixture in the fridge to firm up for about 1 hour. (If you don't plan to dip them in chocolate, you can eat them warm and they're absolutely delicious this way as well.)


Remove and make 12 small balls with the chewy mixture. Set them back in the fridge while you get the coating ready.

Make the Chocolate Coating
In a microwave-safe bowl, melt the chocolate and butter together for about 30 seconds, and stir. Let the mix rest for a minute and stir again to melt any remaining chocolate or butter.

Make the Truffles
Line a baking sheet with parchment and set aside.


Remove the sweet cream centers and place them on a fork. Dip the fork into the chocolate coating, working fast to keep the chocolate from hardening. You may find it helpful to put the bowl of chocolate in a pan of hot water to keep it liquid.


Take each dipped truffle and place it on the prepared baking sheet. Refrigerate for 1-2 hours until firm. Keep refrigerated until ready to serve.

Feel free to omit the chocolate coating and just eat the center--I won't tell.
Get support & connect with our community on Facebook!
Nutrition
Calories:
168
kcal
|
Carbohydrates:
2
g
|
Protein:
1
g
|
Fat:
18
g
Tried this recipe?
Follow @twosleevers and Pin it!
Don't forget to check out my other Keto cookbooks.
Keto Instant Pot, Keto Fat Bombs, Sweets, & Treats, and Easy keto in 30 minutes.