How would you like to make Homemade Gyros that slice just like the ones in your favorite restaurant? Well, now you can. Make this delicious Instant Pot Gyro Recipe without even leaving your house!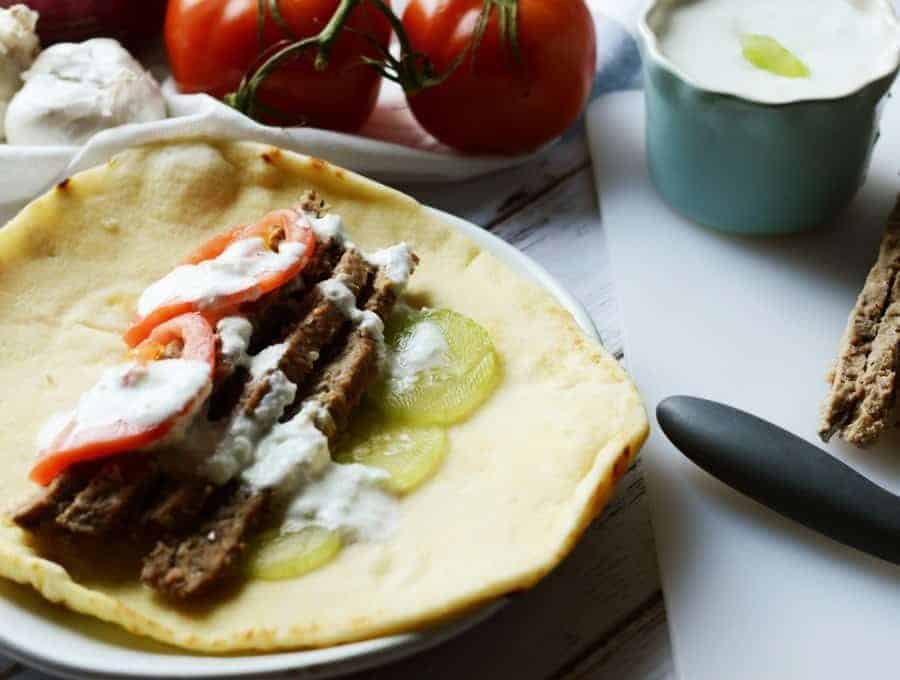 Jump to:
Instant Pot Gyro Recipe | Doner Kabab Gyro Meat
I never thought I'd be able to make homemade gyro meat but I did it a while ago. But why, you ask me? Why do we need Instant Pot Gyros when we have a perfectly good recipe to make them in the oven RIGHT HERE where I posted it last time?
Well, we don't NEED it made in the Instant Pot. But why not try it and see if it's better? So I made it. Kinda like climbing a mountain just because it's there.
So here's my verdict. The meat looks better if cooked in the oven, but it tastes much better when cooked in the Instant Pot. Moist, tender, and very easy to eat. But I will tell you, it looks like one big, messy, gray lump. When I took it out of the Instant Pot, I really began to question my wisdom in cooking what is essentially a meatloaf in an Instant Pot. I mean, look at it! But honestly, I think I'd do it again.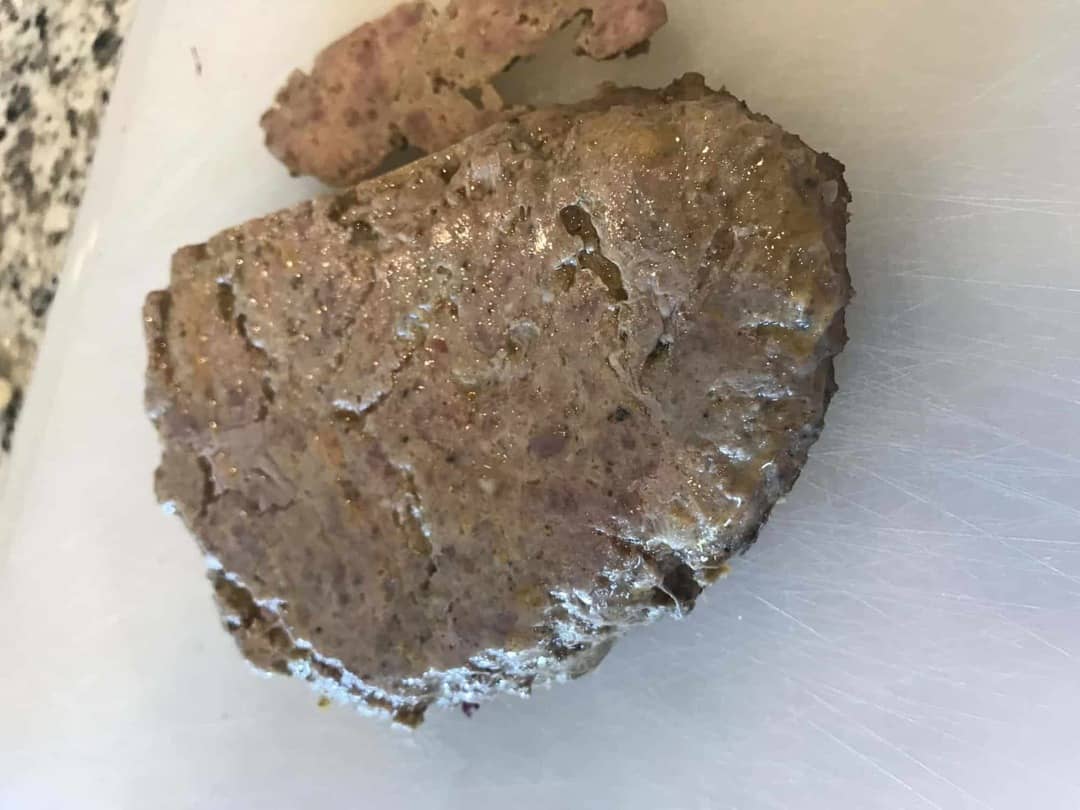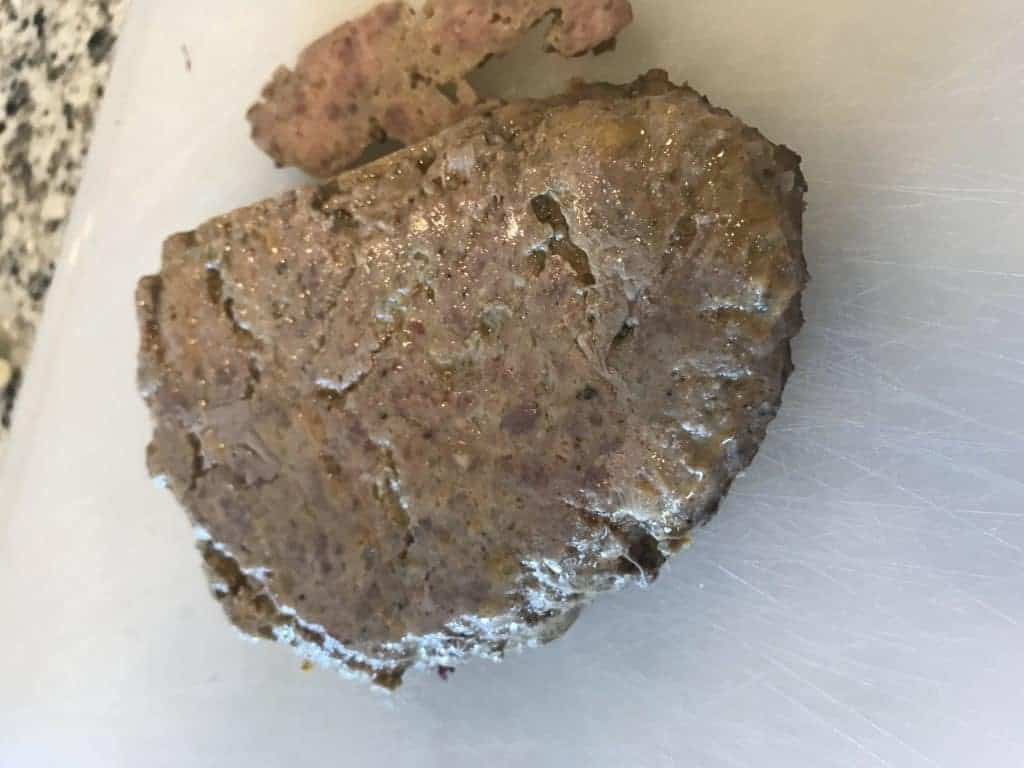 But you know what? This Instant Pot Gyro Recipe tastes fantastic, and once you slice it, no one will see it this way. One small note: traditionally, these are made with lamb, or lamb and beef. We had two issues with this.
One, I have one son who refuses to eat lamb because "They're too cute to eat." (??) Two, the lamb was $9.99/pounds. and I was too cheap to risk that on a dish that might not have worked. Besides, there was some lovely ground pork sitting right next to it for $3.49/pounds.
I totally get that it's close to heresy to make a middle-eastern dish eaten originally by Muslims and Jews using Pork. I do, I get it! But see two reasons above. So you can make it with lamb or pork and it will all taste delicious.
One thing I did differently from the last time I made it, was to ask the butcher to grind the beef for me. The grinding of the meat is the WORST part of this recipe. So messy and just...ick. They can't re-grind lamb or pork at my grocery store because of cross-contamination, but I find that ground pork is pretty finely ground anyway, and simply having them grind the beef again makes it a pretty fine mixture.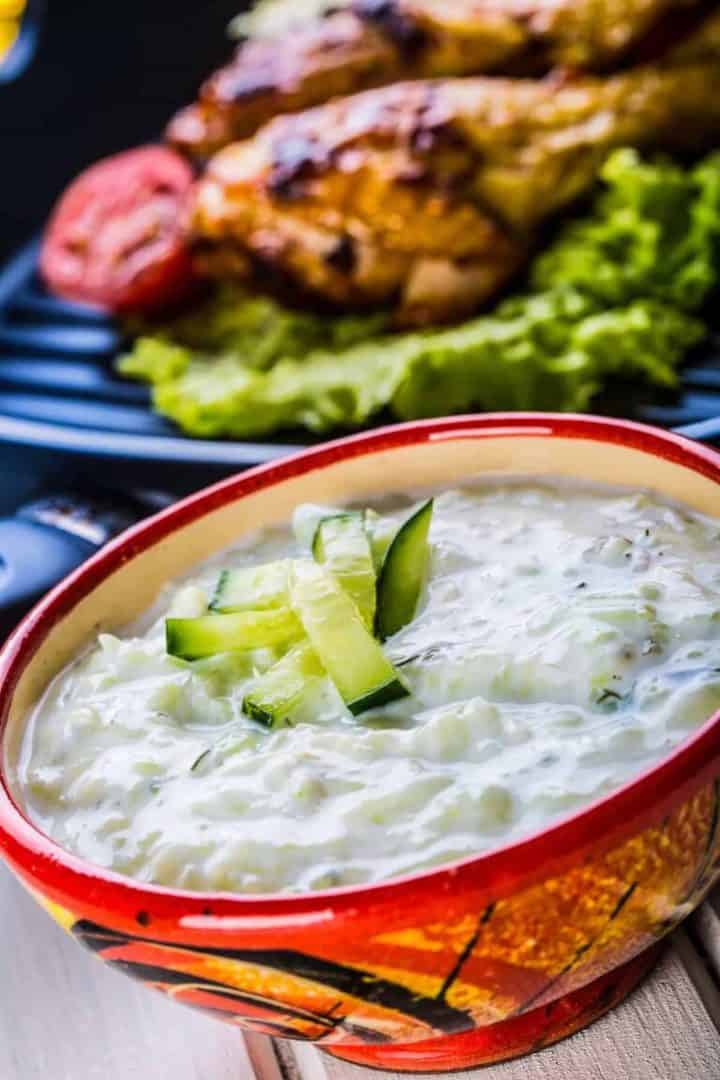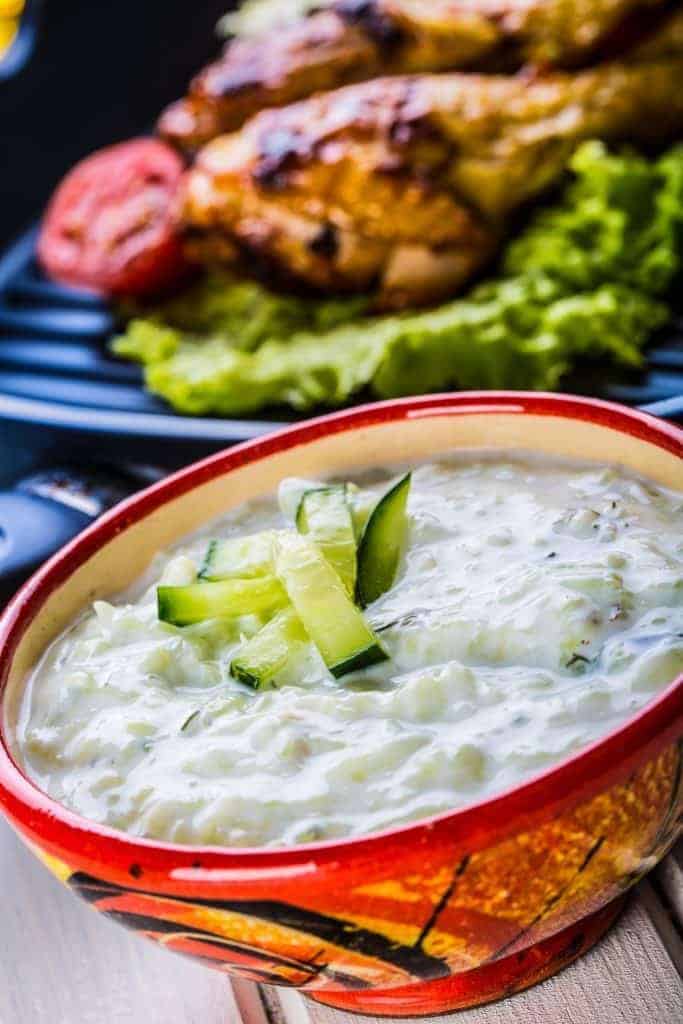 Serve this Instant Pot Gyro Recipe with homemade Tzatziki, 5-minute Hummus or a Pressure Cooker Hummus made from dried chickpeas. You could also make a lovely Kushari, a rice and lentils mix very quickly in your Instant Pot.
How To Make Beef Gyros
So here are the steps:
Mix the spices into the meats, shape it into a loaf shape
Cook it in an Instant Pot, and then weight it down
Cut into thin, long, slices and enjoy.
I made a 1 pound loaf to see if it would work so mine is smaller than yours will be, but don't make it thicker than that, or if you do, adjust the time.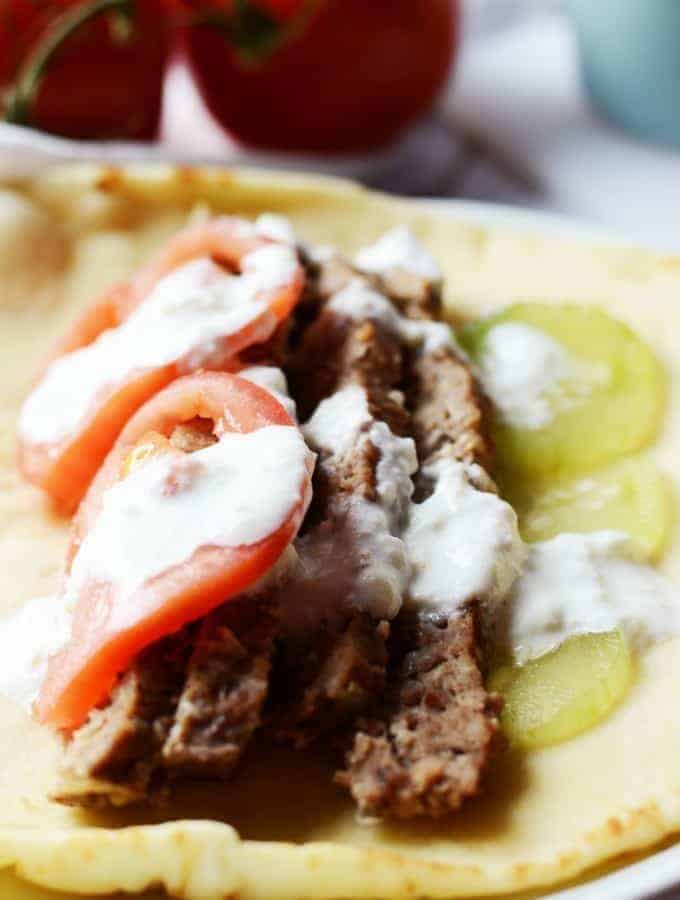 If you love this Instant Pot Gyros recipe as much as we do, make sure you share it with your friends on Facebook and Pinterest so they can enjoy it too!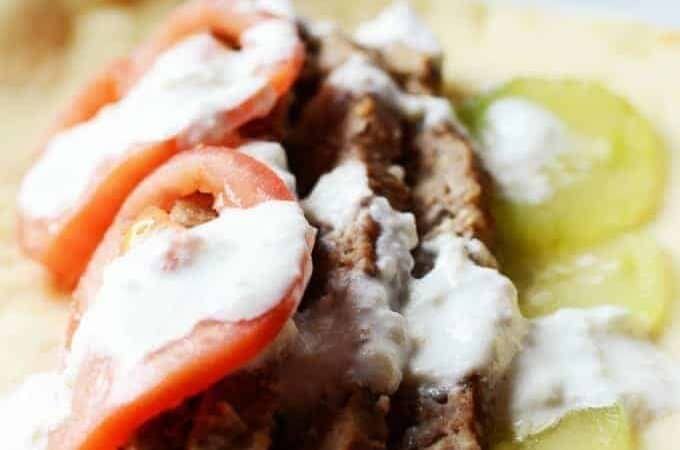 Click on highlighted ingredients or Equipment to see exactly what I use to make this recipe
Instructions
Place onions and garlic into a large food processor and process until finely chopped but not liquefied.

Place the meat in the bowl of a good Stand Mixer. Add the onions and garlic. Use your stand mixer with the paddle, paddle the living daylights out of the meat with the spices until it's a sticky mess. Don't skip this step, otherwise, you will have a hamburger with seasonings, not a smooth gyro loaf.

Place 2 cups of water in the bottom of an Instant Pot. Place a steamer basket on top of it.

Lay out a sheet of foil and on top of it, make one or two meatloaf shapes out of your meat, each no thicker than 4-5 inches. If you do one big one, you will have to adjust the time accordingly.

If your Instant Pot won't hold both, you could always cook one in the Instant Pot and another in the oven and see which one your family likes better (350F for 60 minutes or until internal temp of 175-180).

Put this sheet of foil+ meatloaf on top of the steamer basket, leaving enough space on the sides for the steam to circulate.

Set your Instant Pot for 15 minutes at High Pressure and let it release pressure naturally.

When you open it, try not to despair at those big, gray, lumps.

Take out the two and cover them with foil and then place something heavy on it to compress it. I put a cast iron skillet on top and then carefully placed 3 cans of beans on top of the skillet to compress it.

Let it rest for 30 minutes and then slice into thin slices.

Gyros!
Get support & connect with our community on Facebook!
Nutrition
Calories:
317
kcal
|
Carbohydrates:
3
g
|
Protein:
29
g
|
Fat:
19
g
Tried this recipe?
Follow @twosleevers and Pin it!
Indian Instant Pot, Keto Instant Pot, Instant Pot Fast and Easy, Healthy Instant Pot & Vegetarian Instant Pot.