This Pressure Cooker Braised Brisket is an easy, savory, dish that you can make without heating up your entire house. Dump in everything and just let it make itself, and you end up with a savory, melt-in-your-mouth dish for dinner.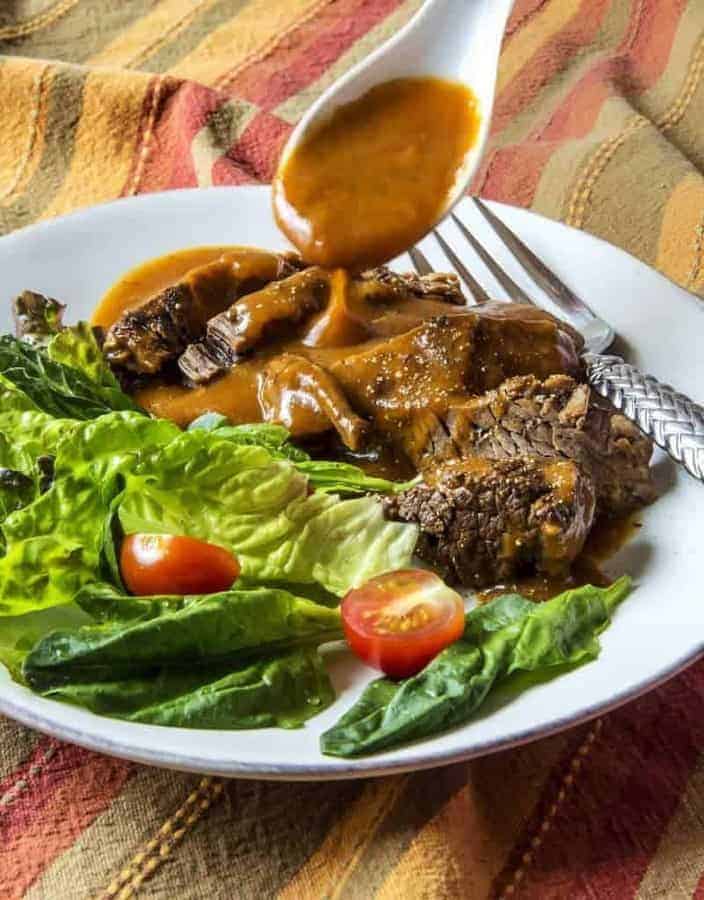 This recipe for a pressure cooker Braised Brisket is sure to offend every barbecue brisket person within a 100 mile radius of my Texas home, but I plan to watch them get upset while chowing down on a plateful of this delicious brisket with sauce, while watching them yell at me.
I had really wanted to smoke this brisket but I didn't plan things very well and just ran out of time at the last minute. So I thought back to all the times that people have used slow cookers to make their brisket and decided the Instant Pot could do for me in a fraction of the time what slow cookers do for them.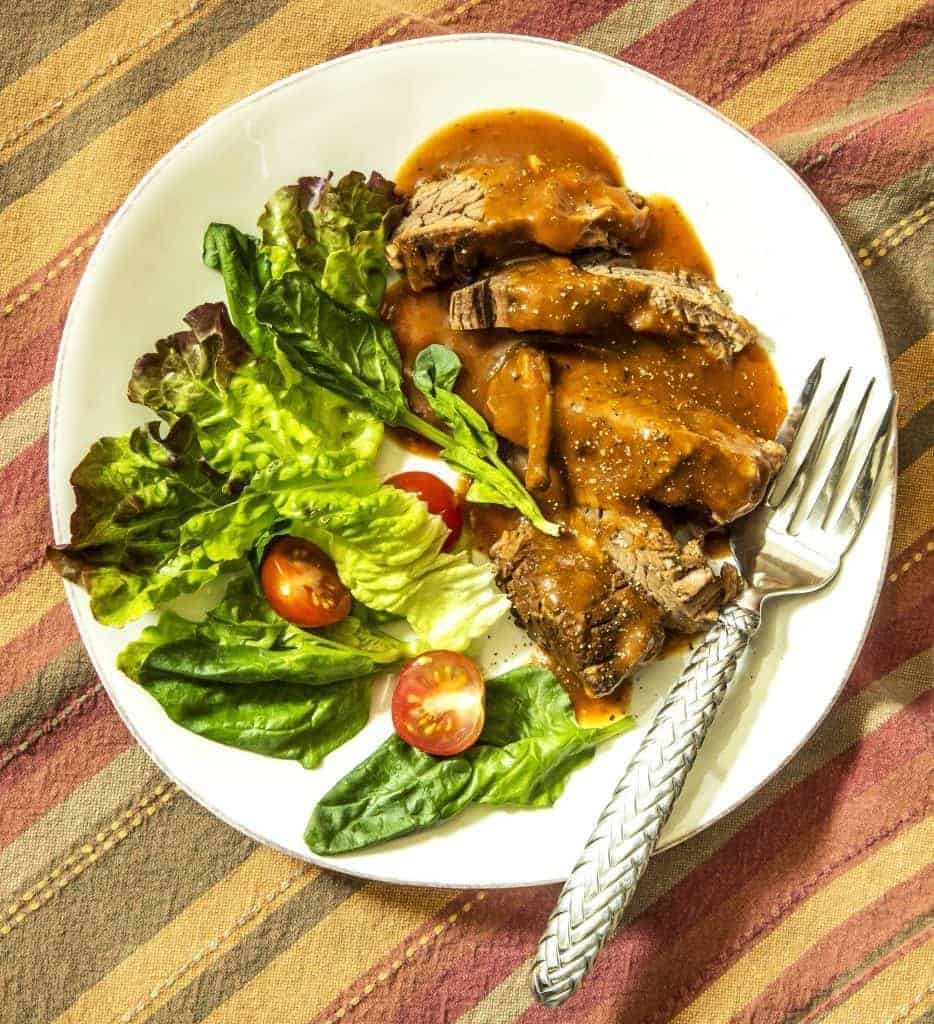 Advantages of making Pressure Cooker Braised Brisket
My house didn't get over-heated
The recipe makes a sauce in the bottom fo the pot that is super savory and flavorful.
It's a dump everything in and cook it type of recipe, and y'all know how much I love those types of recipes.
I didn't brown or pre-season anything to make this brisket. Did you see my video on why I don't brown ahead of time? If not, check it out here.
Yes but does it taste like BBQ brisket?
Well, no it doesn't taste anything like a smoked brisket. Not even a little bit.
It tastes like braised meat. Delicious, savory, umami braised meat.
If I were you, I'd think of this as a braised meat dish that has minimal effort for maximal beef flavored payoff. You'll have a tender piece of meat, lots of thick, lovely sauce, and all with no effort.
So now that we have that out of the way.
The Recipe Steps for this Pressure Cooker Braised Brisket are:
Throw everything into your Instant Pot or Pressure Cooker
Cook on high pressure for 60-75 minutes and allow pressure to release naturally for 15 minutes
Puree vegetables and liquids to make a sauce, and serve.
Here's a visual Glossary of most of the ingredients that went into this Pressure Cooker Braised Brisket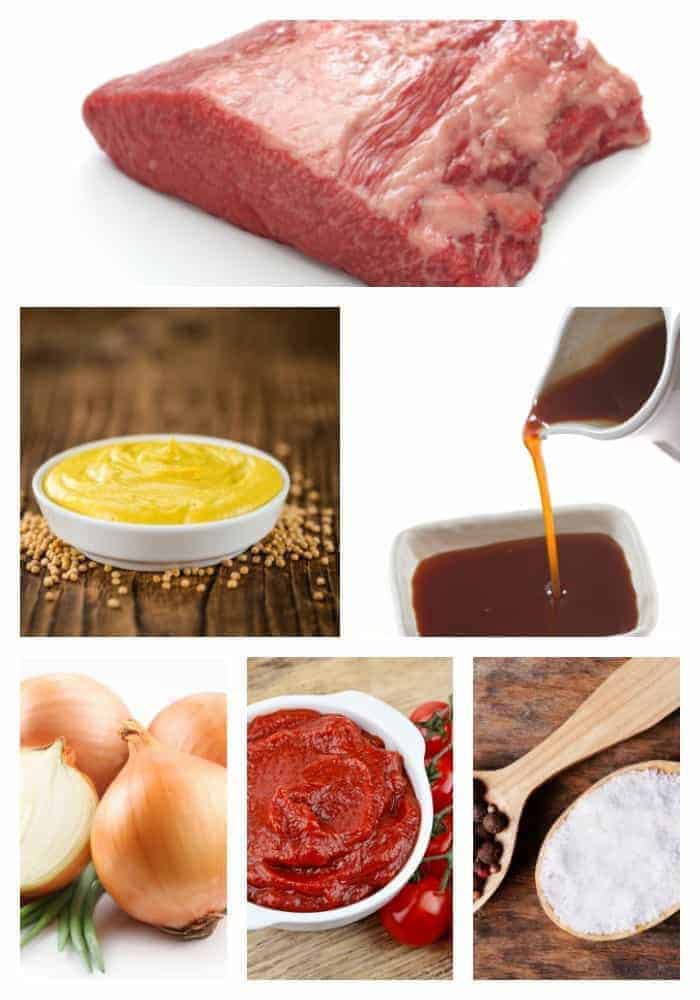 ★ Did you make this recipe? Don't forget to give it a star rating below! Just click on the stars in the recipe card to rate. 

Pressure Cooker Low Carb Braised Brisket

This pressure cooker braised brisket is an easy, savory, dish that you can make without heating up your entire house. Dump in everything and just let it make itself.


Dietary Consideration:

Dairy-Free, High Fat, High Protein, Keto, Low Carb

Cooking Style:

Instant Pot/Pressure Cooker

Ease of Cooking:

Pour and Cook

Recipe Type:

Beef, Pressure Cooker

Instructions

For the Pressure Cooker

Put salt and pepper on the brisket pieces and let it sit while you get your other ingredients together.

In a small cup or bowl, mix together all the ingredients for the sauce.

Place sliced onions in the inner liner of your pressure cooker or Instant Pot. Place the sliced beef on top.

Pour over the mixed sauce.

Cook the meat at high pressure for 60 minutes for a brisket with some chew, and at 70-75 minutes for a more tender brisket.

Open the pot and remove the brisket with

tongs.

Using

an immersion blender,

blend together the onions and all the liquid in the pot. Add mustard and ensure it is mixed well.

Turn your Instant Pot to sauté and add the xanthum gum or corn starch and allow the sauce to thicken.

Slice the brisket, and serve with the sauce.

For the Slow Cooker

You can make this recipe in a slow cooker by following all directions as above, and cooking the brisket on low for 8-9 hours.

Nutrition Facts

Pressure Cooker Low Carb Braised Brisket

Amount Per Serving

Calories 200

Calories from Fat 72

% Daily Value*

Total Fat 8g 12%

Total Carbohydrates 5g 2%

Protein 24g 48%

* Percent Daily Values are based on a 2000 calorie diet.

★ FOLLOW ME on FACEBOOK, TWITTER, INSTAGRAM and  PINTEREST to get more delicious recipes. My FACEBOOK GROUP is a great place for you to post your own recipes.

★ Be sure to check out my best-selling Indian Instant Pot Cookbook for other great ideas!

★Ready to upgrade your Instant Pot with must have accessories? Check them out here!

★ You'll also love these top 20 gadgets for foodies that will complement any kitchen!