There's something truly magical about the smoky, savory, and slightly sweet flavor that comes with well-prepared BBQ pork chops. Unlock the secrets to mastering this grilling masterpiece, leaving you with juicy, tender, and finger-licking good pork chops that will impress family and friends alike.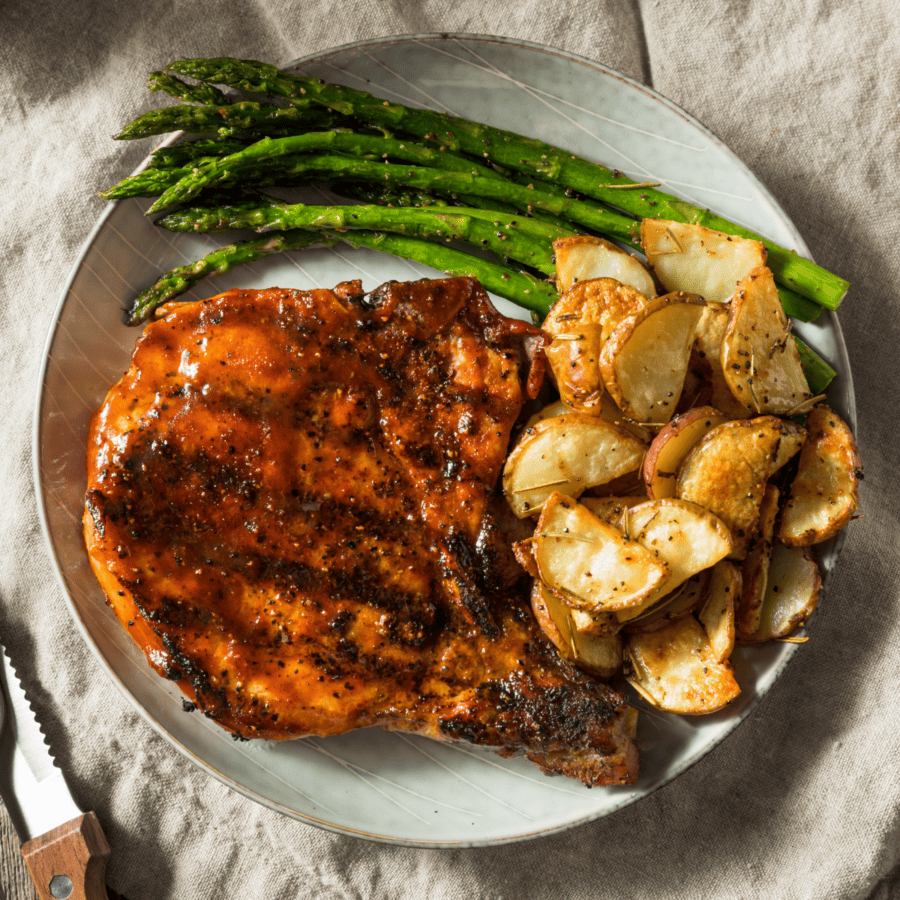 Why Your Family Will Love These Pork Chops
Fast.
Easy.
Versatile.
High Protein.
With the smoky, tangy flavors of the BBQ sauce combined with the tenderness of the perfectly cooked pork chops, this dish is a true crowd-pleaser. So, invite your loved ones over, fire up the grill, and treat them to this delectable delight.
How Do You BBQ Pork Chops Without Drying Them Out
Barbecuing pork chops without drying them out requires some key techniques and attention to detail. Here are some tips to ensure your BBQ pork chops stay juicy and flavorful:
Choose the Right Cut. Opt for pork chops with some marbling and fat. Bone-in chops tend to retain more moisture during cooking. Thick-cut chops are also less likely to dry out compared to thin ones.
Avoid Overcooking. Pork chops can become dry if overcooked. Use a meat thermometer to check the internal temperature. Pork chops are safe to eat at 145F, and they will remain juicy and tender at this temperature.
Baste with Sauce. If you plan to use BBQ sauce, wait until the last few minutes of grilling to apply it. Basting the pork chops with sauce during the final moments prevents the sugars in the sauce from burning and drying out the meat.
Let Them Rest. Once the pork chops are done cooking, let them rest for a few minutes before cutting into them. This allows the juices to redistribute, resulting in juicier and more tender meat.
How Long Do You Cook Pork Chops On The BBQ?
The cooking time for pork chops on the BBQ depends on their thickness. As a general rule:
Thin pork chops (about 1/2 inch thick): Cook for approximately 4 to 5 minutes per side.
Medium-thick pork chops (about 3/4 inch to 1 inch thick): Cook for around 6 to 8 minutes per side.
Thick pork chops (1 1/4 inches or more): Cook for about 12 to 15 minutes per side.
Always remember that cooking times may vary depending on the type of grill and the thickness of the pork chops. The use of a meat thermometer is the most reliable method to ensure your pork chops are cooked to your desired level of doneness.
Is It Better To Grill Or Pan Fry Pork Chops?
Whether it's better to grill or pan-fry pork chops depends on your personal preferences and the flavor and texture you desire. Both cooking methods have their advantages. Here are a few of the most noteworthy:
Grilling Pork Chops
Flavor- Grilling imparts a smoky and charred flavor to the pork chops, enhancing their taste and adding depth to the dish.
Juiciness- Properly grilled pork chops can retain their natural juices, resulting in tender and succulent meat.
Healthier Option- Grilling allows excess fat to drip off the pork chops, making it a healthier cooking method compared to pan-frying.
Minimal Cleanup- Grilling often involves less cleanup, as you can simply clean the grill grates once you're done cooking.
Pan-Frying Pork Chops
Control over Heat- Pan-frying allows you to have more control over the cooking temperature, which can be advantageous for achieving the desired level of doneness.
Faster Cooking- Pan-frying pork chops generally takes less time than grilling, making it a quicker option for a weeknight meal.
Even Cooking- In a pan, the pork chops have consistent contact with the cooking surface, ensuring even cooking throughout.
Variety of Sauces and Pan Sauces- Pan-frying gives you the opportunity to deglaze the pan and create flavorful pan sauces to complement the pork chops.
Ultimately, the decision between grilling and pan-frying comes down to personal preference, available equipment, and the overall cooking experience you desire. Some people prefer the smoky flavor and outdoor experience of grilling, while others enjoy the convenience and control of pan-frying indoors.
Ingredients You'll Need
Before we dive into the step-by-step process, gather the following ingredients:
Bone-In Pork Chops- You'll want to choose some that are about 1 inch thick.
BBQ sauce- Use your favorite brand or make some homemade sauce.
Olive Oil
Honey
Garlic
Smoked Paprika
Onion Powder
Cumin
Salt and Pepper
How To Make BBQ Pork Chops
Marinate for Marvelous Flavor. To infuse the pork chops with irresistible flavors, prepare the marinade. In a bowl, combine the BBQ sauce, olive oil, honey, minced garlic, smoked paprika, onion powder, ground cumin, salt, and pepper. Mix well until the marinade is smooth and well combined.
Prepare the Pork Chops. Place the pork chops in a large resealable plastic bag or a shallow dish. Pour the marinade over the pork chops, ensuring each one is thoroughly coated. Seal the bag or cover the dish and refrigerate for at least 1 hour, or ideally, overnight. This allows the flavors to penetrate the meat, resulting in a mouthwatering taste.
Preheat the Grill. Before grilling, preheat your grill to medium-high heat. Ensure the grates are clean and lightly oiled to prevent the pork chops from sticking.
Grill to Perfection. Remove the pork chops from the marinade, shaking off any excess. Discard the remaining marinade. Place the pork chops on the hot grill and cook for about 4-5 minutes per side, depending on the thickness of the chops. To achieve those beautiful grill marks, avoid moving them around too much. Use a meat thermometer to ensure the internal temperature reaches 145F.
Rest and Savor. Once the pork chops reach the desired doneness, remove them from the grill and let them rest for a few minutes. Resting allows the juices to redistribute, ensuring the chops remain juicy and tender.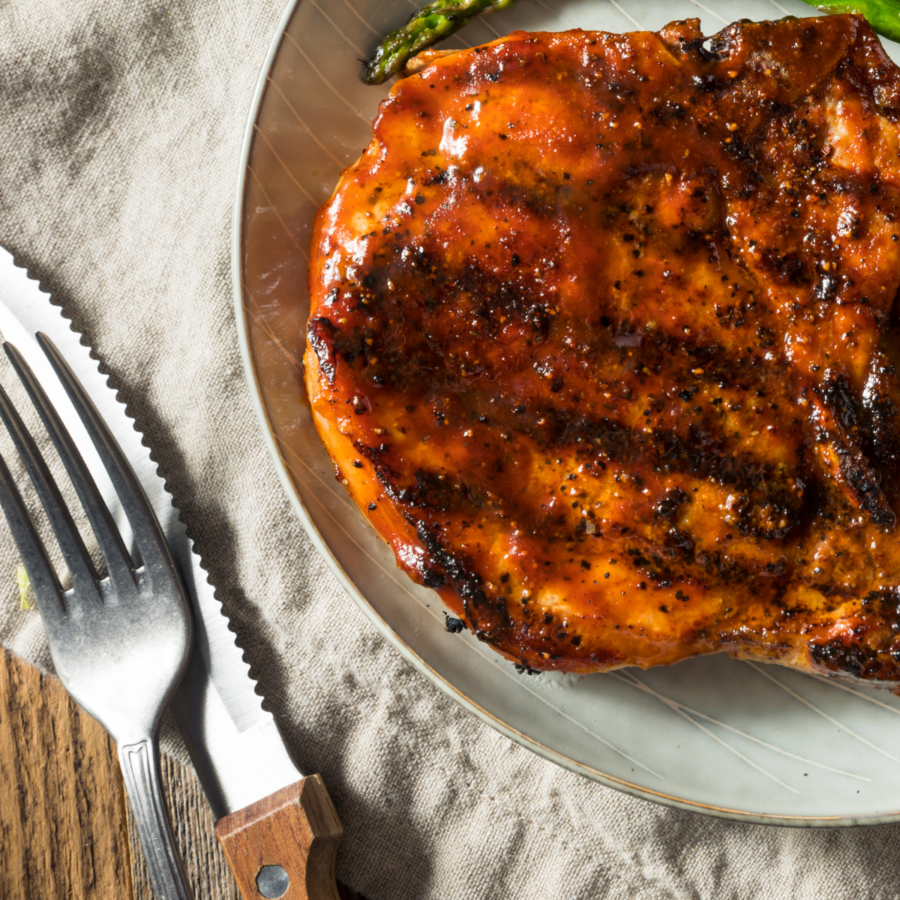 What To Serve With BBQ Pork Chops
When it comes to serving BBQ pork chops, a well-chosen side dish can take your meal to the next level and create a balanced and satisfying dining experience. Here are some delicious and complementary side dishes that will perfectly accompany them:
How Long Do They Last?
Properly stored in an airtight container, cooked BBQ pork chops can last in the refrigerator for 3 to 4 days.
Can You Freeze Them?
If you want to extend the shelf life of BBQ pork chops, consider freezing them. Wrap the cooked pork chops individually in plastic wrap or aluminum foil to prevent freezer burn. Then, place them in an airtight container or freezer-safe bag. Frozen BBQ pork chops can typically be stored for up to 2 to 3 months.
More Perfect Pork Recipes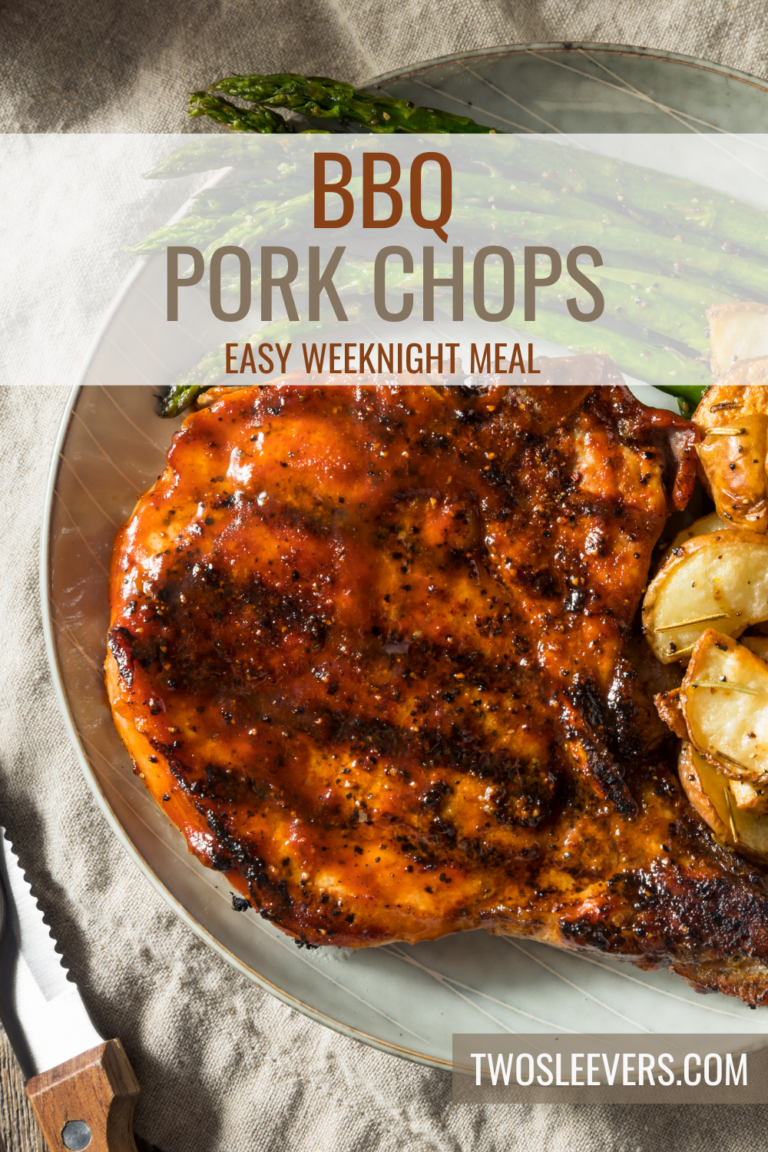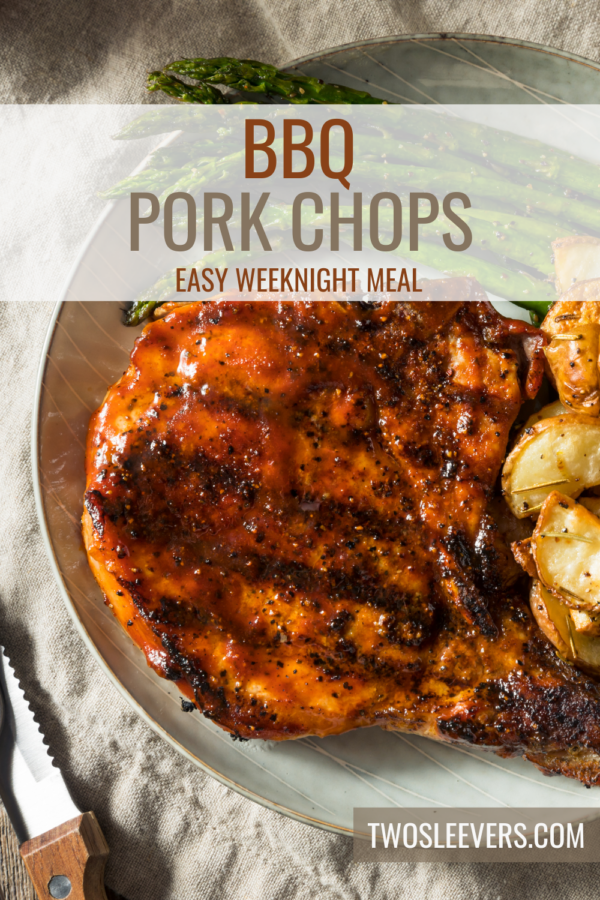 Pin It!
If you love these BBQ Pork Chops as much as we do, make sure you share the recipe with your friends on Facebook and Instagram so they can try them too! Don't forget to Pin it so you can make them again soon.