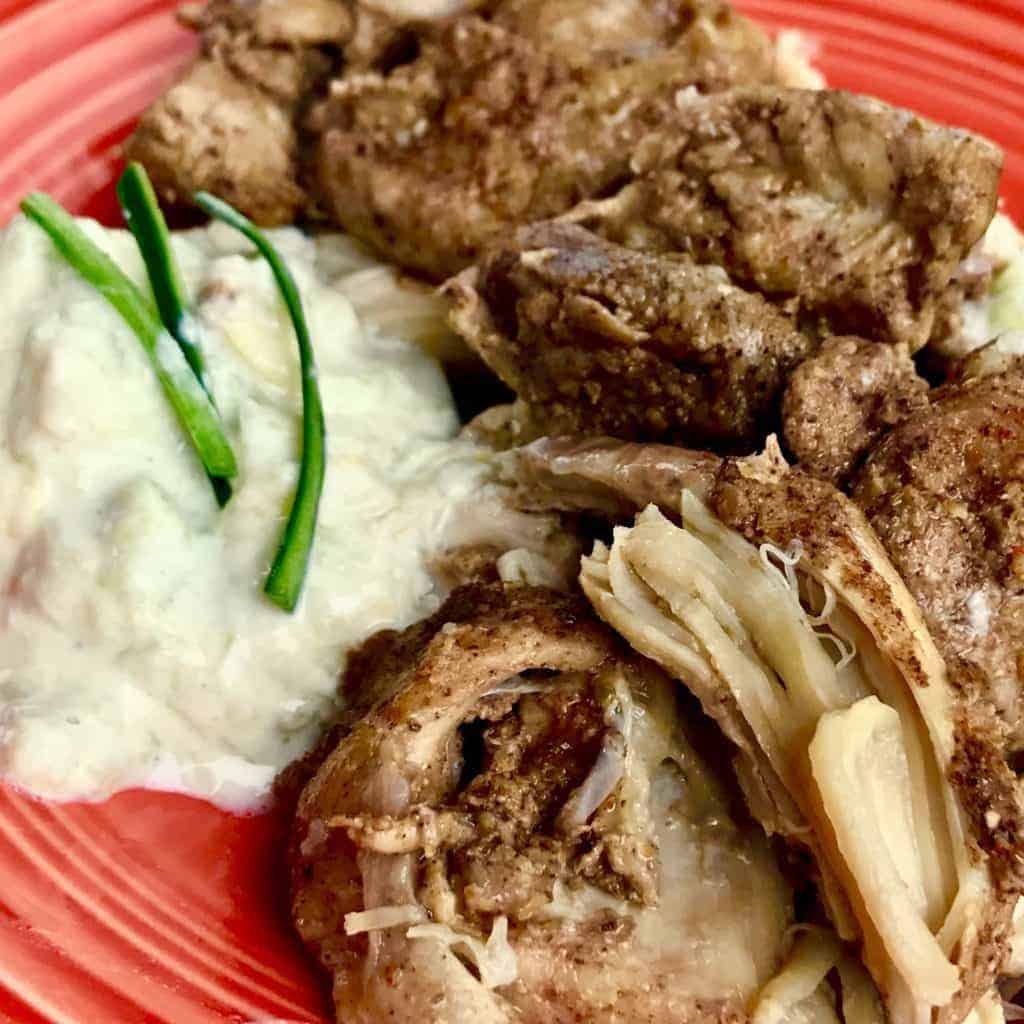 I love shwarma. I love it so much I even make green beans with shwarma seasoning. I've made chicken shwarma in a baking pan, roasting it beside the green beans and it's very easy, quite tasty, and it's a great one pan supper made in the oven. I wondered if it would be possible in the Instant Pot and it is. The upside is that the meat is a lot more tender and less dry in a Instant Pot, the downside is that it's less intensely flavored than the oven version. If you were industrious, you'd make it in a Instant Pot, and finish it off in a pan with a little coconut oil, or ghee and a little additional sprinkled spice but I was not that industrious 😀
If you decide to make it in the oven, follow the directions below, but instead of pressure cooking, put in in a single layer on a foil-covered pan and cook it at 350F for 15-20 minutes. This would also work in an air fryer rather well, but I'd check it at 10 minutes and flip over. For the oven and air fryer versions I'd also be tempted to use chicken thighs since chicken breast will dry out a little.
You must make your own shwarma seasoning. It's so worth it. This recipe makes two batches so you have enough left over for a second pound of chicken, or you could sprinkle it over some green beans and try my other recipe with this spice.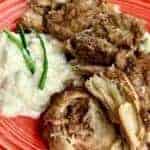 Instant Pot, Oven, or Air-Fryer Greek/ Lebanese Chicken Shawarma
Dietary Consideration:
Dairy-Free, Gluten-Free, High Protein, Keto, Low Carb, Paleo
Cooking Style:
Air Fryer, Instant Pot/Pressure Cooker, Oven
Ease of Cooking:
Pour and Cook, Under 30 Mins
Ingredients
1

pound

boneless, skinless chicken thighs

or breasts, cut into large, bite-size chunks (if using bone-in, increase time by 1-2 minutes)

1

teaspoon

olive oil

to marinate

2

teaspoons

oil

to brown chicken

1

cup

onion

thinly sliced

1/4

cup

water
Shwarma Spice (Double batch)
2

teaspoons

dried oregano

1

teaspoon

ground cinnamon

1/2

teaspoon

ground allspice

1/2

teaspoon

cayenne pepper

1

teaspoon

ground cumin

1

teaspoon

ground coriander

1-2

teaspoons

salt
Instructions
Place the cut up chicken in a ziplock bag, pour in the olive oil, and pour in half the spice mix. Save the other half of the spice for the next time you make this recipe.

Smoosh it all up together so that the chicken is evenly coated in the oil and spices.

At this point, you could freeze it for later cooking, or you could leave it in the fridge to marinate for as long as you have. I'd make one batch now and freeze one.

When you're ready to cook it, heat the Instant Pot on sauté and when it's hot, add the chicken in a single layer. Let it sear for a few minutes and then flip over.

Add the onions in there. Traditionally, it's not cooked with onions, but we need something to add flavor to the broth and the chicken, and onions not only add flavor, but they also release a little water so it means you've got to add less plain water to the Instant Pot.

Pour in the 1/4 c of water, deglaze the pan if needed, and cook at high pressure for 10 minutes, using QPR

Remove chicken and cut into smaller bites but don't shred.

Enjoy with tzatziki for a tasty, low-carb dinner.
Oven or Air Fryer directions
Heat oven to 350F and line a baking pan with foil, or line your air fryer basket with foil

Spray or pour just a little extra oil to crisp the chicken a little during baking

Cook in oven for 10-15 minutes turning once. Test for doneness.

Cook in air-fryer for 10 minutes, turning once. Test for doneness.
Nutrition Facts
Instant Pot, Oven, or Air-Fryer Greek/ Lebanese Chicken Shawarma
Amount Per Serving
Calories 115
Calories from Fat 36
% Daily Value*
Total Fat 4g 6%
Cholesterol 65mg 22%
Sodium 654mg 27%
Potassium 234mg 7%
Total Carbohydrates 4g 1%
Protein 14g 28%
* Percent Daily Values are based on a 2000 calorie diet.