This Pumpkin Mousse gives you all the flavor of pumpkin cheesecake in a fraction of the time! Spend less time cooking and more time indulging in this sweet keto pumpkin dessert!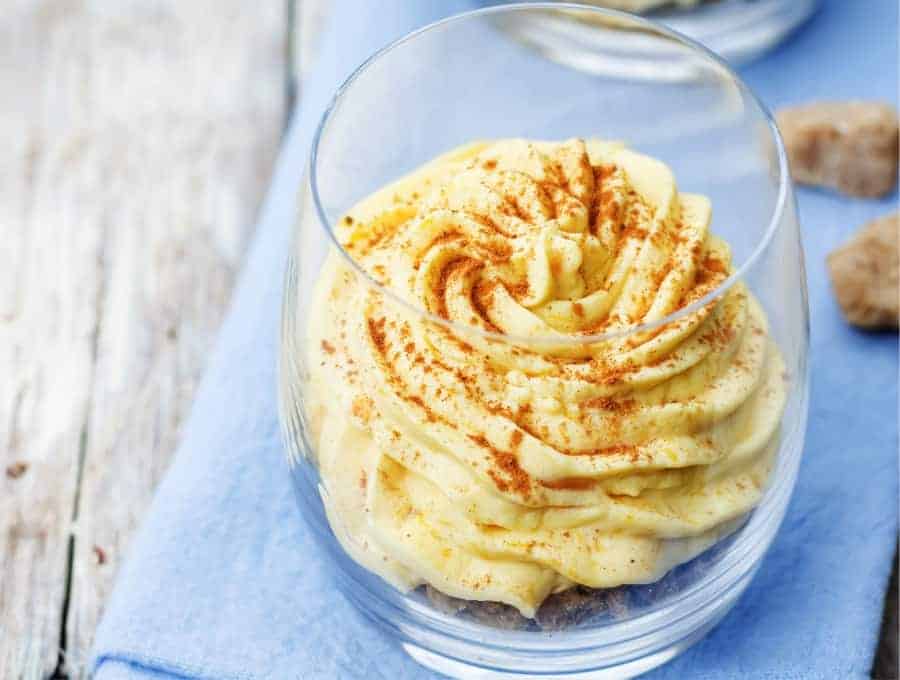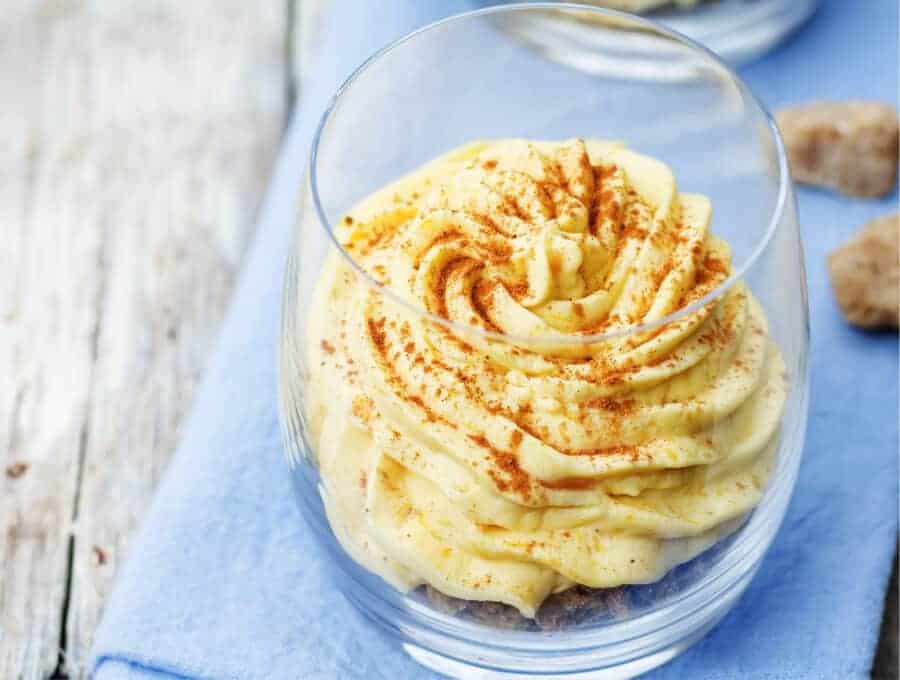 Jump to:
What Makes This So Good?
Fast. This recipe comes together in less than 30 minutes, though it is better if you allow it to chill before eating it.
Easy. Just whip a few ingredients together with a handheld mixer (or a whisk) for a simple no cook recipe.
Low Carb. The pumpkin in this recipe makes the net carbs a little higher than some of my other keto-friendly treats, but this one is still under 10 net carbs per serving.
Tasty. All of your favorite fall pumpkin flavors in one perfectly sweet little dish.
Sometimes you get a craving for a delicious pumpkin spice dessert, but you really don't feel like putting a ton of effort into making something. Pumpkin Mousse is for those times. It's wonderfully sweet, tangy, and rich with pumpkin spice. And it's so easy you're sure to want to make it all the time!
This isn't one of my usual, start-from-scratch recipes. There are a lot of cans and packages being opened, but this Pumpkin Cheesecake Mousse sure tastes good. Not to mention it's done in no time flat! And once you've had a bite of this delectable dessert, I doubt you'll care that it isn't completely from scratch.
What Is Pumpkin Mousse Made Of?
Sugar-Free Cheesecake Instant Pudding-
Whole Milk- as tempting as it may be to use almond milk or another substitute, don't. It will not be set up as well as whole milk.
Pumpkin Puree- Do not use a pumpkin pie mix. This is preseasoned and contains sugars that will make it less than low carb.
Pumpkin Pie Spice- This adds the perfect amount of pumpkin spice flavor to the mousse.
Heavy Whipping Cream- this will create additional thickness to the mousse after it is whipped.
Vanilla Bean Protein Powder- this is completely optional. If you're using this as a meal replacement or a way to increase your protein intake, don't skip it.
How Do You Make Canned Pumpkin Taste Good?
Pumpkin is such a versatile ingredient. It can be transformed into a variety of sweet and savory recipes.
The secret to making the canned variety taste delicious? The perfect blend of spices. For this Pumpkin Mousse recipe, I used pumpkin spice.
How To Make This Low Carb Dessert
Make the pudding. Mix together the ingredients to make the cheesecake pudding.
Whip the heavy cream. I like to use a handheld mixer, but you can also use a stand mixer or even a whisk and a little elbow grease. Whip it until it forms stiff peaks.
Combine the two sets of ingredients. Fold the cheesecake pudding into the whipped heavy cream until they are completely incorporated.
Let it chill. Pop your covered mixing bowl or storage container full of pumpkin mousse into the refrigerator for a couple of hours and enjoy!
Is It Keto?
This dessert isn't particularly keto, but it is certainly lower carb than most pumpkin and cheesecake desserts out there. As long as you make sure you stay within your daily carb allowance for the day, this shouldn't keep you from going into ketosis. Sometimes you just need an indulgent dessert in your life, and as long as you enjoy it in moderation there's nothing wrong with that!
Other Variations You'll Love
This mousse can be added to oatmeal or overnight oats and it comes out even more delicious!
The vanilla protein powder is completely optional, so you can do without it if you don't have any.
Make the same flavor into bite sized snacks. Try these Keto Pumpkin Cheesecake Bars!
How Long Does Pumpkin Mousse Last?
Pumpkin Mousse is one of those desserts that will have you sneaking bites every time you pass through the kitchen. It's SO good.
If you can convince yourself and your family to have a little bit of self control and not eat it all the day you make it, it will last up to three days before the ingredients begin to separate.
Looking For More Great Mousse Recipes?
And if you're looking for more great pumpkin recipes, this Pumpkin Bread Pudding is all the things you love about fall wrapped up into one delectable dessert! It's ooey, gooey, pumpkin-y and so very delicious!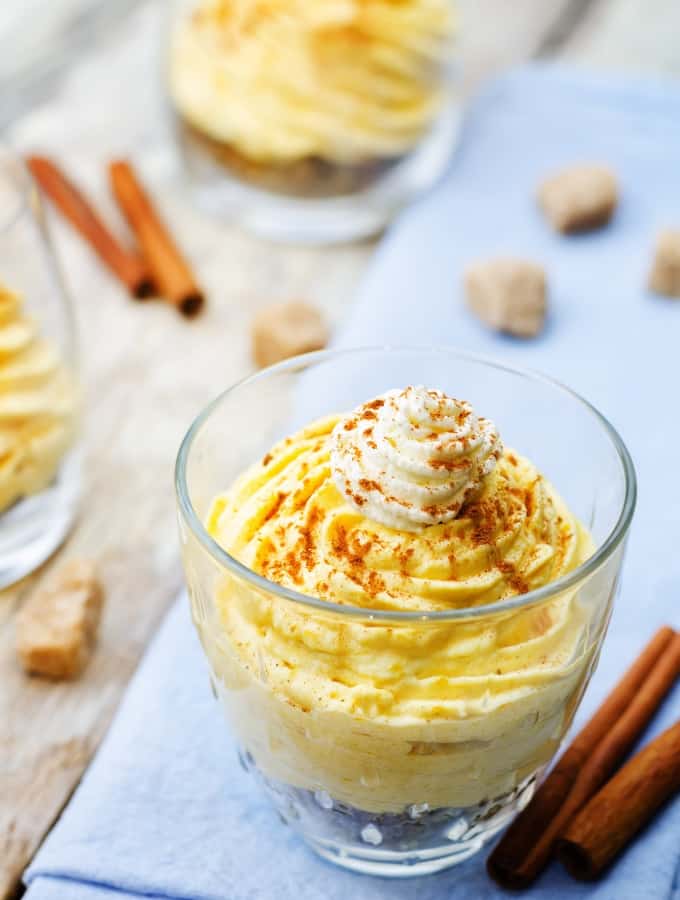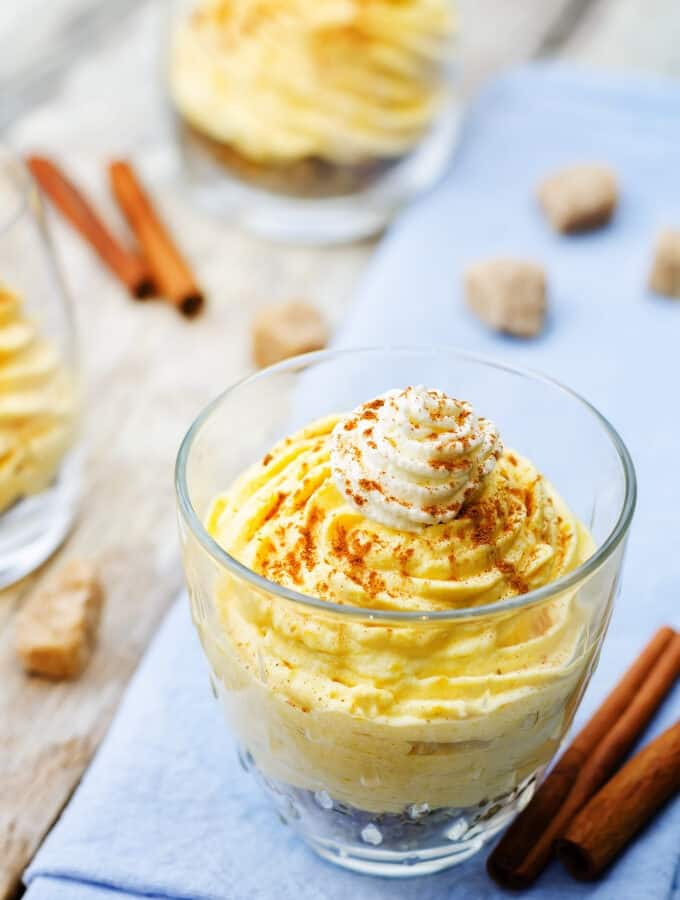 So the next time you get a sweet tooth for some pumpkin pie cheesecake, save yourself the time and effort and make this delicious Pumpkin Mousse instead! Make sure to share this recipe with your friends on Facebook and Pinterest so they can enjoy it as well!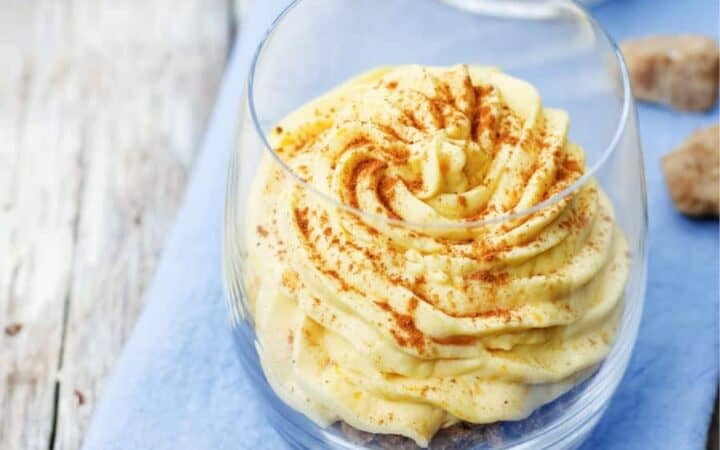 Click on highlighted ingredients or Equipment to see exactly what I use to make this recipe
Ingredients
2

packages

(

2

packages

)

sugar-free cheesecake instant pudding

,

(1 ounce each)

2

cups

(

367.5

g

) Whole Milk,

(do not use almond milk, it won't set)

1

15-oz

(

1

can

)

pumpkin puree

,

(not pumpkin pie mix)

2

teaspoons

(

2

teaspoons

) Pumpkin Pie Spice

1.5

cup

(

1

container

) heavy whipping cream
Instructions
Blend together the pudding mix, milk, pumpkin, protein powder if using, and pumpkin pie spice until the pudding is thick, about 1-2 minutes. Set aside.

Gently fold in the whipped cream into the pumpkin cheesecake pudding a mixing bowl and mix until well incorporated

Let it chill for a few hours and enjoy!
This mousse can be added to oatmeal or overnight oats and it comes out even more delicious!
The vanilla protein powder is completely optional, so you can do without it if you don't have any.
Get support & connect with our community on Facebook!
Nutrition
Calories:
215
kcal
|
Carbohydrates:
10
g
|
Protein:
3
g
|
Fat:
19
g
|
Fiber:
1
g
|
Sugar:
3
g
Tried this recipe?
Follow @twosleevers and Pin it!
Originally Published November 9, 2013
Don't forget to check out my other Keto cookbooks.
Keto Instant Pot, Keto Fat Bombs, Sweets, & Treats, and Easy keto in 30 minutes.