Want a shortcut to make Pork Posole? Use your Instant Pot and a couple of other tips to make it in a flash. This is an authentic Instant Pot Pork Posole Recipe that you will reach for again and again.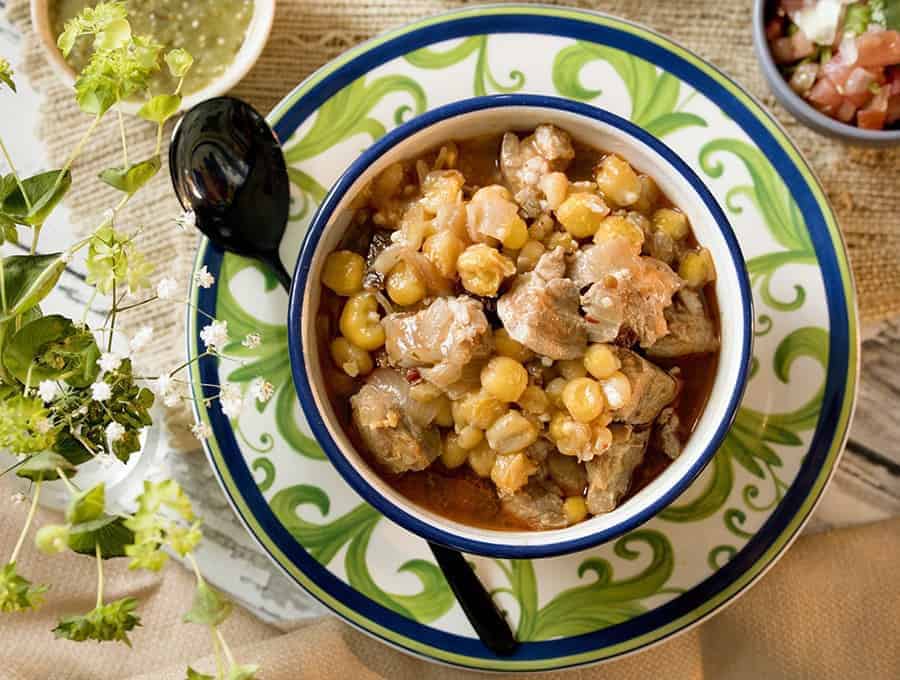 Pork Posole | Pressure Cooker Recipe
What's the short cut you ask me? Well, two of them. One, I wanted to make something without dried guajillo and ancho chiles because they aren't sold in every part of the country.
Two, I wanted to see if I could approximate the taste of Pork Posole without creating the sauce with the guajillo/ancho blended sauce, which is one additional step. You know how I love "pour it in a pot and go" type of cooking.
In fairness, I do think those shortcuts impact the taste a bit. But not enough to prevent me from making this again. A Mexican friend, as well as my husband who ate a lot of Pork Posole in Mexico, felt it was authentic enough, so I'll post it here.
Looking for more delicious Mexican food recipes? Check out my Low Carb Taco Chile Relleno Casserole! This recipe takes the best of both tacos and Chile Rellenos and molds them into one delicious casserole!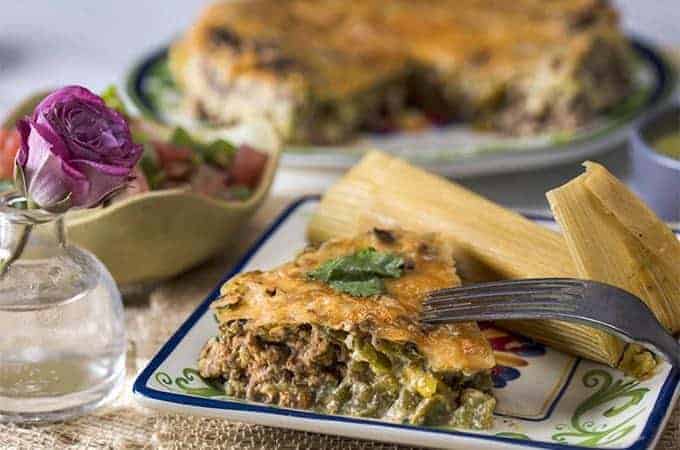 Another great pork recipe is my Mexican Pulled Pork. It takes a traditional pulled pork recipe and add's a delicious Mexican twist that's perfect for pork tacos or burritos!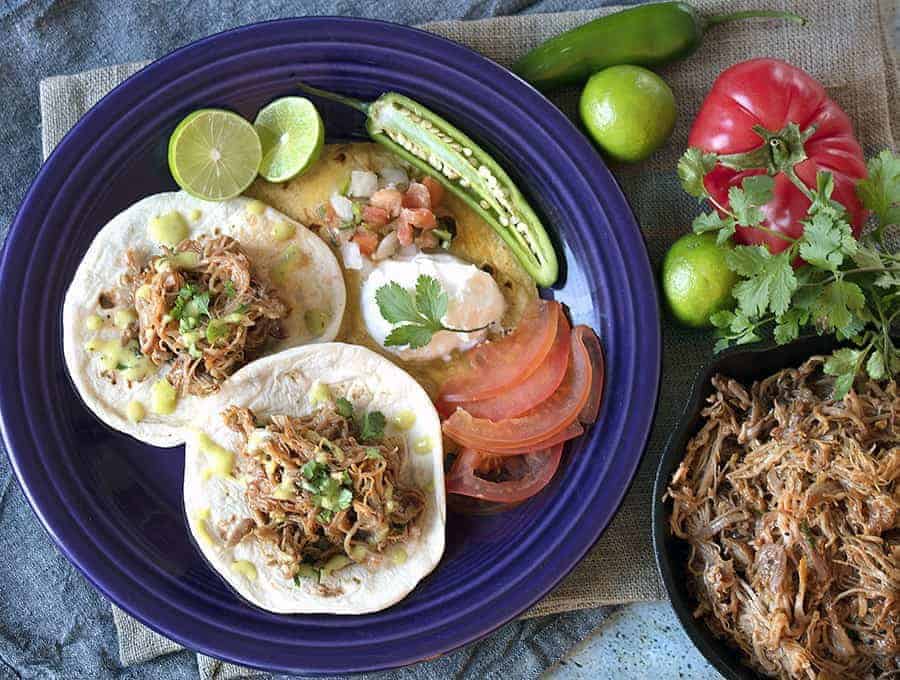 Traditionally, you'd use dried guajillo, dried chiles de arbol and/or dried ancho chilis. You'd heat these in hot water, you'd blend the chilis and the water once the chilis are softened, and that would be your sauce.
I used canned chipotle chilis in adobo sauce to approximate the taste. Be warned, I put in 3 chilis because I wanted it spicy. If you want to go easy on the spice, use only one and see how it tastes to you. You can always add more later.
I also used canned posole in this Instant Pot Pork Posole recipe because I didn't have dried ones 🙂 And I used pork shoulder (also called pork butt) because it is a cheap cut of meat that is fatty and can be tough, but very tender when pressure cooked.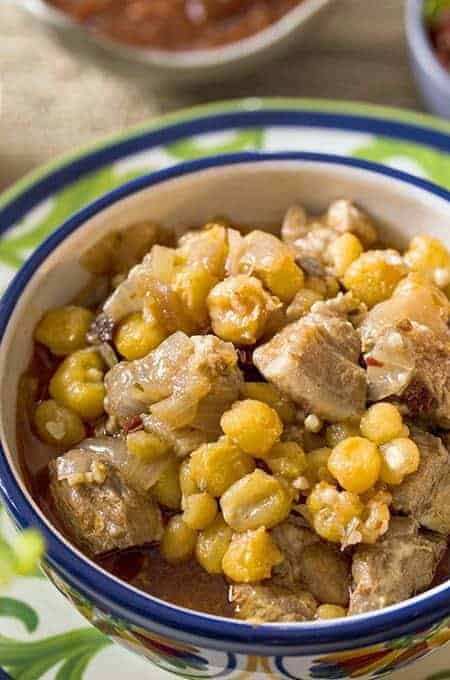 ★ Did you make this recipe? Don't forget to give it a star rating below! Just click on the stars in the recipe card to rate.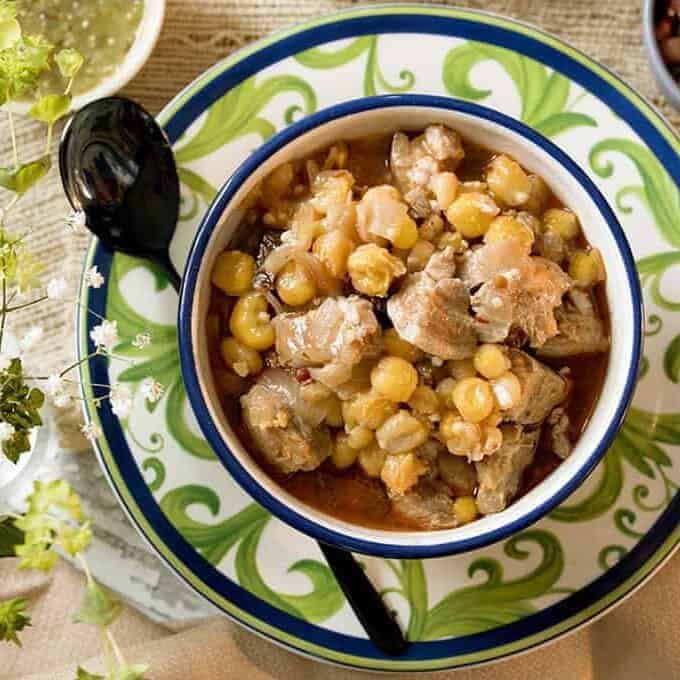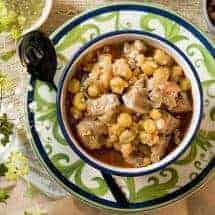 Pork Posole
Want a shortcut to make Pork Posole? Use your Instant Pot and a couple of other tips to make this delicious Mexican dish in a flash!
Keyword:
Instant Pot Mexican, instant pot mexican recipe, Instant Pot Pork Posole, Instant Pot Pork Recipe, Pork Posole, Pork Posole Recipe, Pressure Cooker Mexican Recipe, TwoSleevers
Dietary Consideration:
Gluten-Free
Cooking Style:
Instant Pot/Pressure Cooker
Ease of Cooking:
Pour and Cook
Recipe Type:
Pork, Pressure Cooker
Instructions
Place all ingredients except cilantro in your Instant Pot, stir well, and set for 30 minutes at High Pressure.

If you like your hominy to have a little bite, I suggest you put in half the can while cooking so it flavors and thickens a bit, and save the other half to add after cooking. I put all mine in.

Allow to release pressure naturally, check pork for doneness, check stew for flavor, add chilis or salt as needed, garnish wth cilantro and serve.
Nutrition facts per serving
391kcal | Fat: 3g | Saturated fat: 1g | Cholesterol: 23mg | Sodium: 331mg | Potassium: 282mg | Carbohydrates: 72g | Fiber: 1g | Sugar: 1g | Protein: 14g | Vitamin A: 380% | Vitamin C: 1.8% | Calcium: 22% | Iron: 1.9%
I am not a registered dietician or nutritionist. Nutritional information is provided a courtesy, and can vary depending on the exact ingredients you use.
Don't forget to check out my Instant Pot Fast & Easy Cookbook!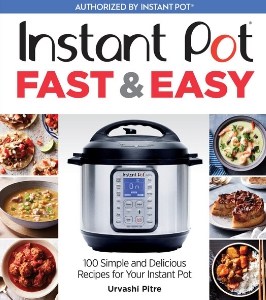 This book is full of all kinds of boldly flavored and internationally-themed recipes—Mexican, Thai, Moroccan, and more—with Instant Pot Fast & Easy, fully authorized by Instant Pot. Just like you have come to expect, my recipes will work perfectly every time, and of course taste great too. And because these are Instant Pot recipes, dishes like Japanese Chicken Curry, Chinese Steamed Ribs, and Mexican Pulled Pork are ready in a fraction of the time they would take using traditional cooking methods. As with all of my recipes, the focus is on whole foods instead of artificial convenience ingredients, so the recipes are delicious, easy, and healthful too.