Have you heard all of your friends and coworkers talk about how much they love their air fryer? Are you scratching your head wondering "How does an air fryer work?" Let me walk you through the science of air frying to tell you a little more about how to use one and how they work to cook some of your favorite foods.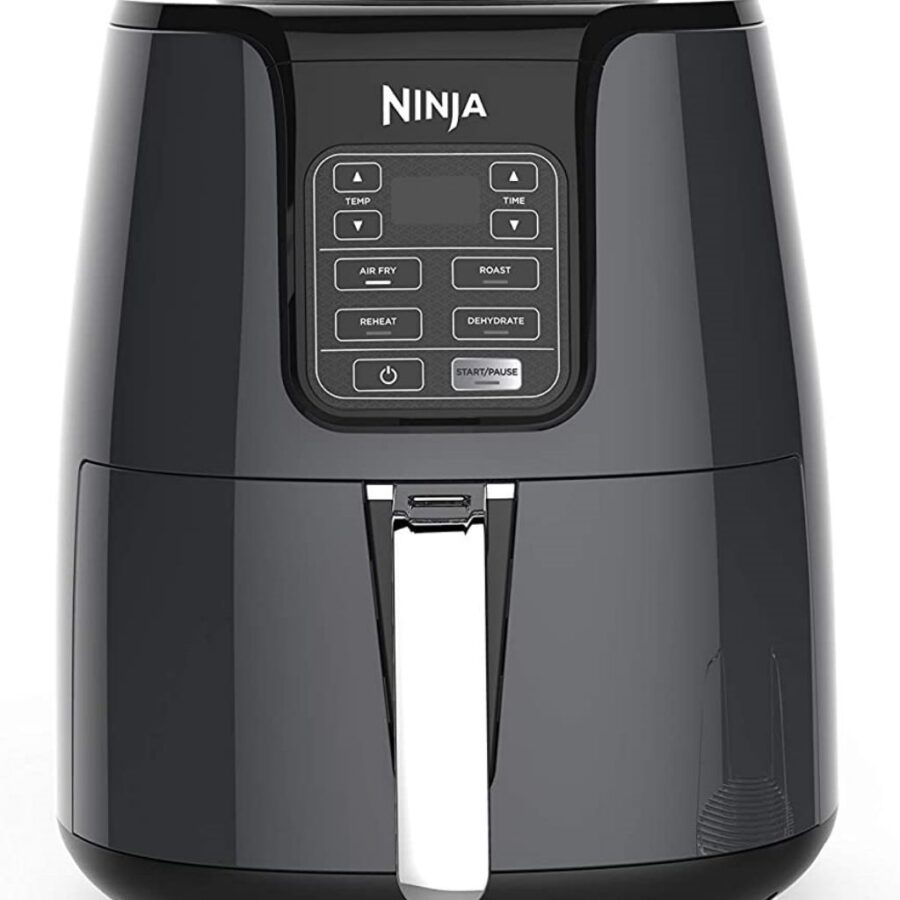 Jump to:
Why You Should Trust My Knowledge Of How Air Fryers Work
Air Fryer Cookbooks: I have two best-selling air fryer cookbooks, Every Day Easy Air Fryer and Air Fryer Revolution, so you can feel confident in knowing that I use air fryers on a regular basis, I'm quite familiar with how they work and I know what makes a good air fryer.
Experienced Reviewer: I've done various air fryer reviews in the past, so I have a wealth of knowledge about air fryers and what makes one better than another.
Gadget geek!: I'm a self-proclaimed food tech enthusiast and have been known to purchase (and review) just about any kitchen appliance I can get my hands on.
Watch The Video
What Is An Air Fryer And How Does It Work?
Air frying is the act of cooking food in a kitchen appliance using convection heat. It is a very simple cooking process. In order to explain that process to you better, I need to explain the difference between conduction and convection cooking.
Conduction Vs. Convection
Convection and conduction are two different types of cooking methods. They are both very effective cooking methods, but they involve two different types of heat transfer. Let me explain the differences between convection and conduction cooking below.
Conduction (Traditional Oven)
Conduction heat is when something (a heating element in this case) gets hot and conducts the heat to the molecule that is right next to it. Once that molecule heats up, it transfers the heat to the molecule next to it, and so on.
Think of it as a very friendly type of heat. If the molecules of your food are heated by a heating element in your oven, they share the heat with the molecules next to them until the entire dish is cooked.
Convection (Air Frying)
Convection cooking is very similar to conduction cooking in the process of the molecules heating up and transferring the heat to the food that is next to them. The only difference in conduction vs. convection cooking is that in convection cooking, there is a fan that circulates the heat.
So when you are cooking something in your air fryer, the fan circulates the hot air around your food to evenly distribute the hot air. This allows for food to cook faster and for it to crisp evenly on the outside.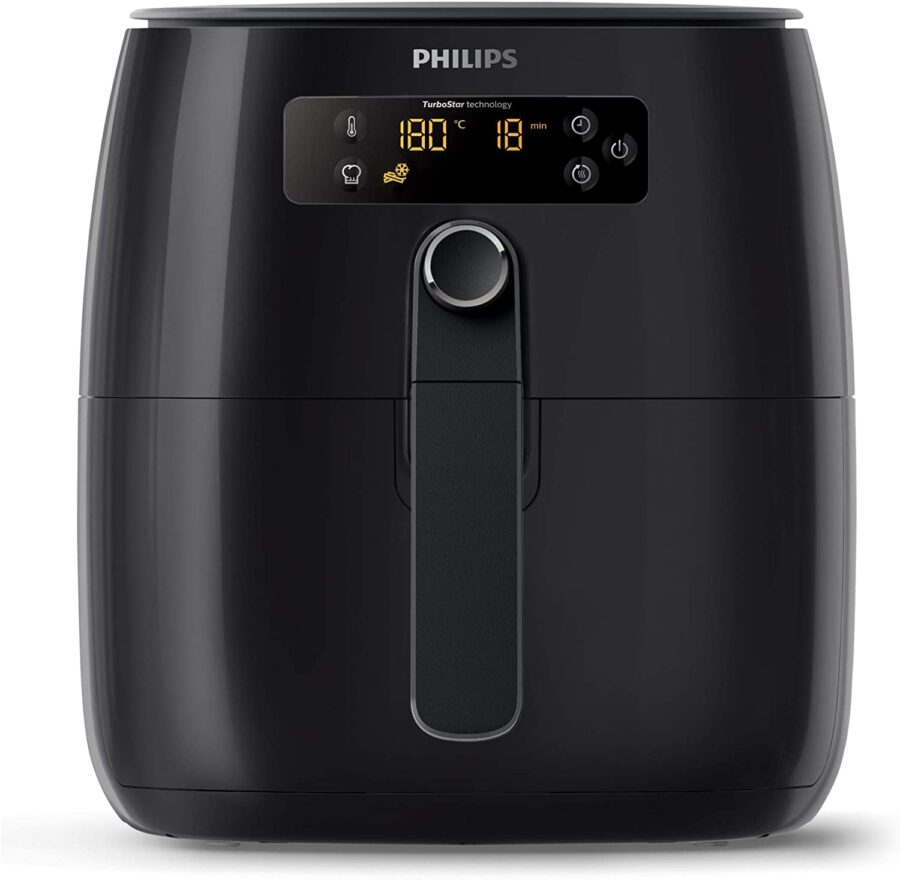 If I Have A Convection Oven Do I Need An Air Fryer?
In short, the answer is maybe. It honestly depends on where the heating element and fans are in your convection oven.
In an air fryer, the heating element is on the top of the small appliance. The fan is also on the top so that it can evenly circulate food all around the food that you are cooking. So, if your current convection oven mimics the structure of the an air fryer, you should be able to enjoy the same benefits as that of an air fryer.
However, there are a few things that will prevent your convection oven from performing like an air fryer. Those things are:
Heating elements at the back or side of the oven
A fan that is less powerful than a fan on an air fryer
A fan that is on the bottom or on the side of the convection oven
Benefits Of Air Frying
There are several benefits to air frying with several of those benefits being health benefits. While I may not list them all, here are a few I would like to touch on:
Health benefits
Speed to cook and preheat
Heat produced
Doesn't drown in fat
Safe
Easy to clean
1. Health Benefits
The health benefits of air frying are quite substantial if you're trying to replace deep frying with air frying. Air frying drastically reduces the amount of grease and oil you use to cook some of our favorite foods.
In addition to being able to cook some protein rich foods in your air fryer, it's also great for roasting vegetables.
2. Speed To Cook and Preheat
When you cook with a traditional oven, you have to consider the amount of time it takes to preheat before you can even begin cooking your meal. This takes on average 15-20 minutes.
With an air fryer, you are only going to have to wait 2-3 minutes for it to preheat before you place your food inside.
3. Heat Produced
I don't know about you, but I live in Texas. Even in the fall and winter, I dread turning on my oven. The amount of heat produced is astounding. With an air fryer, you don't have to worry about heating up your entire house just to make an afterschool snack for your kids.
The heat from an air fryer is completely contained so there are no worries about sweating through dinner or snack time or high electric bills to running the ac to combat it.
4. Doesn't Drown In Fat
Many of the popular foods made in an air fryer are foods that are traditionally deep-fried or baked/broiled. Instead of submerging your food in hot grease or letting it sit in its own renderings while it cooks, the air fryer allows for the natural fats to braise the food. They slowly drip down the sides of the food as it cooks into the air fryer basked to reduce the unhealthy fats as much as possible while cooking.
5. Safe
Compared to the dangers that lurk when using an oven, using an air fryer can seem extremely safe. In fact, a lot of models of air fryers are safe enough even a (responsible) child could use one. Here are a few things that make an air fryer safer than a traditional oven:
Heating element is tucked away in the body of the air fryer, so there is little concern about accidentally touching it
Many air fryers cease cooking when the air fryer basket is removed
A heat resistant handle makes for easy handling of the basket to a silicone trivet or other heat proof surface
6. Easy To Clean
When I purchased my first air fryer, I was blown away with how easy it was to clean. Here are a few of the tips and tricks to cleaning an air fryer I've come up with over the years:
How Do You Clean An Air Fryer?
Air fryers are an absolute breeze to clean. No one wants an appliance that is hard to clean. There's no fear of that being the case with this kitchen gadget.
DON'T SCRUB. Seriously. Don't scrub the basket or the inside of your Dash Compact Air Fryer basket. This will remove the nonstick coating and make your food stick even worse in the future.
Fill the basket and inner basket with warm water and dish soap.
Let sit for 15-20 minutes.
Take a soft rag and wipe out any residue.
Wipe down the outside of the air fryer.
If you're feeling lazy or simply just like to make life easier, most air fryers have a dishwasher safe basket. Just wipe out any crumbs or drippings and toss the basket in your dishwasher along with the rest of your dishes.
How Does An Air Fryer Work? Myths And Realities Of Air Frying
Air frying is still relatively new in the cooking world so there are a lot of misguided users and a lot of incorrect information out there on air fryers. Let me take a moment to discuss a few of the most common myths and realities of air frying.
You Dont Need Any Oil
Odors Are Contained
It's Only Good To Make Wings And Fries
It Makes Everything Taste Deep Fried
You Can Cook So Much In One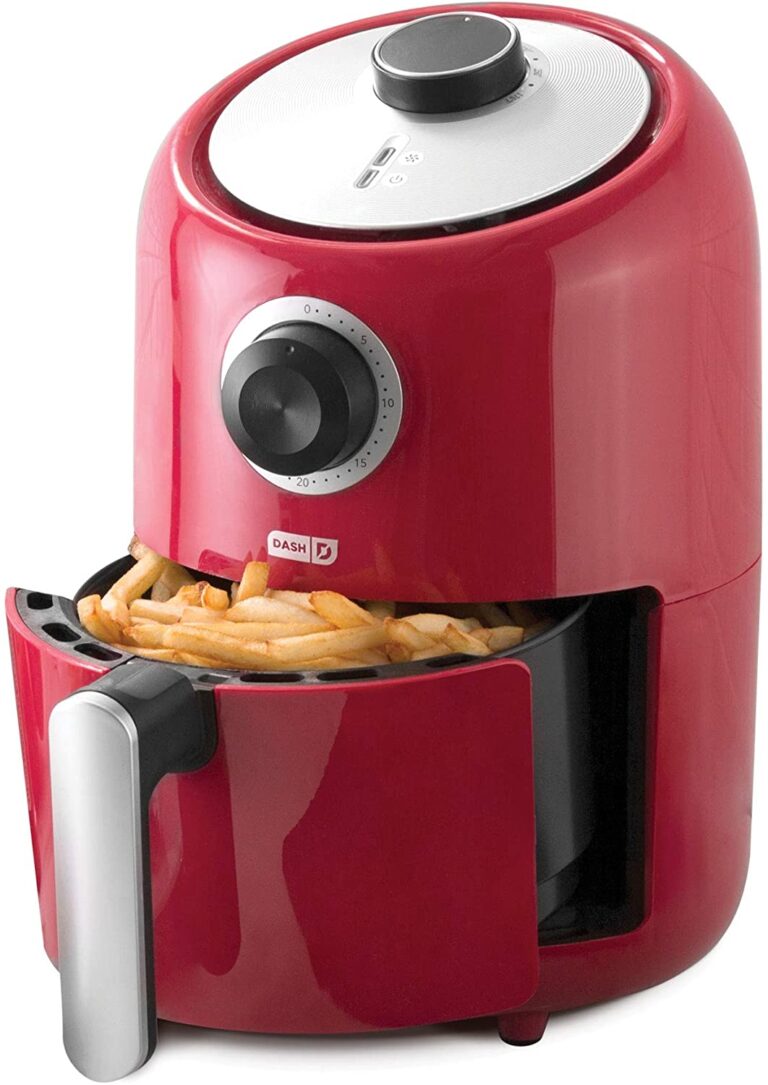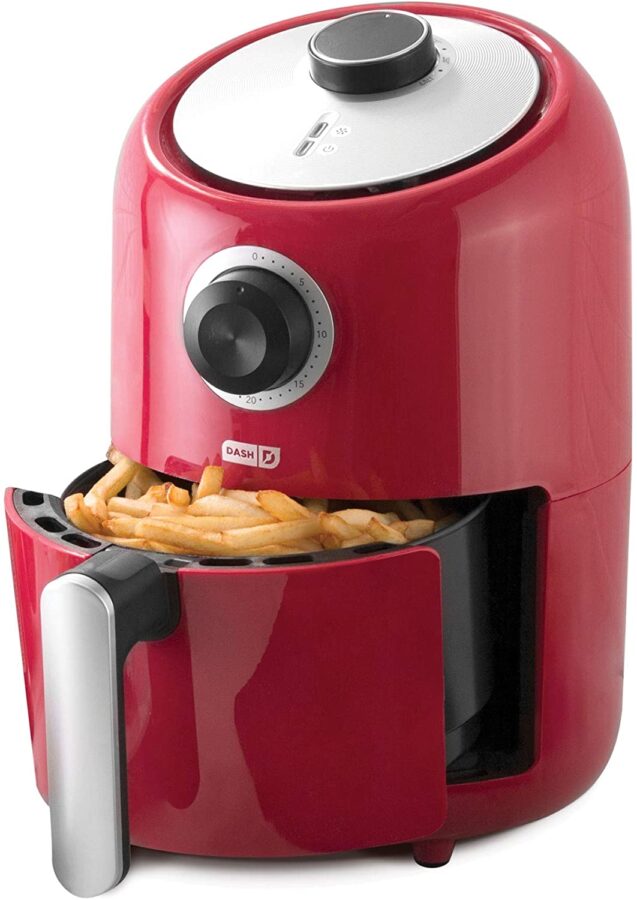 1. You Don't Need Any Oil
This is all dependant on the type of food you're cooking. If you're cooking a cut of meat with a lot of natural fats, this can be true. However, if you're cooking a dryer cut of meat or vegetables, you will still have to add a small amount of oil.
2. Odors Are Contained
To give you an idea of how well the smells are contained, I would like to make a comparison many of you will be familiar with.
Think of how strong the aromas can be when you're cooking on the stove top. Now think of how little you can smell the cooking food when you're cooking in an Instant Pot.
When you cook in the air fryer, the food is contained inside so it does mask some of the smell, unlike an open simmering pot. However, since there is a fan inside that circulates the smell of the cooking food that is vented out of the back of the air fryer, you can still tell you're cooking food.
3. It's Only Good To Make Wings And Fries
If someone tells you this about cooking in an air fryer, there is a good chance that they are unfamiliar with some of my recipes. While I agree those two things are tasty made in the air fryer, there are so many other types of food that are incredibly made in an air fryer.
Just make sure you find a reliable source for air fryer recipes (like Twosleevers.com) and follow them step by step. You'll be so glad you decided to try something other than wings and fries in your air fryer.
4. It Makes Everything Taste Deep Fried
Unfortunately for some, this is untrue. While the air fryer is good to mimic the flavors of some of your favorite deep fried foods and the crispy texture, the flavor is simply not the same.
This is because you're not allowing your food to soak in oil. Enjoy savoring the true flavors of your food when you cook in an air fryer instead of tasting all of the oil.
5. You Can Cook So Much In One
This is something you should be very aware of when you purchase an air fryer. You will notice when you're shopping that you will see a wide range of capacities. Just remember that a larger capacity isn't always a better choice.
When cooking in an air fryer you will want to keep your foods in a single layer so it cooks and crisps evenly. The amount of food you can correctly cook isn't increased by the capacity of the basket. It is actually determined by the surface area of the bottom of the cooking basket.
If you want to increase the amount of food you can cook at once in your air fryer, consider using a raised trivet in your air fryer. This will allow you to cook two layers of food at once.
What Are The Best Foods To Cook In An Air Fryer?
The foods that are best suited for air frying are foods that contain natural fats. Think of things like chicken wings, pork belly, chicken thighs with skin, or pork shoulder.
This being said, there are many other things that are delicious made in your air fryer with just a little help of a spritz or two of oil.
I know you may be thinking "But she said that this was supposed to be a healthier way to cook." Well, I did. And stand by that statement. Adding a tablespoon of oil to a pound of chicken breasts or two tablespoons of oil for four cups of vegetables is still a WAY healthier option than deep frying or adding a ton of butter.
Here are some foods I've successfully made in my air fryer that you should consider making too:
Chicken wings
Chicken thighs
Pork belly
Pork shoulder
Broccoli
Potatoes
Cauliflower
Cake
Brownies
And don't forget to check out my air fryer cookbooks! Every day easy air fryer, and Air Fryer Revolution.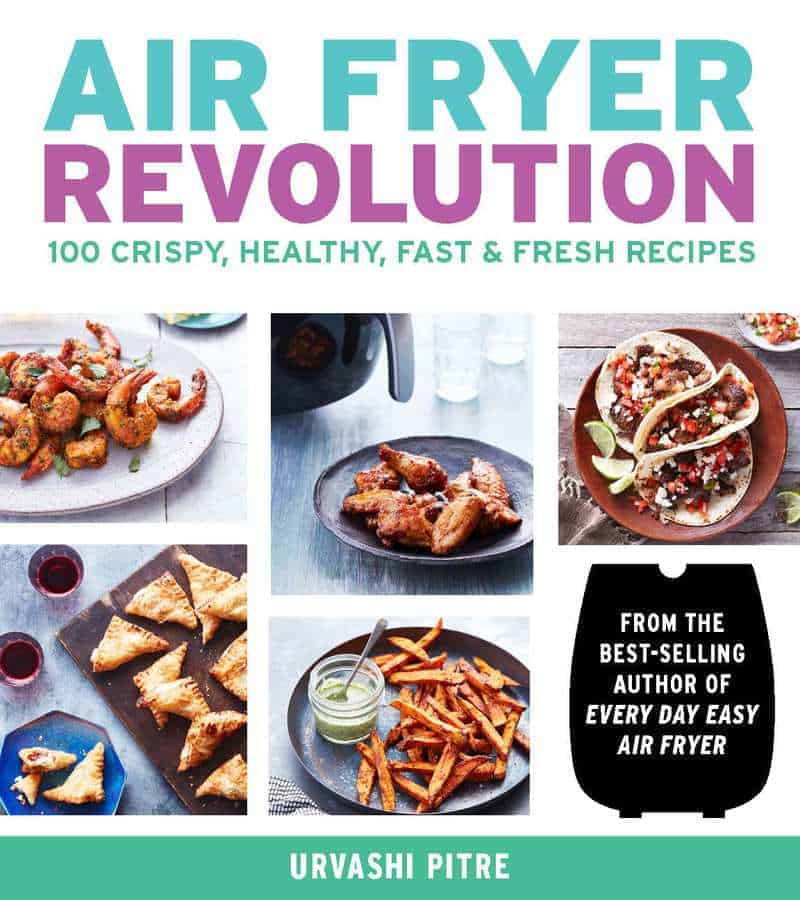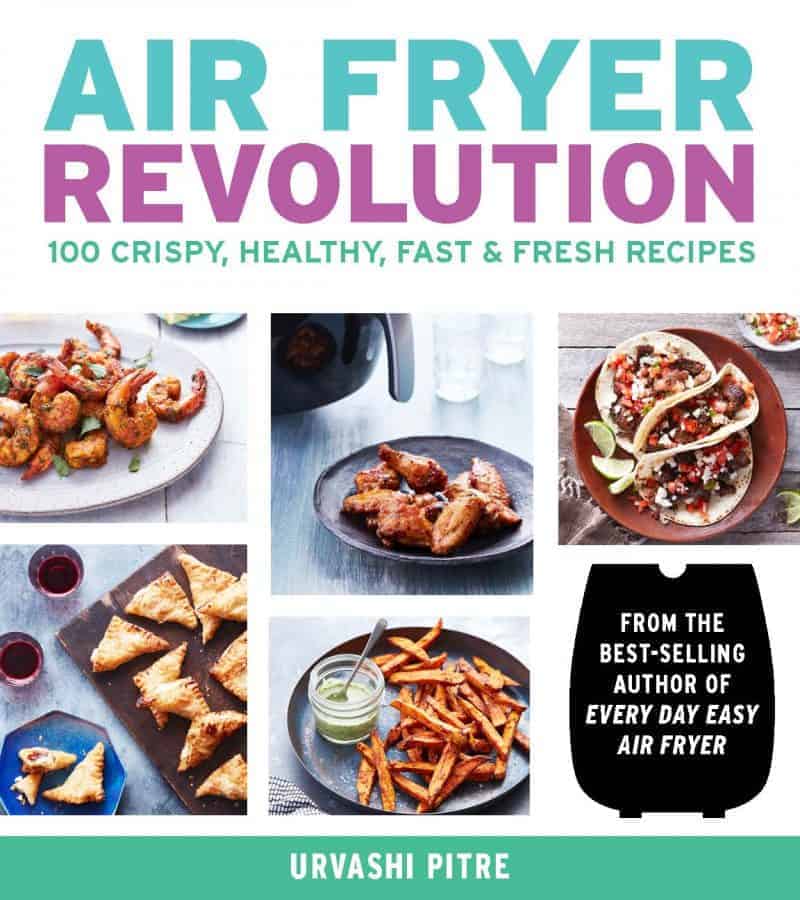 Different Types Of Air Fryers
There are several different types of air fryers on the market. They come in a variety of different shapes and have numerous different functions. However, this does not change the fact that they all still cook with convection heat.
Here are different types of air fryers you can choose from:
Egg
Square
Small Toaster Oven Style
Large Multicapacity Ovens
Air Frying Lids
If you need more help deciding which one is right for you, read more in my article about How To Choose An Air Fryer.
Do You Need Accessories For An Air Fryer?
Do you need air fryer accessories? Honestly, need them? Probably not. However, you may find yourself enjoying your cooking experience significantly more if you have just a few extra things to help you make the most out of your air fryer.
To see the list of things you should consider grabbing, check out my list of The Best Air Fryer Accessories.
Realities Of Air Frying
While I do sing the praises of my air fryers and have no doubt that you will do the same, here are a few things that you should be aware of before you run out and buy one:
The food tastes different than baked food
Food can be crispy and crunch if cooked correctly
Using one will not heat up your kitchen
They cook faster and are easy to use
They give you a healthier option for cooking some of your favorite foods
Air Fryer Reviews
Hopefully, after reading this article you're no longer asking yourself "How does an air fryer work?" And if you thought the information was helpful, please share it with your friends on Facebook and Pinterest so they can learn a little more about air fryers too.
Originally Published November 9 , 2020